Since TikTok has emerged as the most popular social media platform, many users have asked this question: "Can I post TikTok videos on YouTube shorts without copyright?".
This is a valid question, as YouTube hasn't clarified if creators can upload their TikTok videos to the YouTube Shorts section.
The good news is that we have tested it to see if it is possible.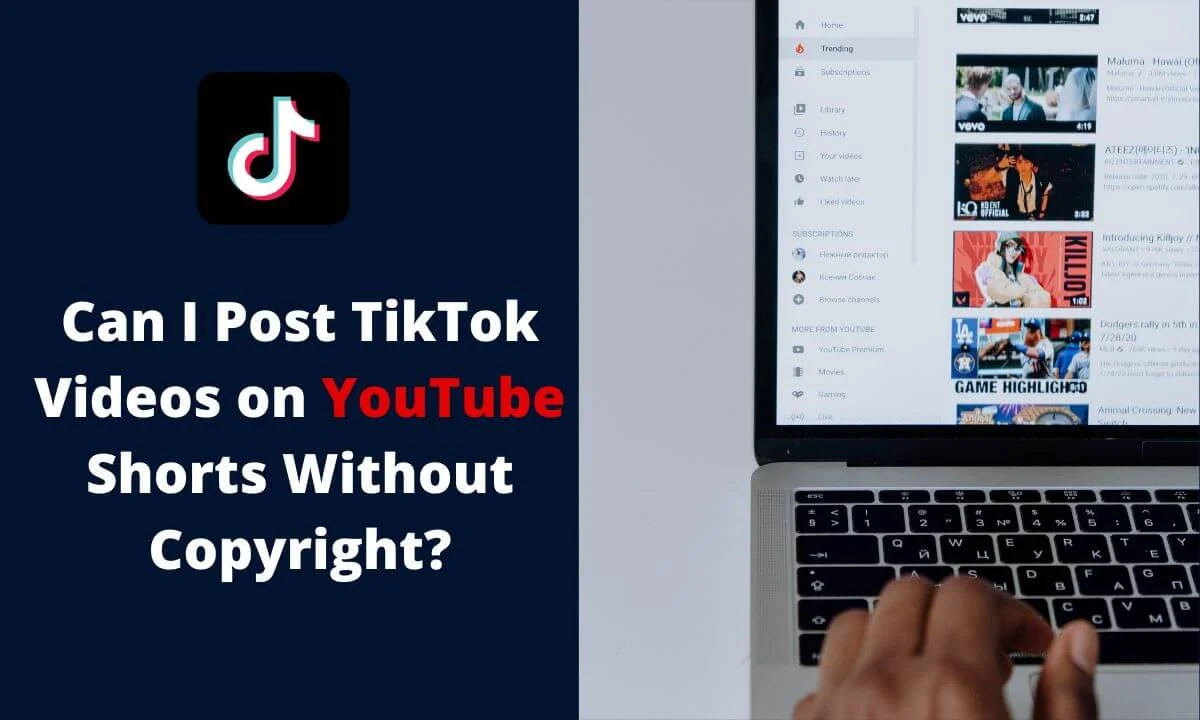 While you are allowed to post TikTok videos on YouTube, it is critical to adhere to YouTube's guidelines on copyright.
This guideline still extends to TikTok compilation videos or short clips.
It is why many creators who have used copyrighted music or sound clips on their TikTok content have encountered difficulties when trying to post them to YouTube. 
Apparently, YouTube audiences are drawn to TikTok videos. For instance, numerous compilations have garnered millions of views.
However, you must know that certain procedures must be followed before posting videos from TikTok to YouTube. Not doing this will complicate the process of posting your TikTok videos to YouTube. 
Can You Post TikTok Videos to YouTube?
As we have previously addressed, the answer is: "Yes, you can."
But this doesn't mean you should quickly post every TikTok video you can find to YouTube.
You will face a lot of problems doing this.
These problems can complicate matters for you, leading to the immediate removal of your video and permanent suspension of your YouTube channel, so it is better to avoid them. 
Provided that your TikTok videos are devoid of copyrighted material, you can post them to YouTube.
Thus, if your TikTok video has a hit song in your TikTok content, it may probably create complications when you try to post them to your YouTube channel.
Don't forget that copyright guidelines extend to all videos on YouTube, 
For TikTok videos that do not have copyrighted materials, they can be posted directly to YouTube.
Most creators prefer to post their TikTok videos to YouTube in compilation style, which is akin to several clips/videos shown in a specific video.
Videos with this style amass plenty of views on YouTube. 
Is there anything you can do if your content has copyrighted material?
Before posting your video to YouTube, you have to delete the material. Sadly, this may be problematic, particularly if the TikTok video is a dance or sing-along video.
It is important to make every effort to make sure your TikTok videos have no copyrighted material.
If you overlook this, it may lead to getting copyright strikes whenever you post your content to YouTube. Channels get permanently suspended due to copyright infringement every day, so be very cautious. 
Here's a method to post TikTok videos on YouTube with no copyright
Adjust audio

Crop video clip

Add a video overlay.

Add a voiceover.
Let's explore every step of the process in an in-depth manner.
Adjust Audio
Most importantly, if your video has a famous song, it is most likely that after posting it to YouTube, you will be hit with a copyright claim.
You may likely get a copyright strike, as this can result in a permanent suspension of your channel. This is why you have to delete the copyrighted audio from the TikTok video before posting it to YouTube.
Crop Video Clip
Another crucial thing to do before posting TikTok videos to YouTube is cropping them. It's a way to add a bit of distinctiveness to your YouTube clip.
This will assist you in steering clear of any copyright issues, particularly when posting videos with materials that have already been posted to YouTube. 
Add a Video Overlay
When you access any TikTok compilation clip on YouTube, you will see that a lot of them include an overlay that conceals the black bars around the video.
Adding an overlay can improve the uniqueness of your video, preventing possible copyright strikes or claims. 
Add a Voiceover
As you set up the TikTok compilation video, don't forget to add a short voiceover at the start of the clip.
This will improve the uniqueness of your content. The voiceover need not be lengthy. It can be 20-35 seconds for a short & sweet introduction.
Can TikTok Compilation Videos be Monetized on YouTube?
At this stage, you'd be thinking, "Is it possible to monetize TikTok compilation videos?"
Besides, it is the most significant reason why people post their videos to YouTube; the need to earn revenue from them.
However, if someone specifically posts videos in the compilation style to YouTube, can you make money from it?
It is possible to monetize compilation videos as long as they don't have copyrighted material.
For instance, videos free of copyright music can easily monetize and vice versa. Your duty is to ensure that your compilation clips are devoid of copyrighted content.
Don't forget that there are lots of ways to earn cash from YouTube videos. Lots of creators prefer Google AdSense.
However, endorsements, brand deals, collaboration and merchandise are also good monetization strategies.
You can use any of these monetization strategies to enjoy earnings for compilation videos. 
It is important to note that your channel has to be approved for the YouTube Partner Program for it to make money via AdSense.
Thus, it is not possible to set up a channel, post TikTok videos and monetize them instantly.
You must be willing to exercise patience a bit before making money with your videos through AdSense.
TikTok to YouTube Shorts Tools
Repurpose.io
This platform is a tool for video distribution for webinars, audio, live broadcasts and podcasts. You can use it to post your TikTok videos to YouTube Shorts. 
This will help you post your TikTok video via automation. It implies that your YouTube shorts can be seamlessly uploaded to YouTube Shorts automatically. 
How to Turn Your TikTok Videos Into Short YouTube Videos via Repurpose.io
Sync your YouTube channel with your TikTok profile.

Set up a workflow to post your TikTok videos to YouTube Shorts. 

Post the videos you need or toggle on auto-post for automatic publishing. 

Select the theme of the video in the workflow configuration. 

This will assist you in improving your brand as your audience gets bigger and amasses views.
Can I Post TikTok Videos on YouTube Shorts Without Copyright FAQs
How can I post a TikTok video without copyright to YouTube?
Here is how to upload TikTok videos without facing copyright-related issues. 
Screen record and capture the footage from your mobile device. 

Ensure you credit the original source.

Add overlays or remove original audio,

Add a copyright-free clip.
Can you make money from your TikTok videos via YouTube Shorts?
Yes. In 2023, video creators will be allowed to make money from their short-form content on YouTube Shorts as the battle between YouTube and TikTok heightens.
How do I avoid copyright in my TikTok video?
Ensure you check the General Music Library on the TikTok platform for audio clips and sound effects. 
Get authorization from the copyright owner before using their music. 
Do TikTok videos contain copyright on YouTube?

 
Yes. As we have mentioned earlier, TikTok videos are not entirely free of copyright, especially if they have copyrighted songs.
Hence, when posting TikTok content to your YouTube Shorts, ensure you adequately credit the owner of the video.
Does TikTok give copyright strikes?
Yes. If your content breaches somebody else's copyright, it can be removed from the platform.
Your account can also be banned or permanently suspended if it continually infringes someone's copyright or violates TikTok's community guidelines or terms of use. 
Can TikTok detect copyright?

 
Yes. TikTok is strict on copyright.
Their platform has the capacity to auto-detect copyrighted music, which can result in the muting of the sound clip of the video or difficulties when posting parts of the content.
Are YouTube Shorts more likely to attract views?
Comparable to TikTok, Shorts has experienced a growth in popularity among audiences and creators since its rollout.
In fact, lots of audiences enjoy short videos more than longer-form videos and presentations.
Are audio clips on TikTok copyright-free?
Yes. It is entirely okay and allowed to utilize song clips from the TikTok platform in your videos so far as they are sourced directly from the platform and not externally.
As outlined, TikTok has a Copyright License Agreement and IP Licensing Agreement with major record companies and musicians to utilize their songs on the site. 
Can you go to prison for using music that is protected by copyright?

 
Yes. Breaking copyright laws is regarded as a punishable offense in many countries.
If it is deliberate and has a motive for financial gains, it is criminal and can land you in jail for five years. 
What is the most prevalent copyright infringement?
The most frequently occurring kinds of copyright violations are text and image.
Using someone's ideas or material in scholarly writing or pictures without crediting or the express permission of the owner is regarded as copyright infringement.
Can you monetize Shorts with music?
Yes. YouTube allows creators much flexibility and creative freedom in adding licensed music to their videos.
They can easily pay for music licenses for YouTube videos, allowing them to be totally monetizable.
Conclusion
 In this article, we explored ways to post TikTok videos on YouTube Shorts without copyright.
Before posting TikTok videos on YouTube Shorts, ensure you remove copyright materials or credit the creator if you are posting someone else's content. 
Make sure you share this article with your friends and loved ones. This article will be useful to them. 
 Also Read: