TikTok won't play on your Chrome browser?
Many people have reported that their TikTok videos can't play properly when accessed from their Chrome.
In this article, we will show you how to fix the "TikTok won't play in chrome" issue.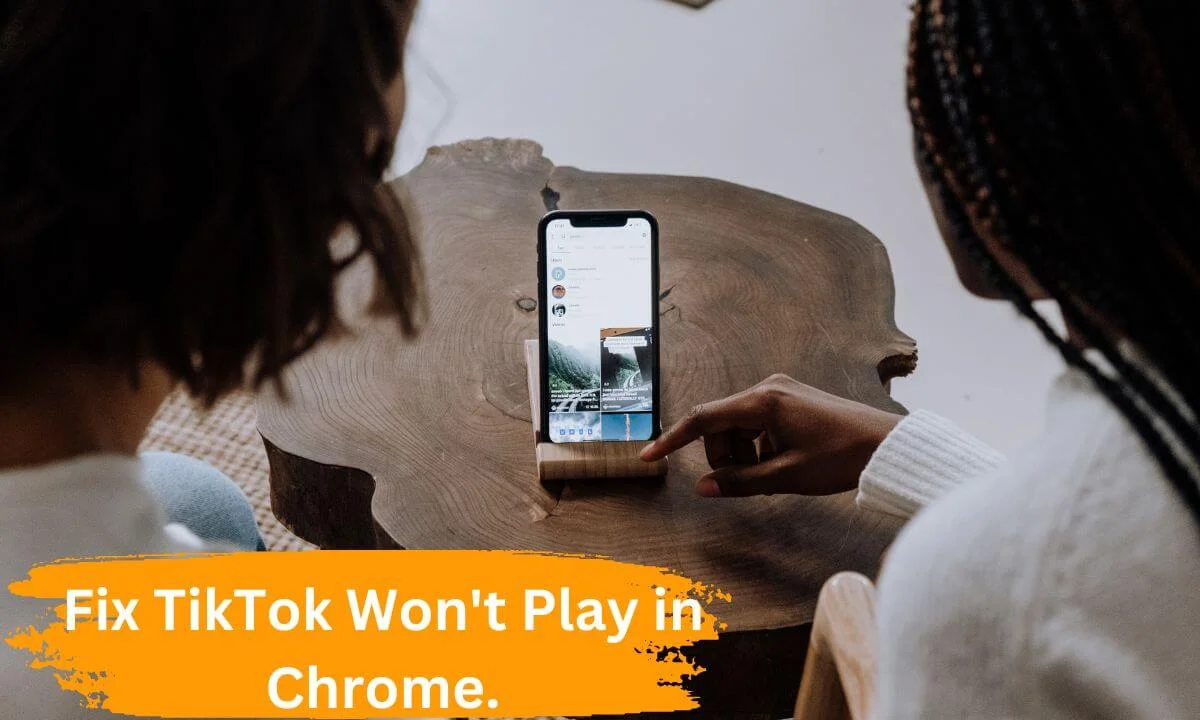 Google Chrome has emerged as the most widely used browser for PC, macOS and smartphone users. But bugs and technical issues can ruin the user experience.
A lot of Chrome users have complained that when they open a TikTok video, it doesn't load.
At times, it shows signs of framerate drop, loss of audio, laggy or displays a blank screen. In the worst case, the browser may freeze or crash. 
The experience is most vexing when you are on the verge of streaming a TikTok video from your favorite creator. 
There are plenty of causes of the "TikTok won't play on your Chrome browser" issue, from poor internet access, obsolete versions of Chrome, and cookies to malicious extensions set up in the browser.
But the good news is that this issue can be quickly rectified. 
5 Reasons Why TikTok Won't Play in Chrome
If you notice that your video is playing slowly, becomes blurry or displays an error notification, this is a sure indication that the TikTok video won't play in Chrome.
These signs all show that Chrome can't process, stream or play videos from TikTok or other sites.
It is essential that you understand the cause of the "TikTok won't play in chrome" issue. 
Out-of-date Chrome Browser
One of the most common reasons why browsers may struggle to play TikTok videos on Chrome is that it is outdated.
The developers of the Chrome browser regularly add new features, optimizations and fix bugs in every update.
If your Chrome browser is out of date, it will likely be less effective for streaming online videos.
Deactivated JavaScript
Many video-based websites like TikTok need JavaScript to stream videos properly.
However, Chrome deactivates specific features such as JavaScript to enhance the security of the browser, particularly at times when your device has been compromised or is targeted by malicious software.
This can cause streaming issues. 
Multitasking Excessive Operations
In situations where you have numerous tabs open and are executing plenty of browsing activities on your browser, it can cause your browser to be laggy.
This may eventually impact the streaming of TikTok videos, preventing them from loading on the website. 
Network Provider Problems
Your network provider may encounter some challenges that have a spiral effect on your internet connection, resulting in your videos becoming laggy or not playing entirely.
Furthermore, your home internet connection via network cables and WiFi can develop problems that can negatively impact your browsing experience on your PC.
Deactivated Flash Player
While Adobe Flash is riddled with security challenges, it is a legacy tool.
Although many software designers have abandoned it, Adobe Flash is still fingered as the cause of some videos not being able to play on Chrome. 
How to Fix the "TikTok Won't Play in Chrome" Issue
Below are the ways to fix TikTok's unable to play in Chrome problems.
Clear Cached Files and Cookies in Chrome
One of the best ways to fix multiple browser-related errors like TikTok won't play or streaming issues in Chrome is by clearing your browser cached files and cookies.
Furthermore, this creates more disk space and, thus, boosts the performance of your browser.
Here's how to clear your browser cookies, cache and history on your Chrome browser:
Start up your Google Chrome browser. 

Select Settings in the menu bar.

Navigate below to Advanced and click on the Privacy and Security option.

Select Clear browsing data. 

Alternatively, you can configure a time frame for clearing the data. You can pick two days, one week and all-time.

You can also toggle on cached files, photos, cookies, browsing history, etc.

Select Clear Data below. 

Next, launch Chrome and see if your TikTok videos can play properly.
Activate Flash Player
This is necessary if TikTok requires a flash video to stream content and your device doesn't have one.
In this situation, you will probably encounter a notification requesting that you "Click to enable Adobe Flash Player."
If you don't see this notification, there's a way you can directly confirm if the flash is activated or enabled. 
Here's how to do it:
Start the Chrome Browser on your device. 

Input tiktok.com into your Chrome browser URL.

Click on the icon that looks like "Lock." You can find this if you check the left corner of the URL bar. 

Next, locate "Flash" on the listing displayed. Select the arrow you find on the right area of the icon. Click "Allow."

Then, reload the page and check if your TikTok video plays properly.
Restart Chrome Browser 
You have to restart Chrome (closing the program and launching it once more) if your TikTok video won't play on the app.
Make sure you have fully exited the app before relaunching the program. 
So how do you do this? Let's explore below: 
In the URL bar, input "chrome://restart." Tap "Enter" on your keyboard.

It will be helpful to bookmark that URL. To do this, type in the following keyboard shortcut "Ctrl + D" (Windows) and "CMD + D" (Macbook).

Select "Edit" and input "chrome:/restart" in the address field.

Select "Save." 
Disable Hardware Acceleration in Chrome
At times, if the hardware acceleration option in your browser is enabled, it can cause issues when trying to play videos on Chrome.
You can access Chrome's settings and toggle off the hardware acceleration. Here's how:
Navigate to "More." Next, click on "Settings" and navigate to and select "Advanced." 

Click "System," which can be found at the lower end when you slide down. 

Click to disable the option "Use hardware acceleration when available." Next, check if the TikTok video plays properly. 
Activate JavaScript
We had earlier mentioned that deactivating JavaScript may negatively impact streaming quality on Chrome and prevent videos from playing.
Thus, you have to activate JavaScript in your Chrome settings. 
How's this done? Let me show you below:
Start Chrome on your device. 

Click "More" (after selecting the hamburger icon in the upper right corner of the page) and then select "Settings." 

Slide below and click "Advanced."

Navigate to "Privacy and security." Below this tab, select "Site settings" and then "Content Settings." After that, click on "JavaScript."

Next, toggle on the "Allowed (recommended)" option.

Head to the TikTok page where the video won't play and reload to see if it will play.
Test System Extensions to Disable
Extensions and add-ons can probably limit your Chrome browser from playing TikTok videos.
You can manually uninstall or disable extensions on Chrome to check if it is responsible for the "TikTok won't play in chrome" issue. 
Select the hamburger icon (three dots)

Navigate to the "More Tools" option, and from there, select "Extensions" to access the extension page. 

At this stage, make sure that the page with the TikTok video that won't play is open.

Next, start by disabling each extension one by one by selecting the bin icon beside the extension.

Reload the TikTok video once you have disabled the extension to see if it plays properly. 
If the video plays without issue after you have toggled off a specific extension, it implies that the source of the problem is the extension you have disabled.
Update the Chrome Application
An important way to fix the "TikTok won't play in chrome" issue is by updating Google Chrome.
Some videos will only play properly if your Chrome version is the newest. To update your Chrome browser, follow the steps below:
Launch the Chrome browser and navigate to "More."

Select the "Help" option

From the menu listing, click on "About Google Chrome."

If there's a recent update, it will be installed automatically.
Restore Chrome to Default Settings
If other methods are ineffective, you can restore the chrome browser to its default settings. Here's how to do this: 
Launch the Chrome browser.

Scroll to "More," select "Settings," and then click "Show Advanced Settings."

You can access the "Reset Settings" section. Now, click "Reset."

Make confirmation by clicking "Reset."

Now reload the TikTok site to see if the video plays.
Is TikTok Banned in Your Country?
The use of TikTok is illegal in some countries. Thus, if you reside in a region where TikTok is prohibited or illegal, you will be blocked from using the app. 
Furthermore, TikTok can also impose age-based restrictions on users.
If you are below the age of thirteen, you will be blocked from creating or commenting on videos. Children's account holders have their profiles changed to private by default. 
Thus, if you belong to this category, you may have issues accessing some TikTok features.
TikTok Won't Play in Chrome FAQs
Why can't TikTok videos play on my computer?
This may happen due to various reasons like poor internet connection, cache files, server downtime etc.
Why should I clear my TikTok cache?
This is an effective way of decluttering your device's memory by clearing temporary data that consumes space. 
Is it good to clear the cache files on TikTok?
Yes. Clearing your cache will not harm your device or app. It is beneficial in decluttering your browser and boosting its performance.
Conclusion
Based on the methods above, we hope you have easily fixed the "TikTok won't play in chrome" issue.
Regularly clearing your browser cache files and updating your browser to the latest version are some of the best ways to improve your browsing experience.
Use the social media button below to share this article with your loved ones and friends. 
Also Read: