The world of cryptocurrency is fast-growing and gaining popularity at a rapid pace. This includes bitcoin wallets in Nigeria.
As the digital currency continues to grow in popularity, more businesses are choosing to adopt it. If you haven't considered adopting bitcoin as a payment method, now is the besr time to get started.
Bitcoin is a peer-to-peer form of electronic cash that allows you to send money directly from one person to another without the involvement of financial institutions.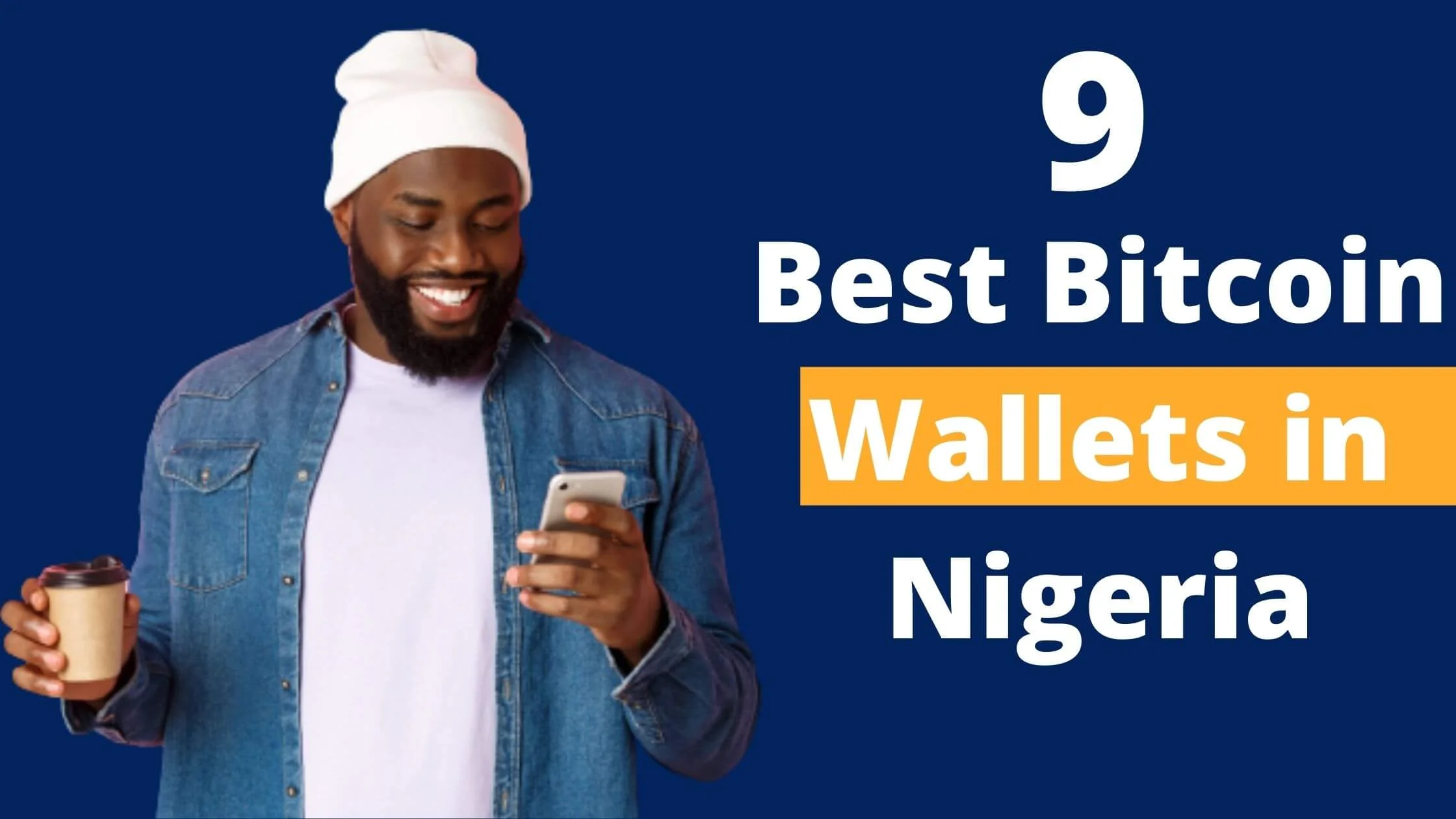 It is one of the most popular forms of online payment, and has been adopted by a number of businesses.
There are a number of ways to store and access your bitcoin, and not all of them are suitable for the whole world. Here we'll take a look at how you can store, buy and sell bitcoin in Nigeria.
So without any further ado, let's get started on the best Bitcoin wallets in Nigeria.
See Also: 101 Sure Ways to Make Money Online in Nigeria
The Top 10 Best Bitcoin Wallets in Nigeria
Blockchain technology has had a huge impact on the world of digital currency. It's allowed people to exchange and trade money without the need for a central authority.
It also allows people to send payments quickly, cheaply and securely, and with minimal fees.
The only problem is that not everyone can use Bitcoin or other blockchain-based currencies. For this reason, we decided to take a look at how to buy Bitcoin in Nigeria.
1. Binance Wallet
The crypto market is booming, but it's still a young and unregulated industry. In order to have the ability to buy and sell crypto, people need a secure place to store their digital assets.
This is where the Binance wallet comes in. It's a decentralized app that allows you to buy, sell, and trade crypto. It works on the blockchain and provides the same level of security as traditional exchanges.
The Binance wallet allows you to use your phone to buy, sell, and trade crypto. It has a native token called BNB which can be used to pay for trading fees and transaction costs.
The wallet is also integrated with Binance DEX, a decentralized exchange that allows you to trade crypto with other users directly without an exchange.
2. Luno
Luno is a free cryptocurrency app that allows users to buy and sell cryptocurrency instantly. Users can also earn rewards for using their phone as a wallet.
Luno is a simple app that anyone can use and it's free. It's great for beginners as it doesn't require any technical knowledge.
If you have any questions about Luno or complaint, you can contact them at [email protected].
Luno is very big on security. To protect your account from being tampered with, one-time sign-in codes will be sent to your e-mail every time you log in via the website.
With Luno, you can enable and disable the option of sending crypto to third-party wallets.
If you're in Nigeria, you won't be able to buy Bitcoin directly from the platform because of the "Bitcoin ban in Nigeria". Aside from that, Luno is one of the Bitcoin wallets with the best customer support services.
3. Paxful
Paxful is a peer-to-peer (P2P) cryptocurrency trading platform. They are the world's first fully regulated P2P bitcoin trading platform.
Paxful is built with security, privacy, and transparency in mind. They are committed to providing the best trading experience possible and to helping people make more money.
Bitcoin can be bought and sold in Nigeria using the secure p2p platform to do away with the "Bitcoin ban in Nigeria".
You don't need to worry about your security because Paxful has reliable wallet security. Paxful is an exceptional option for anyone that wants to get involved in Bitcoin trading in Nigeria.
4. Trezor Wallet
The Trezor wallet can also be known as Cold Wallet. With a trezor wallet, you have nothing to worry about because it is known to be one of the best and most secure wallets in Nigeria.
Trezor wallet is a hardware wallet, this makes it safer than most software wallets because the private keys are on a physical device, and not on a web, mobile, or even a desktop computer.
This wallet is not connected to an internet server, which means that hackers can't have access to your funds. It is known to be high on security, and that makes it one of the best Bitcoin wallets in Nigeria.
5. Ledger Wallet
This is another wallet that's considered to be a hardware wallet and one of the best Bitcoin wallets in Nigeria.
The Ledger wallet has two hardware wallets: Ledger Nano S and the Ledger Nano X wallets, and these wallets carry out amazing functions.
These two wallets have USB storage wallets that make it possible for users to carry out a wide range of functions that include sending and receiving Bitcoin from blockchains or being able to run third-party apps on the device.
6. Bitpay Bitcoin Wallet
This is one of the best and most exceptional Bitcoin wallets to use in Nigeria. The good thing about this wallet is that it gives owners access to store, send or receive Bitcoin and also Bitcoin Cash.
Another interesting fact about Bitpay is that you can actually convert your bitcoins to Fiat and then go ahead to buy items with Bitcoin.
Bitpay as well makes provision for Visa cards for its users that can be used to withdraw cash from an ATM that accepts cryptos anywhere around the globe.
This wallet can be comfortably used in Nigeria, and prices are displayed in almost 150 currencies.
7. Kraken Wallet
Kraken was launched in 2011 and has undoubtedly grown to be one of the biggest crypto platforms we have.
With Kraken, you have absolutely nothing to worry about. You can buy, sell and trade bitcoins very comfortably.
However, the withdrawals with this wallet have very competitive rates. With zero-fee deposits. As a Nigerian, you can trade more than 20 different cryptocurrencies on Kraken. Your funds on Kraken are 100 percent secured.
8. Busha Wallet
This particular Wallet might not be known by many, but it's one of the best Bitcoin wallets you can use in Nigeria.
Busha wallet is widely known as a multi-sig wallet. And what is a multi-sig wallet? A multi-sig wallet is a cryptocurrency wallet that needs about two or more private keys to sign and also send a transaction.
It is one of the best and most amazing wallets you can use. With Busha, it is easy for anyone to start buying and selling Bitcoin and any other cryptocurrency.
9. Trust wallet
I can assume you've heard about the Trust wallet, maybe passively.
Trust wallet has been known to be one of the most trusted and very secured crypto wallets in the world at large.
With a trust wallet, you can buy, store, exchange, and earn crypto. It was discovered that Binance got the Trust wallet in 2018 as its official wallet.
Trust wallet is fast and accurate. You can buy your bitcoins in approximately less than five minutes. Some in-app security features like Pin and biometric scanning have also been added.
It's really easy to use a trusted wallet.
Conclusion
The number one thing you should keep in mind when choosing a  Bitcoin wallet is to, first of all, how secure the platform and customer support when issues arises.
If you're a trader that will likely need easy access to the crypto market, it'll be advisable to go for a wallet that makes trading activities easier like Binance.
On the other hand, if you want to lock up your bitcoin or crypto for a long period, then you make use of wallets like Ledger and Trezor.
Also Read: