A lot of times, I have encountered this question "Can You Get A Refund On OnlyFans after the cancellation of my subscription?".
In this article, I will explain everything you need to know about this issue. I will also share vital information about some features of OnlyFans subscription model.
As you know, many OnlyFans creators provide a free trial to their followers: This is for a certain time, which might vary from a week to a month.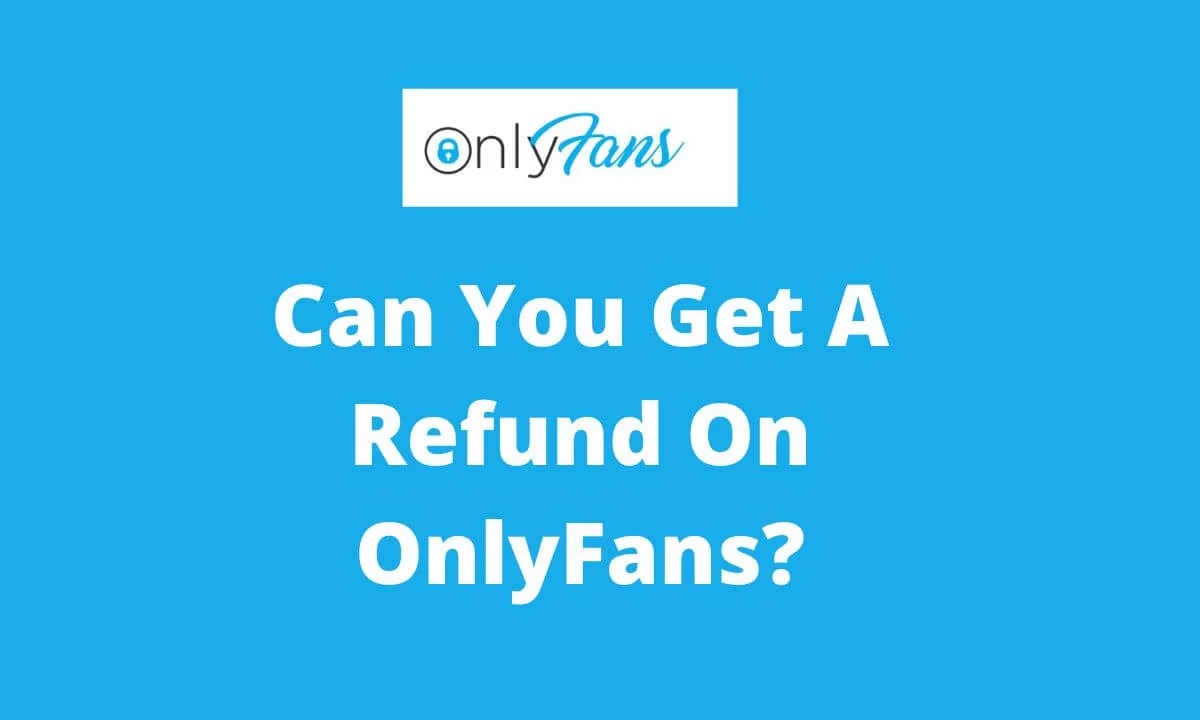 However, others may decide not to offer a free trial and instead implement a monthly subscription charge for users.
Keep in mind that OnlyFans subscription isn't one-time.
Instead, it is recurring.
This implies that you have to pay a certain fee as a subscription to access or enjoy the content of your preferred creator on the platform.
Can You Get a Refund on OnlyFans Subscription?
The answer is "No."
You won't be given a refund upon cancellation of your OnlyFans subscription.
In a scenario where you subscribe to a creator on the platform and access the content for a whole month, you won't get your money back even if you cancel the subscription.
The Onlyfans Subscription Model
After subscribing to your favorite OnlyFans creator, you will be charged a monthly fee.
The fee is split between OnlyFans and the creator.
OnlyFans takes 20%, while the creator is given the remaining 80%. This arrangement happens every week.
This means that after every subscription, at the expiration of your free trial period, you won't be entitled to a refund.
I have Subscribed to an OnlyFans Creator. What's next?
If you wish to subscribe to OnlyFans content, all you have to do is set up an OnlyFans account, connect your bank card and navigate to the creator's profile to whom you intend to subscribe to.
Most OnlyFans creators peg their subscription fees around $5 to $20 monthly. Visit the payment page to finalize the subscription process.
Once that is done, you must have completed the subscription process to an OnlyFans creator.
If you subscribe to a creator on the 23rd of July, you will be given access to their content until the 23rd of August.
If you change your mind within this period and opt to cancel your subscription, it is still possible, and you can still enjoy access to the paid content until your subscription expiration date.
You won't be required to pay for a new month. Thus, OnlyFans subscription payment is valid for a month.
Can You Dispute an OnlyFans Subscription?
Yes. However, it is not advisable unless you have a very cogent reason for doing so.
The possibility of your OnlyFans subscription dispute becoming successful is very slim.
This is because OnlyFans usually backs the creator and has a rigorous policy against users who try to exploit or manipulate the system.
However, if the creator has used a deceptive technique to mislead followers into paying for subscriptions, then it is within your right to dispute the subscription.
This implies that if a creator has established credibility, puts out authentic content and has plenty of subscribers who have paid for their content over the years, your dispute is likely to be unsuccessful.
Frequently Asked Questions
How can someone become an OnlyFans Creator?
Set up a new account
To create content on OnlyFans, you have to register an account.
Choose your subscription rate
It is up to you to decide if your content should be paid or free
Content creation and promotion on OnlyFans
The next step is to create your content and promote it on other social media platforms.
How much do content creators on OnlyFans earn?
While creators can set up accounts without charge, their earnings are shared with the platform owners. OnlyFans take 20% of the money they earn.
Who created OnlyFans?
His name is Tim Stokely
Tim Stokely is a renowned businessman who is based in the United Kingdom.
He also owns the OnlyFans platform.
He is a successful entrepreneur whose investments are centered on marketing, social engagement and community building.
How do newbies make a living on OnlyFans?
If you have just joined OnlyFans as a creator, the easiest way to earn money is to hide your content behind a paywall, that is, a per-per-view structure.
Through this method, your subscriber can access your content only if they pay a monthly fee.
This model cultivates your fan base, encourages growth and boosts income generation.
Can I earn money without exposing my face on OnlyFans?
Yes, it is possible.
You can monetize your content and earn on OnlyFans while remaining anonymous.
Why was OnlyFans created?
OnlyFans is a digital platform that was established in 2016.
This means anyone can pay to stream your content (pictures, webcasts and video clips) through a monthly fee.
Creators on the platform are mostly adult actors, personal trainers, singers, content creators and media personalities who wish to make money from their content.
What do people do on OnlyFans?
Established in 2016, OnlyFans is a content distribution platform that allows users to sell and subscribe to a wide variety of content.
The vast majority of content on the platform is pornographic and NSFW in nature.
Most times, the content is placed behind a paywall and can only be accessed after payments.
What type of content is available on OnlyFans?
There are four major kinds of content popular on OnlyFans: videos, pictures, status updates and DMs.
Similar to most social websites, pictures and video content are widely consumed by followers, particularly those of pornography or sexually explicit nature.
Feeds are identical to Facebook posts.
Why is OnlyFans popular?
Although not built primarily for adult or sexually explicit content, OnlyFans has grown substantially due to its wide use by adult actors and sex workers – partly because other websites strongly disallow it.
What country owns OnlyFans?
OnlyFans is headquartered in the United Kingdom and is known for its online content subscription features.
The platform has grown in popularity due to its sexually explicit content, but it also has other types of content, like songwriting, business development and workouts.
Does OnlyFans have an app?
No. OnlyFans hasn't yet launched an app on iOS or Android OS.
However, the site can be accessed on mobile devices through a web browser.
Who is the biggest user of OnlyFans?
OnlyFans is largely comprised of female creators, male followers and viewers. There is also a sizeable number of female audience and male creators on the platform. However, female creators enjoy a better success rate, with nearly a 70% lead over their male counterparts with regard to the fanbase.
What can I sell on OnlyFans?
You can market your digital and physical products and merchandise like caps, sweatshirts, caps, as well as other clothing items and also bags, notebooks and gameboards. OnlyFans has linked Spring's platform to its site and allows creators to sell items to their subscriber base.
What can I post on OnlyFans?
OnlyFans is popular for its pornographic content.
However, there are lots of creators that utilize it for different purposes.
For instance, you will find fitness gurus and dancers sharing tips with their teeming subscribers.
How do you earn money on OnlyFans without revealing your face?
Use a pseudonym
Utilize geoblocking.
Conceal tattoos, body art, and freckles
Keep an eye on your surroundings
Utilize voice changer software
Cover up your face with masks and costumes
Use tools to boost your subscriber base
Carry out content promotions on forums
What type of content is banned on OnlyFans?
Users are banned from sharing accounts with others or uploading illegal content to their accounts, like libel and slander, dishonest items or posts that glorify violence or criminal conduct.
Which country accessed OnlyFans the most?
The majority of Onlyfans.com's users are based in the United States. The next is the United Kingdom and Canada.
Who is the wealthiest OnlyFans creator?
Blac Chyna, an American social media personality and socialite, is one of the most popular creators on the platform.
She is also the richest, with a monthly income of 20 million dollars.
Next up is content creator and movie star Bella Thorne, who makes 11 million dollars monthly on the site.
Who is the CEO of OnlyFans?
Amrapali Gan is currently at the helm of affairs at OnlyFans. She leads an online platform rich in pornographic content.
What is superior to OnlyFans?
Here are the best alternatives to OnlyFans:
Which countries blacklisted OnlyFans?
A lot of countries have been backlisted in numerous countries, including the United Arab Emirates, China, India and Russia.
What are Cardi B OnlyFans?
Cardi B has collaborated with the platform to upload content for her fans, such as exclusive footage. OnlyFans has stated that the rapper will post backstage videos, react to rumors, engage with her followers and a lot more on their platform.
How can I publicize my OnlyFans content?
Share content on social media.
Promote content on PornHub Community
Use Ohh.me.
Adult chat forums
Conclusion
In this article, I have delivered answers to the question, "Can You Get A Refund On OnlyFans? ".
I hope this article has been helpful to you.
Check out our blog page for more social media tips.
Also Read: