Established around late 2022, ChatGPT is now the most popular artificial intelligence tool.
Powered by Machine Learning, it delivers automated replies to requests, inquiries and questions.
It has garnered widespread usage and acceptance due to its functionality and human-like text.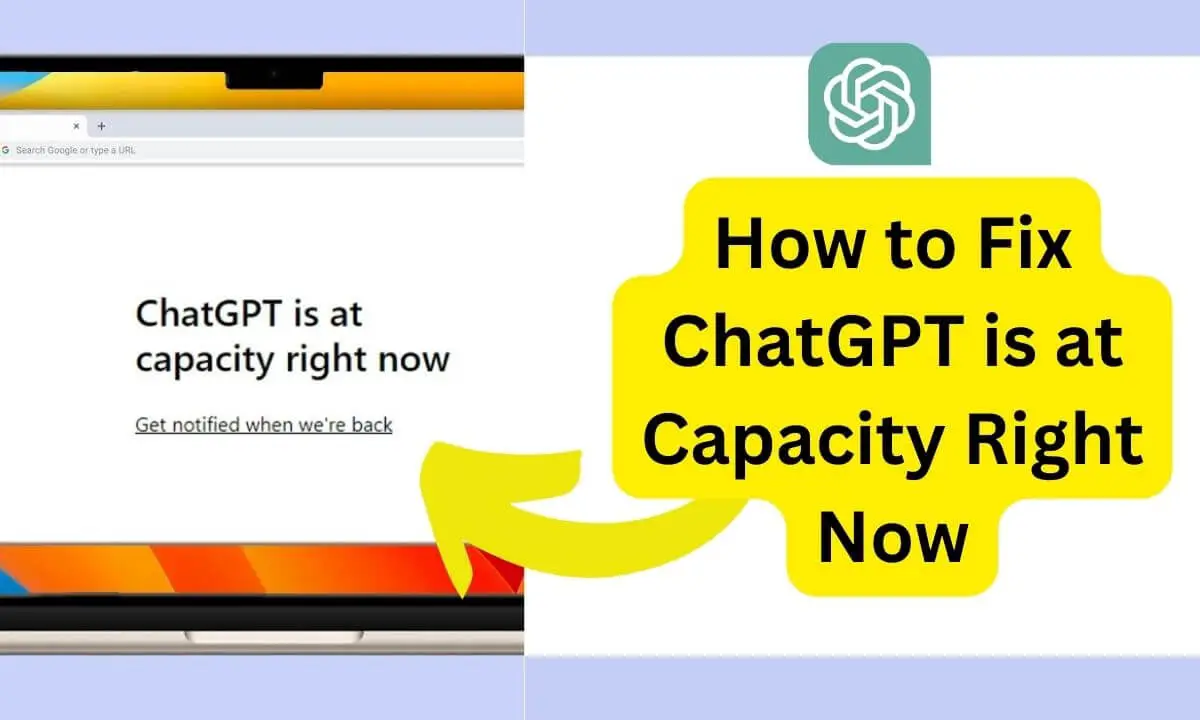 However, many people have complained about the "ChatGPT is at capacity right now" error when using the platform.
In this article, we will explore easy ways you can fix this annoying error. Let's get started.
What is ChatGPT at Full Capacity Error?
This error occurs when the number of people who are using the ChatGPT tool is higher than the capacity of their server.
The widespread nature of this error shows that the AI tool is very popular.
The chances of experiencing this error are usually high during the peak hours of 9-to-5.
How Do I Fix "ChatGPT is at Capacity Right Now."
Here are some simple solutions to the "ChatGPT is at capacity right now" issue:
Wait for Some Time
An easy way to fix the issue is to wait for some time and try again after a few minutes.
This method is ideal if you don't require an urgent response.
As I have stated earlier, the most common reason for the "ChatGPT is at capacity right now" issue is an increase in site traffic.
Thus, if you are experiencing this issue after trying multiple times, I suggest waiting for a few minutes,
If you do not want to continue checking the platform manually, select the "Get notified when we're back" button to get notified via email when the service is functioning again.
Utilize a VPN
VPN (Virtual private network) is effective in circumventing the "ChatGPT is at capacity right now" error.
This will help you connect to another server location with a smaller number of users and not too much traffic.
Try Simple Tricks
At times, simple tricks can solve the "ChatGPT is at capacity right now" issue. They include:
Do a Page Refresh
Reload your browser to refresh the page from the server rather than the cache.
This lets your browser submit a new request for the web page from the server, making it possible to access the ChatGPT interface.
Utilize ChatGPT in Incognito Mode
This lets you browse the page in incognito or private mode.
Clear the Cache of Your Browser
Access your browser and select the hamburger icon (triple dots) in the upper right corner to clear the cache.
A menu option will pop up.
Then, click the option to clear website data, consisting of cached pictures and files, cookies and other user data.
Lastly, select the "clear" option to finalize the process of removing the cache.
Restart Your PC
Restarting your PC or mobile device is an important trick that can rectify many errors and bugs.
Consider Subscribing to ChatGPT Plus
ChatGPT Plus is a premium option offered by OpenAI.
It is a subscription service that lets users enjoy quicker replies and better availability.
This is an excellent option for regular users of ChatGPT who wish for consistent service. It costs $20 per month.
Re-Login to Your ChatGPT Account
At times, re-login is an effective way to rectify the "at capacity" issue.
All you have to do is log out and in again after a while.
Use Another ChatGPT Account
If you have more than one account on the platform, you can change to another one to see if the error message disappears.
Use Another OpenAI API
OpenAI has other Application Programming Interface (API), namely Codex, GPT-3, and DALL-E.
If you encounter a "ChatGPT is at capacity" error message, use a different OpenAI API and see if the problem is fixed.
Check Out Other ChatGPT Alternatives
Lastly, if the methods above do not fix the problem, you can use one of ChatGPT alternatives like Microsoft's Bing AI chatbot, Baidu's Ernie Bot, Google's Bard AI, ChatGPT Sidebar, etc.
Why Does the "ChatGPT always at Capacity" Error Always Happen?
ChatGPT is the biggest and most widely used AI technology in the world.
It is being used by numerous people across the world.
Thus, ChatGPT users may experience a great deal of traffic and reach their capacity if a lot of users try using it at the same time.
This can cause server overload, triggering a delay in response times or low accuracy.
It is crucial to understand that as AI technology continues to meet widespread use and acceptance, it is likely that its capacity will be expanded in the future.
ChatGPT Busiest Times
ChatGPT's busiest times vary according to your time zone and location.
Typically, ChatGPT reaches its peak hours between the time frame between 7 AM and 12 AM.
The tool is likely to be less busy outside these times and on weekends.
Because the vast majority of ChatGPT users are from the United States and Europe, you will likely have a seamless connection to the platform during their night time.
ChatGPT is at Capacity Right Now FAQs
What is the waiting period before using ChatGPT again?
If you get the "ChatGPT at capacity" error, you have to try once more after a few hours.
This lets the server freshen up and then allows a new request limit.
Is there a ChatGPT app?
No. Even though ChatGPT is the most popular tool in the world, with hundreds of millions of monthly visits.
It does not have an official app. It is available via the Open AI website.
What is the ChatGPT capacity issue?
This "ChatGPT at capacity" error message means that a lot of users are trying to use the service simultaneously.
It has exceeded what the servers can deal with.
This usually occurs when ChatGPT experiences millions of web traffic, or there is an issue with their servers.
What is the cost of ChatGPT?
ChatGPT Plus was introduced in January 2023 and costs $20 every month.
It is now available to all users of the platform across the world. Paying for it will give you access to advanced features and perks.
What is ChatGPT's user base?
Based on the newest available numbers, ChatGPT presently has a hundred million users.
The website sees more than half a billion visits each month.
What is the best ChatGPT tool?
ChatSonic.
Frank: The AI Chat Assistant for iOS.
Wiz AI Chat Bot Writing Helper for iOS.
Write For Me — Chat AI Chatbot for iOS.
Wisdom Ai — Your AI Assistant for iOS.
Jasper Chat.
Aico AI Chat for Android.
ChatGod for Android.
How can I earn money through ChatGPT?
Create a website, mobile application, or service.
Get Startup Inspirations From ChatGPT.
Set up an AI chatbot.
Get video ideas with ChatGPT.
Writing digital books and Self-Publishing.
Engage in Freelancing and Create Content.
Why can't I sign up for ChatGPT?
You may encounter a signup issue if ChatGPT has an issue with servers or is going through maintenance.
While it can be annoying being unable to sign up, I suggest you try again after a few minutes.
Are universities able to detect ChatGPT?
Yes. Universities can presently detect ChatGPT and other AI tools.
For instance, if you submit your essay or term paper via the course management system, they may use tools like Turnitin or AI detection to check if the work is AI-generated.
What is the full meaning of ChatGPT?
It stands for Chat Generative Pre-trained Transformer.
It is an AI tool that is known for the automation of tasks and processes.
Where is ChatGPT's head office located?
ChatGPT is built and managed by a technological research firm, OpenAI. The company has its head office in San Francisco, US.
Tech leaders such as Sam Altman, Jessica Livingston, Elon Musk, Reid Hoffman and Peter Thiel contributed to the early-stage development.
What are the ChatGPT alternatives?
DialoGPT
Bing AI.
OpenAI playground.
Jasper Chat.
Socratic
LaMDA (Language Model for Dialogue Applications)
Chatsonic
Bard AI.
Is Microsoft the owner of ChatGPT?
NO. Microsoft is one of the investors of OpenAI, the US startup that built the ChatGPT platform.
OpenAI was launched in 2015 by Sam Altman and is funded by many investors.
What is the fastest-growing application in history?
ChatGPT, a popular AI chatbot tool, is the fastest-growing smartphone application ever.
According to various studies, ChatGPT has over 10 million unique visits each day.
This is two times the visits it had last year.
Can I access ChatGPT without logging in?
Yes. One effective way to use ChatGPT without logging in to the platform is through bots on Telegram.
What is ChatGPT's Plus rate limit?
With ChatGPT, you can send up to 300 requests every minute.
Can the public invest in ChatGPT?
No. It is presently not possible to buy shares in OpenAI because it isn't a publicly traded company.
Will ChatGPT repeat the same replies?
ChatGPT responses have a degree of randomness.
Thus, you may get slightly different answers if you ask ChatGPT the exact question multiple times.
Conclusion
In this article, I have explained various ways you can fix the "ChatGPT at capacity right now" issue.
Check out our interesting social media tips on our blog page.
Also Read: