ChatGPT is a powerful AI tool that delivers a conversational human-like response to users' queries.
It aims to assist people in finding fast and reliable answers to any questions they might have.
However, users occasionally face an "internal server error on ChatGPT.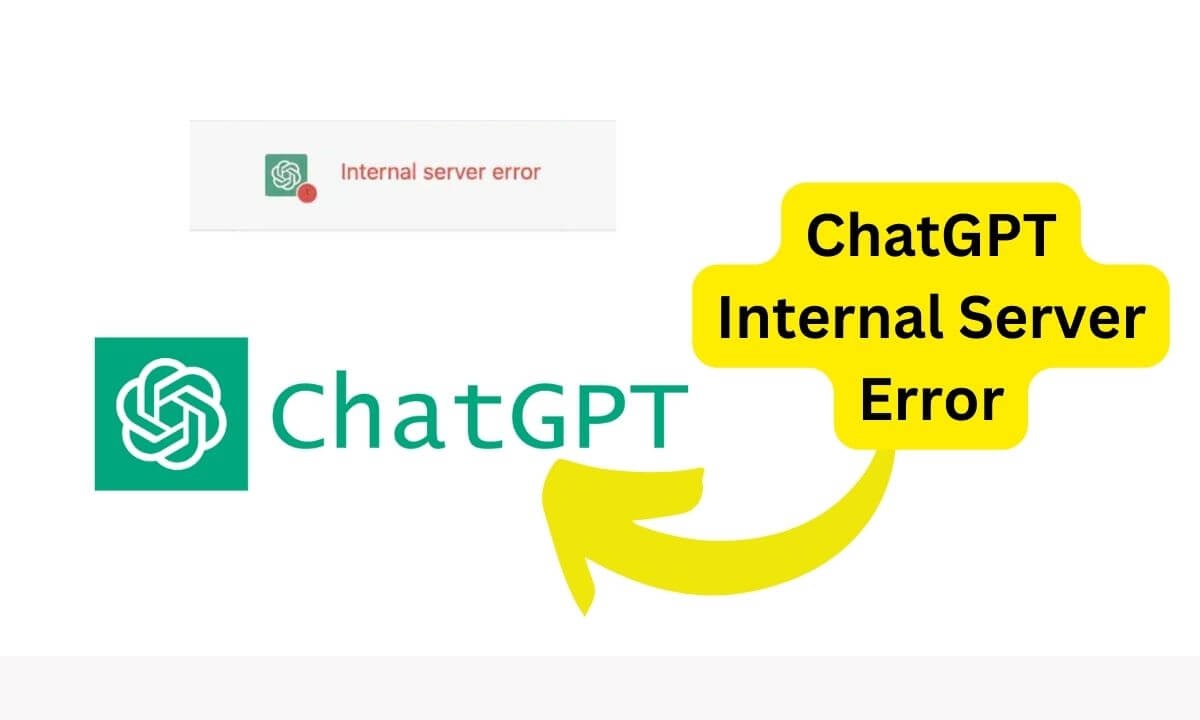 In this article, I will explain the meaning of internal server error and how to fix this error.
Meaning of Internal Server Error on ChatGPT
Since there are so many types of ChatGPT errors, it might be difficult to pinpoint the specific one.
The "Internal Server Error" on ChatGPT is a situation that prevents users from connecting to the platform's servers.
This causes an inability to connect and unresponsiveness from conversational AI. This may happen for some reason.
The Reason for the "Internal Server Error" on ChatGPT
There are many reasons for the "internal server error" on ChatGPT.
The most common ones include:
A surge in traffic
When the server has an increase in traffic, it can be strained and fail to process all requests. This can cause an internal server error issue.
Maintenance of Server
During server upgrades or maintenance, it might cause a failure to process user requests, leading to an internal server error.
Rate Limit
Going over ChatGPT's rate limit may lead to all sorts of internal server issues.
Internet Connectivity Problems
If your connection to the internet is slow or weak, it might lead to an internal server issue.
Browser cache issue
Internal server error may be caused by problems related to your browser cache.
How to Fix the Internal Server Error in ChatGPT
Find Out the Server Status of OpenAI
Before anything else, start by getting the facts directly from the source.
Like other technology firms, OpenAI has its own dedicated server for ChatGPT.
The AI company usually faces a surge in traffic which overloads its server.
This can lead to server disruptions that may vary from minor issues to service disruptions.
When OpenAI servers are loaded beyond capacity when you try using ChatGPT, you will experience an internal server error issue.
To find out the server status of OpenAI, visit the status website.
On the page, find the green bar below "chat.openai.com" and on other categories.
The green bar shows that OpenAI's server is working normally. If this isn't the case, you have to wait it out.
The issue will eventually be worked on.
Check Your Internet Connection
If the source of the problem is not OpenAI's server, you may have to check your internet.
For instance, if your internet is slow, unstable or suffers from packet loss, it may affect your connection to ChatGPT's site, causing an internal server error.
At times, a router's cache can easily be clogged, jamming the connection.
The good thing is that you can easily rectify this.
Just turn off your router.
Next, wait for ten seconds and then turn it back on.
This will effectively clear your router's cache and create a new connection to your ISP.
This will solve the issue of the internal server error that has occurred on ChatGPT. If the error persists, try the fix below.
Log Out and Re-Login
At times, an easy way to rectify issues is to log out and re-login.
Because the internal server error in ChatGPT only affects your account, this solution might work.
After logging in, select the left sidebar in the lower corner to access the menu option.
Then, select "Logout" to instantly log out.
After logging out, you will be redirected to the log-in screen of ChatGPT.
You can input your credentials and then re-login.
Change Your Web Browser
If the solutions above are unsuccessful, the source of the issue may be your browser.
At times, a certain web browser may have a lot of problems, which may cause errors in ChatGPT.
A workable solution, in this case, is to change your web browser to fix the internal server error.
If you are using a Chrome browser, you can switch to Firefox or Edge browser.
Next, access ChatGPT, and if the error doesn't show up, it is best to continue using the browser in the future.
Change Your Platform
If switching browsers doesn't rectify the issue, the source might be your device.
Since the vast majority of ChatGPT users access the platform via PC, this is where most problems occur.
Based on our test, ChatGPT works smoothly when we switch from PC to mobile and the other way around.
So, start by logging out of your computer and then sign in and use ChatGPT on your smartphone (iOS or Android device).
It is not compulsory to use one platform alone. You can try a mix of different devices to ensure ChatGPT works smoothly.
If you are getting fed up with typing, there's even a way to use Siri to command ChatGPT!
The solution above should rectify ChatGPT's internal error issue; if not, continue reading.
Clear Your Browser Cache
Web browsers possess a separate cache that serves as a store for minor data like picture previews, site metadata and other pieces of information.
However, it is possible for this cache to become corrupt, causing numerous problems.
One source of ChatGPT internal server errors is a corrupt cache.
This issue (cache problem) can affect PC and mobile devices.
Let me show you how to clear the browser cache across devices.
Note:
In the steps below, we will use Google Chrome for all devices. The steps may differ slightly based on your browser.
How to Clear Browser Cache on a PC
Launch the Google Chrome browser.
Navigate to the right corner and click the three dots icon.
Next, select Settings from the menu options that pop up.
Select "Privacy and Security" from the left menu bar.
Select "Clear browser data."
Now, below the data options, leave everything unchecked aside from cached files and images.
Make sure to choose the time range and select "Clear Data."
This should delete the cached data found in your web browser.
This will rectify the ChatGPT internal server error.
If you are using a mobile device, continue reading below.
How to Clear Browser Cache on an iOS Device
Launch the Google Chrome browser.
After that, select the three dots icon in the right corner.
Choose "History" from the menu option that pops up.
You will access your browser history. Next, select "Clear Browser Data" to open the options.
Similar to before, ensure you only check the cached images and files option.
Lastly, select "Clear Browsing Data" and then once more in the confirmation box.
Similar to what occurs on a PC, your web browser will be refreshed on iOS.
This ought to rectify the ChatGPT internal server error.
Lastly, let us explore the steps for Android.
How to Clear Browser Cache on Android
Similar to iOS, select the three-dot icon from the right corner.
Access the menu options and choose "History."
This should launch your browsing history. Then, select "Clear browsing data" to open a new set of options.
Lastly, ensure that you uncheck everything aside from files and images.
Compared to before, choose "Clear Data" and then select "Clear" to finalize.
If there is an option to choose other websites, it's up to you.
This will remove your Android-cached data.
Once this is completed, try signing onto ChatGPT and see if this fixes the internal server error.
Connect to a VPN
You must have heard about VPN (which stands for Virtual Private Network) and its importance.
To have a solid idea, VPN is a secure virtual channel across the website you wish to enter and ISP.
This shields your IP address from everyone and protects your privacy.
It also protects your identity even if you are using public Wi-Fi.
Thus, if you experience a ChatGPT internal server error, it is likely that a server connection is the culprit.
When this happens, install a reliable VPN tool for your device. Next, you have to select a location, and that is it!
This will effectively rectify your ChatGPT internal server error.
ChatGPT Internal Server Error FAQs
Why won't ChatGPT work?
Common reasons why this happens are a weak internet connection, a poorly configured VPN tool, server overload, and a brief server downtime at OpenAI servers.
Furthermore, this error may be caused by the complexity of your questions to the Chatbot.
Also, ChatGPT may show an error when you ask multiple questions at once or generate a lot of text.
Is the ChatGPT app available for Android?
No. There is no official ChatGPT app available for Android.
However, you can only visit the ChatGPT website from your mobile device's browser.
What is the ChatGPT website?
The website for ChatGPT is https://chat.openai.com/chat.
Conclusion
ChatGPT is the most widely used artificial intelligence tool today.
It is effective in delivering accurate answers to questions.
Most of the time, users encounter issues when using the platform, such as internal server errors.
In this article, we explained how to fix the internal server error on ChatGPT.
Ensure you check out other interesting social media strategies here.
Also Read: