I know what you're thinking: "How do I delete all comments on YouTube?"
It's not surprising that so many people get frustrated with YouTube comments.
Many people who comment on videos are trolls who just want to cause trouble or simply make fun of other people. Others comment to be mean and hateful.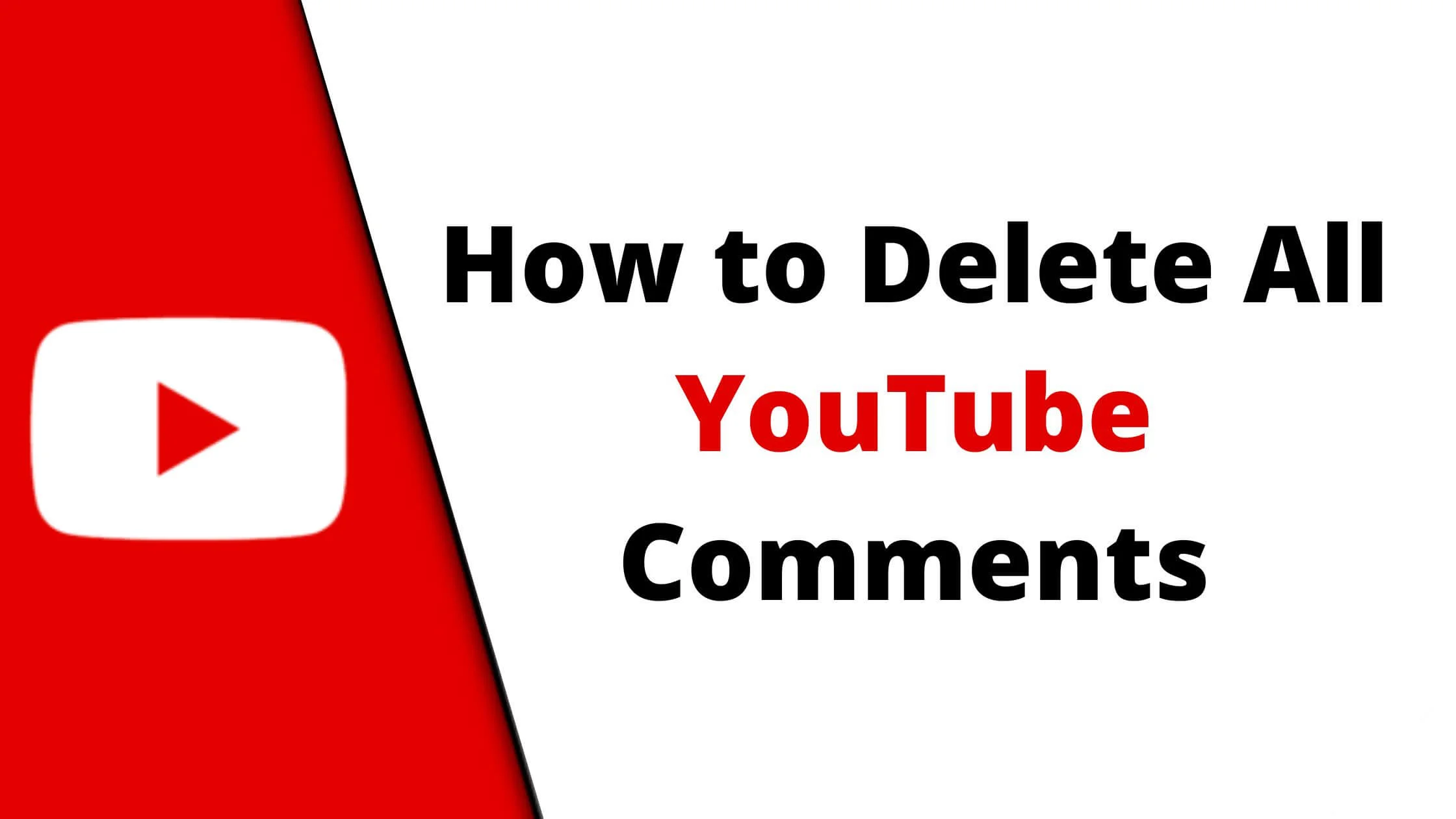 However, the good news is that it is easy to block unwanted comments and it is very easy to delete comments on your YouTube channel as well all the comments you have ever made.
If you're wondering, how can I delete all comments on YouTube, then you're in the right place.
In this guide, I will guide you on how to delete all YouTube comments you have made and also made by others if you're a creator.
So, without any further ado, let's get started.
See Also: How to Unlock the Community Tab on YouTube
What Happens When You Delete a Comment on YouTube?
Deleting a comment on YouTube will remove the comment permanently from your video and you cannot undo the process.
When you delete a YouTube comment, all the associated replies will also be deleted alongside.
How to Get Rid of Every Comment You've Ever Made on YouTube
Content creators as well as users can remove all comments made on any YouTube channel.
However, there's an exception. You cannot delete comments made on YouTube before Google bought YouTube in 2006.
So let's explore in detail how you can view and delete your comments on the YouTube channel.
Delete YouTube Comment Using Your Comment History
YouTube is such a flexible platform that allows you to easily access the history of your activities.
One of such activities is being able to view the history of your comments on YouTube.
If you want to view every comment you have made on YouTube, you can simply access the YouTube Comment History page by visiting: https://www.youtube.com/feed/history/comment_history
To delete comments from YouTube using the history page, follow the steps below:
Open your YouTube account.
Navigate to the comment history page.
Locate the specific comment in your history that you want to delete.
Tap on More (The three horizontal dots icon).
Click Delete.
Proceed to Confirm that you want to delete the YouTube comment permanently.
Note: There's currently no option to bulk delete all YouTube comments from the history page.
If you still want to delete all your comment on YouTube, you can simply keep repeating the process or use other available options to delete all comments on YouTube.
See Also: How to Disable YouTube Shorts Permanently
Hide Your YouTube Channel
As a content creator, YouTube gives you the flexibility to hide your channel.
This step can temporarily make your YouTune channel invisible to the YouTube community as your content, subscribers, likes and your name will be hidden.
You can also re-enable your channel anytime you wish. This step does not limit your access to the platform or any other Google services.
But there's a flip to that which is important to note before you temporarily disable your YouTube channel.
When you hide your YouTube Channel, all your comments made will be deleted. And you cannot recover those comments as it is permanent.
To delete all comments on YouTube, simply hide your channel and all your comments will be gone.
Here's how to hide your YouTube channel and delete all comments:
Log in to YouTube. Makes sure you are logged in to the correct account if you manage multiple YouTube accounts.
Tap on your Profile. Then select your profile photo in the upper-right section of your screen.
Next, tap on Advanced Account. This can simply be accessed here: https://www.youtube.com/account_advanced.
Navigate down and choose Delete Channel. By clicking on this, you will be required to enter your Google email address and password again. By clicking on the Delete Channel, your channel won't be deleted permanently.
Proceed to choose "I want to hide my channel." On other versions of YouTube, it may say "I want to hide my content."
Afterward, YouTube will show you the expectations when you hide your channel.
Check every option box on the list of expectations. Note that this does not delete comments made on Google+. However, other comments will be deleted.
Go ahead to tap on "Hide My Channel."
That's it. All your YouTube comments will be hidden.
How to Unhide YouTube Channel
To unhide your YouTube channel, simply follow the steps below:
Note: Don't click on To use a business or other name, as you're not creating a new channel to reactivate the hidden one.
Once completed, this step should unhide your YouTube channel and your videos will be visible again.
See Also: How To Remove Unwanted Videos From YouTube | Delete YouTube Video
How to Delete Others Comments on YouTube
As a content creator, it is best practice to use YouTube's comment moderation feature.
This gives you control over the kind of comments welcomed on your channel.
For instance, you can filter out certain keywords or hashtags on your video comment.
But then, what if you delete others' comments on YouTube?
Here's how to do so:
First, click the three dots icon beside the comment. You will see the option to report the commenter or hide the comment from your channel.
Tap on Delete to remove the comment. Note that if there're responses to that comment, all will be deleted together.
How to Report Comments on YouTube
If you're not the commenter or the owner of the channel, what control do you have over comments made by others?
You can report a comment that you think violates YouTube community guidelines.
Once it is reviewed, the comment may or may not be deleted based on what YouTube thinks.
The following are the reasons available when reporting comments on YouTube:
Adult content or materials.
Spam, unsolicited commercials, and content.
Hate speech.
Bullying or Harassment.
Below is how to report a comment on YouTube:
Navigate to the channel's video and find the comment you want to report.
Click on the three vertical dots beside the comment.
Choose Report from the displayed menu option.
Then select one of the following.
Click Report in the lower section of the pop-up menu.
Note: You cannot delete the comment since you are not the creator of the content. But you can report it and be rest assured YouTube will handle it.
See Also: How to Promote Your YouTube Channel for Free
How to Delete All YouTube Comments FAQs
Can You Delete Comments on Your YouTube Videos
Yes, you can delete comments made by others on your YouTube videos. As the owner of the video, you have full control to remove any comment you feel is inappropriate.
Where can I find all of my YouTube Comments?
It can be difficult to find YouTube comments, especially with the frequent update to the interface.
You can find all of your YouTube comments by following the steps below:
Launch YouTube and log in to your account.
Tap on the three horizontal line bars in the top right corner of your screen.
Next, tap on "History."
Tap on "Comments" on the right side menu.
From here, you will find all the comments you've ever posted on YouTube.
See Also: How to Enable YouTube Shorts on iPhone
How do I find all of the comments on my channel?
YouTube has a strict compliance policy and can kick you out of the platform if you violate any of those.
Hence, the need to keep a close match on comments made on your channel and the content that you also publish.
To find all the comments on your YouTube channel, simply follow the steps below:
Sign in to your YouTube account and tap on the three horizontal lines in the top right section of your screen.
Tap on "Your Videos."
Tap on the Comments icon beside the video you want to check the comment.
You will find the list of comments displayed. Perhaps you want to delete any of those comments, you can simply follow the steps above.
If I delete my YouTube account, will all of my comments disappear?
When you delete your YouTube account, all associated actions such as comments, likes, and subscriptions will be deleted alongside.
If you've invested time to create videos on your channel and built your audience, deleting your YouTube account is not the best option.
See Also: What is Instant Premiere on YouTube? How to Use it
Do you get notified if someone deletes your comment on YouTube?
No, YouTube does not notify you when your comment is deleted from YouTube. Comments that appear spammy or inappropriate are deleted and you can not challenge them.
Why did my YouTube comment disappear?
When your YouTube comment disappears, it could be that the algorithm flagged it as inappropriate was deleted by the owner of the channel.
How do I know if my comment got deleted on YouTube?
You don't get notified when your comment is deleted on YouTube. However, you can manually check to know if your comment got deleted by going back to the post where you made the comment to see if it's still there.
Conclusion
Deleting your own comment on YouTube is an amazing way to have a refreshed personality on YouTube.
This gives you control of what is attributed to you on the internet, remember the internet doesn't forget.
I hope that this article on how to delete all YouTube comments helps you to get rid of all your comments on YouTube.
Also Read: