Instagram is a popular social media network with more than 500 million daily users.
The major reason for its widespread use is its appealing features that users always enjoy. Even though Instagram is very reliable, at times, glitches or setbacks may occur.
One of the most common glitches is the "Instagram couldn't refresh feed".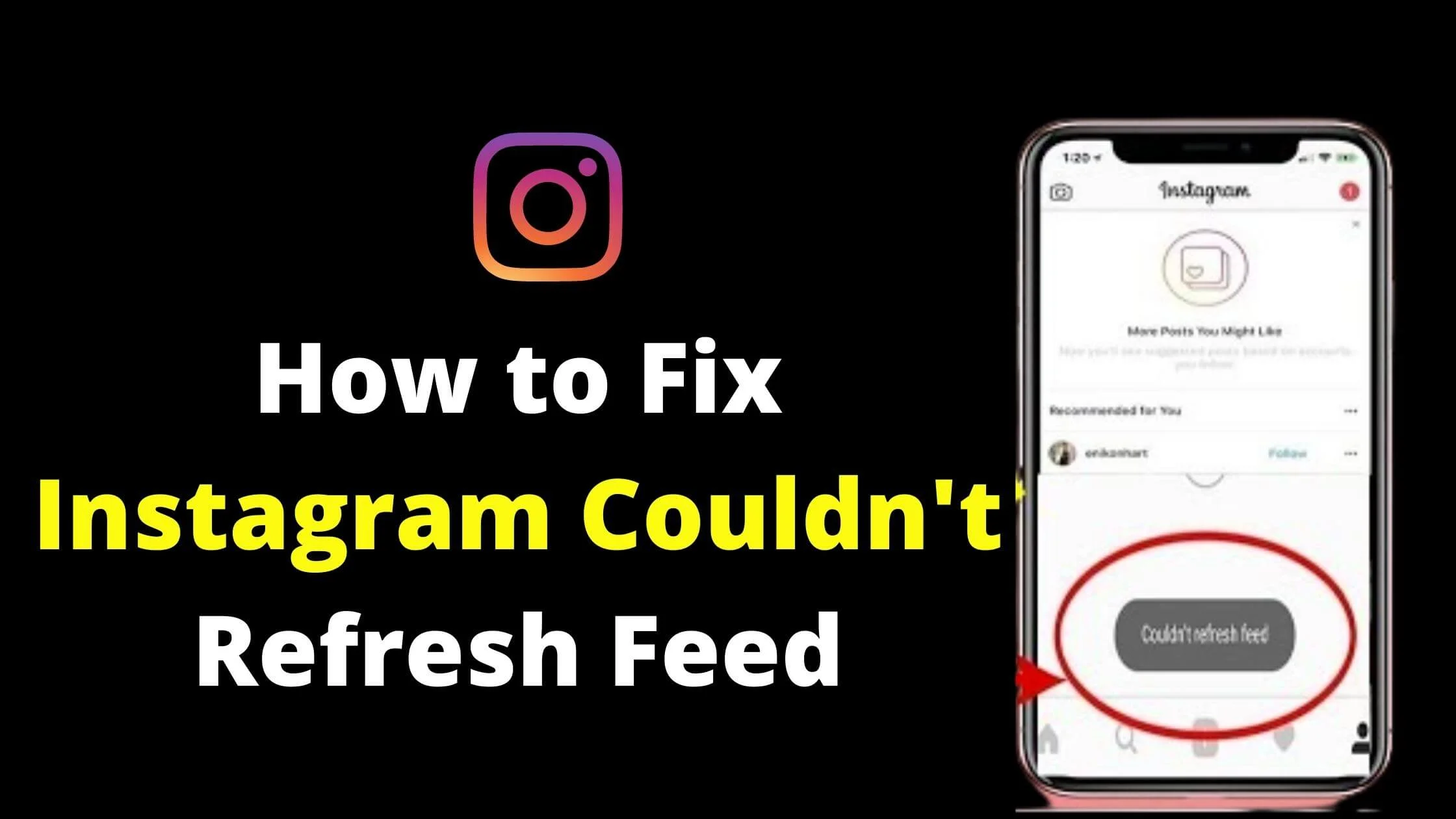 You don't have to panic if you see the "Instagram couldn't refresh feed" issue; it's a fairly common glitch on Instagram.
This article will reveal to you the reason for getting the error message and how to rectify "Instagram couldn't refresh feed".
See Also: Instagram We're Sorry Something Went Wrong [FIXED]
What are the reasons for the "Couldn't Refresh Feed" error appearing on Instagram?
Incorrect Date and Time
If you have the wrong time or date on your smartphone, then the "couldn't refresh feed" error messages will most likely appear.
Using Third-Party Tools
Another major cause of the "couldn't refresh feed" error is the use of third-party tools to automate your activities on Instagram. Instagram discourages the utilisation of such tools and deactivates or bans accounts linked to these bots. 
Server Problems
Server issues may be the source of the error message on your Instagram app. Whenever this happens, the only solution is to patiently wait for the issue to be rectified. 
App Malfunction
If the Instagram app is malfunctioning or has a bug, you'll experience hiccups and setbacks while using it. We advise you to patiently wait for a new update to be published by the app makers. 
Full Instagram Cache
Whenever your Instagram cache files have exceeded their limit, your app may become painfully slow to load or stop functioning altogether.
Congested Network/Wifi
Another reason you might most likely see an "Instagram Couldn't Refresh Feed" is when there's a network issue. Network stability is probably among the biggest factors that affect the speed and efficiency of an app. 
Restricted Data
When your data usage is restricted, issues such as "couldn't refresh feed" will most likely occur. The error will pop up on your smartphone whenever you have reached the limit of the data usage you have specified. 
Outdated/Obsolete App
People using outdated versions of Instagram apps will experience all sorts of errors.
See Also: How to Fix We Limit How Often You Can Do Certain Things on Instagram
How to Fix Instagram Couldn't Refresh Feed
Check Instagram's Servers
As we have mentioned, an "Instagram couldn't refresh feed" usually occurs due to server issues. Hence, it is important to find out if the Instagram server is fully operational.
You may experience poor user experience whenever their server is unavailable or inactive due to maintenance.
Thus, whenever server issues occur, you'll have to patiently wait until the server problem is rectified before trying to fix the "refresh feed" issue.
Update Your Instagram App
It's a good habit to occasionally check the Google Play Store and App store for Instagram updates. Whenever an update is released, there's a chance that it will fix problems within the app. 
For instance, if you see the following keywords "Bug fixes and speed improvements" in the update description, this means the update will rectify any malfunctions that occur in the app. 
It is worth noting that even an Instagram update can be riddled with bugs. If this happens, you will have to await a fresh update.
Install the latest version of the Instagram mobile app from the Apple store (for iOS devices) or Google Playstore (for Android devices). 

Next, launch Instagram and complete the login process.

Check the home page to see if the "Instagram couldn't refresh feed" issue has been fixed. 
Enable Instagram Unrestricted Use of Your Mobile Data
To prevent excessive consumption of data, your mobile device lets you control data usage in selected apps. For instance, if you limit Instagram data, you'll most likely encounter the "Instagram couldn't refresh feed" error.  
Here's how to fix it:
Launch the Settings app on your smartphone. 

Tap on "App Management"

Next, select "App settings."

Swipe down to locate Instagram

Tap Mobile Data from the menu listing. 
The Instagram feed problem may emanate from a situation where you have limited data usage.
You may notice that the app is severely limited in its functionality whenever it surpasses its data restriction. Thus, issues like daily data limits may spring up. 
See Also: How to Fix Instagram Not Loading Pictures
Update Date And Time
You might encounter the "Instagram couldn't refresh feed" glitch if your smartphone's time and date are invalid or inaccurate.
This is due to a mismatch between the date and time on the Instagram app and your phone. 
Ensure that you have the exact time and date on your smartphone. You can equally configure them to be automatic so you won't have to encounter such an error again.
Launch your phone's Settings app, then navigate to additional settings.

Select Additional settings from the menu listing.
From the list of options, tap on Time & Date.
Toggle on "Network-Provided Time".
Launch the Instagram app to find out if the problem has been fixed.
Try repeating the Instagram Login Process
A fast but effective way to eliminate the "Instagram can't refresh feed" issue is to repeat the login process or re-logging.
This method is excellent in clearing out the error since re-logging will reset the app and rectify frustrating issues. 
By logging in again, you will also enjoy the benefits of re-validating your account. This happens whenever you finalise your login process. 
Navigate to your profile by selecting your profile icon, located at the lower right side of your home feed.

Next, access the hamburger button. (It is the three-horizontal line button beside the upper right corner)
From the settings menu, tap the LogOut button.
Afterwards, patiently wait for up to ten or fifteen minutes. Restart the login process with your email or phone number and password.
Find out if the "Instagram feed" error has cleared up.
You should be able to use your Instagram app with no issues at this stage. 
Clear Storage and Cache
Another method to rectify the "Instagram couldn't refresh feed" issue is to declutter Instagram data and cache. You should know that all apps store cache files on your smartphone.
Although these files are temporary, they improve the load time, functionality, and speed of the app. 
In the case of Instagram, it is advisable to clear out the cache regularly. This will go a long way in rectifying the "Instagram couldn't refresh feed" issue. 
To do this, follow the steps below:
Start by navigating to your "Settings" app on your smartphone.

Access the menu items and select "Apps". Next, tap "All Apps".
You'll be shown a list of apps; pick "Instagram".
Tap "Storage" and then "Clear cache".
Next, select "Clear Data".
Ensure that your settings are saved. Quit the app. Relaunch the Instagram app to find out if the issue has been rectified. 
See Also: How to Turn Off Read Receipts on Instagram
Reset Your Smartphone
A great way to rectify any issues that may spring up from your device is by resetting your smartphone. This is a general way of resolving app malfunctions.
Android Phones and Tablets
Press down on the power button for some seconds.

A pop-up will appear with some options.
Tap "Restart" to reboot your smartphone.
iPhone
Press home and power buttons simultaneously for four secs.

Continue pressing those buttons until your smartphone display becomes black and the Apple logo flashes.
Reach Out to Instagram Support
In cases where you can't use Instagram on another device because of the "couldn't refresh feed" error, you should get in touch with the Instagram support team.
This will help clear up the question of whether the issue is from their end. 
Here's how to reach out to Instagram support when there is an Instagram feed error:
First, you need to enter your profile page. To do this, select the profile icon located in the upper corner of the home page.

Next, navigate to Settings, and then tap Help.
Tap "Report a Problem"
Next, describe the issues you've encountered in the box provided. Tap the submit button.
Patiently wait for the error to be fixed.
See Also: Your Account Has Been Temporarily Locked – Instagram [FIXED]
Remove Any Improper Posts or Comments
Another reason for the "Instagram couldn't refresh" error could be abusive posts, images, or comments linked to your account.
Ensure you go through your account to check if you have breached any rules or terms of condition. 
If you have noted a breach in your account, you'd have to delete it to rectify the "refresh feed" issue. 
Pictures
You may occasionally see this error on your profile. A good solution is to change your old profile photo. Once you have changed your picture to an acceptable one, the error will be cleared off. 
Comments
Improper, unacceptable, or offensive comments can lead to "refresh" errors. To rectify this problem, find and remove any of these comments from your post. 
Posts
If Instagram finds any of your posts unacceptable or offensive, then you will be notified. Ensure you remove such posts.
See Also: How to View Instagram Without an Account
Fix Instagram Couldn't Refresh Feed FAQs
How Can I Avoid the "Refresh Feed On Instagram" error?
Ensure you have internet access. Configure your date and time to automatic. Relogging whenever an error occurs. Declutter the Instagram cache. Reset your device.
What's the reason for the "Couldn't Refresh Instagram Feed" Issue?
An unstable or bad internet connection is probably the main reason for the error. You may experience difficulties in accessing the latest pictures and video clips in your feed.
What is the Best Way to Refresh My Instagram App?
Update your Instagram app to the latest version. Navigate to the Google Play Store. Search for "Instagram" and then tap the "Upload" button. 
Conclusion
In this article, we analysed some solutions to the "Instagram couldn't refresh feed" error. Ensure you keep your Instagram app up-to-date as this is the best way to rectify any bugs or malfunctions.  
Also Read: