Affiliate marketing is a billion-dollar industry that can make you achieve your financial goal really fast.
However, it can be challenging to discover a high paying affiliate program that is legit when it comes to affiliate marketing.
But, there are great affiliate programs out there that are best paying and legit. One of such affiliate programs is Jasper.ai.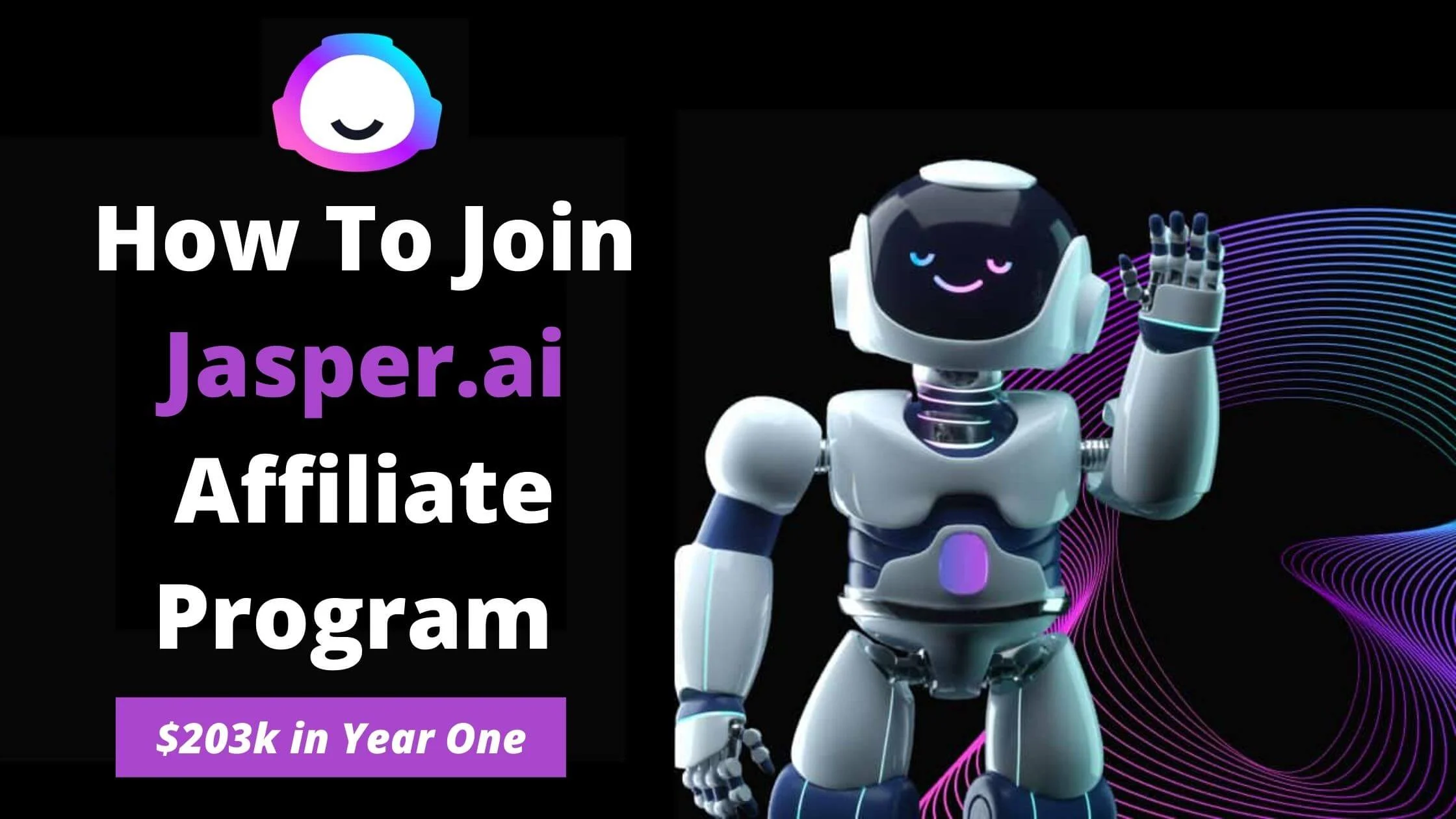 Jasper AI has been around for over 7 months and is one of the best paying affiliate programs. They have come to stay.
Jasper AI team is devoted to their partner program. As long as your referral pays for their subscription, you will be paid 30% of their recurring revenue for life.
This opportunity could be perfect for you if you want to make money online. Get started with your first campaign once you sign up as an affiliate.
In this article, you will learn how to join Jasper.ai affiliate program and how to make money as an affiliate.
Without any further ado, let's get started.
Apply for Jasper affiliate program
What is Jasper AI
Jasper (formerly Jarvis) is an AI tool that allows users to write content 5x faster with artificial intelligence.
It's the highest quality AI copywriting and writing assistant tool with over 3000 5-star reviews. It's designed by the parent company UseProof. And it's made public on 25 January 2021.
Founded by a small team based in Austin Texas, Dave Rognmoser CEO, Austin Distel, Johnn Philip Morgan, Amanda Weston.
At its launch, it was called Conversions.ai. Because it was difficult to remember and spell with ease, it was changed to Japer.ai on 29th June 2021.
That's not all, on January 24th, 2022 Jarvis.ai was rebranded to Jasper as the software over the past few months has had lots of improvement and upgrade.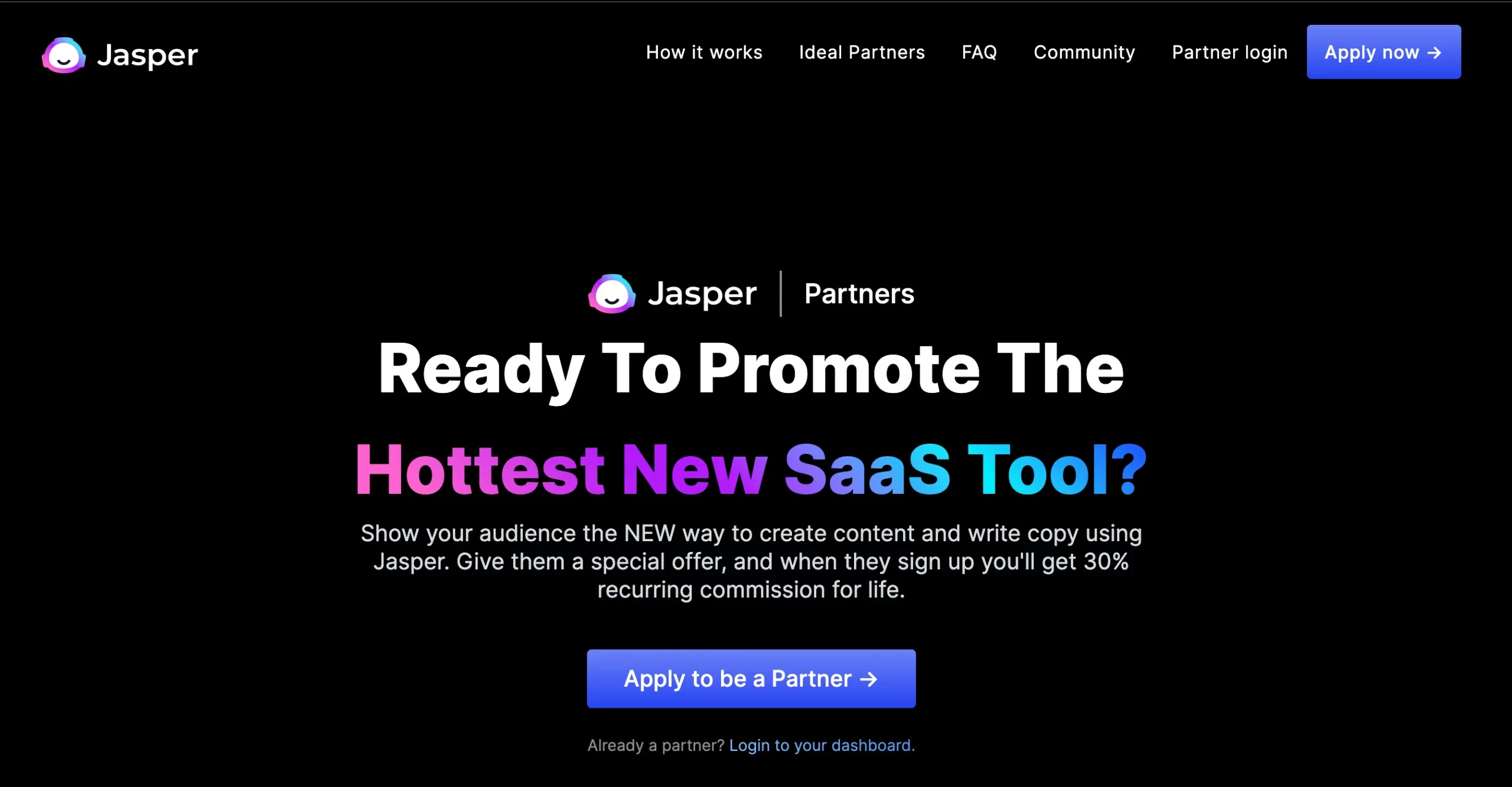 My Jasper AI Partner Program Journey So Far
I was invited to join the Jasper.ai affiliate program in December 2021.
The team behind this company is amazing, and take your hands and walk you through the best ways to promote Jasper and get most of the commissions possible.
I really liked Jasper because it was able to generate the best-performing content and it is so much better than any other AI-powered writing assistant available in the market.
I was able to get more customers and made more money using this strategy than any other marketing method. I recommend using this method for anyone who wants to make more sales.
I've been working hard for the few months that I joined Jasper and I have been able to make at least $500 per month passively.
It's important to use your blog as a tool to promote Jasper AI. You should write reviews and share them on social media.
Blogging can be really competitive, especially when you're starting out. Hence, you can leverage other channels such as Facebook groups, forums and YouTube to promote your affiliate links.
The best sales strategy to promote Jasper is to use it. The best part of it is that you can start with Jasper free trial and claim over 10,000 words.
=> Apply for Jasper Affiliate Program
=> Claim Jasper 10,000+ Bonus Credit and Free Trial
Bloggers
Paid Advertisers
Freelancers
SEO expert
Agencies
Content writers
Authors
Marketers
Copywriters
Email Marketers
Founders and CEOs
The above is the target audience for Jasper and the benefits that this will offer them.
How Much Commission Does Jasper AI Offer Affiliate Marketers
There are three different plans for businesses in Jasper.
The starter is $29 a month, the Pro plan is $109 a month, and the boss mode is $119 a month.
All Jasper plans come with a 7-day money-back guarantee, so if your referral doesn't like Jasper services, you can give them a money-back guarantee.
If your referral makes payments for their subscription, they will pay 30% of their recurring commission per customer.
With the recurring commission, you can make passive income as the customers keep up with their monthly subscriptions.
There is no limit to the amount of money you can make as a Jasper partner.
You can get paid a 30% recurring commission for eternity with an average income per user is $79/month.
Over 10,000 customers were analyzed by the Jasper team to find out how much revenue they brought in.
Jasper.ai Affiliate Marketing Referral Worth
‍1 referral is worth $24 per month
5 referrals are worth $120 per month
10 referrals are worth $240 per month
25 referrals are worth $576 per month
100 referrals are worth $2,400 per month
250 referrals are worth $6,000 per month
1,000 referrals are worth $24,000 per month
Jasper Commission Structure
Starter Plan ($29 per month) will give you $8.70 per customer
Pro Plan ($109 per month) will give you $32.70 per customer
Boss Mode ($119 per month) will give you $35.70 per customer
When users purchase additional features for access, they will earn even more. Extra affiliates will be able to make more money from those sales.
Lets take a deeper dive into the breakdowns on a monthly basis for customers who purchased the Boss Mode $119/month:
Boss Mode = $35.70
Month – January
1 referral = $35.70 per month
Month – February
10 referrals = 10*35.70 = $357 per month
Month – December
100 referrals = 100*35.70 = $3,570 per month
Being aware of the importance of recurring affiliate programs, it is no wonder that they are worth your time. New customers and a continuous stream of revenue are what you get every month
How To Join Jasper AI Affiliate Program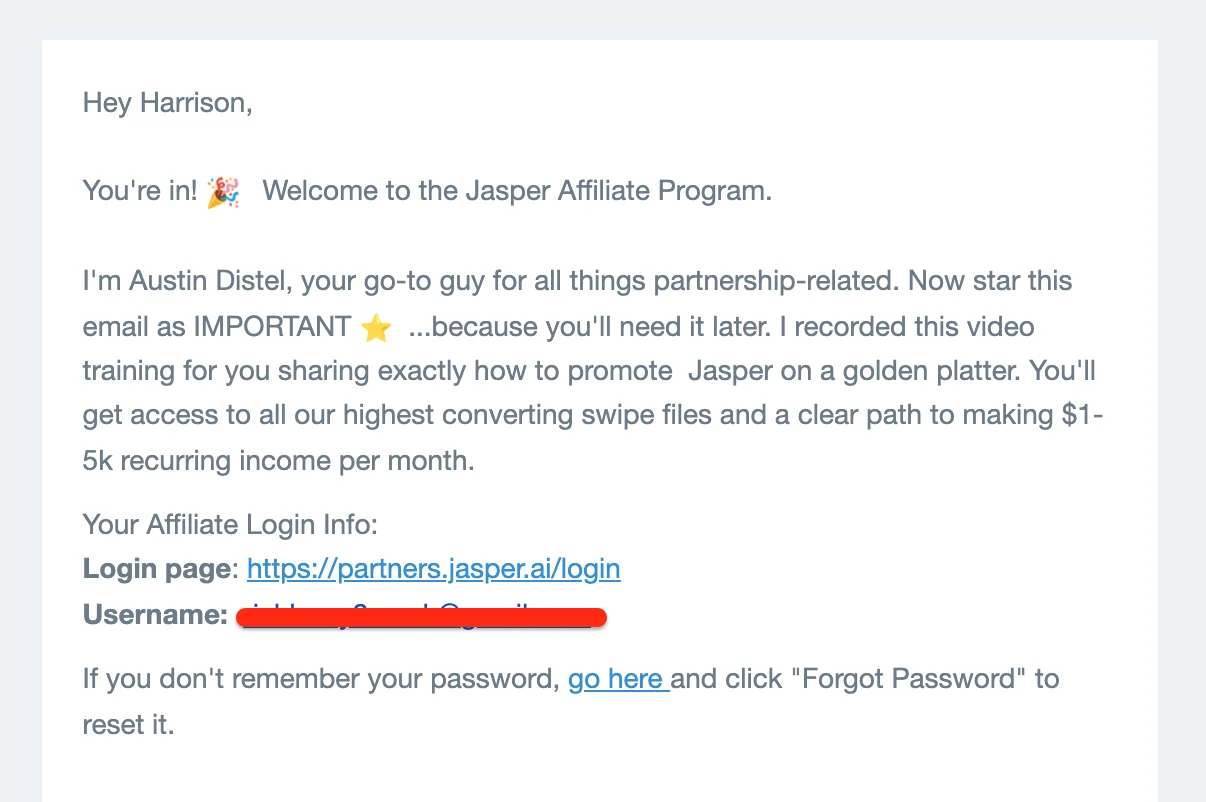 To join the Jasper affiliate program, you just need to fill out an application form with your valid details such as name, email address, and the reason why you should be accepted to promote Jasper.ai.
Afterwards, you have to wait 48 to 72 hours for an approval email once your application has been reviewed.
Follow the steps below to apply for the Jasper affiliate program:
Firstly, navigate to the Jasper affiliate sign up page
Tap on the "Apply to Partner" button to be redirected to the Jasper application form for submission
To fill in the required details, you must give your personal information. Keep an eye on your mailbox once you submit your application.
It typically takes 48 to 72 hours to complete.
They will give you access to the Jasper dashboard once you approved. If you want to promote this software, you should use your affiliates links and marketing materials.
I discovered the FirstPromoter during my research while applying for the Jasper partner program.
The FirstPromoter helps prevent fraud purchases, does not track bot clicks and keep the company safe from losing revenue. Besides that, it can also help affiliate marketers A/B test or use templates that have proven to be successful in time past.
This makes the software one of the best tools to run affiliate campaigns.
Jasper 30 Day Waiting Window
You will have to wait 30 days for refunds/disputes after you cross the affiliate Payout rate of more than $25, and you will get paid in the first week of the month.
Say for example you earned $764.75 in the month of February and then after, you will have to wait for 30days for refunds/disputes (March will be your wait month).
Then, your payment will arrive in the first week of April.
How to Become a Successful Affiliate Partner With Jasper
Below are the easy ways to succeed and be an affiliate partner with Jasper.
Drive Authenticity
Be honest when promoting your products. Before you recommend a product to others, you must test it to see if it works.
Being authentic does not equate to losing affiliates sales but rather, it helps you connect more with your potential customers.
To promote any type of affiliate marketing authentically requires doing as much research into both sides of the seller's site as possible and connecting those dots behind the scene.
Jasper.ai has a 7 day free trial for testing the product. It makes it easier to understand the product.
=> Get the Jasper Ai free trial today + 10k words credit bonus.
Create Quality and Engaging Content
After testing and trying it yourself, what next?
It is time to share your opinion on what you like, how it helps you to level up, what it does, and what's needed to improve is what it's time to create content about.
Multiple contents can be created by using different platforms with different intents.
For instance, I will create content on Jasper Artificial Intelligence Review or Jasper Pricing to teach people how to use it to generate quality content 10x faster.
If you publish on a video-sharing site like YouTube, make sure to target different commercial keywords with intent This will allow you to generate valid traffic who are interested in the product.
You can generate more affiliate sales by doing this.
Generate Traffic to Your Affiliate Links
You can use a variety of channels to get traffic to your content.
One of the most popular ways to get higher rankings on the SERP is through the use of target keywords. This is popularly known as SEO.
If you want to show how Jasper can help you save a lot of time, you can use YouTube marketing, where you show them how to use the software.
You can also leverage social media such as Facebook, TikTok, Instagram, Twitter as well as forums like Quora and Reddit to promote your Jasper affiliate link.
It is important to build audiences first, provide values to build trust and relationships, and help them with their problems by recommending the best fit solution.
You can use your product as a solution to their problem later. They will be happy to encourage you by purchasing through your affiliate link.
Other Tips to Succeed as an Affiliate Partner With Jasper
Some of the best practices that can help you become a successful Jasper affiliate partner are:
Use the product and create a great review about the product
Set up a blog and create quality content
Set up a YouTube channel for your affiliate product review
Optimize your blog and YouTube channel for SEO
Look out for products that are the best-selling and you can easily promote
Generate quality leads through free content on your site and sell to them via email marketing
Master the art of digital advertising
Be focused and avoid shinning objects
My Final Thought – Is it worth joining Jasper AI partner program?
Jasper pays recurring commission as long as your referral pays for their subscription, so it's a great way to make a living.
The team behind this company cares about their partners. They'll help you when you have trouble with your account.
If you bring them a lot of sales in a single month, you will be upgraded to a 40% recurring commission for the life of the referral.
They pay recurring commissions and have great customer support, so it is worth joining.
=> Apply for Jasper Affiliate Program
How to Join Jasper.ai Affiliate Program FAQs
When does Jasper Pay Partners?
Payments are made within 30 days of the sale and you can get refunds/disputes. The minimum payout rate is $25.
What is the Jasper Accepted Payment Method?
Currently, PayPal is the only available payment method on Jasper. This will be paid directly into your account each month once you hit your monthly threshold.
How Can I Become Jasper affiliate?
The best time to become Jasper affiliate was yesterday. The second best time is now. Here are the steps to becoming the next Jasper affiliate marketer:
Sign up for Jasper affiliate program to get your unique referral link.
Proceed to share your affiliate links to your community in Facebook groups and friends to grab the 10,000 words credit
Earn a commission for doing so
Receive payments directly to your PayPal account.
Conclusion
Jasper.ai is a great content writing software that is highly recommended for all businesses that want to scale their content marketing game.
I hope this article on how to join Jasper.ai affiliate program helps you to find a reason to join the Jasper affiliate partner program.
Apply for Jasper affiliate program
Also Read: