Jasper.ai Vs Closerscopy – in this article, we will undertake a comparison of two widely used AI writing assistant available on the internet today: . 
There are a few AI writing assistants that can compete with these two in terms of capabilities and functionality.
As a result, you may find it difficult to decide which among them is best without doing a thorough evaluation and comparison.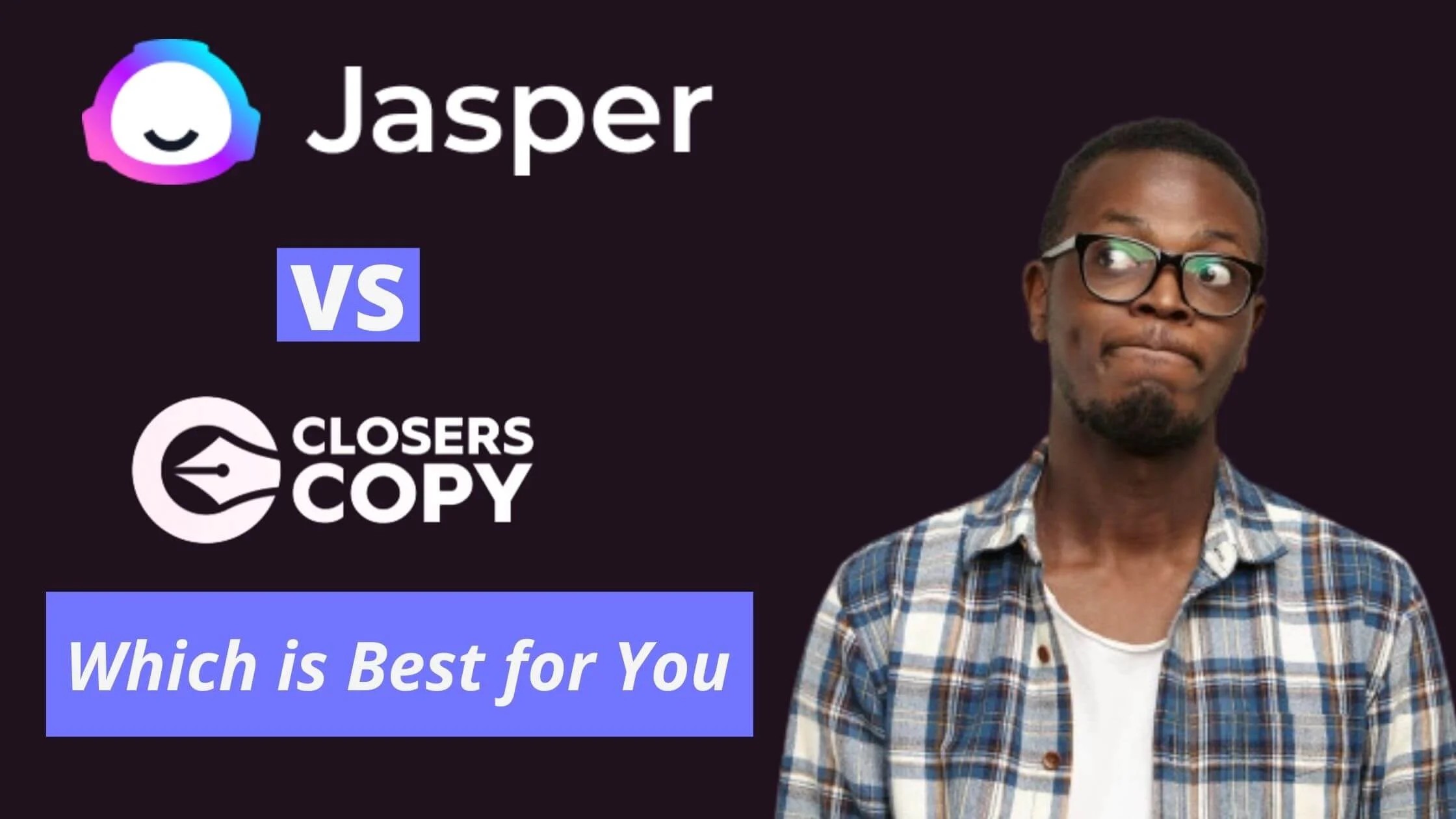 We'll begin by analysing each AI Copywriting Tool and its key features, then compare them side by side so you can make the best decision.
See Also: Jasper AI Review: Honest Review + Free Bonus
What is Jasper AI
Jasper.ai (formerly Jarvis) is among the most popular AI writing platforms online. Once known as Jarvis AI, has sparked a lot of buzz.
There have been reports about Jasper, and if you've found out about the tool via research, you're undoubtedly curious if it's truly that amazing.
If you've heard of Jasper's capabilities, you can be certain that it's not an exaggeration. This artificial intelligence (AI) writing tool is a game-changer that may massively raise your brand's awareness and visibility.
With over 50 templates to choose from, you'll be able to make quality content with this platform.
Nothing is off-limits, from emails to sales copy,

Jasper AI's Features
Here are a few of Jasper AI's standout features, as well as what to expect when utilising the tool to create content for your marketing needs.
1. Organiser for Multiple Documents
You can work on numerous projects simultaneously and save each one in its own folder. This is highly beneficial if you are working on multiple projects in one go.
2. Multiple Templates
Jasper is among the few AI-assisted writing tools with over 50 templates. Conversion AI can help you write promotional materials, blog entries, and sales copy, among other things.
3. Boss Mode
Jasper team added this feature in the most recent update. It allows users to manage the overall process of creating content. 
For example, users can instruct the AI to craft a sales copy on the importance of healthy eating, and it will precisely generate that. You won't find this nature of customisation and control in most AI writing assistance.
=> Checkout the Features of Jasper.ai Boss Mode
4. Longform Assistant
Jasper is well-known for being the Industry's most advanced long-form AI writing assistant. Using this feature, you have better control over the generated content, which is helpful if you are just starting out as a writer.
5. Blog Post Workflow
Most people find it difficult to start a blog flow, which is why the Jasper team introduced this feature. You only need to provide descriptive text about the content to set up the workflow for a post.
Jasper will then present you with a number of attractive titles from which you can choose, and it will also generate an introduction for you. This way, you will begin the workflow process of the content. 
6. Integration with Surfer SEO
This Jasper plugin aids in optimising your blog entries for search engine results pages (SERPs).
7. Support for multiple languages
Content can be written and translated in numerous languages, such as Italian, German, Spanish, and Japanese.
=> Activate Jasper.ai Free Trial + 10,000 Words Credit Bonus
ClosersCopy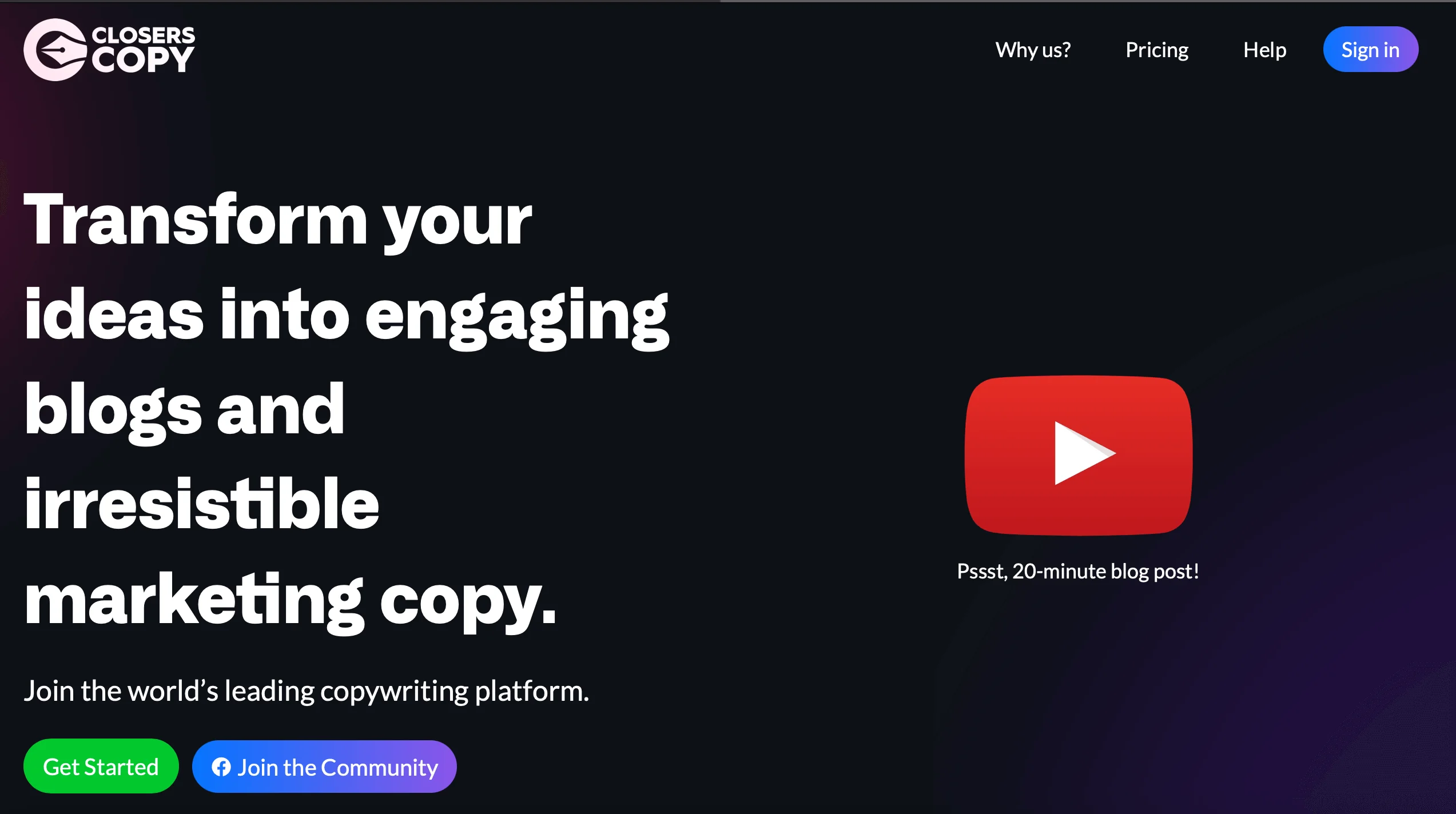 As an AI-driven sales copywriting solution, ClosersCopy distinguishes itself from the competition.
It is more targeted toward sales page creation than other content generating tools, which makes it ideal for marketers. For instance, internet companies like eCommerce stores, digital marketing agencies will enjoy this powerful marketing and writing tool.
For those who are in need of fresh content, ClosersCopy is the most effective tool you can use.
By creating folders and then writing articles while archiving them in these folders, the dashboard makes it easy to organise your content.
ClosersCopy's structure and simplicity are ideal for content creators that value an orderly layout. If you want to find out more about Closerscopy, check out our in-depth analysis below.
ClosersCopy's Features
What are some of ClosersCopy's best features? How do these features help your content creation strategy? Read below to find out: 
1. Compete
As the name implies, this feature helps you outrank other top blogs and websites.
This new advanced tool conducts keyword research from popular and top websites. The extracts from the research will serve as a blueprint or guide that will help you write your own article.
You won't have any difficulty making your new content accessible to Google algorithm when you use this feature. 
2. Compose
Although it has gotten mixed reviews from creatives, this is another excellent feature.
With this feature, you can generate headings for your content by typing in any keyword. The heading may not be completely accurate because you may occasionally get irrelevant headings, which can be a source of frustration. 
3. Longform
This feature is particularly popular among bloggers because it allows them to create lengthy content. Once you input the article description, ClosersCopy will automatically generate content for you.
This is where the ClosersCopy long-form assistant shines the most. 
Since the content is not always perfect, you can guide the AI by adding extra lines.
4. Support for Several Languages
ClosersCopy also gives you the option of writing or editing content in a variety of languages, including German, Portuguese, Ukrainian, Italian, Spanish, and Russian.
5. Wizard Tool
Because many people are unfamiliar with the process of drafting sales copy, ClosersCopy provides a wizard that walks you through each step of the way.
6. Content Sentiment Analysis Tool
After you've finished writing and rewriting a post, it has to carry a tone that appeals to your target audience.
ClosersCopy content sentiment analysis will tell you if your content has an amicable, energetic, authoritative, or humorous tone.
This will determine what kind of emotion your audience will feel when they read your piece.
=> Activate Closerscopy Ai Writing Tool Today
Jasper.ai vs ClosersCopy: Similarity
Jasper and ClosersCopy are the top AI writing solutions available in the market, so it shouldn't come as a surprise that they share a number of commonalities. 
Let's explore some of the similarities and differences between these two writing tools' Closerscopy Vs Jasper.
Artificial Intelligence Software (GPT-3)
According to an MIT Technology Review paper, GPT-3 is the only language capable of producing awesome human-like content.
If you have used software that integrates this language system, you can attest to the assertions made in that paper.
Jasper.ai and ClosersCopy are both powered by Open AI's GPT-3 language synthesiser.
These artificial intelligence systems have been taught to interpret commands and generate original material on both platforms.
Multilingual Copies
Users can also generate multilingual content on these platforms. Jasper allows you to generate content in twenty-five different languages.
The AI can also undertake language translation, which is a useful feature. 
When comparing the two, you'll notice that they serve similar languages, such as French, German, English, Portuguese, and other widely spoken languages.
It doesn't matter if you use Jasper or ClosersCopy; the final result will be content that can be read and easily understood by people from all over the world.
Long-form Content
The long-form content feature is such a rarity that it is only offered by a handful of writing tools.
Fortunately, these two are among the few AI writing tools that can be used to create lengthy blog articles.
Both Jasper and ClosersCopy have quality long-form assistants that can help you generate long copies that drive conversion or help readers make purchase decisions. 
SEO (Search Engine Optimisation)
Despite the fact that ClosersCopy and Jasper have different SEO tools, they both support content optimisation for search engine results.
ClosersCopy has a keyword research feature and Jasper has Surfer SEO extension.
Both of these tools can help you improve your content optimisation, which can help you rank higher on Search engines such as Google.
Team Collaboration
If you are undertaking a collaborative project, Jasper or ClosersCopy are both good options because they enable you to work with a team.
Jasper and ClosersCopy's team support features have somewhat different layouts, but they're remarkably similar because both allow several users to work on multiple projects in a synchronised manner.
Hence, your business will benefit from sharing ideas and contributions from the same AI writing platform. 
Plagiarism Check
Considering how quickly Jasper and ClosersCopy can generate content, you might be concerned about its originality.
Neither of these platforms uses plagiarised content; therefore, you have nothing to worry about. 
Jasper has an Copyscape plagiarism checker integrated that helps you to generate 100% plagiarism free content.
=> Activate Jasper.ai Free Trial + 10,000 Words Credit Bonus
Jasper.ai vs Closerscopy AI: Differences
Just because ClosersCopy and Jasper share some features doesn't imply they're the same. Here are some areas where they differ.
Pricing
Pricing Both Jasper AI and ClosersCopy have three pricing plans. ClosersCopy's cheapest plan is $29.99 per month.
This unlocks the template library, AI editor, upwards of 18,000 copy templates, drag-and-drop copy creator, and a monthly character cap of 50,000 characters.
On the other hand, Jasper offers a Starter Plan with similar costs. This plan gives access to over 50 short form layouts, five project files, limitless users, and a network of AI writers and editors.
ClosersCopy's professional package, which costs $49.99, includes a 200,000-character character cap, a template database, and an Ai editor, among other features.
Jasper Boss Mode is a $59 / month package. Despite the cost, you access extra features like long-form assistance, a limitless number of users, 5 project files, workspace docs, live chats, and community membership.
Most of the above features are available in ClosersCopy's unlimited subscription, which costs $79.99. The only exception is that there is no character cap.
With Jasper, you get access to Boss Mode, which provides you with complete control over the content creation process. 
It has a wide range of features, including limitless runs, a 3,000 characters cap, live chat, and more.
Facebook Community
An important feature of a reputable brand is the presence of its community. Users need to see a respected platform where they'll be able to meet and engage with other people.
Jasper has a large Facebook presence, with thousands of followers and dozens more joining daily.
ClosersCopy also has it's Facebook Community for users and affiliate marketers.
Money-back guarantee
Every platform should have a money-back guarantee. Jasper provides a 5-day money-back promise, whereas ClosersCopy offers a 14-day guarantee.
Free Trial 
A free trial, like a money-back guarantee, offers you a taste of what a content generator can offer.
It's preferable to use a program that offers a free trial than one that requires you to subscribe right away.
There is no free trial available for ClosersCopy. However, Jasper has a free trial. 
=> Activate Jasper.ai Free Trial + 10,000 Words Credit Bonus
Lifetime Deal
You won't have to worry about monthly or yearly subscriptions when you buy a lifetime package.
Some AI writing tools are available for a one-time fee that forever covers all your writing needs.
Jasper does not have a lifetime package, but ClosersCopy does.
=> Activate Closerscopy Lifetime Deal
Conclusion
In the light of this information, you can easily see how closely fought this contest was. However, there must be a winner in any competition, and Jasper has emerged victorious today.
Jasper.ai is more user-friendly because it hosts weekly seminars on how to get the most out of the platform.
This means that if you know how to leverage artificial intelligence (AI), creating high-quality content should be easy.
If you are a copywriter who needs quality copies, you'll find Jasper useful because it has better-advanced features than ClosersCopy.
I hope you found this guide on Closerscopy vs Jasper.ai helps you make an informed decision.
Also Read: