Although Facebook has been in the news for the wrong reasons, it remains the biggest social media app in the world.
More than a billion users utilize the platform to share ideas, get entertained and stay connected to the world. 
Facebook is still a widely used app due to its simplicity and user-friendliness.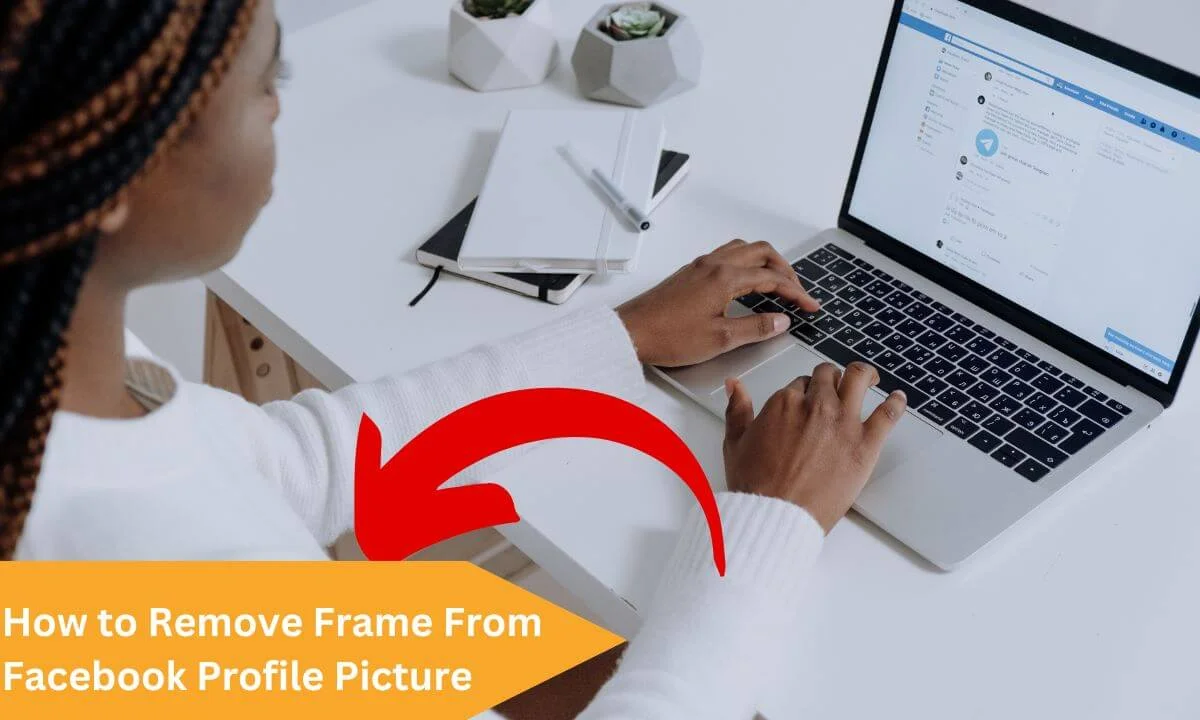 Anyone can easily sign up in seconds and begin building their network of friends and associates without hassle. It's that easy. In spite of its simplistic nature, Facebook has lots of fantastic features. 
Among these features is the ability to add and remove frames from your Facebook profile picture. In this article, we explore the following: 
The meaning of Facebook Frames

How to remove frames from a Facebook profile photo.

How to add frames to a Facebook profile photo. 

Free Facebook profile picture frame Maker
What are Facebook Frames?
Facebook frames are a great way to decorate your profile photo on the platform.
For instance, you can add numerous designs, frames that commemorate various events, festivals and occasions, frames that promote a noble cause or a country's flag. 
Facebook allows users to add frames to their profile photos for a limited time (60 minutes or more) or as a permanent fixture.
It is a fantastic tool to improve the distinctiveness of your profile. 
In the next section, we will focus on methods you can use to easily remove frames from your Facebook Profile Picture. 
How to Remove Frame From Facebook Profile Picture
While it was simple to remove frames from profile photos on Facebook in the past, today, it is a bit complex.
This is because the "Switch to Previous Picture" option is no longer available on Facebook for now. It seems that it has been phased out of the platform.
However, some users claim they can still access the option. Thus, we will explore other methods for removing frames on Facebook. 
Method 1: Using the Switch to Previous Picture" Option
Here's how to remove a frame from your profile photo using the "Switch to Previous Picture" option. 
Sign in and navigate to your profile.

Then select your profile photo and locate the "Switch to Previous Picture" option. 

Select it, and this will immediately remove your frame. 
Although this is the simplest strategy for removing your frame from profile photos, most users can't access it.
This is why we are exploring other strategies. The next strategy for removing your frame is to totally upload a new profile photo.
Method 2: Upload a New Profile Photo
This method is a bit straightforward; all that is required is to upload a new profile photo to replace the current framed one.
The new upload can be an older, non-framed version or a new profile photo.
Note that uploading a new profile picture will eliminate all comments and likes. But you don't have to feel concerned.
We have found a smart method to make changes to your profile photo without affecting your comments and likes. We will explore this in the next section. 
Now let's figure out how to upload a new profile picture.
Sign in to your Facebook account and navigate to your profile on the mobile app.

Next, select your profile photo and choose the "Select Profile Picture" option.

The default option will allow you to access your gallery picture. However, swipe to the right to locate other menu items like suggested photos, albums, photos of you and uploads. 

Check your previous picture; you'd possibly locate it via the upload option. 

Next, tap the picture and select save. 
This way, you can upload a new profile photo. This will automatically remove the frame.
As we have noted, this will effectively clear away your previous comments and likes.
However, we assure you that we will explore how to switch your profile photo and retain your previous comments and likes. 
Method 3: Switch to Old Facebook Profile Photo Without Losing Likes & Comments
While it is totally obvious that if you change your profile photo to the previous one, Facebook will record it as a new profile photo and delete every comment and like you have.
To prevent this from happening, we need to access Facebook's basic site. Those who are pre-2010 Facebook users may easily recognize this version of the platform. 
Without further ado, let's begin:
Access

mbasic.facebook.com

or Facebook basic on your preferred web browser.

Sign in to your account by inputting your password & email/phone number. 

Navigate to your profile and select Pictures.

On this page, you will find every picture and album you have posted on Facebook to this day. Check for the one you want. You can easily check for old profile pictures via Albums>Profile Pictures.

Next, select the picture you wish to upload as your profile picture. You can preview it. 

Wait for the picture to load and then locate the "Make Profile Picture" option under it. Select it. 

At this stage, you can determine when you wish to save this profile photo. You will find four options, namely: one hour, one day, one week and Never. If you wish to keep your profile photo for an indefinite or permanent time, Tap Never.

That's all. You will see that your likes and comments on the photo will remain unchanged. Congratulations! You have finally Removed a Frame from your Facebook Profile Picture.
How Do You Add Frames to Your Profile Photo?
Adding a frame to your Facebook profile photo is super straightforward. Let me show you how to do it successfully.
Note: When you add frames to your Facebook profile photo, it will be regarded as a new profile photo. This means Facebook will delete the likes and comments linked to that specific photo.
Access your Facebook via the mobile app or web browser (Firefox, Chrome, Brave, etc.).

Next, select the hamburger button (3 horizontal lines) in the right corner of the app.

Select your profile name, and you will be rerouted to your profile section.

Next, select your profile photo, and a menu option will be displayed with an Add Frame button. Select it. 

Once you select Add Frame, you will be redirected to the frame page. On this page, you will find numerous frames to pick from.

Facebook will identify some appealing frames trending in your country/ geographical area. Feel free to pick any of them or utilize the search option to look for your preferred frames.

After you have made a choice of frame for your profile photo, select it.

Next, you can easily modify the position or orientation of the frame on your profile photo. If you wish for your frame to be removed after a short time, ensure you set an expiry period for the frame. This can be done by selecting the "Make Temporary" button. This will allow you to specify whether you want your frame to expire in an hour, a day or a week. You are also free to set a custom date as an expiry period.

Pleased with your settings? Select the save option to finalize by adding a frame to your profile photo. 
This is the method of successfully adding frames to your profile photo. 
Free Facebook Profile Picture Frame Maker
Twibbonize
This is a web platform that lets users add a frame to a photo to promote a movement or campaign. Twibbonize is a very popular frame maker for Facebook.
Twibbonize creates an opportunity for creators to publicize campaigns and social initiatives without stress.
On this platform, you can create your unique picture frame, set up the most appealing caption for your campaign, and post content relevant to the campaign using files, video, embed and make it trend on social media through creative hashtags. 
Freepik
This platform has the biggest collection of free graphic assets. Freepik also has powerful search features, allowing users to discover superior-quality images, animations and PSD files for their creative pursuits. 
Profilepicframe
Businesses and individuals can use this website to set up their unique Facebook frames using Camera Effect Frame. Just select the blue "Get Started" option to begin. 
Canva
Canva is a user-friendly and free graphic design platform.
The platform can be used to set up a powerful presence on Facebook for businesses by tailoring appealing Facebook profile photo frames from zero-cost templates.
You can even post them to your friends on social media. 
Conclusion
This article explores how you can remove frames from Facebook profile pictures.
It is an easy process. Ensure you share this content with your loved ones and friends using the social media button below.
Also Read: