WhatsApp is an instant messaging app with billions of users across the world. A lot of users have wondered if it is possible to send a blank message on WhatsApp.
But tapping the space button to add blank space will lead the send icon to varnish. This implies that it is not possible to send blank messages directly on WhatsApp.
Do you know that there are other easy but effective ways to send a blank message on WhatsApp?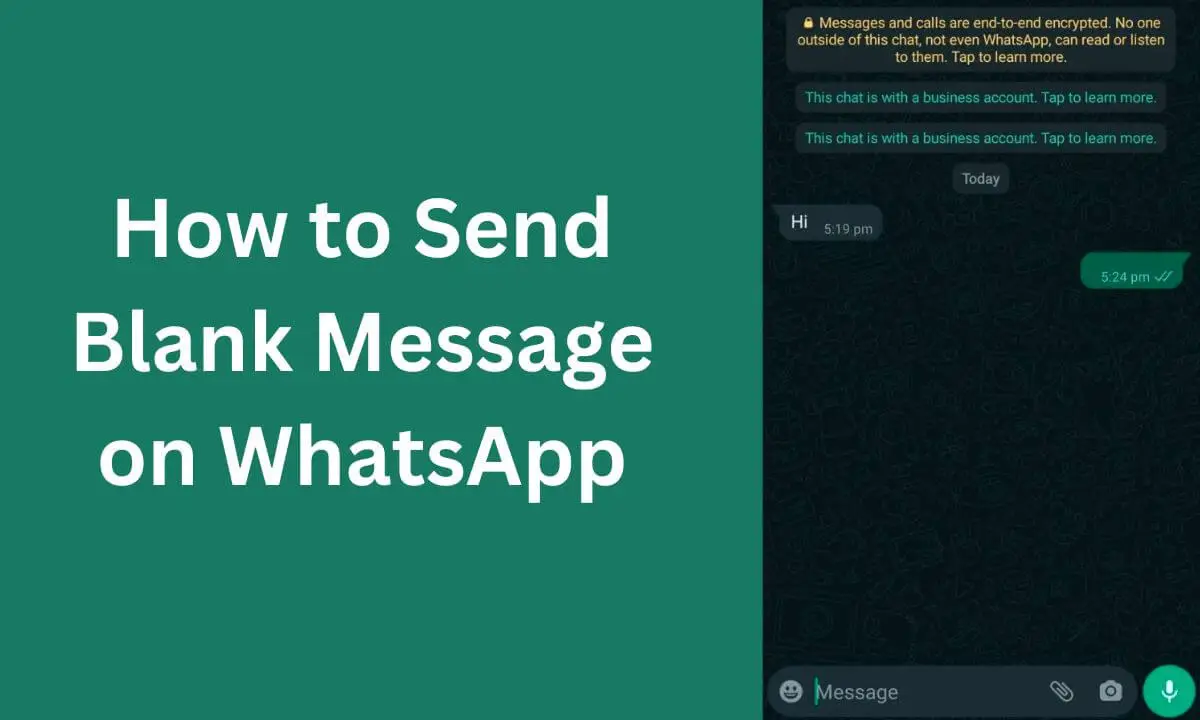 I will explain why users seek ways to send blank WhatsApp messages.
In the next section, I will reveal different tips for sending black messages on WhatsApp.
Lastly, I will show you other tricks to improve your WhatsApp experience.
Why Send Blank WhatsApp Messages?
WhatsApp lets users message anyone in their phone contact, and other people with your link or WhatsApp number can interact with you on the platform.
Although messaging via emojis, stickers and texts is fun, is sending blank messages on WhatsApp worthwhile?
A blank message provides an easy way to make your friend curious and is an excellent conversation starter.
Furthermore, it is interesting to send people blank messages instead of texting dull messages.
A blank message can leave your contacts guessing and create suspense-filled conversations.
How to Send Blank Message on WhatsApp
As I have noted earlier, users can't send blank messages on WhatsApp.
When interacting with someone else, hitting the space bar on your keyboard can enter a blank space but only between words.
If you wish to begin your message with a space without any character, the "send" icon will instantly varnish as soon as WhatsApp detects a blank message.
So what are the methods for sending a blank message on WhatsApp?
Copy a Blank Space
Because the send icon will instantly varnish when you add a blank space on WhatsApp, this method entails copying and pasting a space from your web browser onto the messaging app.
Here's how:
Launch WhatsApp from your mobile device or use your PC to access WhatsApp Web.
Access the chat window of the specific contact.
Open a new tab of the web browser.
Enter any word that has spaces and then tap enter/search.
With your cursor, highlight and copy spaces in between words.
Return to WhatsApp and then paste the space.
Then you can send the blank message to your friend by tapping the send icon after you have pasted the space if this method doesn't do the trick on the platform (mobile device or PC).
Try the next strategy below.
Use the Empty Chat App
If you are using an Android device, another effective method to send a blank message is through the Empty Chat app.
Here's how:
Launch the Google Play Store, navigate to the search bar, input "Empty Chat app," choose it from the search result and tap "Install."
After the installation process of finalized, launch the app.
Tap the "Send" icon.
Choose the contact to whom you wish to send the blank message.
Tap the "send" button once more to send the blank message directly.
PC & WhatsApp Web
Alongside the strategy listed above, there are two other methods to input an invisible Unicode character on a computer.
The 1st method is to utilize your computer's keyboard to generate an invisible Unicode character.
The 2nd method is to access your computer's character map and then copy a blank character.
Let me show you how to send blank messages on a computer or WhatsApp web.
On your keyboard, tap and hold the Windows key (key with win logo) + R to access the Run cmd. Next, input "Charmap" and tap Enter (This will pop up the Windows Character Map).
Look for the blank character box and select it from the character map.
To copy an invisible character, hit the "Select" and, next, "Copy" options on the character map.
Access the WhatsApp web or WhatsApp desktop app on your PC.
Launch the WhatsApp chat session.
Select the chat box and paste the invisible character into it. You can either click Paste from the menu option or press & hold Ctrl + V on your keyboard.
Select the send icon next to the chat box to send a WhatsApp empty message.
Other Interesting WhatsApp Tricks to Learn
Disappearing Messages
WhatsApp has introduced a new feature that lets users activate disappearing messages for certain messages.
When activated, your messages will varnish from the conversation once seven days elapse.
Here's how to activate disappearing messages:
Select contact or the chat name at the upper section of your page.
Tap Disappearing messages from the menu option.
Next, toggle "On."
Don't forget that the pictures you exchange are instantly downloaded to either your device or the recipient.
Thus, even though messages sent with pictures will varnish, the main picture may be downloaded to your device.
Use the Star Feature to Bookmark WhatsApp Messages
Starring a message on WhatsApp is similar to bookmarking.
It enables users to easily save important messages, contact numbers, web addresses or URL someone sent you.
All you have to do is simply press and hold a message, then select the star option.
A tiny star icon is highlighted beside the message, so it will be simple to recognize it when reviewing your conversation.
Using an iOS device, you can access the starred message by navigating to the Setting option and tapping Starred Messages.
For Android users, select the Menu option and then tap Starred Messages.
View Message Details
Are you curious about the specific time your message was read or delivered?
If you use an iOS device, swipe left on the sent message to access those details.
For Android device users, press and hold the message, next select the menu option and then info.
Mute a Conversation
When visiting a theatre, concert or meeting hall, WhatsApp's mute feature helps you to limit conversations from a friend or a group. It will block notifications and maintain "silence."
Android device users
Press and hold on a chat.
Next, navigate to the upper section of the screen and select the crossed-out speaker icon.
iOS device users
Swipe left across a chat.
Next, select the hamburger icon and choose Mute.
The various mute options include 8 hours, one week or always.
Hide Your Last Seen Status
Some people feel tensed seeing that other users can know their last seen status.
This can pressure you into thinking you must quickly reply to messages that pop up.
To hide your last seen status from friends or contacts, do the following:
Access Settings
Tap Account
Select Privacy
Lastly, tap Last Seen.
Choose from the following options: Everyone, Nobody or My Contacts.
Never Save Videos or Pictures by Default
If you do not wish for WhatsApp to save to your gallery pictures and video clips other users sent you, consuming space and congesting your camera roll, turn off autosave.
iPhone
Access Settings
Then tap Chats
Lastly, toggle off Save to Camera Roll.
Android
Access Settings
Then select chat
Toggle off the Media Visibility option.
Determine the WhatsApp Contact You Chat with the Most
Who do you chat with the most?
The result may surprise you.
A strategy that helps you determine the contact you interact with the most, the amount of space each person consumes, and so on.
Access Settings
Tap Storage and Data
Select Manage Storage
You will find a list of contacts in the lower section arranged according to the contact who uses the biggest storage space.
Determine the Amount of Data You are Consuming
Are you concerned about the amount of data you use?
You can access this data by checking how many sent and received messages and data have been used so far.
Here's how:
Select Settings
Tap Storage and Data
Lastly, select Network Usage.
Hide Your Profile Photo
You might want to hide your profile picture, particularly if you are a member of numerous groups where you wish to hide your identity.
Or maybe you opt to be seclusive for a day.
With this technique, you can hide the visibility of your picture from your contacts or everyone.
Here's how:
Access Settings
Navigate to Account
Select Privacy
Tap Profile Photo.
Back up Your Conversation
To avoid losing your conversation in the unfortunate event of device loss, ensure you back it up on iCloud or Google Drive.
Note that backed up conversations are not encrypted.
Here's how to back up WhatsApp chats on mobile devices:
Access Settings.
Navigate to Chats.
Tap Chat Backup.
Then select Back Up Now.
Send Blank Message On WhatsApp FAQs
How do I know if someone is online on WhatsApp?
Launch the WhatsApp app and begin a conversation with your contact.
Check the upper section of the screen below the contact name.
If the person is online, you will find the status: "online."
How do I block somebody on WhatsApp?
Launch the WhatsApp app.
Select More Options
Then tap Settings.
And then choose privacy from the menu options.
Select Blocked Contacts.
Look for or choose the contact you wish to block.
Conclusion
WhatApp is a highly popular messaging app.
Sending a blank message on WhatsApp is among the most asked questions by users of the platform.
In this article, I addressed that and revealed some important tricks that can enhance your experience on WhatsApp.
Also Read: