If your WhatsApp voice message is not working, there are several ways to fix it.
They include rebooting your mobile device, installing a new WhatsApp update and increasing your device volume.
As the biggest social app today, you might encounter many problems when using it, such as voice messages malfunctioning.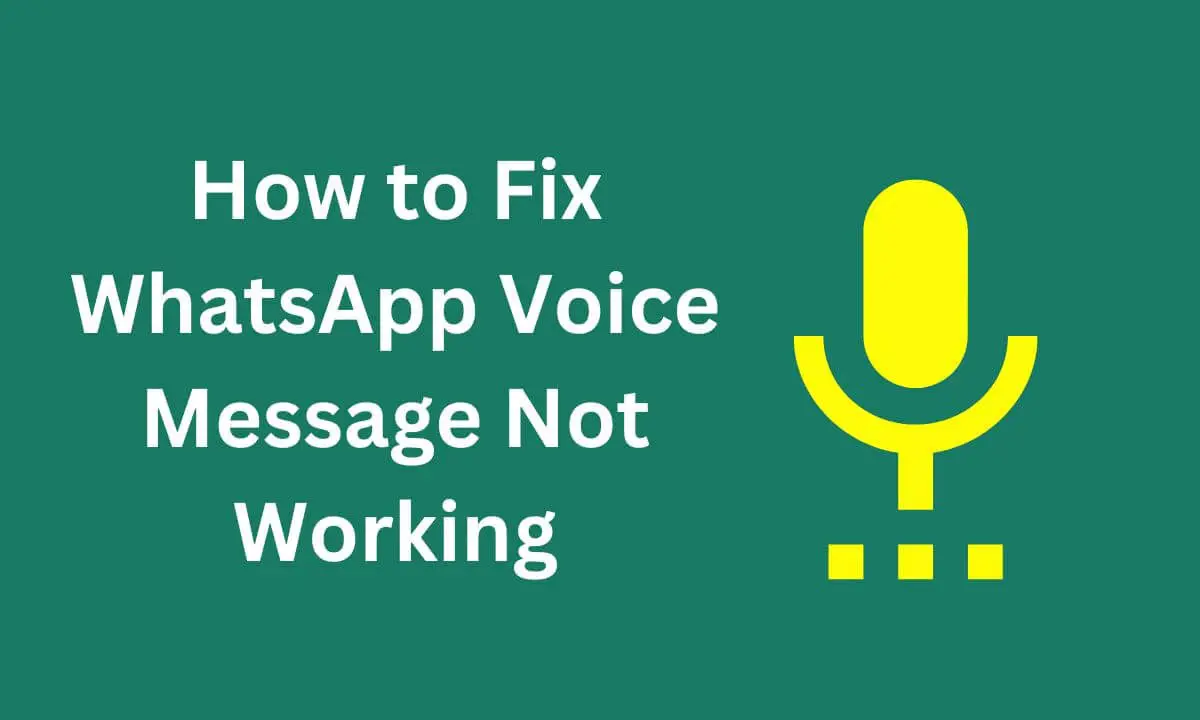 If you are experiencing issues with voice messages on WhatsApp.
What is the next thing to do?
This article will explore solutions to WhatsApp voice message issues.
You can also know the reasons why you find it difficult to send or receive voice messages.
Reasons for the WhatsApp Voice Messages Not Working Issue
Have you thought about the reason for the WhatsApp voice Messages Not Working issues? They are numerous.
Here are some of them:
It may likely be caused by a poor internet connection. It is a major cause of some of the app-related problems today.
Another reason for this issue is that your mobile device has some technical problems, or WhatsApp is disabled from using the microphone.
The volume of your mobile device may be turned down, your mic is malfunctioning, or you have inadequate storage to process voice messages from WhatsApp.
You are not online. You have to be online to access voice messages. However, you can listen when you are offline after saving it.
Your WhatsAapp is outdated. All mobile apps require constant updates as old versions are prone to malfunction.
WhatsApp servers are experiencing downtime. If there is a service disruption on WhatsApp, it will be difficult to receive voice messages.
Your permissions are not properly set. You should set up your microphone to send a voice message on WhatsApp.
How to Fix WhatsApp Voice Message Not Working
There are numerous reasons why your WhatsApp voice message is not working.
In this article, I will show you how to rectify this issue on your phone.
If you are unable to send and hear voice messages on your WhatsApp, try these steps
Turn On and Off Airplane Mode
If you have a poor internet connection and your voice message does not properly work, you have to enable and disable your Airplane flight mode.
Enabling your Airplane Mode on your smartphone suspends your device's signal transmission, and after disabling it, it will restore everything. This includes your connection to the internet.
Android
Slide down from your screen top, and then you will locate the Airplane Mode symbol.
Select it. (You might still have to slide lift to find the icon on some phone models).
iOS device
Navigate to your device bottom and enable the Airplane Mode in the network menu.
Next, after a while, turn it off, and then turn on your internet connection and see if the issue persists.
Increase Your Device's Volume
A lot of people often forget that the volume of their mobile devices is reduced to the lowest level.
Some phone models may have multiple volumes. And in this case, you may have to increase the media volume.
You simply have to try out every step to resolve the issue, and this may be the ideal fix.
Confirm that Your Mic is Working Well
A lot of times, the issue may be device-related.
If you experience difficulties when sending WhatsApp voice messages to other users, the source of the problem may be your mic.
Even when you have delivered the voice message and you play it, it won't properly produce sound.
It shows that the mic is not working. You can confirm it by calling someone to someone in your proximity.
It helps you find out if your mic is truly malfunctioning or not.
Another way of confirming the functionality of your mic is to access your device's default recorder.
Launch the app and do a voice record.
Play it to yourself.
Can you hear your voice?
If you are unable to hear yourself, you have to replace your phone microphone to get the WhatsApp voice message feature working again.
Confirm Permissions
If WhatsApp voice message is not working properly, it is likely that you have to disable WhatsApp from accessing your phone's microphone.
To rectify this issue, you need to approve permission for WhatsApp to utilize your device microphone.
Here's how:
Android
Access your Android Settings
Navigate to Apps & Notifications
Select App Info
Locate Whatsapp
Select permissions and then Microphone.
Choose "Allow access to Media Only."
Alternatively, navigate to your home screen and press-hold the WhatsApp icon.
Next, select the App info option, select permission and then tap Microphone.
Lastly, select "Allow access to media only."
iOS Device
Access your iPad or iPhone.
Locate WhatsApp.
Enable Microphone.
After granting WhatsApp permission, you have to restart your mobile device.
Then check if the issue still persists.
Confirm That You Have Adequate Storage Space
If your device is unable to process a newly sent WhatsApp voice message and an error pops up, you have to confirm that you have adequate storage space.
Your device storage may be full, and there is no space to save new WhatsApp voice messages to your phone.
To rectify the WhatsApp voice messages not working issue, you have to create space on your mobile device.
Clear WhatsApp Cache
Another effective solution to any app-related issue is to clear the app cache.
If WhatsApp malfunctions and you can't receive or send voice messages, clearing the app cache is your best bet.
Here's how:
Android device
Access the device settings.
Select the Apps & Notifications
Select the App info option.
Next, locate WhatsApp.
Select Storage & Cache.
Select Clear Cache.
iOS devices
The clear cache feature is unavailable on iOS devices. However, you can do an app offload.
Here's how:
Navigate to your Settings app.
Next, select General.
Select iPhone Storage.
Next, locate WhatsApp and select it.
Select the offload app option.
Now that you have successfully offloaded the app from your iOS device, you have to access the Apple App Store to reinstall WhatsApp.
Restart WhatsApp
If WhatsApp voice message is malfunctioning, another solution is to restart it. You can do this by force-stopping the app. This also entails clearing the app from your background process.
Android device users can easily force-stop the app, and it will clear it from the background process. Next, relaunch the app.
Keep in mind that before you force-stop WhatsApp, it must have already been open.
Follow the steps below:
Android
Navigate to your device settings.
Select Apps & notifications
Select App info
Next, locate WhatsApp.
Lastly, select the Force Stop option.
iOS device
It is easy to restart WhatsApp on your iOS device. It involves doing an app refresh in the background.
Here's how:
Navigate to your device settings.
Locate the WhatsApp
Select Background App Refresh
Enable background refresh.
Install a New WhatsApp Update
If you are using an outdated WhatsApp, this might be the best time to rectify the issue.
Outdated versions of WhatsApp are prone to all sorts of technical issues. This includes the voice message not working issue.
Here's how to install a new WhatsApp update:
Navigate to the Apple App Store or Google Play Store.
Input "WhatsApp" in the search bar at the top.
Locate the WhatsApp page from the search results.
Select the "Update" button.
After installing the most recent WhatsApp app, you have to do a device restart.
If the problem persists despite trying this fix, check if your device is using the latest recent OS version.
Use WhatsApp Web
If you are experiencing issues with the WhatsApp app on your mobile device, you can use the WhatsApp web mode on your PC to receive and send voice messages.
Here's how:
Navigate to your preferred web browser on your PC.
Enter web.whatsapp.com and scan your account QR.
The web version will enable you to receive and send voice messages without hassles.
If you are having challenges sending voice messages in web mode or you are unable to receive them, it is likely due to server-related issues or downtime.
WhatsApp Voice Message Not Working Frequently Asked Questions
How do I recover my old messages on WhatsApp?
Here's how:
Make sure you have backed up your messages to Google Drive and that your phone is linked to that Google account.
Download and set up WhatsApp.
Next, authenticate your phone number.
Select Restore when required to recover your media and messages from Google Drive.
After finalizing the restoration process, select Next.
Which apps should I get rid of?
Pre-installed apps filled with malware and bloat.
Outdated utility apps that come with your device.
Older versions of productivity apps.
Battery booster app.
Multiple apps that have the same functions.
Addictive social media apps
Old game apps you don't play anymore
Apps you aren't using anymore
Conclusion
WhatsApp is among the most widely used instant messaging platforms in the world.
"WhatsApp Voice Message Not Working" is a frustrating issue many users face.
In this guide, I explained the reasons behind the "WhatsApp Voice Message Not Working" and the simplest ways to fix them.
You can check out other important social media tips here.
Also Read: