Singles with active Facebook accounts from all over the world can now utilize the platform to date or hook up with other singles.
Unfortunately, when people register into their Facebook accounts, they have trouble using the Facebook dating tool.
This can be really frustrating, especially when it happens at a time that you needed the Facebook dating app the most.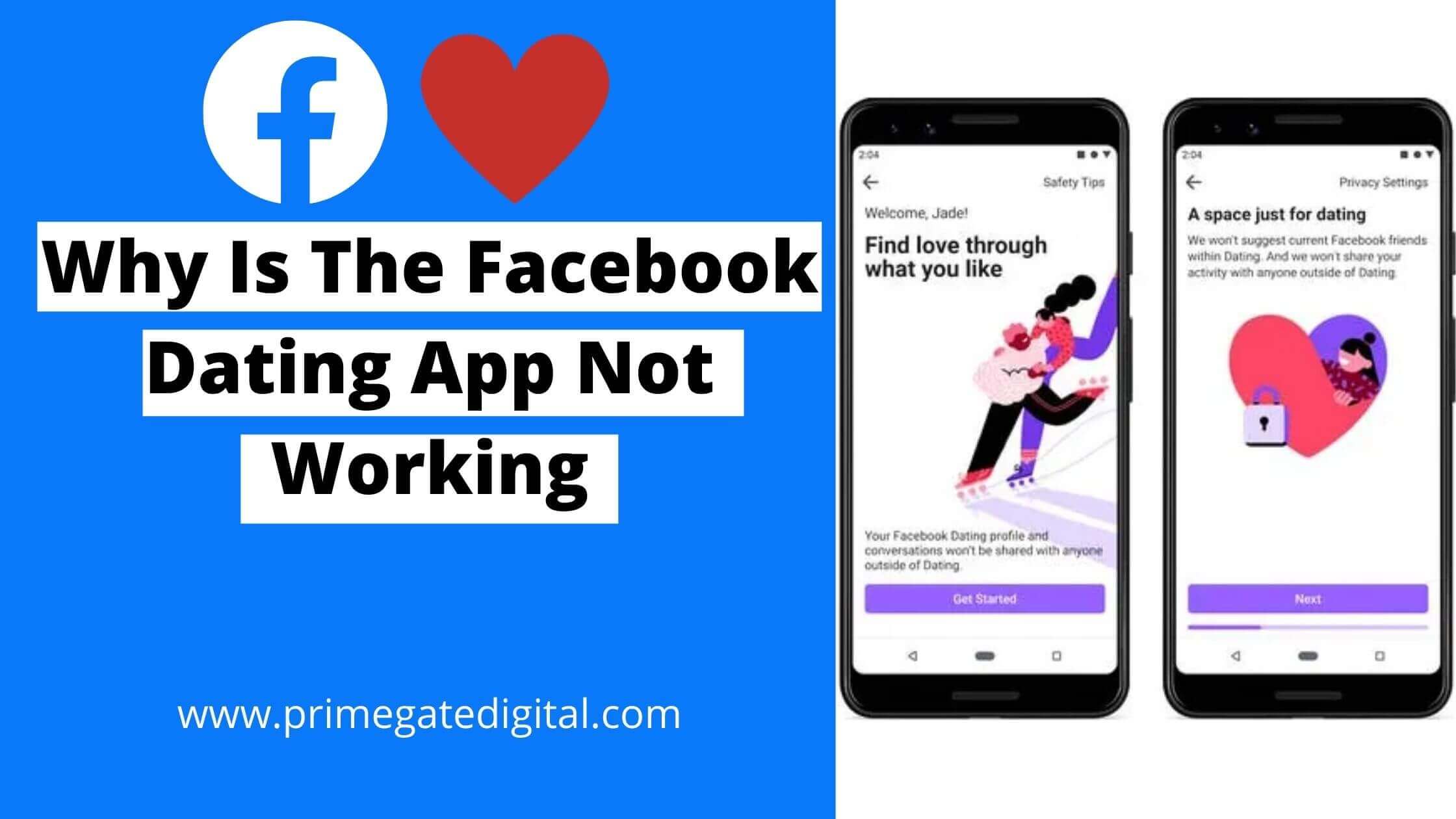 You're not alone.
People from all around the world have expressed their dissatisfaction with the Facebook dating app not working.
Also, their inability to locate the Facebook dating button on their Facebook accounts.
If you're having trouble with the Facebook dating app, you can look into the reasons why it's not working.
Why is the Facebook Dating App Not Working 
If you're trying to figure out why you can't access or use the Facebook dating app on your account, here are several possible reasons.
Perhaps you:
Are not yet 18 years of age.
Live somewhere where Facebook's dating option isn't yet available.
You're attempting to access the Facebook dating site via the web.
Not a recent or updated Facebook dating app
See Also: How to Recover a Hacked Facebook Account Really Fast
The Facebook Dating Site Feature is not Available in Your Region
Facebook dating isn't currently available to everyone in the world. That is to say; the feature is limited to a few countries.
Sadly, Facebook dating is not currently accessible in many countries worldwide. When Facebook introduced its dating service, only residents of a few countries could access it.
This was mainly because the social media giant wanted to test-run the platform. During this time, anyone who doesn't reside in these countries where Facebook was conducting a test run couldn't use the Facebook dating site.
After Facebook dating gained wide acceptance and appeal during the test run, they decided to expand its accessibility.
Facebook dating is currently accessible in twenty countries.
Facebook wanted to expand the numbers by officially introducing the platform to other countries around January, but some problems arose. So as of now, we are yearning for a time when people living in other countries can gain access to the platform.
Below are some countries that have access to the Facebook dating app:
Austria
Belgium
Bulgaria
France
Germany
Greece
Croatia
Portugal
Romania
Sweden
Hungary
Ireland
Latvia
Malta
Netherlands
Poland
Italy
Lithuania
Luxembourg
Slovenia
Cyprus
Czech Republic
Denmark
Estonia
Finland
Slovakia
Iceland
Liechtenstein
Norway
Spain
Switzerland
United Kingdom.
Besides the above countries, Facebook Dating is also currently available in 20 other countries
Argentina
Bolivia
Brazil
Laos
Malaysia
Mexico
Paraguay
Peru
The Philippines
Singapore
Suriname
Thailand
The United States
Uruguay
Canada
Chile
Colombia
Ecuador
Guyana
Vietnam.
If you live outside of these locations, there are chances that you might not have access to the Facebook dating app.
Facebook Dating is exclusively available at the locations we have listed above. The platform has garnered acclaim, and many users have sworn that it is highly beneficial.
However, if you don't reside in the above location, you can only twiddle your thumb and patiently wait until the platform is introduced to your country.
Is Facebook Dating Accessible in all Countries in Europe?
Facebook Dating had a February launch date for the European market. This implies that it is supposed to be available in all countries across the European region by now.
However, Facebook ran into hitches, causing them to reschedule the launch date.
Facebook is experiencing certain security problems, and they are working on rectifying them.
However, if you are planning to sign up for Facebook dating in Europe, you will have to exercise patience because we haven't gotten information on a new date for the launch.
If you wish to find singles or connect with people romantically on Facebook, you have to use Facebook groups or other alternative methods.
Facebook Dating Legal Age 
If you live in an area where the Facebook dating app is available, all you have to do is download the most recent Facebook app on your Android or iOS smartphone to gain access to the dating page.
Users who are at least 18 years old and live in areas where the Facebook dating app is available will be able to access the Facebook dating page once that is in place.
The Facebook dating page can only be viewed through the Facebook app.
Users will be allowed to visit the Facebook dating page at any time once these prerequisites have been met.
See Also: How to Create a Facebook Dating Username
Your Facebook Mobile App isn't Updated
For those still using the older Facebook version, they may be missing out on some new features.
If you are among them, it is possible that this is the reason you can't utilize the Facebook dating feature.
The solution is to update your Facebook app to the most recent version to access the service and other exciting features you don't currently have.
The next question you may have is, "What's the best way to update my Facebook mobile app?"
The Most Effective way to Update the Facebook App
For those above 18 years of age and are certainly in a location where they can access the dating feature, updating your app will easily allow you to set up a dating profile. Updating your Facebook mobile application is very simple and can be completed in a couple of minutes. Here's how:
Ensure your internet connection is great on your mobile device. Access your respective app stores on your smartphone (Google Play Store for Android and App Store for iOS)
Go to the update page of the app and tap on it.
You will find a list of applications on your device that you should update. Choose Facebook and proceed to update it to the most recent feature.
After the update is finalized, access the newly updated Facebook app. Select the menu button and you should see the Facebook dating feature up and running. You can use it without a hitch.
Bloated App Cache
Please note that this step is more effective for Android devices.
At times, the cache gets bloated with useless data resulting in Facebook Dating not working.
Thus, clearing your app cache will enable you to access Facebook dating and will not affect your sensitive data on the platform. Here's how to do it:
Navigate to Settings and tap Apps.
Locate Facebook.
Select Storage. Next, tap "Clear Cache."
The "Facebook Dating won't work" issue on your Android device will be rectified.
Uninstall and reinstall the Facebook app
Sadly, if none of our solutions has rectified the "Facebook Dating not Working issue," the last resort is reinstalling the Facebook app.
For Android devices:
Navigate to Settings. Next, tap on Applications and then Manage Applications.
Locate Facebook and tap Uninstall.
For iPhone:
Select and hold the Facebook app.
Once you notice the shake, select the X button.
The next step is to reinstall Facebook via AppStore or Play Store.
Notable Features of Facebook Dating
If you can access Facebook dating and wish to know why the platform is so appealing and popular, this section will explore some important features and satisfy your curiosity.
Facebook dating is LGBTQ-friendly. It accepts all sexualities and genders.
The platform allows you to upload and utilize a maximum of nine photos as your profile photos.
There is also a tool that lets you connect your Instagram post to your Facebook dating profile.
It lets you describe your personality and character traits with emojis and short sentences.
The platform matches users via their preferences and common interests.
Facebook Dating also has a Secret Crush feature that lets you match people on your friend list.
Your activities on Facebook dating are hidden from your main Facebook profile, so you don't have to be bothered about other people snooping on your private business.
These are just a few features that are currently on the platform. Facebook is updating its dating platform with more exciting functionality, including the much-talked-about "virtual dating." This allows you to interact with your matches via video calls.
See Also: How to Set up Facebook Dating Account
Facebook Dating App Not Working FAQs
Is Facebook Dating still functional today?
Yes. Facebook Dating is a specially designed dating service for users, and it is available on iOS and Android devices.
Is there a Facebook Dating option?
Yes. Facebook Dating can be accessed from your main Facebook profile using the mobile app.
To use the Facebook Dating service, you will need to set up your dating profile separately from your Facebook profile. Please note that the Dating platform is restricted to a few countries for now.
Why is Facebook Dating not accessible?
If you can't access the Facebook Dating option on your account, it may be as a result of two possible reasons: either the platform has not been introduced to your location, or you are below eighteen years of age.
Conclusion
The reason why your dating app is not opening could be any of the reasons listed above.
We hope that you found this helpful and also found out the answers to your question on why the Facebook dating app is not working.