"An error has occurred issue" on ChatGPT is one of the most annoying issues users face.
ChatGPT is an artificial intelligence tool built by OpenAI that lets you engage in conversations.
It can respond to follow-up inquiries, turn down immoral requests, and summarize texts.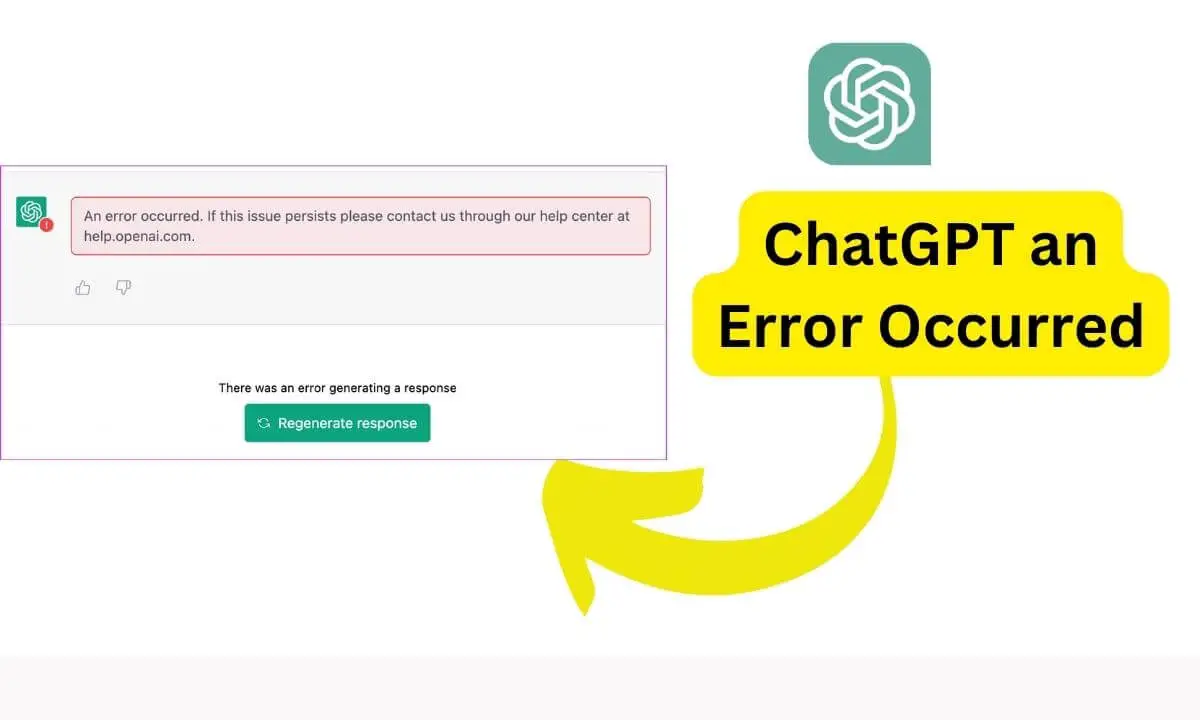 It is owned by Open AI, a company that builds and promises the latest in AI technology.
The company aims to develop secure and ethical AI that adds value to mankind and improves technological research.
In this article, I will show you easy ways you can fix the "Error occurred" issue on ChatGPT.
Why Did an Error Occur on ChatGPT?
An error occurred on Chat GPT either because of API rate limits or server issues.
This can also be caused by insufficient data, incorrectly formatted requests or complex requests.
If the ChatGPT server is overloaded, it will cause performance issues like the inability to retrieve responses.
Similarly, incorrectly formatted or complex requests will also cause performance issues.
You can check if Chat GPT is having server issues by navigating to status.openai.com.
To avoid getting errors in the future, try simplifying your requests and don't send them consecutively.
How to Fix "An Error Occurred" on ChatGPT
In order to rectify the "An error occurred" on ChatGPT, you can use a VPN tool.
Another option is to clear the cookies or cache of your web browser or use another browser entirely.
If, for a while, you have been inactive, you can try relogging ChatGPT or reloading the page.
If your account is rate restricted, try setting up a new account.
Use a VPN tool
For a computer:
Download any VPN tools, such as Avast VPN, and connect to a different country's IP address.
For a mobile device:
Download any VPN mobile app, such as Norton VPN, and connect to a different country's IP address.
Note:
Before using a VPN tool, first close and then access ChatGPT. It should work seamlessly after that.
Clear the Cookies and Cache in Your Web Browser
Chrome
Access Chrome
Tap the hamburger icon (triple dots) in the right corner.
Select More Tools.
Next, click Clear browsing data.
Then select Cookies and other site data.
Check Cookies and other site data.
Click Clear.
Edge
Launch Edge browser
Click the hamburger icon (three dots) in the right corner.
Select Settings from the list of options.
After that, navigate to Privacy & Services.
Then click on "Choose what to clear."
Choose "Cached images and files."
Check "Cookies and other site data."
And lastly, click "Clear."
Firefox
Open the Firefox browser.
Click on Menu.
Next, select Settings.
Choose Privacy & security.
Select Cookies and Site Data.
Lastly, click Clear.
Change Your Web Browser
Using an entirely different browser, try visiting ChatGPT.
It can be on Microsoft Edge, Firefox, Brave or Chrome.
If you encounter an error while accessing ChatGPT on a PC, visit the site using a browser on your mobile device.
Log Out and Relogin to ChatGPT
Click "Log out" on the left side menu to sign out of your account.
Then relogging into the platform to see if this fixes the error.
Note:
Alternatively, reload the page rather than logging out and relogging in.
Create a new account.
Log out of ChatGPT and select "Sign up."
You can create a new account with a different phone number and email address.
Note:
This allows you to circumvent rate limits.
ChatGPT an Error Occurred FAQ
Why do I continue to encounter errors on ChatGPT?
This ChatGPT error message typically shows that there is an issue relating to their server.
The source of the problem might not be your internet connection or device.
Why won't ChatGPT work on my mobile device?
To rectify this problem, use an entirely different device or network.
If this fixes the issue, it may be that the cause is your router.
Reset your router and modify its DNS server and then sign in to solve this problem.
What is the ChatGPT internal error?
Also called Error 500, ChatGPT internal error is a standard error that pops up when there's a problem with ChatGPT servers.
This stops users from having conversations with the chatbot and can be caused by your online connection or browser.
Why won't ChatGPT allow me to log in?
One method to fix this is to refresh your cookies and cache.
Next, try to log in with your preferred authentication method.
You can also use an incognito browser window to log in.
Another idea is to log in via another browser or computer to check if this clears the error.
Why won't ChatGPT work on Android?
If ChatGPT doesn't work on your mobile device, it may be a result of server, network or browser issues.
Occasionally, it may show a "Network error on long responses" error code, implying that the app is receiving no response from its servers.
Is there a ChatGPT app?
No, you can't install a ChatGPT app on any application store (from Google Play Store or Apple App Store) because it isn't available yet.
However, you can visit the ChatGPT site from any browser on your mobile device.
Why is ChatGPT not working right now?
If you can't access ChatGPT, it is most likely due to a surge in traffic.
Once it stabilizes, the website will be accessible.
If you are still experiencing issues with ChatGPT, you can clear your browser cache or set up a new account for seamless access.
Can I use ChatGPT for free?
Yes. All you have to do is access chat.openai.com, sign in, accept the terms and conditions and input your query.
You don't have to pay any money to use its basic features.
Who Developed ChatGPT?
ChatGPT was developed and is currently managed by OpenAI, a popular AI company located in San Fransisco.
The company was founded in December 2015.
Why doesn't ChatGPT support my email?
The "The Email You Provided Is Not Supported" error can occur due to an invalid email address.
A good prerequisite to setting up a ChatGPT account is a valid address.
Anything different from this will cause the platform to malfunction.
Inputting an invalid email address will cause this error.
Is there a smartphone app for ChatGPT?
No, you won't find a smartphone app for ChatGPT.
Currently, both Android and iOS users can't use any ChatGPT app because it isn't available.
ChatGPT can only be accessed via a web browser on the OpenAI website.
How do I install ChatGPT on my mobile device?
Launch the Chrome browser on your mobile device and visit chat.openai.com.
Select the hamburger icon and tap "Add to Home Screen."
You can rename the app if you choose and then tap "Add."
Can I unblock conversations on ChatGPT?
A good method you can use to unblock ChatGPT is by connecting to a virtual private network or VPN.
It transfers your online traffic via a secure server, causing a situation where you access the internet from another location.
This can assist you in circumventing network limits and using ChatGPT.
What is ChatGPT?
ChatGPT is an artificial intelligence technology that utilizes natural language models to interact with users in a human-like manner.
Why has ChatGPT blocked my IP address?
When trying to connect to ChatGPT via a proxy server, the site may limit your IP address.
The reason for this is that your proxy server is linked to malicious or spammy activities.
Is it secure to use ChatGPT?
Yes, using Chat GPT is secure.
How do I fix ChatGPT won't work on Chrome?
You can start by clearing your browser cookies and cache.
Next, disable your browser extensions. If the problem still persists, try restarting your PC.
This will help eliminate browser problems by eliminating temporary data that might be responsible for the issue.
Which is better: ChatGPT or Google?
ChatGPT is super effective at delivering responses that sound human-like.
This can help solve issues via textual conversation.
However, Google is great for searching for pictures, videos, products and other things on the web.
How long can I use ChatGPT for free?
ChatGPT is free forever. You can use it without limit if you can connect to the website.
However, this can be limited by demand – particularly during peak times when the tool is at capacity.
This may cause slow response times.
Can ChatGPT take the place of programmers?
The simple answer is "No." ChatGPT won't totally replace programmers.
It will instead automate some areas of programming, simplifying processes like fixing bugs, code generation and documentation.
Is ChatGPT available in every country in the world?
No. ChatGPT is an artificial intelligence tool that isn't available in every country as a result of surveillance laws and online censorship policies.
Conclusion
ChatGPT is among the most popular and fastest-growing artificial intelligence tools in the world today.
Many users have made complaints about errors occurring on ChatGPT.
In this article, we explained the reason for this and ways to fix the myriad of problems.
By following the solutions outlined in this article, you should be able to use the platform seamlessly.
Also Read: