If you have been on TikTok for a while, you must be wondering how you can earn coins on TikTok for free.
In this article, I will detail everything you need to know about TikTok coins and how to easily get TikTok coins for free.
Without any further ado, let's get started.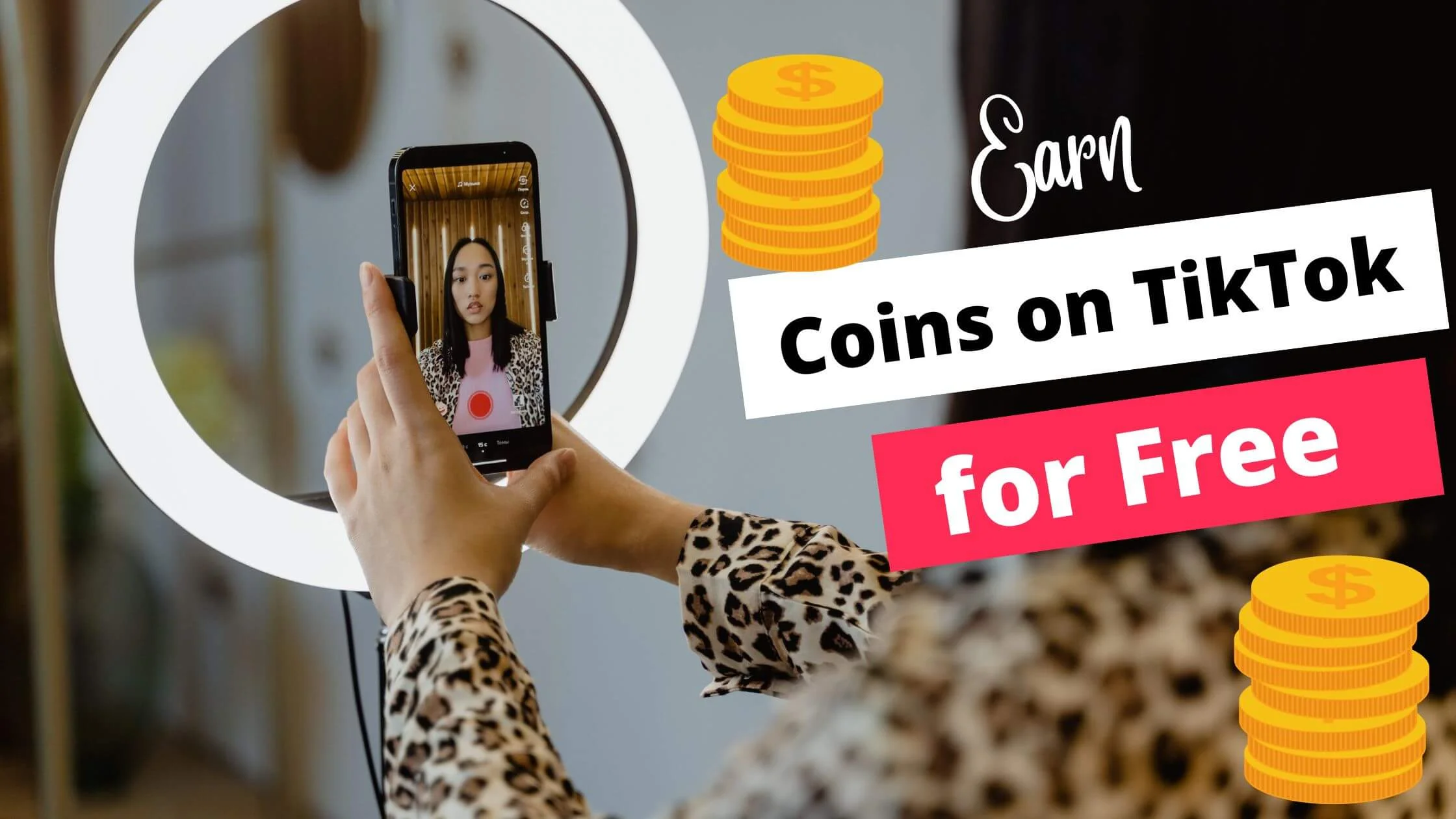 What are TikTok Coins
TikTok coins are in-app digital currencies that you buy with real money.
The coins can only be bought and used within the TikTok app and are designed solely for the TikTok ecosystem. They are subsequently used by the owners to tip content creators during live streams in form of emojis.
Once these emojis get to a recipient they are automatically converted to diamonds.
The coins have different values depending on the exchange rate. And the system is always in flux, so the number of coins you bought for euro or dollar today may not be the same tomorrow.
Note that the coins you purchase on TikTok are non-refundable.
 Values of TikTok Coins
The value and cost of TikTok coins vary from one country to another with the country's exchange rate.
Based on the US dollar (the world's primary reserve currency and the most widely used currency in international transactions), the price of TikTok coins at the time of this writing are:
100 coins – $1.29.
500 coins – $6.49.
2000 coins – $26.99.
5000 coins – $66.99.
10000 coins – $ 134.99.
From the above, the value of one TikTok coin is about 1.3 cents.
Uses of TikTok Coins
You cannot use TikTok coins to make purchases or payments like real currencies or other legal tenders like cryptocurrencies.
So, what exactly can you use the coins for?
You use TikTok coins in TikTok (in-app) in two ways as follows:
You can use TikTok coins to buy gifts for TikTok content creators.
You can use TikTok coins to purchase promotions for your TikTok content (videos).
To do number one above, you must have purchased your TikTok coins using real currency.
Then you use the coins to buy a gift for the content creator during a live streaming event. These gifts which are in form of emojis become diamonds once donated to a streamer.
This, therefore, mean you exchange your coins for emojis which you subsequently donate or gift to a content creator during their live event as a diamond.
Note that the value of one diamond is 50% of one TikTok coin.
An online content creator can withdraw their TikTok gifts (diamonds) and redeem the gifts for cash. To do this, he/she must have a minimum of $100 worth of diamonds in their account.
He/she must also have a PayPal account linked to TikTok to complete a transaction. The money is paid into this PayPal account.
You can redeem diamonds up to a maximum of $1000 per day. And it takes about 15 days for TikTok to process and complete a withdrawal order.
A reason for the 15-day gap is, apart from processing the transaction, to enable TikTok to check and prevent fraudulent transactions.
To conclude this part, remember that once you buy TikTok coins with real money, you cannot sell or transact them to get your money back.
You can only gift the coins via exchanging them for diamonds to a live streamer or used the coins to promote your TikTok content.
However, unlike you, a streamer or content creator can redeem, 'sell' such gifts when they have a minimum of $100 worth of diamonds and thereby make real money from TikTok coins gifts.
It means that you too can earn real money from TikTok when you stream events and get some tips from your TikTok fans or viewers and your gifts amount to a minimum value of $100.
To start a live streaming event on TikTok, you must be 16 years and above, and you must have a minimum of 1000 followers.
See Also: How To Remove Unwanted Videos From TikTok
Types of TikTok Gifts
I have already mentioned that the usefulness of your TikTok coins lies basically in you exchanging them for emojis (diamonds) which you donate to content creators.
There are various types of these emojis and they represent different values of TikTok coins. They include:
Panda – 5 coins.
Italian hand – 5 coins.
Love bang – 25 coins.
Sun cream – 50 coins.
Rainbow puke – 100 coins.
Concert – 500 coins.
I'm very rich – 1000 coins.
Drama queen – 5000 coins.
How to Earn Coins on TikTok for Free
We have finally arrived at the climax of this discussion, which is, how exactly can you earn or get TikTok coins?
I will address this question with step by step guide easy to understand.
From our previous discussions, I believe that it is clear to you that earning TikTok coins simply implies buying the coins with real money.
You can make this purchase in either of two ways:
Purchase TikTok coins through the TikTok app.
Purchase TikTok coins through your desktop website.
Buying TikTok Coins on the Mobile TikTok App
To buy TikTok coins on the mobile TikTok app follow these simple steps:
Log in to your TikTok account on your smartphone.
Go to your profile.
Click on the ellipsis in the top right corner.
Click on the 'Setting and Privacy' icon.
Select 'Balance' from the menu that appears.
Tap 'Recharge'.
Choose the number of coins you want to buy.
Complete the transactions by adding your preferred payment method.
Once the transaction is processed you will be notified of a successful purchase. Tap 'OK' and your new balance of TikTok coins will show.
Here you go! Your TikTok coins are ready. Simple, isn't it?
Buying TikTok Coins on Desktop Websites
First, let me quickly state that the advantage of buying TikTok coins on a desktop over a mobile app is that you get a better deal.
According to the TikTok website, you can save up to 30% when you make a desktop purchase rather than in the mobile app.
The reason for this is app stores charge a commission fee for payments made to app companies through the store's payment process.
Google play store and Apple app store take a 30% commission from in-app TikTok coins purchases.
To avoid this loss, TikTok takes this fee into account and charges higher prices within the app, thereby, making the customer pay an extra fee.
However, since TikTok's website doesn't need to be hosted on an app store, payments through the desktop website don't have a commission fee attached like the mobile app.
So, if you prefer to buy TikTok coins from the website, these are the steps you follow:
Open the official TikTok website, tiktok.com, on a reliable browser.
Navigate to the TikTok coin purchase page.
Select the number of coins you want to buy. You can choose a custom amount which allows you to buy more coins than you would be able to in the mobile app.
Click 'Buy now'.
Fill in a payment method.
Click 'Pay now'.
Here you go once again successfully purchasing your TikTok coins!
Now, you can send the coins to your mobile app or you continue to use the desktop version of TikTok. Note: you must be over 18 years old to buy coins on TikTok.
See Also: How to Fix "This Sound isn't Licensed for Commercial Use" on TikTok
How to Get Coins on TikTok for Free
How do I keep my TikTok coins?
There is a TikTok wallet on your TikTok account where your coins are deposited.
How much is one TikTok coin?
One TikTok coin is currently about 1 cent. However, the value fluctuates and differs from one country to another.
Can I sell my TikTok coins?
No. you can only use your coins to tip a content creator when you use them to purchase an emoji and donate it to the content creator during their live stream event.
How can I make real money from TikTok coins?
You can make money from TikTok coins when others gift you their coin via diamonds donated to you during your live stream event.
You can then exchange these diamonds for real money when they reach a certain minimum value.
Is there a difference between coins and diamonds?
Yes. Coins are what you buy with your real money. While TikTok diamonds are what the recipients (streamers) of your gifts get.
Diamonds are not transferable and can only be exchanged for real money by the streamers when they gather to a minimum value of $100
How many TikTok coins make a diamond?
A diamond is 50% the value of one coin. Therefore, one TikTok coin has the value of 2 diamonds.
How can I get free TikTok coins?
You cannot. There are no legitimate ways to get free TikTok coins on the app or elsewhere. You can only buy them with real money within the mobile app or desktop website.
Conclusion
The option to exchange real money for in-app currency of TikTok coins is one of the amazing features of TikTok that captured the hearts of hundreds of millions of TikTok users worldwide as it enables users to monetize having fun to a certain degree.
Best of all is how easy it is to earn these coins.
However, you might need to be cautious if you are on the 'giving' end as these coins cost real money.
Also Read: