TikTok's
growth as a social media platform is on the rise. It has become so popular among the younger age group.
Similarly, this has created some form of vulnerability among children. Hence the purpose of this guide.
If your kids or relation is a victim of offensive and pestering videos on TikTok, how do you deal with it? In this guide, you will find out how to remove unwanted videos from Tiktok.
How to Remove Unwanted Videos From TikTok
Below is how to remove unwanted videos from TikTok:
1. Direct Message the Content Creator
Most content creators are kind enough and considerate to remove an offensive video from TikTok only if you ask.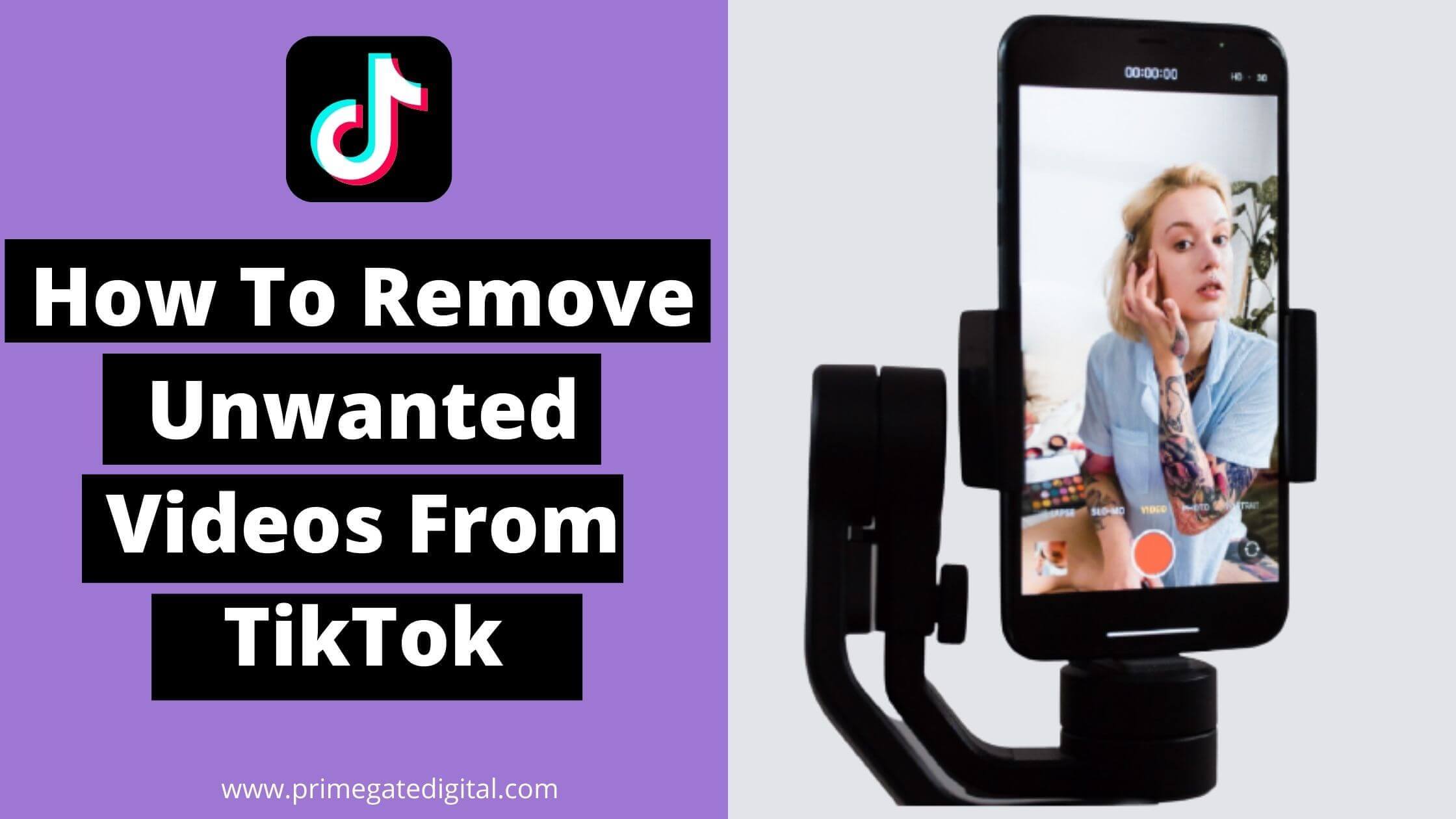 To message the content creator:
Tap on the name of the TikTok content creator beneath the video
At the top left of the page, click on the three-dot icon
Proceed to tap on the message icon and politely request the content creator to remove the particular video
2. Report the Video to TikTok
How to Report Video on TikTok
Search for the video on the creator's page.
Press and hold the video.
On the pop-up menu, tap on "Report."
Then choose the option that best fits your reasons for reporting the video
Perhaps you were featured in the video and did not authorize it on TikTok, select "other" and detail the reasons why you don't want the video live anymore.
See also: How to Get Verified on TikTok
3. Contact TikTok Directly
Perhaps you've reported the offending video, and it's still not taken down. You can contact TikTok directly. The best part of TikTok is that it allows users direct access to contact them.
4. Informing Relevant Authorities
You can reach out to your local authorities to report the issue, or you can use the search to get the contacts.
See Also: How To Remove Unwanted Videos From TikTok
How to limit unwanted TikTok videos
The main reason for TikTok's popularity and appeal is its viral, exciting and amazing content.
After setting up your TikTok account, it is important to go through their community guidelines before exploring interesting videos and making your own.
TikTok is a community made up of people from diverse backgrounds seeking an exciting time.
Since TikTok creators have unique experiences, the platform is rich with everything from funny skits to grooming tutorials to pranks.
However, what is harmless fun to someone may bit be entertaining or amusing to you — that's fine.
One way to discover unique and entertaining videos is by using the For You Feed.
However, with the huge content diversity on the platform, you may oftentimes feel overwhelmed with videos that don't match your taste.
In this section, we will show you some features and strategies that will help you limit unwanted content off your For You Feed. This will assist you in personalizing content to your preference on TikTok.
Set Content Preferences
Assuming you are going through the For You feed, find a video of a person dancing to reggae music. And this is not something you are interested in at the moment.
All you have to do is long-press the video and select the Not Interested option. You won't find much of that type of video after that.
On the other hand, if you find the video very interesting, all you have to do is long-press it. Then, store it in your Favorites and browse for relevant content using that hashtag.
Change TikTok content language 
As we have stated earlier, TikTok lets you change your preferences, making it easy to access content from a diverse range of languages and cultures.
Here's another way to change your preferences on TikTok. Explore below:
Access the TikTok app on your smartphone. Ensure you sign in properly.
Select the profile tab. You will find it in the lower right corner.
Navigate to the upper right corner and select the menu icon.
Tap on "Settings and Privacy"
Select the "Content Preferences" option below "Content & activity."
Select "Video languages."
Tap "Add language."
Choose your preferred language and select "Done." If you would like more than one language, repeat the process.
There's also a way to delete your language preference. The steps below will guide you on the steps involved in removing a language from your content preferences:
Access the TikTok app on your smartphone. Ensure you sign in properly.
Select the profile tab. You will find it in the lower right corner.
Navigate to the upper right corner and select the menu icon.
Tap on "Settings and Privacy"
Select the "Content Preferences" option below "Content & activity."
Select "Video languages."
Select the bin icon beside the language you want to delete.
Finalize the process by selecting "Remove."
Enable Restricted Mode
Restricted Mode is a TikTok feature found in the account settings that limits the visibility of content that is inappropriate or unsuitable for audiences.
It is perfect for users who wish to block specific content on the platform and can be enabled through the settings.
To toggle it on and off, you will be required to provide a passcode, making it ideal for parents to utilize the filter for their kids.
The "Restricted Mode" feature is only available on the smartphone app. It can't be accessed on web browsers (PC/mobile).
To enable it, access the TikTok app on your Android or iOS device and select the "Profile" option in the lower right corner of your screen.
Then, Navigate to the upper-right corner and select the hamburger icon.
Next, tap on "Settings and privacy."
Navigate below and select "Content preferences." Next, tap on "Restricted Mode."
Lastly, select "Turn on."
Users will be required to set up a four-digit passcode to activate the functionality, select "Next," re-input the passcode once more, and select "Set" to finalize the action.
Remove Unwanted Videos From TikTok FAQ
Can I delete my TikTok videos en masse?
No, you can't do this. TikTok won't let you delete all your content en masse.
You can only delete them one after the other individually. Once you delete the TikTok video, there's no way of retrieving it. Neither you nor your followers can access it.
Why can I only see certain videos on TikTok?
TikTok algorithm factors in a number of parameters to determine which content to present to you.
Some parameters are user engagements like accounts you follow, likes and shares. It also factors in video data like captions and hashtags.
Why does TikTok showcase specific videos in my FYP?
FYP contains a tailored collection of videos from content creators that may not be on your follow list, but the TikTok algorithm considers you would be interested in them because of your past engagements and interests.
What are the benefits of clearing the cache on TikTok?
As you clear the cache on your TikTok app, you delete useless data from the application. This excludes your saved content and drafts. TikTok cache helps in recording the videos you have seen. Each time you see a video, the cache adds up until it is cleared.
Can you report a TikTok video anonymously?
Yes. Reporting a TikTok video is fully anonymous, and no one can discover the identity of who made the report. However, you must ensure that you report videos that genuinely contravene TikTok's community guidelines.
Does it take too long for TikTok to review a report?
It depends. Once your video is subject to review, it will take 2 days for TikTok to let you know if it has been removed or is available to the public. However, it may take longer than this, and the review process can last for 7 days. You will have to wait patiently.
My video was reported on TikTok. What's next?
If you have been reported several times and your account may be permanently restricted. This implies that if the violation continues, TikTok will ban your account forever.
If your account is restricted, you will be notified about this account update whenever you access the app.
What's the reason people report my content on TikTok?
Your content has likely been reported and taken down because it contravenes the platform's community guidelines.
Why did TikTok delete user accounts?
As many as 15 million TikTok accounts were taken down because of allegations of being created by minors (users below the age of 12).