Have you recently installed the TikTok mobile app and are confused if you can make TikTok videos on your computer?
Does TikTok for PC exist, and is there a way to add TikTok videos from your computer to the app? Keep reading! This guide will give you every detail you wish to know about this topic. 
TikTok is a popular video-oriented social media channel. It has over 500 million daily active users who view entertaining viral videos relating to a wide variety of genres – DIY, fashion, business, inspiration, movie, etc.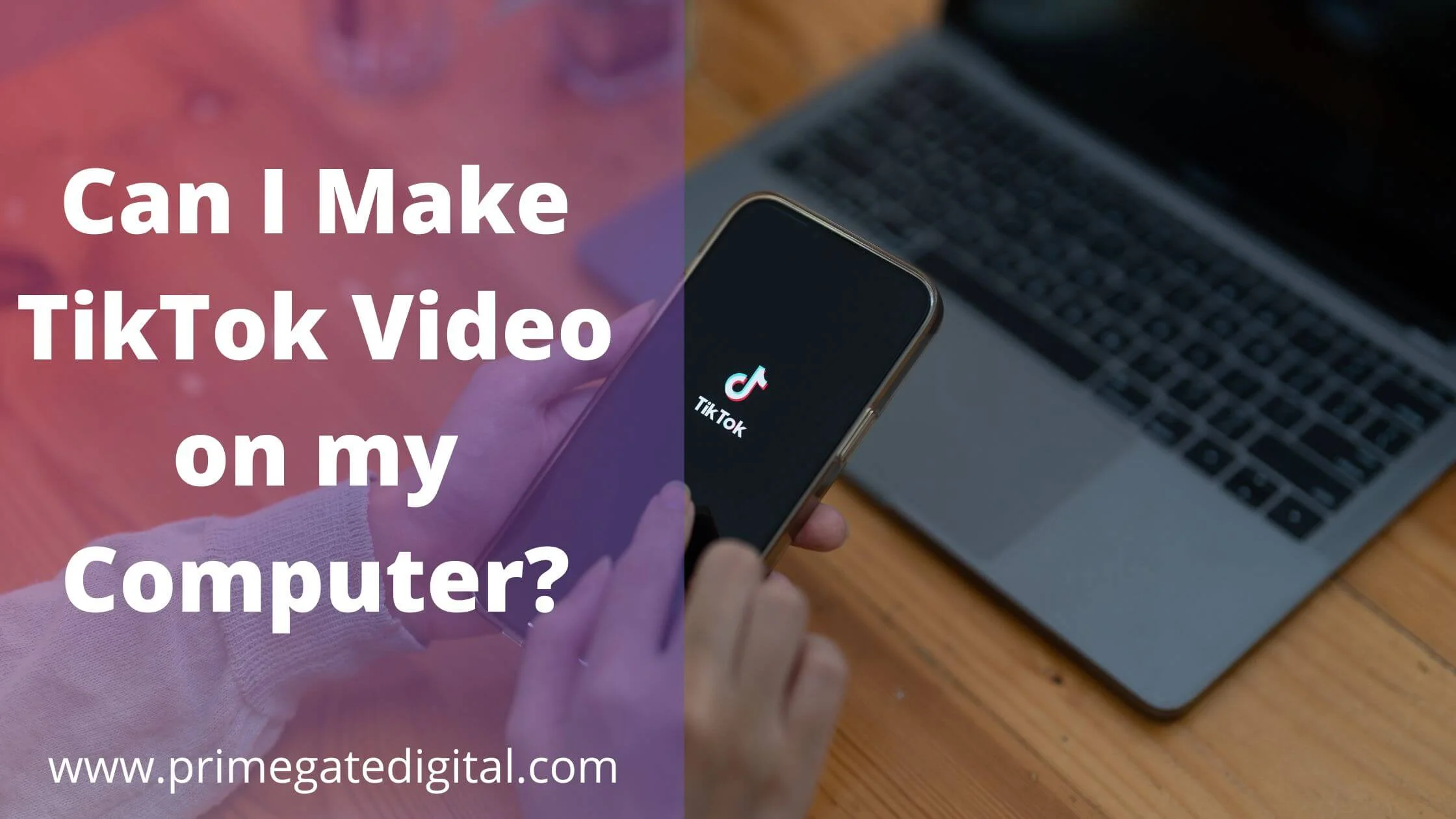 Since TikTok was introduced to the world of social media around 2017, it has enjoyed widespread popularity. It has been downloaded over a billion times on app stores, making it among the most installed apps in the world. 
In fact, in 2021, it was reported that TikTok overtook Google and Facebook regarding web traffic!
TikTok continues to experience tremendous growth. However, some users find it stressful to edit videos on the app, especially on their smartphones. 
This is a comprehensive tutorial for making TikTok videos on the computer and posting TikTok videos via PC to the smartphone application. 
Ensure you read this article until the end to learn how to make engaging videos in a stress-free and rewarding way easily.
Can You Make TikTok Videos on a Computer?
Absolutely. It is possible to make videos via PC and upload them on TikTok.
Many users can access TikTok on their computers, share videos and engage with their followers.
There are many ways you can do this, and we will share all the juicy tips in this article.  
Benefits of Using TikTok on Your Computer
Are there any benefits to using TikTok on your computer?  Yes. 
The videos are uploaded at a much faster rate, and you won't have to wait long to see the results of your creative endeavors.
See Also: How to Monetize TikTok Videos on YouTube
How to Make TikTok Video on Your Computer
Here are some fantastic tools you can use to make or upload TikTok videos on your computer:
Bandicam 
Bandicam is a web tool that offers superb screen recording capabilities. It is effective software that both amateurs and professionals can conveniently use. 
Here's how to use Bandicam to record TikTok videos:
Download

Bandicam

on your computer and launch the tool. 

Click "Default Output Device" to enable the speakers to capture sounds from your computer. 

Click on the area on your screen to record or navigate to the "rectangle on a screen" button. 

Access

tiktok.com

and select the record button to either begin or end a recording session. 

Once you have completed the recording session, navigate to home and click "video" to play the recorded video. 
Web Browser (Chrome/Safari)
Using your phone browser is the simplest way to post your TikTok videos from your computer.  
However, it's not a very effective technique. This is so because TikTok on your browser has very limited features or capabilities. For instance, you won't find editing tools. 
Fortunately, there are many 3rd-party tools you can utilize for editing your videos online. You can use them for your TikTok video edits. 
Here's how to use your web browser to add videos to TikTok:
Access your web browser—input TikTok.com in the address bar. Furthermore, you can skip the "register a new account". To do this, navigate to the top right corner and click "Watch Now".

Ensure you select "Watch Now" in the top right corner if you are yet to do that.
Select the "Upload Video" option at the top right. It has an icon that looks like a cloud with a dark color.
Next, sign in to TikTok on your computer. Select the "use phone or email" option at the top.
Please note: Setting up a TikTok account on a computer involves longer processes involved. It is more convenient to use your smartphone or an Android emulator to sign up.
However, if you already own an account on TikTok, you can log in easily. Input your credentials. 
Don't forget that you must sign in to your TikTok account from a computer to post videos. 
If you have successfully set up an account and finalized the sign-in process, the next step is to post videos directly from your PC. 
But you'll notice that there are no editing features. 
The PC version of TikTok does not have editing capabilities. This means you can't add GIFs, music or even make use of sophisticated filters. This is the only disadvantage of TikTok on the computer. 
However, you can still upload videos onto the platform.
A great benefit of using the TikTok PC version, as we have outlined previously, is that it lowers the time needed to process video content. This saves you plenty of time.
Disadvantages of using TikTok on Your Computer Browser
While we admit that using TikTok on your computer is much faster, time-saving and convenient, it is important to highlight some disadvantages in this regard:
You won't be able to add music clips, captions and stickers to your video when using a PC.

You will be unable to save videos as drafts on your smartphone.

It has limited editing capabilities. 
BlueStack Emulator
The next method involves the use of the Bluestacks emulator. Bluestacks is a user-friendly software that allows you to run Android games and applications on your computer without hassles. 
To start, you need to browse the website and

install the Bluestacks emulator

on your computer.

Next, run the executable file (exe.file) that you have installed, and click on it to prompt/ the installer.
As soon as the installer pops up, select the "Install Now" option.
This will start the installation process. When finished, select "complete".
Now, you have BlueStacks emulator as an installed software on your computer. Access the tool, complete its configuration and navigate to the App Center. 
At this stage, you'll need to log into your Google account. If you are yet to own one, it's important that you set up a new Google account as it is a prerequisite to access TikTok or other Android applications on your PC. 
Search for TikTok on the Google Play Store by inputting "TikTok" on the search field positioned in the top right corner.
You will find the app in the search results; ensure you select and install it. Ensure you allow the app to access your PC's camera by selecting "accept" after when the confirmation box pops up.
Upon successful installation of the TikTok app, select the "Open" button.
You can now use the TikTok app on Bluestacks emulator to record, edit, and add music clips and effects, as well as upload your videos from your computer. 
How to Install Bluestacks on a Mac PC
Installing Bluestacks on a Mac computer is quite challenging.
It can cause your PC to malfunction or shut down. Thus, we advise that you quit running other software running.
Ensure you complete the installation process. Here's how to do it: 
Access the Bluestacks website and select "Download" to begin the installation process.

Select the folder where the Bluestacks installer is stored. Check for the installer dmg. file and click on it to launch it.
As soon as the Installer window pops up, initiate the installation by clicking on the Bluestacks icon. Select continue.
A system extension blocked alert may show up on your screen. Select the Open security option and select "Allow". This will enable the Bluestacks emulator to be installed on your PC.
Similar to Windows PCs, you'll need a Google account before you can install the TikTok application on your Mac PC.
You can either set up a new Google account or input your login credentials where provided.
The installation process for TikTok on PC is the same for Windows and Mac PCs; simply navigate to the Google Play Store and select "install". 
How to Make TikTok Video on my Computer FAQs
Can I access TikTok analytics on my PC?
You can check your analytics via your PC. Navigate to your profile photo in the upper right, then click View Analytics. 
In this area, you can check your real metrics and stats. This will help you devise a social media strategy.
These metrics include overview analytics (stats about your achievements in a specific time frame), follower analytics (data about your followers), live analytics (metrics about your live videos) and content analytics (stats about individual posts).
Can I access TikTok via my Chromebook?
On your Chromebook, enter tiktok.com in the address bar of your Chrome browser. The next thing you'll do is sign in.
After that, you can access all your content, although in a revamped layout. Check your message, upload tool and inbox in the upper right. 
Can I watch TikTok videos without an app?
Yes. An alternative to the TikTok app is the TikTok desktop version. You can also look up TikTok videos on the YouTube platform or make use of any TikTok viewer. 
Is there a web app for TikTok?
No. TikTok does not have an "official" web app. However, you can always enjoy TikTok videos via the smartphone application as it is the easiest way to watch them.
You can also access TikTok via their official site.
Conclusion
TikTok is currently among the most engaging social media platforms. There is a lot to watch, learn and find entertainment from.
You can use cool effects and fun filters to create comedic videos and share them with millions around the world.
Although the TikTok platform is traditionally geared towards Android and IOS users, it is still possible to make and upload TikTok videos via your PC.
This guide explains three of the best methods to do this. 
Also Read: