The billion-dollar question that many business owners and aspiring business owners alike, always ask is: "How to Apply for Opay POS machine?" and "Where can I download Opay POS application form?"
Opay is one of the fastest growing fintech company in Nigeria. It is owned by Chinese company that owns the popular browser, Operamini.
It is a trusted, secured and most popular payment processor in Nigeria today.
Looking for a safe and reliable means to apply and get a POS machine? Then this guide is for you.
No doubt, Opay POS machine is the solution you seek to start your POS business in Nigeria and get your online transactions done with ease.
In this article, we will guide you on how to apply for Opay POS (Point of Sales) for withdrawal, deposit, transfer in Nigeria. Also, you will get to learn how to make money as an Opay agent.
How to Apply for Opay POS Machine
Becoming an Opay merchant and having your POS terminal is the best way to have a low cost on all your transactions.
You can Create an Online Merchant Account and Create a POS Merchant Account to get started.
Here's the step by step guide to become an Opay agent and apply for the Opay POS machine for your business:
Open your mobile device and login to your Opay app
Select the "Merchant Application" icon
Fill in all the required  information requested
Proceed to upload your transaction history for the last 90 days
Upload your means of identification (National ID, Voter's Card, International Passport or Driver's License)
Have a snapshot of your POS terminal and upload it to the portal
Go ahead to submit your Opay POS application for review.
The Opay POS machine is free of cost. But as an agent, you are required to pay a N20,000 caution fee in your Opay wallet.
Once your application is approved, the caution fee charge will commence. You will be refunded upon return of the POS machine.
See Also: Top 45 Lucrative Business Ideas in Nigeria to Start
How to Contact OPay Support for POS issues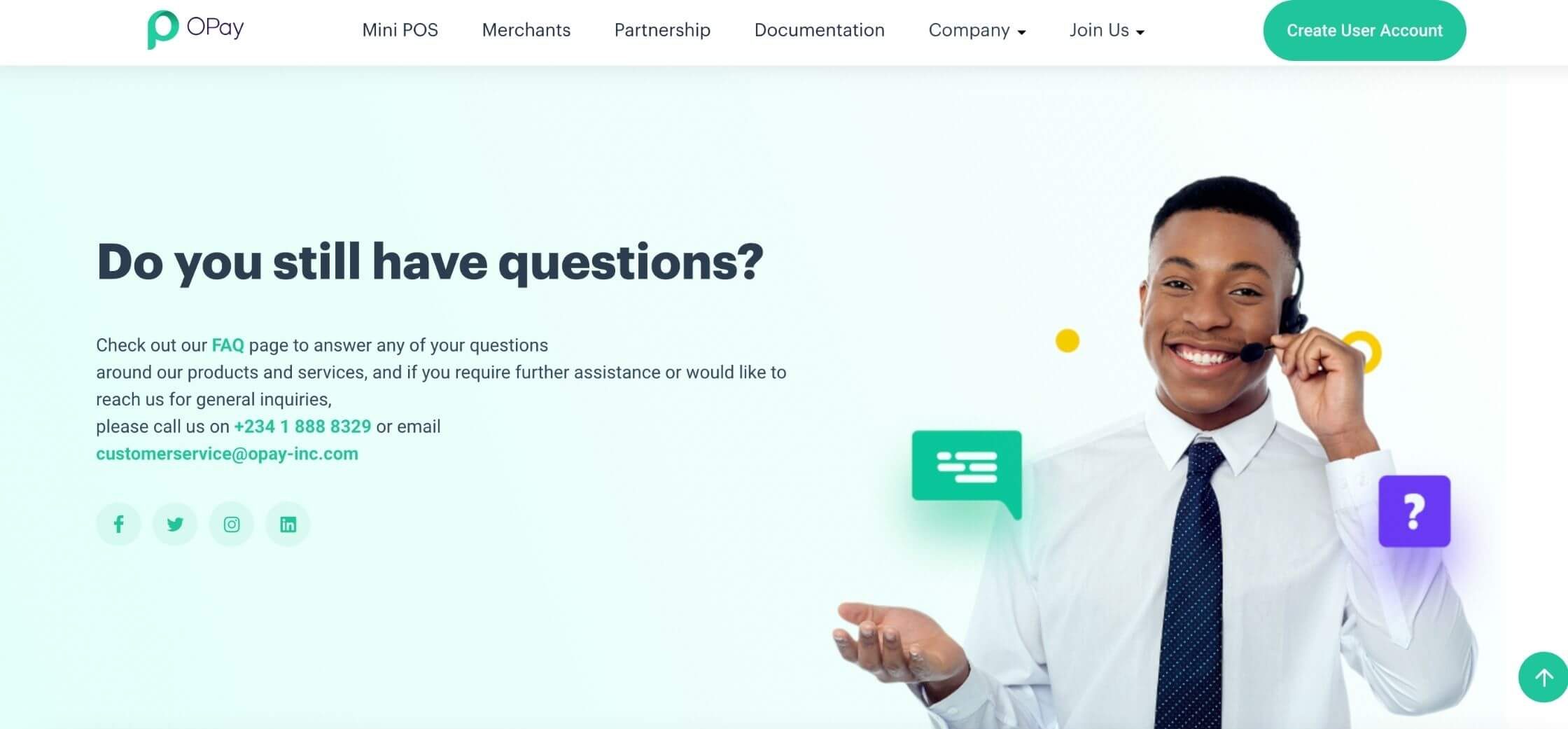 Perhaps you are having issues with your Opay POS machine and want help from Opay team, below is how to get it sorted.
Opay Office Address
Alexander House, Otunba Jobi Fele Way. Ikeja. Lagos, Nigeria.
The office open hours are Monday – Friday from 9 AM to 5 PM (WAT)
Call: +234 1 888 8329
Opay Customer Representative Email Address
Also, you can contact Opay representative via email – [email protected] & [email protected]
Opay WhatsApp Contact
Perhaps you want an instant response with your Opay POS machine. You can contact Opay Customer Service team through chat on: +234 (01) 8888329.
Opay POS Fraud Related Issues
For fraud-related issues with Opay POS machine, send an email to the security team [email protected]
See Also: Paystack Login | How to Create Paystack Free Account
FAQs on How to Apply for Opay POS Machine
How Much is POS Charge in Nigeria?
POS charge in Nigeria varies by location, most terminals charge N100 for transactions between N1,000-N9,999, N200 for transactions between N10,000 – 19,999 etc.
However, there are exceptions to these charges to merchants in hotels, restaurants, airlines etc.
What is the Cost of Opay POS?
Opay POS machine is absolutely free of cost. You don't need to make a payment to have it. However, you must pay a caution fee of N20,000.
How Long Does it Take to Get Opay POS?
You can get your Opay POS Machine request reviewed and approved within 24hours. Upon approval, you will be contacted by the Opay POS agent support team on how and when to pick up your POS terminal.
How do I get Opay Free POS in Nigeria?
To get your Opay POS machine for free, you must first become a merchant and apply through the Opay application form.
Firstly, become an Opay agent
Visit the Play Store or Apple Store to download the Opay App
Sign up to become an Opay agent by creating an account.
Afterwards, you are eligible to apply and receive an Opay terminal.
Where Can I Pick up my Opay POS Machine?
Once your application is for Opay POS is approved, you will be notified via email of your pickup location.
Do I Need BVN to Apply for Opay POS?
To get an Opay POS machine, you don't need a BVN to get started. All that is requested is to become an Opay agent.
Conclusion
Becoming an Opay POS agent is the first step to being eligible for a POS machine. Starting a POS business in Nigeria is very lucrative. We hope that this guide you on how to apply for the Opay POS machine.
Latest posts by Harrison Acha
(see all)