The billion-dollar question that many business owners and aspiring business owners alike always ask is: "How to Apply for Opay POS machine?" and "Where can I download Opay POS application form?"
Opay is one of the fastest-growing fintech companies in Nigeria. It is owned by a Chinese company that owns the popular browser, Operamini.
It is a trusted, secure and popular payment processor in Nigeria today.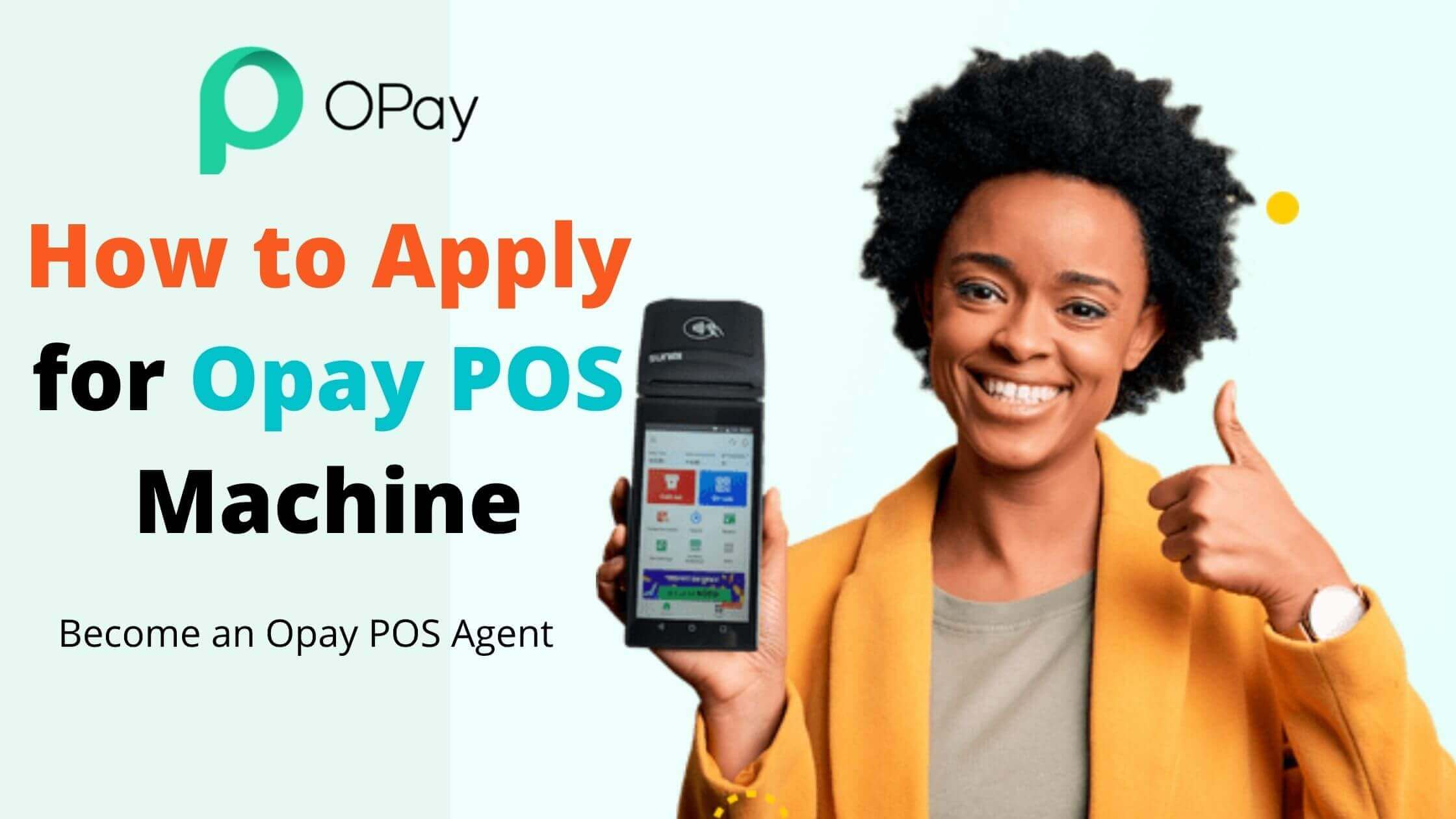 Looking for a safe and reliable means to apply for and get a POS machine? So this guide is for you.
No doubt, Opay POS machine is the solution you seek to start your POS business in Nigeria and get your online transactions done with ease.
In this article, we will guide you on how to apply for Opay POS (Point of Sales) for withdrawal, deposit, and transfer in Nigeria. Also, you will learn how to make money as an Opay agent.
How to Apply for Opay POS Machine
Becoming an Opay merchant and having your POS terminal is the best way to have a low cost on all your transactions.
You can Create an Online Merchant Account and Create a POS Merchant Account to get started.
Here's the step-by-step guide to becoming an Opay agent and applying for the Opay POS machine for your business:
Open your mobile device and log in to your Opay app
Select the "Merchant Application" icon
Fill in all the required  information requested
Proceed to upload your transaction history for the last 90 days
Upload your means of identification (National ID, Voter's Card, International Passport or Driver's License)
Take a snapshot of your POS terminal and upload it to the portal
Go ahead to submit your Opay POS application for review.
The Opay POS machine is free of cost. But as an agent, you must pay an N20,000 caution fee in your Opay wallet.
Once your application is approved, the caution fee charge will commence. You will be refunded upon return of the POS machine.
OPay POS Benefits
Here are the advantages agents can enjoy using an OPay POS:
Efficient and trusted nationwide.
Affordable costs and great commissions.
High network Uptime.
Super-Fast Settlement.
Fantastic technical support and regular upgrades/improvements.
Opay Uses
Utility and Bill Payment
Pay your utility bill with ease with zero charges at the convenience of your couch or on the go when heading to work.
Easily make payments for numerous kinds of bills, including cable television, gas, school fees, taxes and much more.
Agent Banking Services
It is easy to launch the app to locate the closest agent to withdraw or deposit funds.
Anyone can also undertake monetary transactions at the agent's location.
Peer-to-Peer Transfers
You can simply send and get cash from friends and loved ones on your contacts without charges.
Wallet-to-wallet payments are a quick and safe way to get and receive funds with only your mobile number.
Betting Payments
Refill your betting account easily with your Opay account.
Additionally, you can receive your bet earnings via your OPay account without stress.
Rewards and Vouchers
As an Opay customer, you are entitled to rebates and rewards.
POS service
Opay payments can be sent to point-of-sale terminals at numerous agent locations for deposits, transfers, withdrawals and many more.
Entrepreneurs can pay for POS terminals and get them sent to their place of business for free.
Quick and safe transfers
Using your Opay account, you can make transfers and receive funds quickly from banks for as little as ₦10.
Merchant QR Payments
You can even scan QR codes using your smartphone at any agent location to make payments easily. Zero charges.
Types of OPay POS Machines in Nigeria
There are three different kinds of Opay POS machines in Nigeria:
OPay Smart (Android) POS
OPay Mini POS
OPay Traditional POS
Difference between OPay Traditional POS and OPay Mini POS
OPay Traditional POS is more expensive than Opay Mini POS.
Opay Mini POS cannot print receipts without a connected separate printer. On the other hand, OPay Traditional POS can easily print out receipts.
You have to link OPay Mini POS to your Android mobile device using Bluetooth before using it, while the Opay Traditional POS won't require a phone to work.
What is the cost of Opay POS in Nigeria?
Here's how much the Opay POS price costs in Nigeria:
Cost of OPay Smart (Android) POS: $60,000.
Cost of OPay Traditional POS: $45,000
Cost of OPay Mini POS: $10,000
After making your application to be an OPay POS agent, you will get the POS machine between 24-72 hours.
This depends on your place of location within the country.
How to Contact OPay Support for POS issues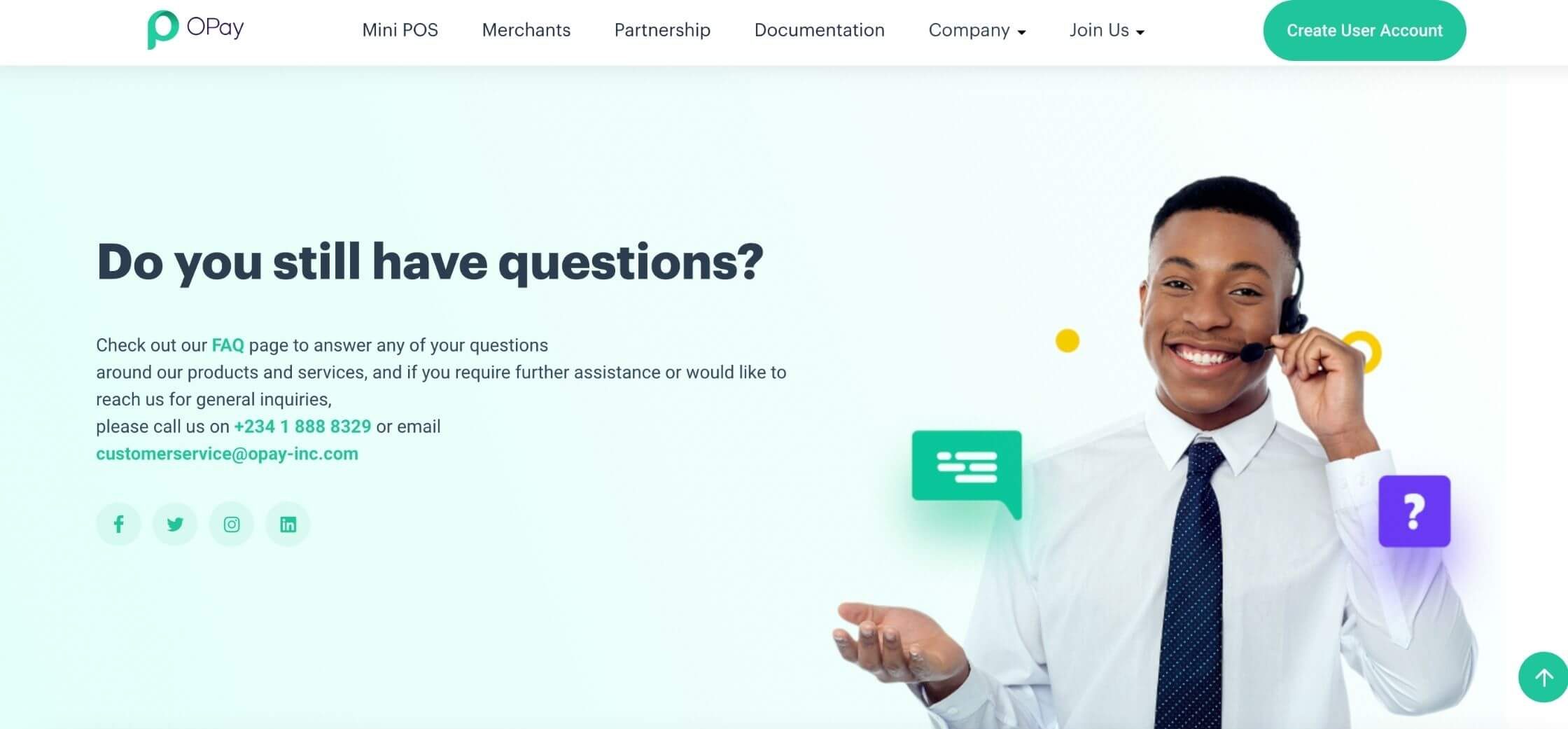 Perhaps you are having issues with your Opay POS machine and want help from Opay team, below is how to get it sorted.
Opay Office Address
Alexander House, Otunba Jobi Fele Way. Ikeja. Lagos, Nigeria.
The office open hours are Monday – Friday from 9 AM to 5 PM (WAT)
Call: +234 1 888 8329
Opay Customer Representative Email Address
Also, you can contact Opay representative via email – [email protected] & [email protected]
Opay WhatsApp Contact
Perhaps you want an instant response with your Opay POS machine. You can contact Opay Customer Service team through chat on: +234 (01) 8888329.
Opay POS Fraud Related Issues
For fraud-related issues with Opay POS machine, send an email to the security team [email protected]
See Also: Paystack Login | How to Create Paystack Free Account
FAQs on How to Apply for Opay POS Machine
How Much is POS Charge in Nigeria?
POS charge in Nigeria varies by location; most terminals charge N100 for transactions between N1,000-N9,999, N200 for transactions between N10,000 – 19,999 etc.
However, there are exceptions to these charges to merchants in hotels, restaurants, airlines etc.
What is the Cost of Opay POS?
Opay POS machine is absolutely free of cost. You don't need to make a payment to have it. However, you must pay a caution fee of N20,000.
How Long Does it Take to Get Opay POS?
You can get your Opay POS Machine request will be reviewed and approved within 24 hours. Upon approval, you will be contacted by the Opay POS agent support team on how and when to pick up your POS terminal.
How do I get Opay Free POS in Nigeria?
To get your Opay POS machine for free, you must first become a merchant and apply through the Opay application form.
Firstly, become an Opay agent
Visit the Play Store or Apple Store to download the Opay App
Sign up to become an Opay agent by creating an account.
Afterward, you are eligible to apply and receive an Opay terminal.
Where Can I Pick up my Opay POS Machine?
Once your application for Opay POS is approved, you will be notified via email of your pickup location.
Do I Need BVN to Apply for Opay POS?
To get an OPay POS machine, you don't need a BVN to get started. All that is requested is to become an Opay agent.
Can I get a free POS from OPay?
As an OPay agent, you can earn lots of cash while offering monetary services and adding value to your community.
Once you connect to the Opay family, you receive a POS for free and begin to expand your business.
Opay is known for its reasonably-priced rate in the market.
Are there benefits to using Opay POS?
Yes, agents can carry out withdrawal and deposit services for their customers.
A big benefit is the quick transaction settlement and the ability to track transactions in real time.
POS has an intuitive dashboard where you can monitor your business transactions.
Which bank is in charge of OPay?
Opay is run and managed by Blueridge Microfinance bank; Furthermore, customers enjoy 30 free transfers every month, and Opay customers can deposit cash upwards of 10,000 at zero costs.
OPay has CBN approval, right?
The Central Bank of Nigeria has authorized OPay to carry out financial and payment services. It is also a loan services provider. It commenced operation in 2010.
What is the full name of OPay?
Opay stands for Opera Pay. Opay Digital Services Limited is a company owned by Opera Norway AS Group with a strong presence in markets in different parts of Africa, Asia and Latin America, particularly in Egypt, Nigeria and Mexico.
Which bank has the most popular POS agency service in Nigeria?
Zenith bank Agent Banking.
UnionDirect.
UBA Monie.
FCMB Agent Banking Services.
Ecobank Xpress Point.
Stanbic IBTC @ease Agency Banking Services.
Keyserv Agency Banking Services.
Heritage Bank.
What do POS agents earn each day?
A POS agent may earn as much as five to eleven thousand Naira daily if they are in a pleasant location and are trustworthy.
How are POS agents paid?
POS agents earn a commission for every fee they charge customers to carry out transactions on the POS machine. This can range from airtime purchases to withdrawals.
Conclusion
Becoming an Opay POS agent is the first step to being eligible for a POS machine. Starting a POS business in Nigeria is very lucrative. We hope that this guides you on how to apply for the Opay POS machine.