Paystack is one of the best payment platforms that enable businesses anywhere in Africa to receive payment from anywhere in the world hassle-free.
One of the biggest challenges faced by businesses in Africa that have customers beyond Africa is payment. They find it difficult to get paid for goods and services.
With Paystack, getting paid has never been this easy. Paystack login allows businesses to get into their account and accept payments with a click of a button.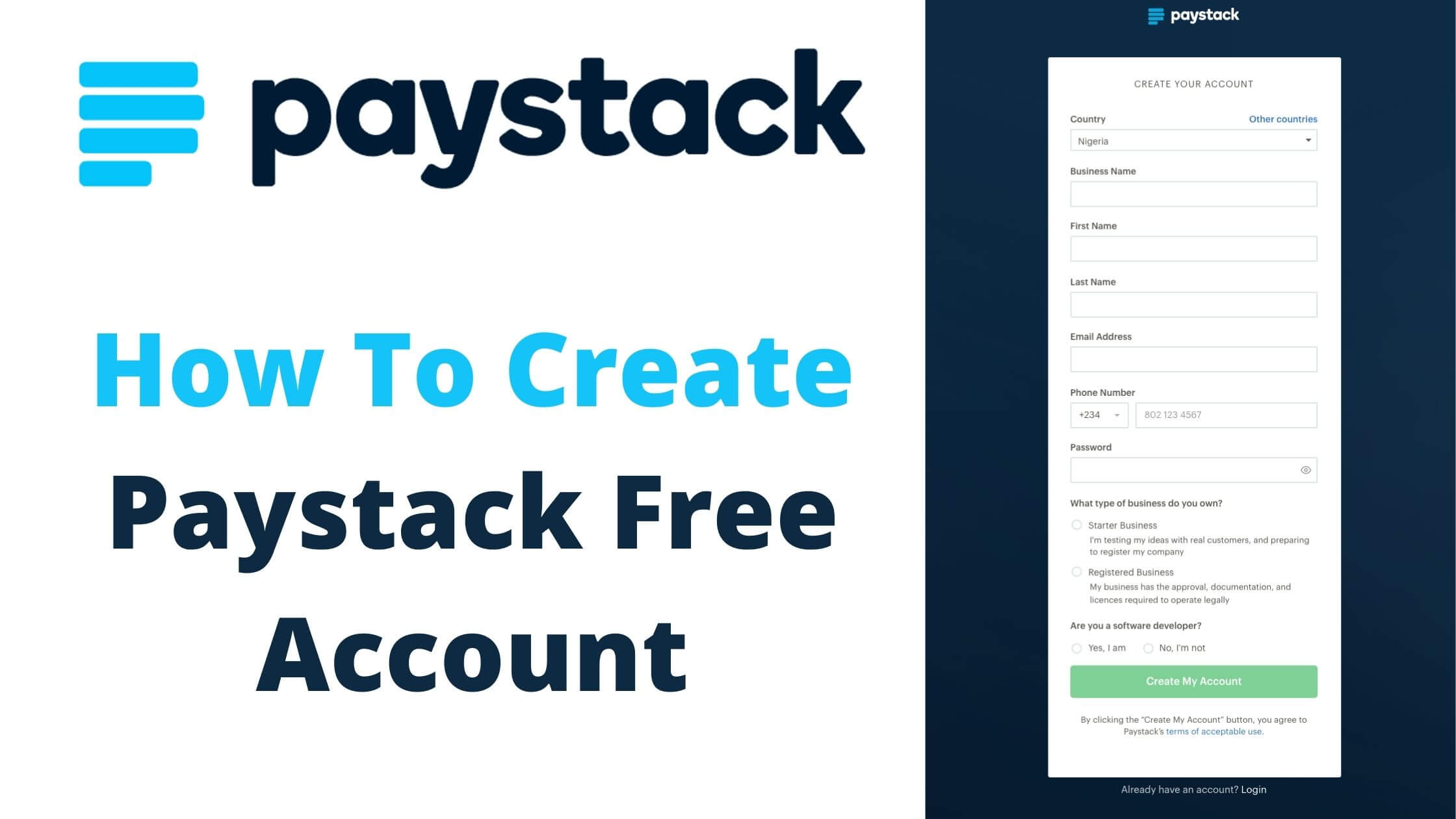 In this article, you will learn how to create a Paystack business account, a Paystack login dashboard and how to receive payment with Paystack from anywhere in the world.
See Also: Paystack vs Flutterwave – Which is Best for You?
What is Paystack?
Paystack is a fintech company that helps businesses of all sizes in Africa to receive payment easily.
They have one of the best user-friendly, safe and secure payment platforms that let businesses accept payments via credit card, money transfer, debit card, and mobile money on their websites or mobile apps.
The fintech company was bought over by Stripe in October 2020. The deal was worth $200 million. Since then, it has expanded to more African countries including South Africa.
See Also: How to Create a Verified PayPal Account in Nigeria
Who can Signup on Paystack?
If you do any online business, you need to sign up for Paystack. Anyone in the following categories will need a Paystack account and a login to the dashboard to receive payment.
Business owners
Digital marketers
Freelancers
Online Coach
Requirements to Create Paystack Account
To create a Paystack account, you are required to provide the following information:
Bank Verification Number (BVN)
Bank Account Number (personal bank accounts are accepted)
Proof of Identity – this could be:

International passport
Driver's License
Nigerian Voter's Card OR
National ID
Note that, to continue to use Paystack, you must comply with the terms and conditions which you accepted during the signup phase.
See Also: Top 45 Lucrative Business Ideas in Nigeria to Start
Types of Paystack Accounts
There are two types of accounts you can create on Paystack.
Starter Business
Registered Business
Paystack Starter Business
This account type allows unregistered businesses to receive money through Paystack. With the Starter Business, you don't need to provide a certificate of incorporation or corporate bank account to use Paystack.
To create a Starter Business on Paystack, you need to submit a personal bank account.
The details on this account must correspond to the details on the ID and BVN you provided when submitting your Business activation request.
Also, the Starter Businesses have a limit of 2 million Naira, afterwards, they'll be required to present documentation to become Registered Businesses.
See Also: How to Sell Digital Products in Nigeria That Makes $10,000 Monthly
Paystack Registered Business
A Paystack Registered Business is a company that is properly registered with the company regulators of their home country.
Unlike the Paystck Starter businesses, these businesses are authorised to function in their respective enterprises and operate at a larger scale.
There's no limit that comes with Paystack registered business. However, you will need to provide a corporate bank account whose name corresponds to the name on your registration document.
Methods of Payment on Paystack
We are aware that Paystack is a payment platform that ensures fast, easy and secure means of payment. If you have used the Paystack payment before as a business, you will with us that it is one of the seamless payment platforms out there.
The following are the methods of payment available on Paystack:
Credit or Debit cards.
Bank transfers.
American Express.
Bank USSD code.
Visa QR.
Mobile app for mobile money.
Bank account.
With all these payment methods, you have the luxury of choice to make and decide how you want your customers to pay you.
See Also: How to Get Digital Marketing Jobs With No Experience
How to Create Paystack Free Account
We trust you want to be able to also do Paystck login just like every other business and received payment. To be able to login to Paystack, you first need to have an account.
If you don't have a Paystack account yet, you can create one by following the steps below: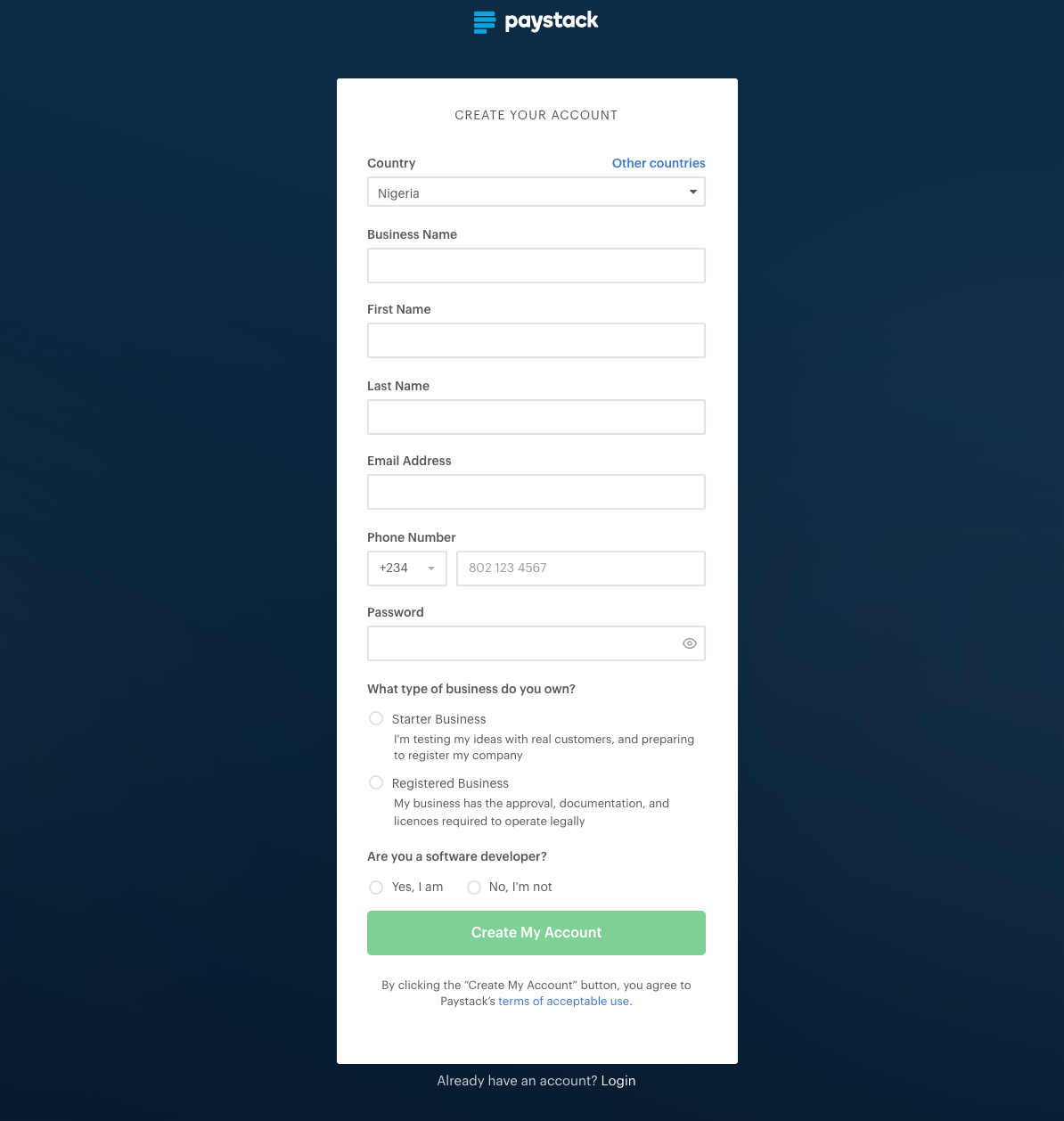 Open the web browser on your phone or computer.
Viste the Paystack page  www.paystack.com.
Click on "Create Free Account".
Choose your country through the drop-down arrow.
Put in the business name, your name, email address and mobile phone number
Make sure the country code is correct for the phone number before you enter your phone number.
Choose a strong password for your account.
Select the category to which your business belongs (Starter or Registered business).
 Are you a software developer? Select the best option that describes you.
Click on Create My Account.
The next page will be the verification process. It is only when the process is completed that your account will be activated and you can start to receive money through Paystack.
Please ensure that you use an email address that is active. A confirmation code will be sent to your email each time you access the account from a new device.
See Also: How To Target Wealthy Individuals With Facebook Ads
How to Receive Money in USD with Paystack
To receive money in USD (Dollars) from customers using Paystack, follow the steps below:
Go to the settings page on your Paystack Dashboard
Tap on the Settlement Accounts tab.
Choose your bank
Enter your domiciliary USD account number details
Lastly, click 'Add bank account' to save it.
How do I verify my Paystack Account?
Verification is compulsory to have your account activated. Here's how to use Paystack to verify your customer's identity:
Authenticate BVN Match. Verify if a Nigerian BVN and a bank account number are connected.
Determine the Account Number. Recover the full name linked to a Nigerian account number.
Validate Card BIN. Retrieve more information on a credit or debit card employing its first 6 digits.
Validate Customer.
Paystack Login
As a user of the platform, it is recommended that you download the Paystack app for easy login. With the Paystack app, you can easily access your Paysatck dashboard with a single click
Paystack login through the mobile app does not require verification and it's hassle-free.
However, it is important to know how to login to your Paystack account. With this information, you can save time and also securely login to Paystack easily.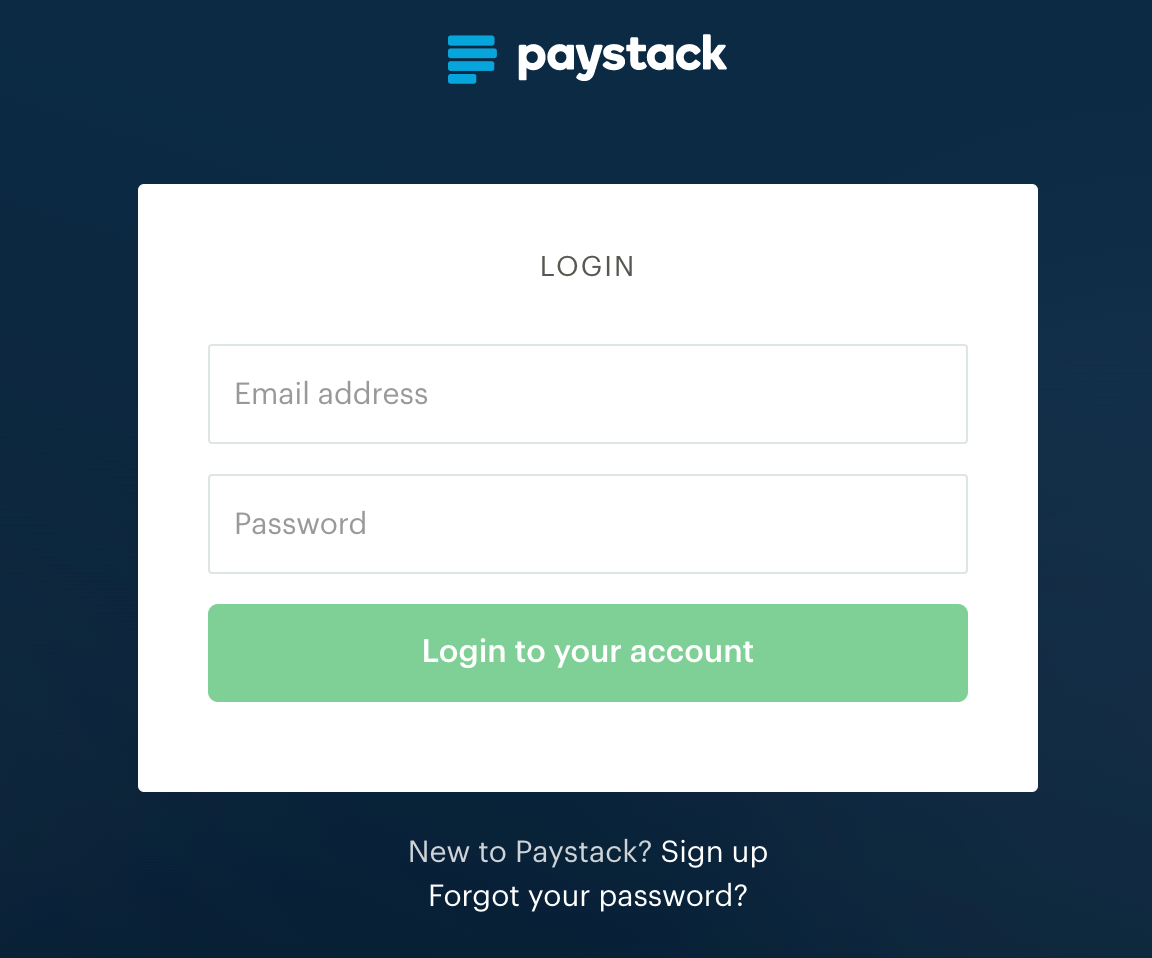 Launch your web browser
Vist Paystack official webpage (www.paystack.com) or the mobile app.
Click on Login
Enter your email address and password
Click on "Login to your account"
See Also: How to Recover a Hacked Facebook Account Really Fast
FAQs on Paystack Login
Does Paystack require BVN?
Yes, you need to provide a valid Bank Verification Number (BVN) that matches the personal account details that you provided while sending your business activation request.
Note that if your BVN does not match the information provided, your account will not be verified and you cannot use Paystack.
Which Bank uses Paystack?
Customers that have accounts with the following bank can pay with the Bank option on Paystack: Guaranty Trust Bank (GT Bank), Sterling Bank and ALAT by Wema Bank.
Does Paystack Work in USA?
Yes, with Paystack, you can receive payment from customers anywhere in the world as long have an active Mastercard, Visa, or Verve card.
Does Paystack refund?
You can get a refund on Paystack. An automated email will be sent to both you and your customer from Paystack confirming this. Refund is expected to take 7-12 business working days.
Conclusion
Following the steps highlighted above, you should be able to create a Paystack account and also log in to Paystack. As a business owner, freelancer or online marketer, having a Paystack account will make your life a whole lot easier.
We hope that this guide on how to create and log in to Paystack helps you to get started now.