If you do an online business you will definitely want to know how to create a PayPal account that sends and receives money in Nigeria.
Receiving international payments in Nigeria can be hard, stressful, and tiring because there are absent proper infrastructures to accept money.

The set of people who always share this pain comprise remote workers or anyone trying to receive money from someone abroad.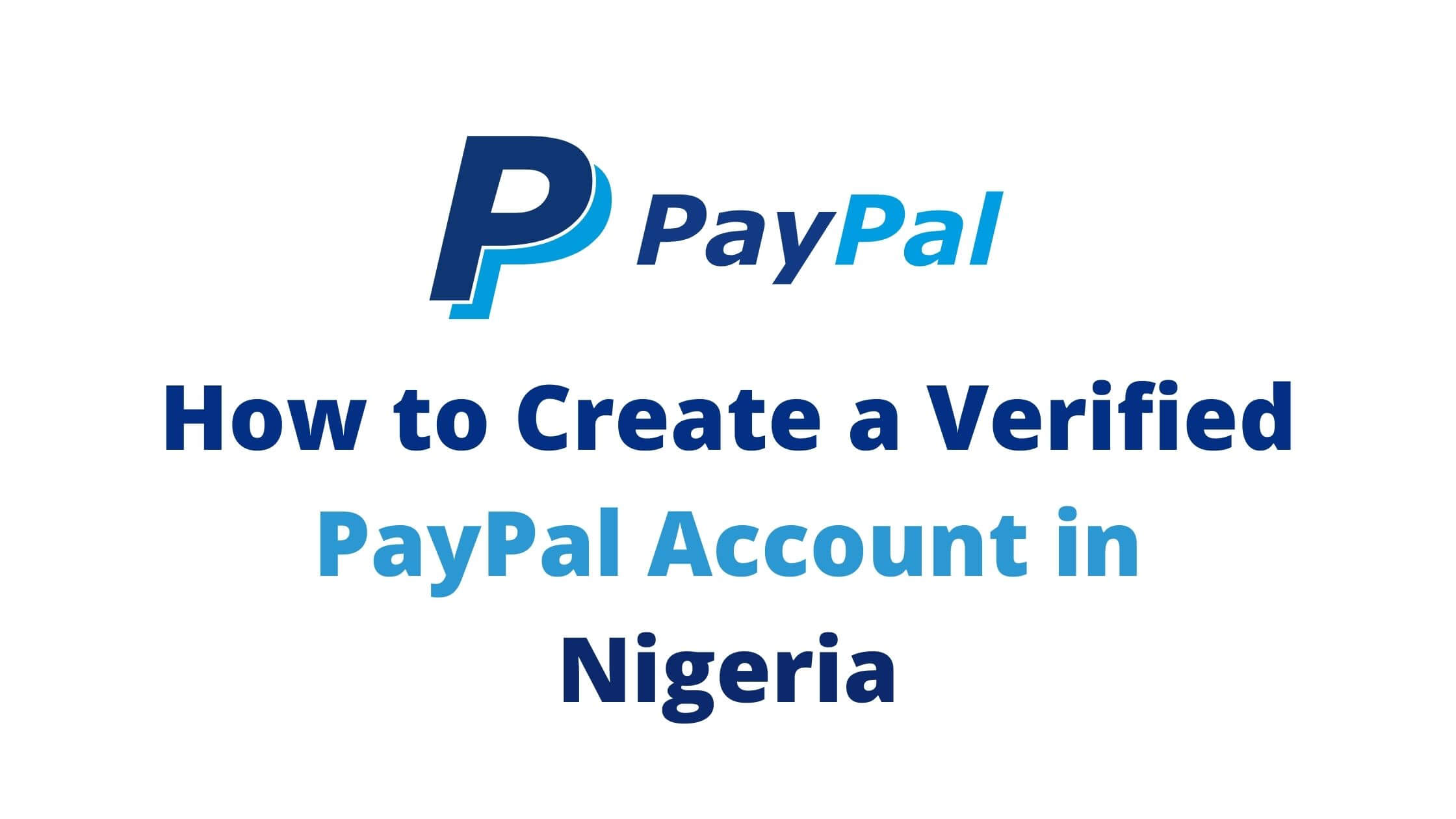 Fortunately, things are getting better with the advent of FinTech payment systems like PayPal. With PayPal, you can receive your money or invoice your foreign clients. It is so easy to use and the rate is fair enough.
However, PayPal is not available in Nigeria. The reasons for this, among many others, are interwoven between regulatory requirements of Nigeria for foreign FinTech players to operate.
The discovery of PayPal's unavailability has dashed the hope of many Nigerians who hoped to explore the digital economy.
On a brighter note, there is a way you can open a functional PayPal account that will receive money even if you reside in Nigeria. In other words, despite the purported unavailability, you can have a PayPal account as a Nigerian.
How would you do that? That's the question this article aims to answer. In the next ten minutes, this article will furnish you with the necessary pieces of information on how to safely and perfectly create a verified PayPal account in Nigeria
Before we move further, we should explain how PayPal came to be, what it is, and what it does.
See Also: How to Create a Verified Payoneer Account in Nigeria
What is PayPal?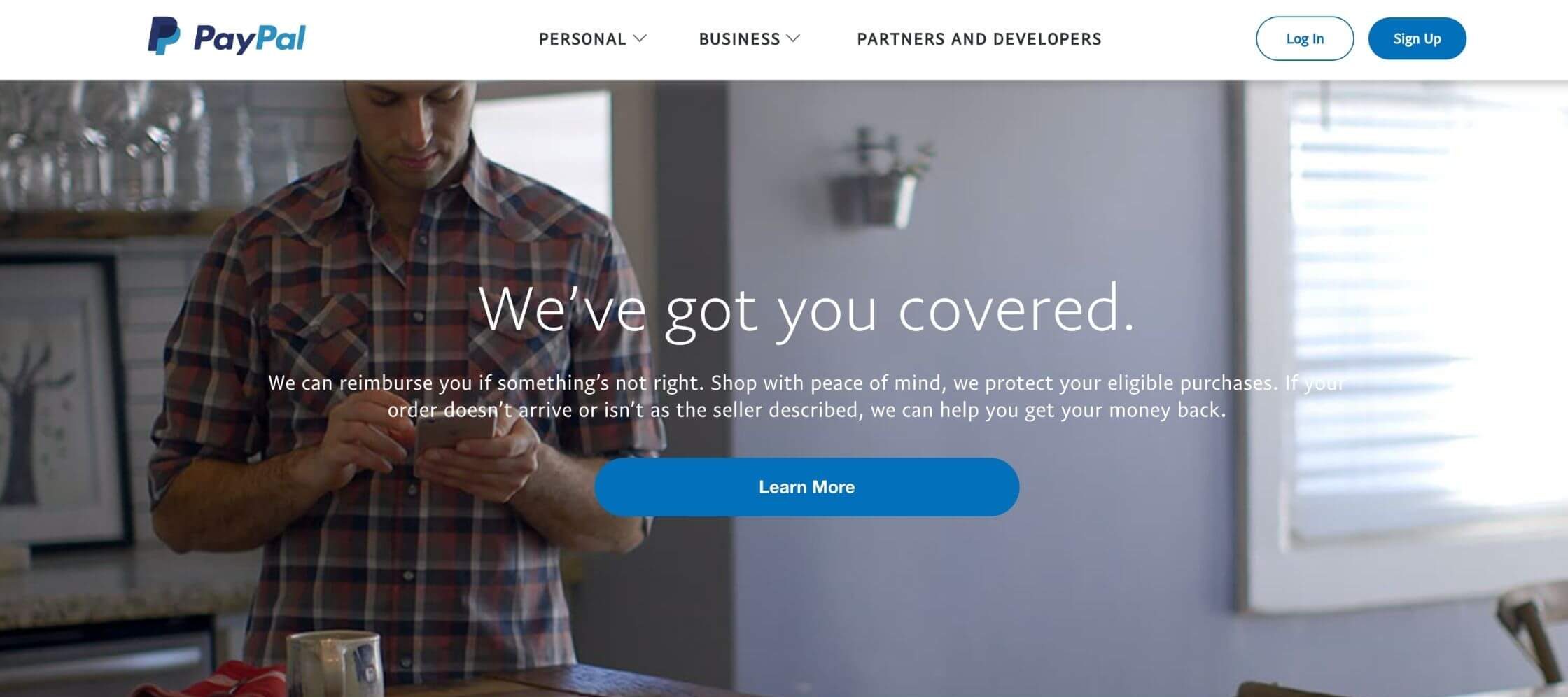 Founded way back in the late '90s, PayPal is a California-based financial technology company that has been around for a while. It provides cross-border payment infrastructure for money transfers.
It carries out credit card payments systems. You can always make online payments via your PayPal account. This can be when you're shopping on Amazon, eBay, Shopify, or any online shopping or eCommerce platform. 
PayPal is such a good payment connection between the seller and a buyer. This is because it enhances swift invoicing by the seller and honoring of invoices by the buyer. Most remote workers and freelancers always invoice their clients via PayPal. 
It is a NASDAQ-listed company with a huge global presence. It's available in a lot of countries except a few for regulatory and commercial reasons. The company started with the name Confinity before it was acquired by eBay and eventually went public. 
At the moment, PayPal has over 200 million active users and $21.45 billion in total revenue as of 2020. The company has also expanded a lot as it now owns big subsidiaries like Venmo, PayPal Credit, Xoom, Honey, the popular Traders among others. 
How to Create a PayPal Account in Nigeria (Step-Step Guide)
The journey of a thousand miles, they say, begins with a step. Similarly, the first step in opening your Nigerian PayPal account is to go ahead into the homepage of their websites.
Please note that opening a PayPal account through the Nigerian link may hinder you from receiving funds, so it is advisable to use the Iceland or Lesotho link. The Lesotho PayPal link is wwww.paypal.com.ls.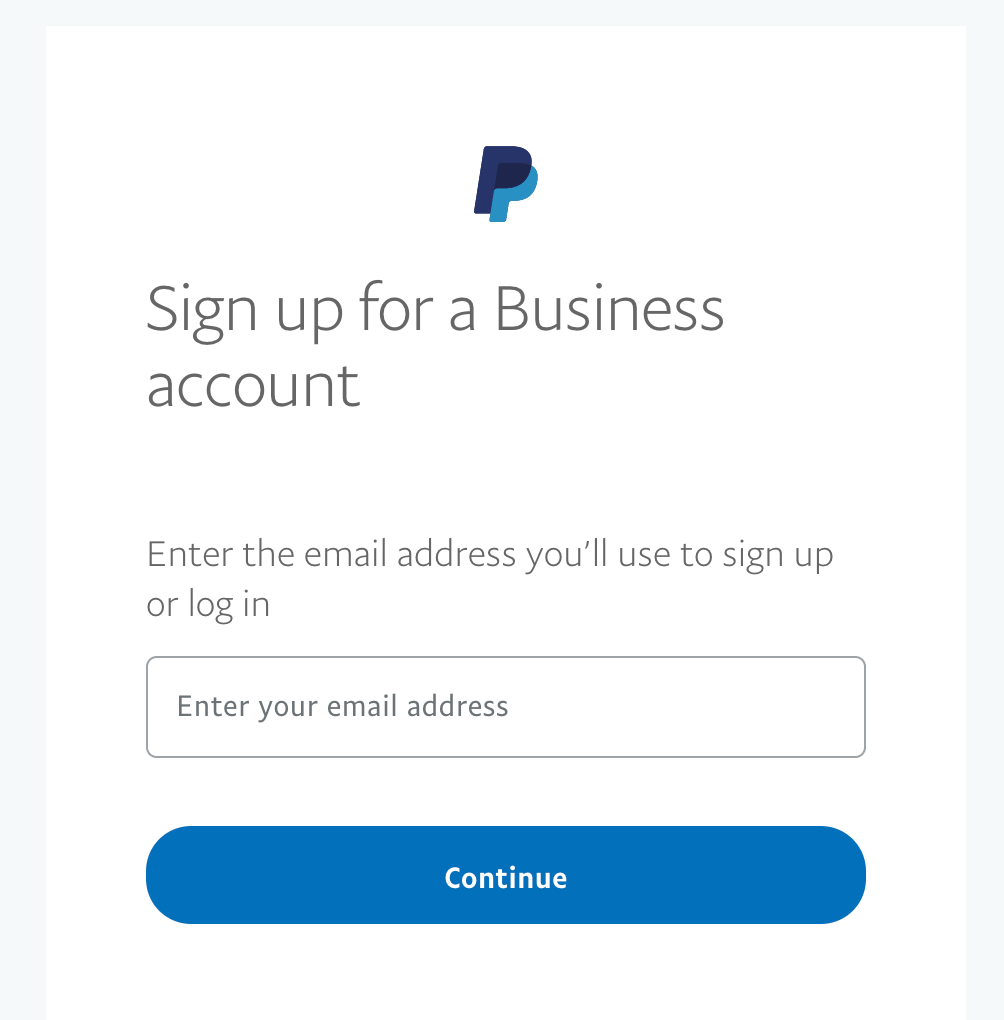 When you have landed on the PayPal website, you'll see both log-in and sign-up buttons. In your case, click on the sign-up button to create your fresh account.
With the diverse backgrounds of its users, you should bear in mind that PayPal has two types of accounts: Individual and Business. You can choose anyone that suits you and what you do. But for this article, we will be going through the Business account route. 
In setting up your business account, you will need to input your Gmail and password.
Thus, we recommend that you use your business Gmail if you are opening it strictly for your business. But feel to use your personal Gmail if you are creating it as a person. 
Concerning the password, please make sure you only use a password that you can easily remember.
Notwithstanding, you must choose a strong password, it must have alphanumeric keys and one special character.
Also do not use number sequences like 1234, 4321, 789, 567, and so on. Do not use letters that follow each other (sequences) on the keyboard or alphabets like QWERTY and ABCDE.
1. Fill Your Business Details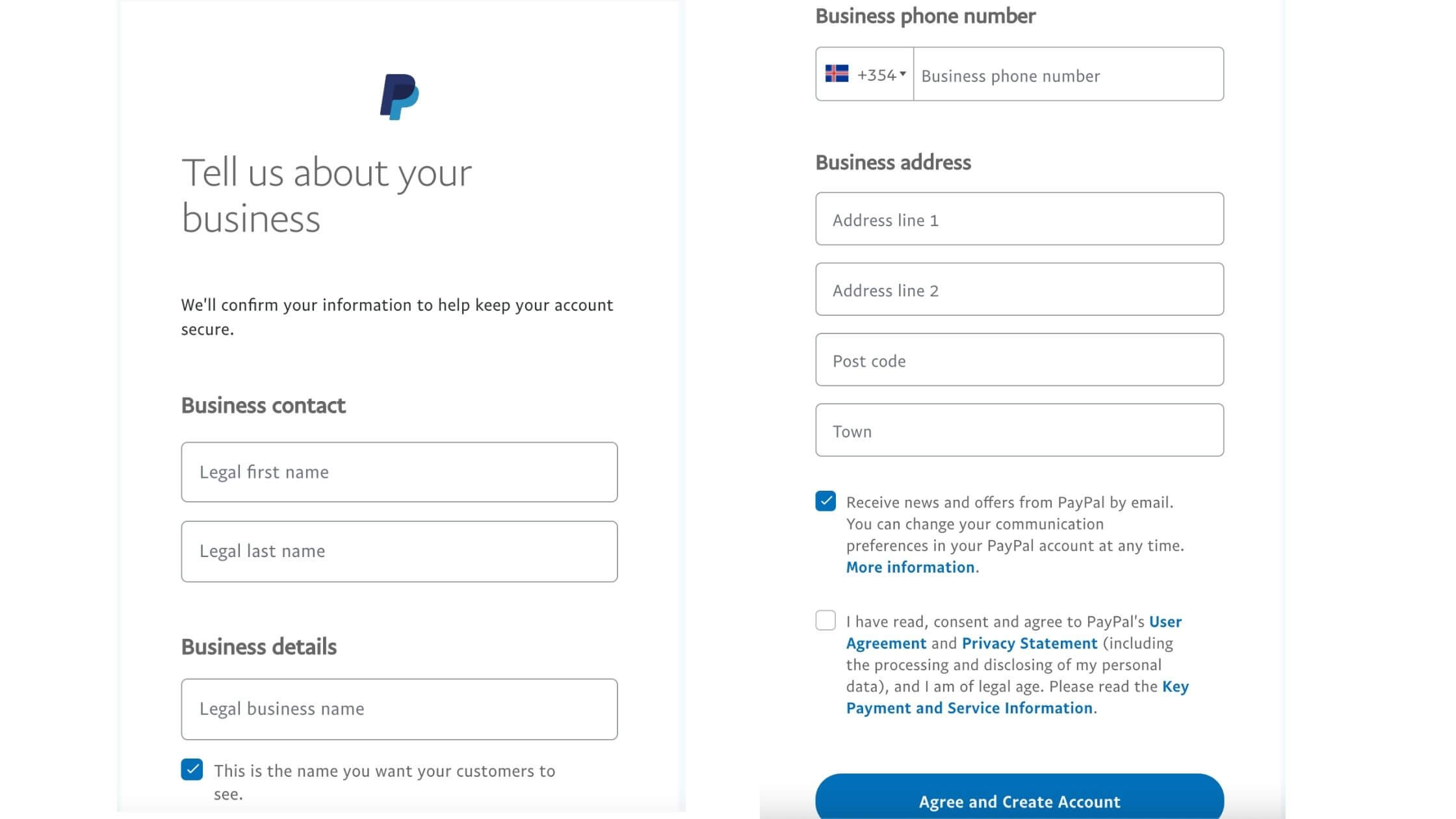 Continuing with the next step, you will then give the basic pieces of information asked. This process is for security and identification purposes. We proceed:
a. Business Contact
This aspect of your information talks about the name given out to facilitate communication among customers and business owners concerning their business.
This aspect of your business info is likely the names of the owners of the owner of the business or perhaps some trusted persons, that is 
Legal First Name and Legal Last Name.
For illustration, "JAKE" is the first name and "SAMSON" is the last name.
In addition, the names given are the names customers may regard whoever answers the call in regards to the phone number given in the Business Phone Number, just as a first impression.
i. Business Name
This is the name you have given your business, like XYZ farming Enterprise, and so many more
ii. Business Phone Number
A business phone number is a number solely meant for your business communication needs. This is the number with which clients can contact your organization or Enterprise either for more issues or to resolve an issue.
In Summary, the purpose of the number is to conduct customer service. You have to change Lesotho's country code. This is because you do not have a Lesotho number or you aren't a citizen.
Note: Add your country's code instead, like for Nigeria, it's +234, and United Kingdom it's +44.
iii. Business Address
This is the location of your business organization. Where it is located. If you notice it is subdivided into five (5) parts, and each part has different questions.
Do well to fill in the correct pieces of information.
We have the Business Address Line 1, Business Address Line 2, City, Province, and  Postal Code.
Sometimes, the Business address may ask different questions like as it is in the diagram below.
Business Address Line 1&2
Business Address is all about the location of your business. Let's assume your business is located at 31, their website road, Adana. Armenia. Nigeria.
Please note that the address is an assumption. So this is how it should be put down. Please note that you need not write anything in business line 2.
iv. Street Address.
This includes only your door/ house number with the name of your Street only.
City
Your city can be also regarded as your State's Capital or State as regards the first and second pictures. You should use your State's Capital if you are located in it.
State 
Your State's name.
Province
Your State's name.
Zip Code / Postal code
To get your postal code, search it through your search engines or just go to Google. Input your question there in accordance with your country, state, and Local Government Area or simply input zip-postal.co.country domain then follow the instructions.
Having done this fill the box and click the agree and continue button. 
This is the end of the first step to opening a verified PayPal account for your business.
To the next step
b. Personal Information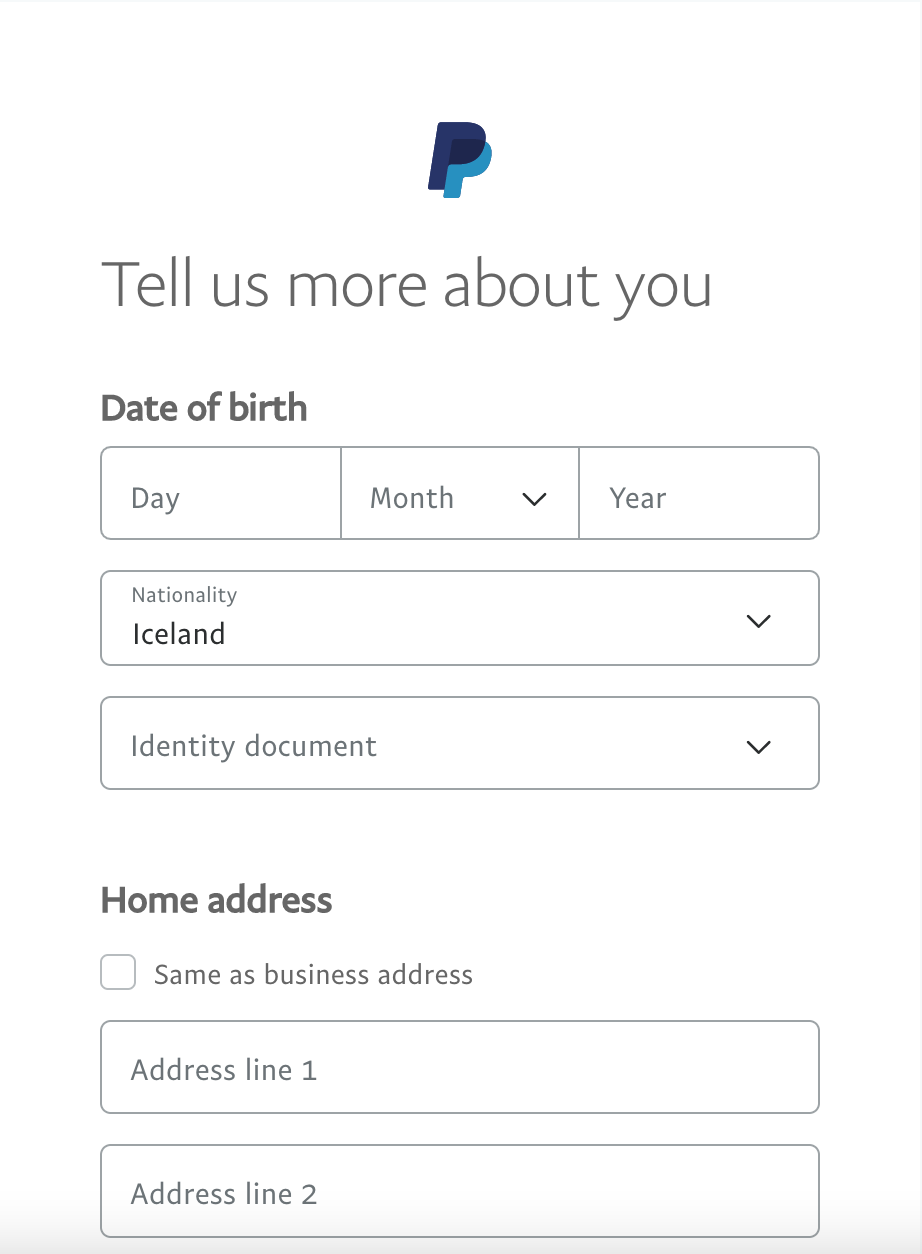 You are being asked for:
i. Your Date of Birth
Just input the year, month, and day.
ii. Nationality
The country you are from or where you were born, please note that you should change Lesotho to your personal Country.
iii. Identity Document
Documents like your ID card, driver's license, and many more. Following Nigerians, your National ID number is your NIN.
iv. Home address.
If your home address is the same as your business address just click that " same as business Address" button. And if not fill in the necessary information.
That is all on the second step.
Down to the last step.
In this aspect, you will have to describe your business.
c. Describe Your Business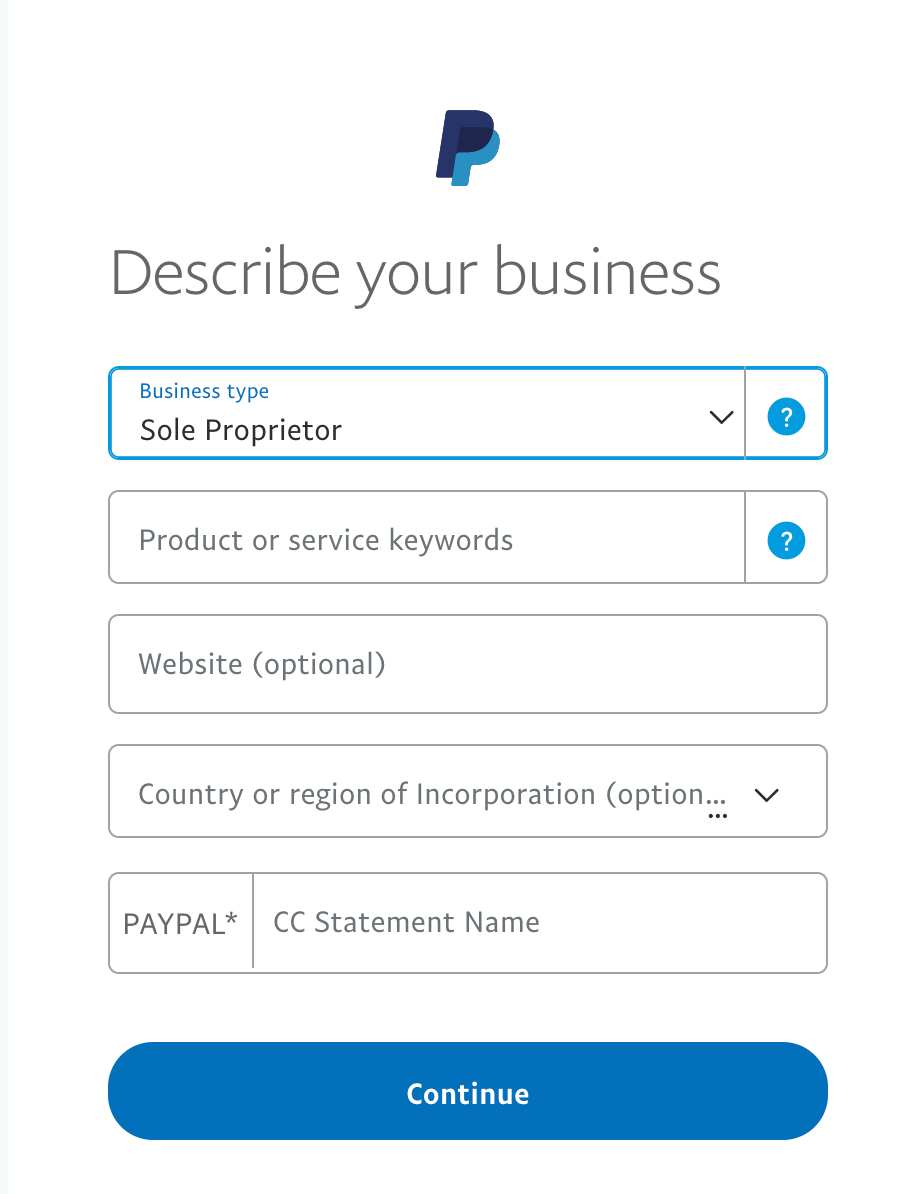 i. Business type: You have to choose the type of business entity it is. It maybe is private, sole proprietor, or anything at all.
ii. Product or Service Keyword: What you do as a business entity.
iii. Website: Note this is optional, if you wish you can fill it, if not leave it. Just input your business website there. That's all.
Please note that you should use the Lesotho PayPal link to open your account. What I mean is that instead of using www.paypal.com.ng use www.paypal.com.ls.
Congratulations!!! Your Paypal Account to send and receive money in Nigeria is ready.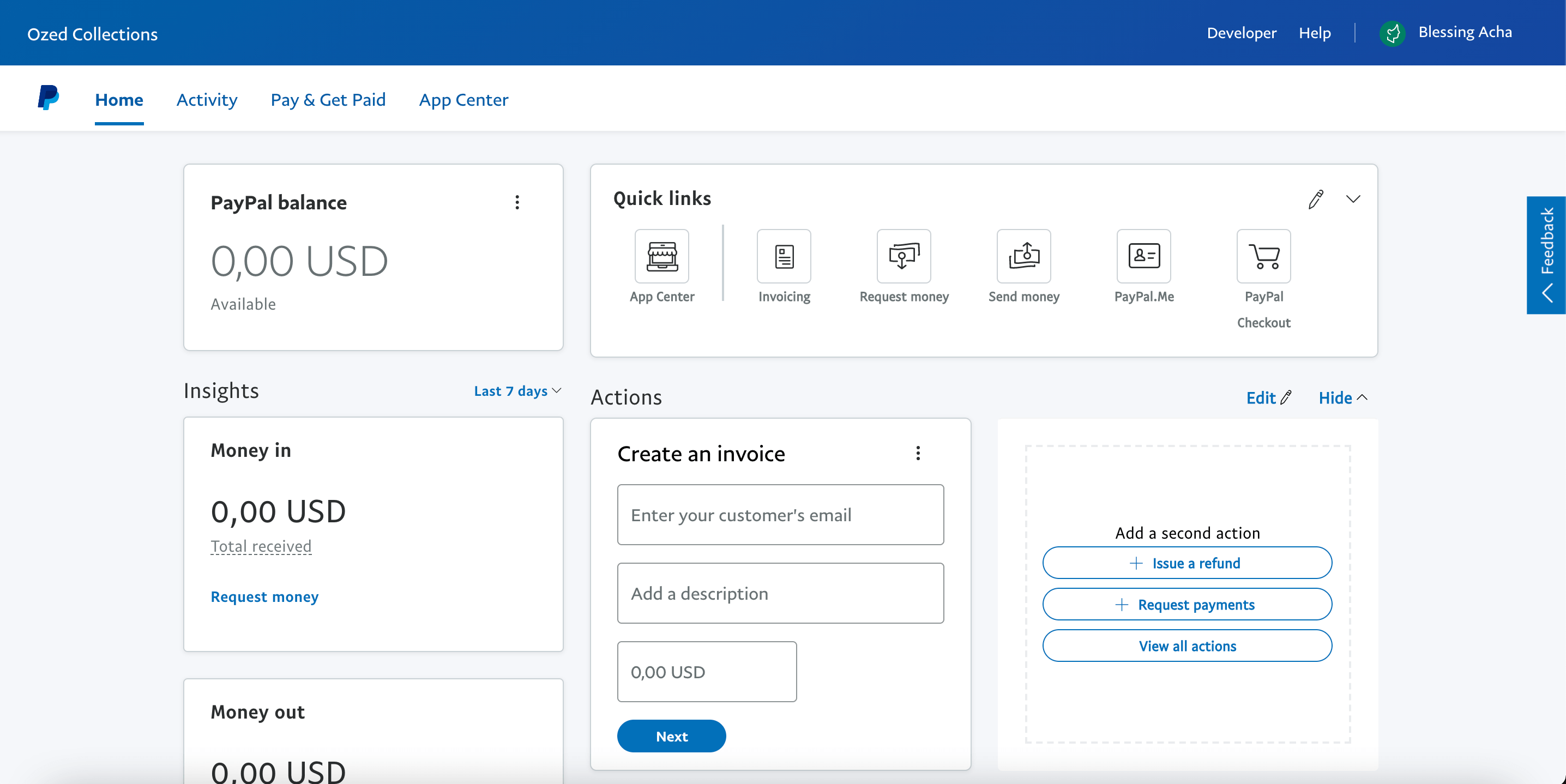 Reason and Importance of a PayPal Account.
1. Security
In an eCommerce platform where users need to pay for products or services online, a lot of risks are involved.
For this reason Securing customers' pieces of information from being compromised, stolen, or shared online is done by PayPal.
With PayPal, customers can be assured that their card details or private data won't be made public, which reduces the risks involved.
2. Online and International Payment
3. Ease of Payment
You can use PayPal as a means of payment for goods and services. This will require you to have an eCommerce website.
See Also: How To Create a Verified Clickbank Account in Nigeria
Conclusion
I hope that I have been able to answer your questions on how to create a PayPal account in Nigeria. You can easily be able to receive money sent to you by another PayPal user in your local bank account without stepping out of your home.
Note also that your clients must be PayPal users to make this work right for you.
Having followed all instructions you should have your own verified PayPal account in Nigeria, so you just have to link your card, Verify your Google account (please do this as your clients will use this, and it will help to completely create your PayPal account).
Further Reading on Primegatedigital.com: To learn how to start affiliate marketing, check out Learnoflix or Expertnaire. which is best for you? also top paying affiliate programs in Nigeria.