Losing important Facebook conversations can be quite frustrating. No, it's irksome. Those Facebook deleted messages can be very dear to you.
You can offer whatever is required to keep those memories, right? But don't lose hope!
In this article, I will guide you on how to recover deleted messages from Facebook in a few easy steps. Hence, you're about to find a solution to retrieve your deleted messages from Facebook.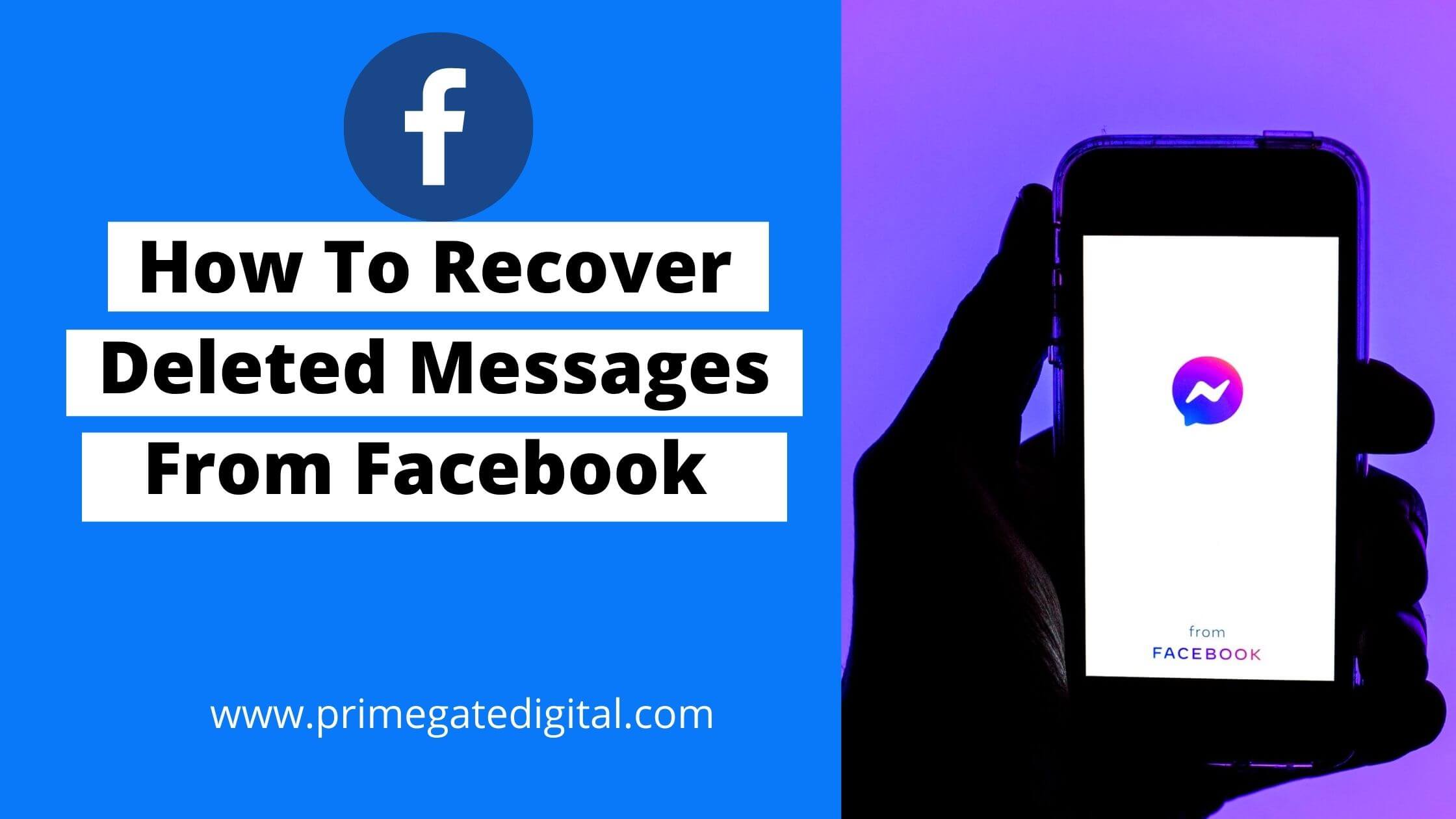 Without further ado, let's dive into the process of recovering your Facebook messages.
See also: How to Remove Email Address from Facebook Account
Requirements to Recover Facebook Deleted Messages
Facebook's privacy policy allows it to store your deleted information for up to 90 days. Hence, the chances of recovering your deleted messages on Facebook are slim.
It is critical to access your Facebook profile from a known IP address in the process of trying to retrieve your deleted Facebook messages.
For any support or complaints, you can contact Facebook Customer Support.
How to Check for Mistakenly Archived Facebook Chats
If you're using the Facebook messenger app on mobile, it is very common to mistakenly archive all of your chats.
To verify that your messages have been permanently deleted and not archived, follow the steps below:
Launch your Facebook messenger application
Navigate to the search bar at the top of your messenger page and enter the profile name of the user you chatted with.
The message is probably archived and not deleted if the name is displayed in the search result
Tap on the chat and select "Unarchive" to restore your messenger chat.
Your message will be restored to your primary char list
However, if you follow through with the steps above and it does not show the result, then follow the steps below to recover permanently deleted Facebook messages.
How To Recover Permanently Deleted Messages From Facebook
Did you mistakenly delete your Facebook messages? Don't panic!
I will guide you through how to recover permanently deleted Facebook messages.
Sign in to your Facebook account on your desktop or laptop
Navigate to settings
Tap on "General Account Settings"
On the left menu, select "Your Facebook Information."
Click "Download your Information" in the right corner of your screen
Select "Messages" only from the file types listed. Make sure to unselect all other file types
Tap on "Create File"
Depending on the volume of messages, it will take some time to propagate
Once the file is ready for download, you will be notified
You may be required to confirm that it's you by entering your Facebook account password
Upon downloading this file, you will have access to all your deleted Facebook messages and chats.
See Also: How to Recover a Hacked Facebook Account
Other Ways to Recover Deleted Messages From Facebook
Using Facebook's Download Your Information Feature
Another way to retrieve permanently deleted messages from Facebook is by using the Download Your Information feature. After deleting a message, it will be wiped away permanently from your smartphone. However, Facebook stores the message in their network indefinitely.
Thus, downloading Facebook data is a possible way to retrieve deleted messages.
Here's how to use the Download Your Information feature:
Select "Down Arrow" on the Facebook homepage.
Tap "Settings & Privacy." Next, select "Settings" and "Your Facebook Information."
Tap "Download Your Information" and select "View."
Navigate to the upper section of the page, then make your choice of format for your downloaded data.
Tap the messages that have not been ticked. Next, you only have to select "Create File" to start the download. You might be required to input your password. After the download is complete, it will be sent to your email.
Note:
The fact is that this method isn't truly reliable. With a stroke of luck, you may recover your deleted messages. However, it is not 100% certain. So you must factor in time.
If it is not done on time, you may not be successful. Because of this, the chances of recovering your Facebook deleted messages are low.
Contact the recipient for a copy or snapshot of the conversation or message.
After deleting a message, only your side of the conversation will be affected. The person you interact with can still access it, so they can assist you in recovering it if they haven't wiped away the message.
Search your email if you find your Facebook message.
This method is effective if your email notifications are activated for your Facebook profile. However, once you have it activated, you can use the search feature on your email account to look for a specific message or conversation thread.
Use Android File Manager
For Android smartphone users with a messenger app, those deleted messages can still be stored in the app's cache file. With an Android file manager, it is easy to access it. You will discover quality ones on the application store.
Access the File Manager app on your mobile device.
Select Internal Storage > com.
Tap "Facebook.katana" and next "facebook temp."
At this stage, you can access messages from your chat history, and with a stroke of luck, you will find the ones you are looking for.
Use a keylogger app to access deleted messages on Messenger.
While the aforementioned methods may not be highly effective, using a reliable keylogger app can be very helpful.
As indicated by the name, the keylogger app is a tool that "logs" everything you type. Thus, if the message is deleted, the keylogger still has it in its record.
Thus, this can help you recover the message and retype it. There are several quality keylogger apps out there.
The most sophisticated ones allow you to track Facebook keystrokes after downloading them on your mobile device.
When you are ready to recover your message, all you have to do is sign in to the Keylogger website or app and select Social Apps and then "Messenger." You will gain access to review the chat history.
Furthermore, you can utilize the screenshot feature that comes with the keylogger app to find deleted messages.
You can schedule the app to take screenshots instantly when using your Facebook app and your mobile device has internet access.
Here are some vital features you will find in keylogger apps, making them ideal for accessing deleted Facebook messages:
Remote surveillance feature
Round-the-clock keystrokes recording
Available for use on Facebook, Messenger and Lite versions as well as other popular social media platforms.
Track Facebook notifications, status and other activities, etc.
Instant monitoring
Keyloggers will help you succeed in your goal of recovering your deleted messages on Facebook. The app is easy-to-use. It allows you to access your Facebook data remotely. It is the perfect tool to use for your personal needs or to monitor your spouse's or kid's phone.
Here are some of the other capabilities keyloggers are known for apart from recovering Facebook messages:
Record activities around your mobile device
Record conversations on the phone.
Real-time geolocation tracking,
Access text messages on your target phone.
Record the screen of your target phone.
How to Create a Backup for Current Messages
To avoid situations where you can't recover your deleted messages, you will have to create a backup for your current messages. A good way this can work is to set up email notifications. Here's how:
Access the Facebook website on your PC and select the down arrow located in the upper right corner of the home page.
From the menu options, Click Settings & Privacy. Next, select Settings.
Navigate down until you find Notifications on the left menu. Select it.
Select Email from the lower section of the page.
Click on All Notifications unless you want to toggle off specific ones. This allows you to receive messages via email subsequently.
Another way to create a backup for your messages is to use the download your Facebook information feature. This will allow you to access a copy of your message in a specific time frame.
Also Read: How to Restore Deleted WhatsApp Messages Without Backup
Recover Deleted Messages From Facebook FAQs
How can I search for my Facebook messages?
Navigate to the left menu of the homepage and select Messenger.
Select the search field under chats.
You can input the person's name, keywords or specific words from the conversation.
Can you receive SMS from Facebook on your mobile device?
Yes. If you set up notifications via SMS, you will receive messages from Facebook.
How does Facebook messenger differ from Facebook messages?
Facebook lets you direct message your friends (or anyone) via the messaging feature. Both customer-brand interaction and casual chats between users fall under this category.
However, messaging on the Facebook app mostly takes place on the Messenger app.
Conclusion
Besides being the largest social media platform, Facebook allows users to easily recover deleted messages. This feature makes it stand out from other social media sites.
We hope this guide helps you recover your permanently deleted Facebook messages.
Also Read: