WhatsApp is a messaging platform used by billions of people worldwide for personal and business communications.
The most common issue that WhatsApp users face is deleted messages or chats. You can easily recover the chat from backups once it has been deleted.
Now let's assume you don't have any Whatsapp data backups on your smartphone? What then is the most effective method anyone can use to restore deleted WhatsApp messages without backup?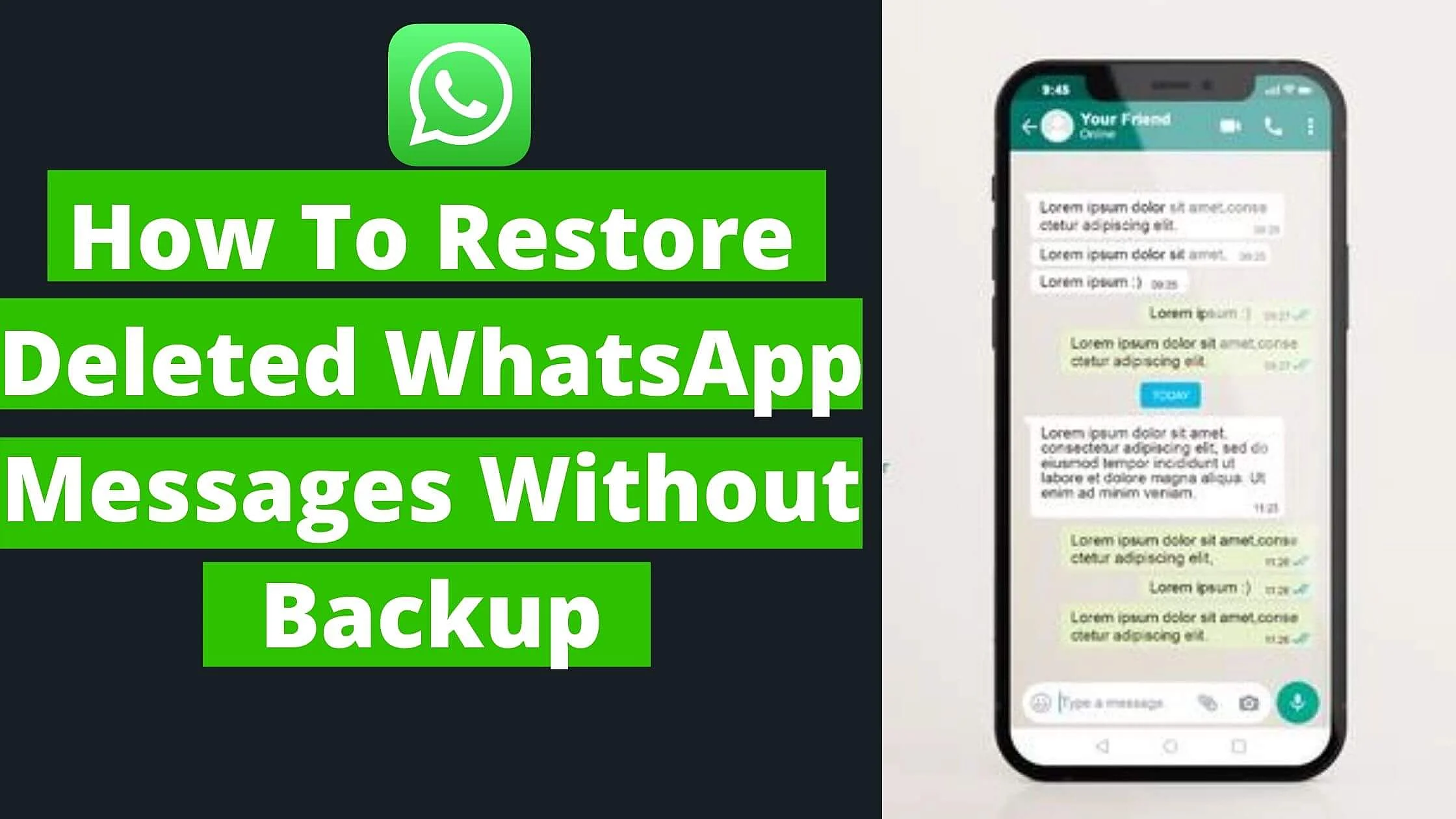 Let's have a look at what a WhatsApp FAQ revealed about recovering deleted WhatsApp chats:
"  WhatsApp chat histories aren't stored on our servers. Media and messages you back up aren't protected by WhatsApp end-to-end encrypted backup. We can't retrieve any deleted messages for you."
It's a real let-down! But no need to be worried. We have a solution for recovering deleted WhatsApp conversations on your smartphone without a backup!
Let's take a look at how you can recover old WhatsApp messages without backup.
See Also: How To Recover A Permanently Banned WhatsApp Account
How to Retrieve Deleted WhatsApp Messages Without Backup
There are no official means to recover deleted Whatsapp data on smartphones without backup.
However, with the use of third-party tools, you can easily retrieve their deleted messages even without a backup file.
How to Recover Deleted WhatsApp Messages with Dr.Fone – Data Recovery (Android)
Dr.Fone is an all-in-one smartphone tool for iOS and Android that fixes data recovery issues.
Here's how to recover your deleted WhatsApp chats with Dr.Fone:
You must install Dr.Fone on your PC. After that, you can connect your Android smartphone via USB cords.

Allow Dr.Fone to search for WhatsApp files by selecting the "WhatsApp messages and attachments" option in the next popup.

Dr.Fone will automatically scan your phone's data.

Dr. Fone for Android will provide the results in the next window after scanning.

Tap "Retrieve" after choosing the WhatsApp messages and media files you would like to recover.

 Your computer will save all WhatsApp messages and attachments you have sent and received safely and securely.

Your WhatsApp messages will be recovered on your computer.
See Also: How to Find Someone on Whatsapp Without Phone Number
How to Retrieve Deleted WhatsApp Messages on Samsung devices Without Backup
Here's the most effective method you can use to retrieve deleted WhatsApp chats on Samsung phones:
Install the software on your computer

A notification will be displayed when you first launch the tool, urging you to do a driver update. Make sure the update is entirely finished before clicking "OK."

Tap "Recover from Phone" from the menu options.

Use your USB cable to sync your Samsung phone to your computer. The device will be detected by the application automatically.

After that, you will be requested to enable USB debugging mode. Follow the on-screen instructions to complete this process. 

You must also root your phone in order to retrieve any recoverable data.
Please note: When you root your smartphone you will have 'developer access'. This gives you access to certain functionality, settings, and files that ordinary users may not find easily.
It can be very risky because a lot of things could go wrong, so ensure your phone data is properly backed up before enabling developer access. 
After that, go to "Device Ready to Scan" and select either "Quick Scan" or a "Deep Scan."

Choose which data types you intend to scan.

To begin the scan, click "Next" and wait for it to complete.

You may now view and retrieve deleted WhatsApp messages* and other data. There's also an "Only display the deleted items" slider that can be used to find deleted files easily.

Tap "Recover" in the lower right-hand corner of the application interface after selecting the messages (or any data) you want to retrieve.
How to Recover Deleted WhatsApp Chats on FoneDog Toolkit- Android Data Recovery Without Backup
FoneDog Toolkit- Android Data Recovery analyzes the Android smartphone for any deleted WhatsApp messages and recovers them for optimal retrieval.
What else could you possibly want? Most Android users rely on FoneDog Toolkit-Android Data Recovery since it is completely secure and fast.
Here's the step by step process to Recover Deleted Whatsapp Messages Via FoneDog Toolkit-Android Data Recovery
To begin, run FoneDog Toolkit- Android Data Recovery to ensure that the tool is installed on your computer. Sync the Android phone to the computer via a USB cord once the installation is complete.

The next step is to debug the Android phone so that the PC and smartphone can communicate with one another. FoneDog Toolkit- Android Data Recovery will prompt you to activate USB debugging on your Android phone if you haven't already.

(For Android versions 4.2 and up: Select "Settings" from the drop-down menu. Tap "About Phone". Select "Build Number" up to 7 times. The notice "You are in developer mode" displays> Return to "Settings"> Switch "USB debugging" on in "Developer Options."

When USB debugging is enabled, click OK on the Android phone and OK on the application interface to begin.

After you've set up a secure connection and the tool has discovered your phone, it'll show you all of the files that can be recovered, including Contacts & Messages, as well as media files. Tap Photos if you want to retrieve pictures.

Mark the checkbox for WhatsApp messages in one of the lists, then tap 'Next' to proceed.

FoneDog Toolkit- Android Data Recovery will quickly scan your Android smartphone, which may take some time. After you've finished scanning, you'll be able to see all of your deleted WhatsApp messages on your screen. Other files, such as deleted contacts, messages, call logs, and more, can also be found.

Look through your WhatsApp messages for any deleted conversations. If you don't want to restore all recovered items, mark the messages you want to recover.

FoneDog Toolkit- Android Data Recovery enables you to recover specific conversations by simply checking the boxes next to them. Remember to save the conversations by creating a new folder on your PC.

After you've selected the messages you want to recover, go to the bottom of the screen and click the 'Recover' option.
See Also: How to Make Money on WhatsApp Really Fast
Tenorshare UltData – Android Data Recovery can recover lost WhatsApp messages, regardless of their deleted time. This tool can recover deleted WhatsApp messages in an Android smartphone without a backup.
If you don't have an Android backup, follow these steps to get back WhatsApp messages that you deleted:
To get started, go ahead and download Android Data Recovery and install it on your PC. Sync your phone to your computer via USB cord.

Choose "Retrieve WhatsApp Data" from the main menu.

To activate USB debugging on your smartphone, follow the on-screen instructions. Afterwards, your Android phone will be discovered instantly. Afterwards, press the "Start" icon on the software.

Once the scan is complete, all your WhatsApp data will be retrieved. To restore WhatsApp chat, choose the message you wish to restore and select the "recover" icon. You can also preview chats before you recover them.
How to Retrieve Deleted Whatsapp Chat From Google Drive 
Kudos! If you started backing up your WhatsApp chat to Google Drive over a year ago. You can easily retrieve your deleted Whatsapp messages via Google Drive.
Here's how to see deleted WhatsApp messages without downloading an app:
On your Android phone, uninstall and then reinstall WhatsApp.

To verify, launch WhatsApp and fill in your contact number.

When a confirmation window appears, tap the "Restore" option.

Once the restore process is finished, tap "Next" to see your WhatsApp conversations again.
See Also: How to Login to WhatsApp Without the App | Phone | Emulator| QR Code
How to Retrieve Deleted WhatsApp Messages on iPhone Without Backup
You'll need to use a third-party tool if you have never backed up your WhatsApp file or want to retrieve a single deleted WhatsApp message.
How to Recover Deleted WhatsApp Messages on iPhone with MiniTool Mobile Recovery
MiniTool Mobile Recovery for iOS can be used to recover data from iOS devices. You don't even have to uninstall your Whatsapp for this tool to work.
Here's how to restore your deleted chat on iPhone:
Install MiniTool Mobile Recovery for iOS software on your PC if you haven't done so already.

Use a USB cord to sync your smartphone with your computer. If this is your first time, you'll have to authenticate the PC's trustworthiness manually. You'll see a notification on your smartphone'sSmartphone's screen to that effect.

Launch the MiniTool Mobile Recovery for iOS app on your phone

Click "Scan," to begin the scanning process. This could take some minutes.

Click "WhatsApp" from the menu of data types on the left. You'll be able to see all of your messages, even those that have been deleted.

You can recover deleted messages by searching for them and selecting them from the results.

Select "Recover" in the bottom right-hand corner of the software's dashboard.
How to Restore Deleted WhatsApp Chats on iPhone with iMyFone
iMyFone ChatsBack iPhone data recovery is another effective recovery platform that allows you to retrieve deleted WhatsApp chats without the need for a backup.
The app boasts of more than 2 million people around the world. Some features of the app include:
Easy recovery of WhatsApp messages, videos, audio messages etc.

It enables users to preview and review WhatsApp messages before they are recovered, allowing them to intentionally retrieve the messages they want.

Supports retrieving WhatsApp from iPhones or backups without deleting existing data on the device.

With the tool, getting your WhatsApp messages back or restoring them is as easy as 1, 2, 3.

The tool uses cutting-edge technology to ensure a high success rate.
Here's how to restore your deleted WhatsApp messages via the tool:
Setup iMyFone ChatsBack on your PC before you begin. Don't be afraid; the installation is very secure. Afterwards, connect your iPhone to your PC and select "Recover from Device Storage".

To get started, select WhatsApp Messenger from the menu options and click "Start."

After the scanning is complete, you can browse and review the data to locate the specific WhatsApp conversations you want. Then choose the messages you want to recover and click Recover to Device or Recover to PC.
See Also: 10 Best WhatsApp Marketing Strategies for Businesses
FAQs on How to Restore Deleted WhatsApp Messages Without Backup
How Far Back Can I Recover WhatsApp Messages from my phone?
If you're restoring deleted WhatsApp messages from Whatsapp backup, you'll be able to restore texts from as far back as your most recent backup.
This may not contain messages from months or years ago. Hence, it'll be difficult to locate the old messages you want.
In situations like this, it is advisable to use any of the third-party tools we have listed so that you can selectively preview and recover old deleted messages.
Can I Recover WhatsApp Messages Deleted One Year ago Without Backup?
It all depends on what you're looking for. Whatsapp will not wipe the deleted data on your phone immediately.
They'll remain undetectable and be transferred to "unallocated" space.
So, if your smartphone'sSmartphone's lost WhatsApp messages haven't been replaced with newer data or files, you can try to restore them using third-party tools.
How Long are Deleted WhatsApp Messages Stored?
When you delete a message from WhatsApp, it is archived for 30 days. You have the option of restoring them before the time limit expires.
After 30 days, the application will automatically erase them from the 'Recently deleted' file. You can, nonetheless, use third-party software to restore a message that has been permanently deleted.
Can We get WhatsApp Chat History Legally?
Absolutely. If it's a legal battle and your network operator can provide it, you can lawfully retrieve WhatsApp messages.
However, keep in mind that only the court or the police can sanction the recovery of such messages in litigations such as divorce or blackmail.
Will my WhatsApp Messages be Lost if I Switch Phones?
Even if you switch phones, you won't lose any WhatsApp messages. Your chats are stored in a backup file, which you can easily export to your new phone.
Conclusion
We live in a fast-paced world where data loss is common. Being able to rely on fast and effective solutions is crucial. Don't forget to back up your valuable data regularly.
After going through this guide on how to restore deleted WhatsApp messages without backup, you should be able to recover deleted Whatsapp chats from your Android or iOS device even without backup.
All you have to do now is choose the best option that is convenient for you.
Also Read: