This article will focus on the best instant loan apps in Nigeria for swift and reliable lending facilities.
If you are looking for a list of platforms to get a quick loan for health emergencies, business capital or other financial needs, this article is perfect for you. 
Over the years, the online space has been muddled with a series of complaints about unprofessional and exploitative practices by some corrupt, criminal and fake loan apps.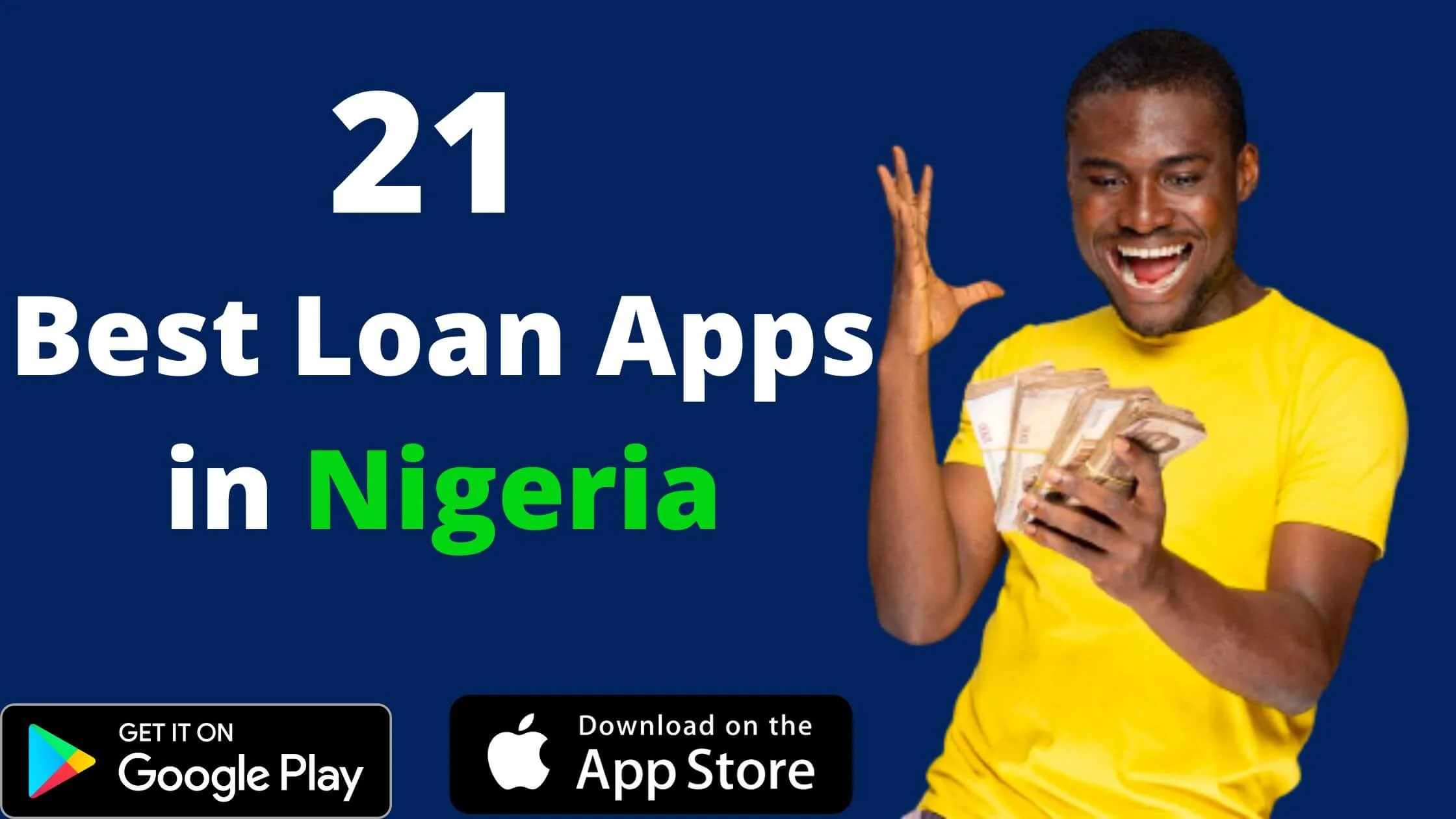 The goal of this article is to showcase a positive picture by creating a list of 21 excellent lending platforms based on user feedback and real-life experiences. 
The loan apps that make up our list are some of the most reliable and credible in the country today for emergency monetary needs, low interest and high lending amounts totalling N300,000, N400,000 and much more for startup capital. 
These online loan apps in Nigeria are genuine, highly accessible and run instant loan approval systems with zero-collateral requirements, paperwork and sureties to back your urgent financial needs or validate your urgent demand for cash. 
Should I Use any Loan App in Nigeria?
Today, there are plenty of loan apps and online banks around, and it may be easy to reach out to anyone that puts up an ad on social media or elsewhere.
However, with the increase of fraudulent loan platforms and predatory lenders today, you should exercise caution.
It is very important to only sign up for trustworthy and customer-centric platforms that will not invade your privacy or expose your sensitive information to the public and adhere to professional lending practices.
Applying for a Loan Using Instant Loan Apps in Nigeria
Most instant loan apps in Nigeria have a similar modus operandi.
They don't request paperwork, won't require any form of collateral and the entire application process is always carried out online via mobile devices. 
Thus, accessing the website on the loan platform or installing their apps from the Apple App store or Google Play Store is the first step in making an application for quick cash.
Next, you will be required to fill in your personal and financial statements for loan approvals. 
After inputting private data like Bank Verification Number, National Identification Number, Bank information/Account Number, home address, picture, etc., and attaching the necessary documentation, your loan request will be granted or refused.
Many loan apps usually flaunt benefits such as instant sign-up, fast verification, zero-collateral, paperwork or guarantee.
However, you may have to contend with exorbitant interest rates or low durations, typically between one and six months. Ensure you never sign up to loan companies that have loan terms that span 30 days or lower. 
Best Instant Loan Apps in Nigeria
Below are some of the quick apps to borrow money in Nigeria.
1. Branch – Best Loan App for Low Interest
Branch is among Nigeria's best loan platforms and is popular for its ultra-loan interest rates and speedy loan approval process.
Branch monthly interest rates of 2.5% are the lowest in the industry.
Its annual percentage rates of 17% to 255% are comparatively lower than those offered by Carbon, Palmcredit and other players in the instant loan industry. 
Branch loan app lets anyone in need of cash access fast loans as high as ₦450,000.
There is also a feature that lets you invest your money and enjoy an ROI of 20% yearly, as well as a free cash transfer tool.
With the Branch app, you can make a loan application and get your money in less than an hour. 
Branch never imposes late fees or rollover interest charges. It does not place a limit on how you choose to spend the loan given to you.
Also, it has round-the-clock customer service facilities. This is your go-to app if you are in need of emergency funds. 
The entire sign-up process is simple. You just have to provide your contact information, banking details and national identification number.
To check your creditworthiness, they will have to access your phone's data. 
Click here to install the Branch loan app.
2. Carbon – Fast Loan App for Establishing Creditworthiness
Carbon, previously branded as Paylater, is next on our list of the best loan apps in Nigeria. It stands out for its ability to increase customer creditworthiness. 
To get a loan from Carbon online, you won't have to provide collateral or guarantors.
Although you will be limited to large sums of cash when signing up for the first time, you can keep it simple by loaning small amounts and repaying on time.
This way, you will establish creditworthiness, which increases your access to larger cash. 
The loan app is always accessible 24 hours. So, even during holidays and weekends, you can rest assured that your loan application will be attended to. 
Click here to install the Carbon loan app. 
3. Fair Money – Quick Loan App for Lengthy Loan Term
Fair Money is on our list of the best loan apps and is unique because of its extensive loan terms. 
Fair Money loan varies from ₦1,500 to ₦850,000, with repayment terms hovering between 55 days to 550 days (around 17 months). Its interest rates vary from 2.6% to 25% (annual percentage rates from 35% to 255%). 
Click here to install the Fairmoney loan app.
4. Aella Credit – Best Loan App for a Hitch-Free Approval Process
Aella Credit loan app is designed to streamline and improve financial accessibility for everyone in developing countries by harnessing digitalization and the wide-scale use of mobile devices in Nigeria.
Thus, it is an easy pick for our list because it streamlines the process of loan applications, making them stress-free for their customers. 
The stated goal of the loan platform is to lead customers to achieve financial freedom by improving accessibility to banking products, instant loans, wealth creation tools, market opportunities and payment services. 
Click here to install Aella Credit on Google Play. 
Click here to install Aella Credit on the App Store.
5. Umba — Best for No Late Charges or Penalties
Umba app made it to our list because it is devoid of hidden fees, late charges, rollover payments, etc.
Umba touts itself as Africa's top virtual financial services provider.
The app lets customers make applications, withdraw and carry out repayments on their mobile device or personal computer.
As soon as you have completed the authentication process, the app relies on a risk assessment scale to reject or approve your loan application. 
Click here to install Umba on Google Play.
6. Money in Minutes — Best for Quick Loan Approvals
Money in Minutes is another popular loan app in Nigeria.
It stands out for its quick processing and approval of loans. The app is operated by MIM Finance, a loan service with branches on three continents and headquartered in the United Kingdom.
The app offers a diverse range of financial products that can assist you in meeting your urgent monetary needs.
Click here to install Money in Minutes on Google Play.
7. Page Financials — Fastest Loan App for Immediate Transfer of Funds
Page Financials is among Nigeria's best lending facilities. It has won the hearts of customers due to its fast and immediate disbursement of cash loans.
It is registered with the government and has been in the industry for more than five years, offering truly innovative financial solutions. 
The app lets you get your cash instantly as soon as your application is approved.
You can also create a financial and investment plan through its mobile application and website. 
Click here to install Page Financials on Google Play. 
8. Alat by Wema – Reliable Loan App for Salaried Individuals
If you are a salaried individual or earn monthly, weekly or daily income, Alat is the best loan app for you.
It is a digital platform managed by Wema bank and allows access to fast loans without documentation or sureties.
As long as you are a Wema bank customer, you can enjoy the lending facilities on Alat web or app. 
With the Alat platform, you don't need to pay a visit to a physical bank or submit documentation to get loans. Once your loan application has been approved, you will receive your money in less than an hour.
You can apply for loans as high as N1,500,000 with no guarantor or collateral. 
Click here to install Alat by Wema on Google Play. 
Click here to install Alat by Wema on Apple App Store.
9. Lendigo — Best Loan App for Business Capital
Lendigo loan platform is often lauded for its business-friendliness and financial services.
This app allows you to get a loan in minutes in Nigeria for business purposes.
It is an excellent tool for applying for startup loans as the app lets small and medium-sized businesses access hitch-free, quick and tailored capital that will meet their needs. 
As a business owner that offers technical services or sells consumer goods like gadgets, electrical items, mobile devices, dresses & garments, housewares, etc., then you can make a loan application to Lendigo, and it will be handled and approved in minutes. 
Click here to install Lendigo on Google Play.
10. Migo — Quick Loan App for Fast Loan Decision
Migo (previously known as Kwikmoney) is a cloud-based Nigerian loan app known for its fast loan decisions.
The app is designed to ensure that the decision to accept or reject your loan request is given in split seconds, eliminating annoying approval wait times and delays that other lending platforms are known for. 
The amount you can loan from Migo varies from N10,000 to more than N450,000, but as a new customer, you can only borrow nothing more than N50,000.
There is no need to submit paperwork or collateral before making a loan application. 
All that is needed is your mobile device, bank information like bank verification number and a duly filled loan request form.
Click here to apply for a loan via Migo.
11. Access More – Best Loan App for Immediate Cash Needs
The Access More app is the official bank app for Access Bank. If you are looking for a bank app that offers cash for urgent needs, it is ideal for that purpose.
However, the lending service is exclusively available to bank customers. This implies that you have to set up an account to enjoy the service. 
Click here to install Access More on App Store.
Click here to install Access More on Google Play.
12. Specta – Urgent Loan App for Non-Salary Earners
Specta is a digital loan app that allows you to access a maximum of N 5 million in a single application in less than 5 minutes.
No need to submit documentation or collateral or take a trip to a physical location.
It is the best loan app for people who don't earn salaries or wages. 
Specta is great because it can cater to your emergency cash needs regardless of the time of day or whereabouts. 
Click here to apply for a loan on Specta. 
13. Lidya – Best Loan App for High-Cost Business Loans
Lidya is an American-based financial provider with a subsidiary in Nigeria. It lets customers access quick, collateral-free business loans anywhere in the country.
The company has a presence in Portugal, the Czech Republic, Nigeria, Poland and the United States of America. 
Lidya delivers fast loans ranging from N45,000 to N25 million to SMEs and startups. 
Lidya has an intricate credit risk evaluation system that scores loan applicants with data sets. This also helps businesses establish creditworthiness and receive loans on time. 
Click here to install Lidya on App Store.
Click here to install Lidya on Google Play.
14. SukFin — Instant Loan App for Indirect Lending
Sukfin is another popular Nigerian loan app.
It received acclaim for its ability to create a simple and cost-effective route for small businesses in Nigeria to do due diligence and seek financial solutions.
The platform adopts digital and professional experience to link SMEs with various lending institutions — creating a channel for them to enjoy lending services in the country.
It has a straightforward application process. So long as your information is accurate and genuine, you will get the funding you need speedily and easily. 
The company has partnered with various lending platforms and business financiers in the sector.
They attest to having supported plenty of businesses to access soft loans, equipment rentals, business capital and many more. 
Click here to apply for a loan via SukFin.
15. Renmoney — Best Microfinance Bank Loan App
Renmoney is a digital microfinance bank that doubles as an online lending platform. The head office of the bank is in Lagos, Nigeria. 
You can access instant loans via Renmoney app in minutes.
The platform's loan application is designed for salaried people, self-employed individuals, businesspeople and entrepreneurs.
Thus, if you seek a quick loan for your business or personal needs, Renmoney allows you to apply for loan amounts ranging from N5,500 to N5,000,000 and payback within 4 to 25 months. 
Click here to install Renmoney via Google Play Store.
17. Quick Credit — Best Loan App with Excellent Customer Support
Quick Credit has made a name for itself in the financial services sector due to the ease at which customers can access loans for urgent needs on its app.
It is also popular for its excellent customer support, as users can reach its agent through the app or phone calls.
The process of getting a loan via Quick Credit is easy and requires no paperwork.
Once your identity is verified and your loan application is approved, the loan will be instantly disbursed to your bank account. 
Click here to install Quick Credit via Google Play Store.
Click here to install Quick Credit via App Store.
18. Coolbucks — Best for Non-Secure Monthly Instalment Loan payments
Coolbucks is a popular loan platform in Nigeria. It is great for its non-secure monthly instalment loan payments.
There is no need for collateral after seconds of finalizing your application. 
Based on the type of account, you can access a maximum of N4,000,000 on the platform in less than 10 minutes.
Low-income earning customers are limited to N15,000 after setting up new accounts.
Click here to access a loan via Coolbucks.
19. GTWorld Quick Credit — Best for Bank Customers
GTWorld, the official banking app for GTbank, gives you access to quick loans that can meet your financial needs.
But to make use of this service, you will be mandated to register an account with GTbank.
The platform is great for bank customers who intend to apply for loans via a reputable banking app.
Click here to install GTWorld Quick Credit on Apple Store.
Click here to install GTWorld Quick Credit on Play Store.
20. QuickCheck — Fast Cash Loan App for User Data Security
QuickCheck is a loan app that stands out for user data security and privacy.
The platform utilizes artificial intelligence to accurately identify customers' behavior and properly assess loan applications.
This year, there have been a lot of conversations about the safety of customer data and sensitive information in the hands of shady loan platforms.
QuickCheck is an exception as it protects customer data and will never distribute or expose them for any reason.
Once you have completed your loan application, the algorithm will determine your creditworthiness and quickly figure out if you are eligible for the loan amount. 
Click here to install QuickCheck on Apple Store.
Click here to install QuickCheck on Play Store.
21. MoneyPal (Zedvance) — Instant Loan App for Quick Transfer of funds
MoneyPal, a loan app operated and run by Zedvance Limited, is notable for its quick transfer of loan amounts from its platform to the applicant's bank account.
The platform provides a series of loan funding that can satisfy your financial needs. Once your loan is approved, you can access funding worth 5 million naira in less than an hour. 
Click here to install MoneyPal on Apple Store.
Click here to install MoneyPal on Play Store.
Notable Mention: PalmCredit
Palmcredit loan app deserves to be on the list of the best instant loan apps in Nigeria for its low interest and easy repayment terms.
You can access loan amounts ranging from N10,000 to N300,000 after signing up. Payback terms can be set from 91 days to 365 days. 
Click here to install PalmCredit on Apple Store.
Click here to install PalmCredit on PlayStore.
List of Fake Loan Apps in Nigeria to Avoid
While the list of legit loan apps in Nigeria is on the rise, the list of fake loan apps in Nigeria is on the rise too.
Below are some of the fake loan apps in Nigeria you should not borrow money from.
KashKash
CycleCash
EasyCredit
NairaPlus
Speedy Choice
LendCash
NCash
LCredit
Palmcash
CreditHall
Aimloan
EaseMoni
FastMoney
NowCash
GotCash
XCredit
Cash Mall
GGMoney
GetCash
Ease Cash
ForNaira
LionCash
Lucky Loan
iCredit
9ja Cash
iCoin
CashRain
9Credit
GotoCash
Cash Wallet
Ucredit
Mikoloan
Oxloan
BorrowNow
EasyMoni
CashLion
Sokoloan
GoCash
OKash
SuperCash
PalmCredit
Rapid Naira
Ajeloan
CashFarm
AngelLoan
Best Instant Loan Apps in Nigeria FAQs
Below are some of the frequently asked questions on the new loan apps in Nigeria to borrow money online.
Can I borrow a loan in Nigeria without BVN?
Unfortunately, you cannot borrow a loan in Nigeria without BVN. It is what the loan app uses to verify your details and reaches back to you for pay back.
Which loan app in Nigeria is best for borrowing money?
The best Nigerian loan platform is Branch app. Next on the trail is Carbon and Fairmoney app. 
Can a loan app deactivate my BVN?
No. A loan app can't deactivate your bank verification number.
However, it can restrict you from accessing other loans on its dashboard or stop other loan companies from offering their lending services to you.
Are there loan app without BVN in Nigeria?
If you are looking for a list of loan apps without BVN in Nigeria, you might not get any. There is no loan app in Nigeria without BVN requirements.
Can I get a loan without any paperwork?
Yes, most Nigerian loan apps today already do not require documentation or paperwork.
This is because they already have "know your customer" details like BVN, income information, NIN, account number etc.
Conclusion
In this article, we analyzed the best loan apps in Nigeria.
These loan apps enable customers to enjoy an easy, quick and stress-free application process devoid of collateral, paperwork or endless wait at an office.
All you need is a smartphone and your personal data, and you will be disbursed with money to meet your urgent financial needs, if eligible. 
Also Read: