In Nigeria, there are many legitimate remote jobs and paid online gigs that pay every day that job seekers may take as a side hustle while working or even as a full-time job in Nigeria.
You may get paid hourly, daily, or weekly to carry out these online jobs.
These are also legit online jobs for Nigerian students wishing to meet their basic needs while studying. The good thing is that many of these online jobs can be started with little or no money.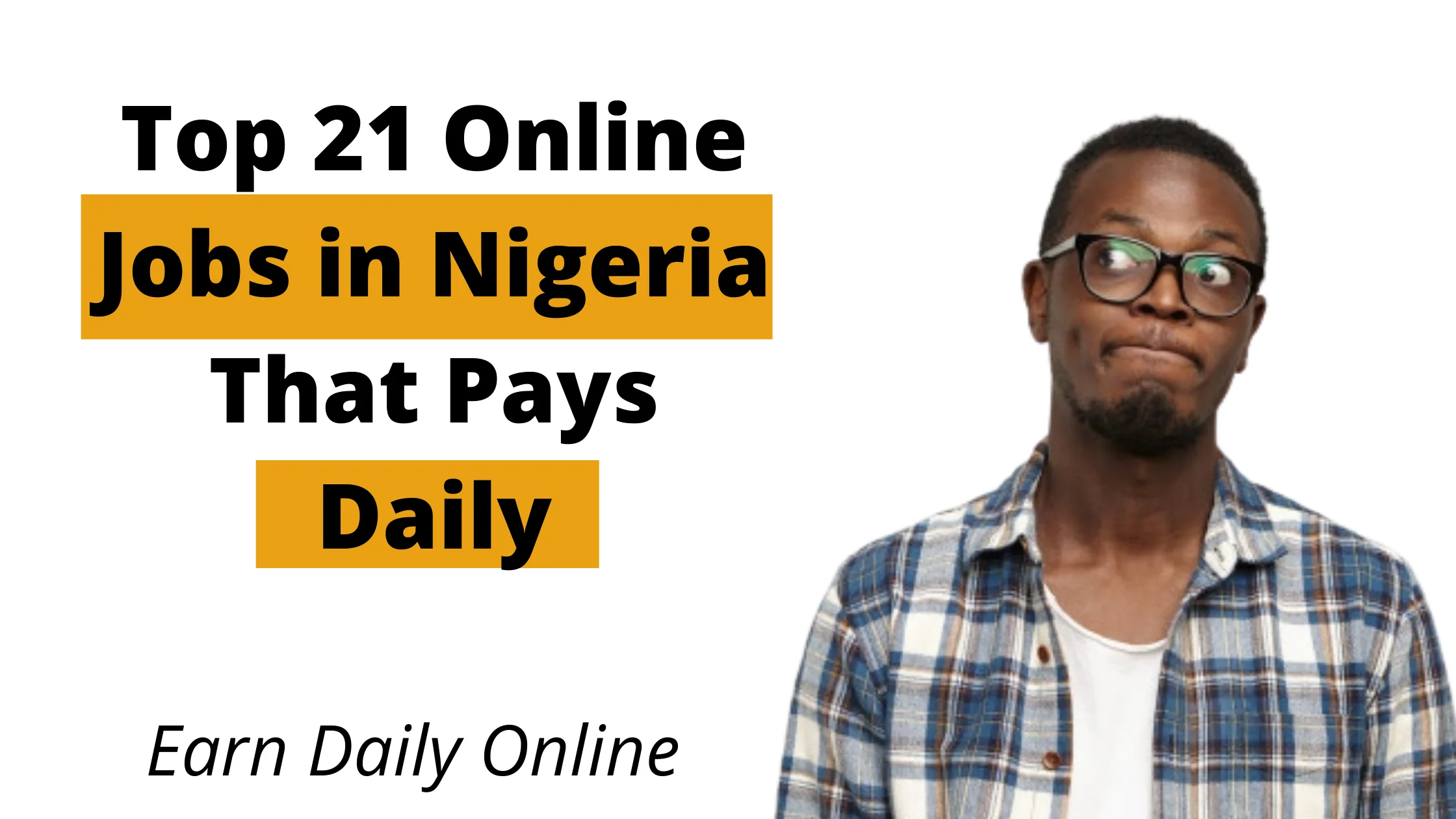 You only need a smartphone and access to the internet, but having a laptop to complement it is preferable.
Benefits of Online Jobs in Nigeria
There are several advantages to getting a job online in Nigeria. They include:
flexibility in determining the amount of work that can be done or the time limit allocated for the job

It also gives you the freedom to work from the comfort and privacy of your home without needing to commute
Ability to earn in dollars while living in Nigeria
The demand for Nigerians to discover ways to make money online without depending on white-collar jobs has become far more crucial due to the country's high level of unemployment.
Some people choose to embrace entrepreneurship by launching a small business, while others work remotely.
Most online jobs have their own set of requirements, so you'll need to research what's needed for the remote jobs you're interested in.
In Nigeria, there are numerous legit online jobs available for a diverse group of people.
These online job ideas are ideal for an array of people, including undergraduates, stay-at-home moms, nursing mothers, job applicants of both genders, and so on.
See Also: 15 High Paying Side Hustle to Start in Nigeria
What are Online Jobs?
Any job that allows you to work from home or remotely instead of going to a fixed place on a daily basis is considered an online job.
As technology and internet access improve, more and more people are finding work online.
Many Nigerians work online as customer support executives, copywriters, marketers, programmers, and teachers. It is incredibly profitable to earn a living online.
Furthermore, the job can be done on an hourly or task-based basis.
Online jobs do not require you to wait till the end of the month to get paid. You can work online and get paid instantly in Nigeria.
Online freelancing work also provides you with the flexibility to control your schedule, and there is no one to micromanage your life. 
There are lots of freelance jobs in Nigeria. However, finding the perfect online job that suits your skills or credentials might be challenging at times.
In that situation, mastering a new skill could improve your chances of landing long-term employment with a consistent income.
Following this guide, we will show you the top online jobs in Nigeria that pay daily.
See Also: How to Make Money with Affiliate Marketing Without a Website
Top Online jobs in Nigeria That Pays Daily
You can save more money by taking up online work from home jobs in Nigeria. If you work online, you won't be paying for transport, office outfits, or meals at work, among other things.
You stay at home, switch on your computer, and get to work.
When compared to traditional jobs, online jobs are less stressful. Traffic isn't an issue for you on a daily basis. You are not under as much stress as you would be in a regular job, and you have complete control over your schedule.
Are you looking for attractive online jobs in Nigeria that payout daily? 
Look through our list of legit online jobs that pays in Nigeria to see what's hot right now and how you can make money without leaving your house.
1. Online Teacher/Tutor
Online tutoring jobs in Nigeria is highly lucrative if you are knowledgeable and enjoy teaching others.
Create 5- to 10-minute clips on topics you are passionate about, such as coding, advertising, or web design, and post them on e-learning portals like Udemy, Skillshare, or Teachable.
Each student that enrols in your course earns you money.
2. SEO Consultant
Another great daily-paying online job in Nigeria is SEO consultancy.
Search engine optimization (SEO) is a collection of strategies that work together to improve a website's ranking on result pages of search engines, or "SERP" as it's termed in the business.
Because of the ever-increasing number of websites created every day, there is stiff competition for visibility and traffic.
Although this makes becoming a search engine optimization consultant a lucrative and rising career, it also necessitates a high level of technical expertise and a solid background in marketing.
See Also: 5 Powerful Ways to Attract Free Traffic to Your Blog Posts
3. Forex and Cryptocurrencies Trader
If you've got a good grasp of the foreign currency market, there's no better business opportunity than Forex trading.
Online currency trading is a lucrative business for many Nigerians, and due to the risk involved, it is not recommended for everyone.
If you want to start this business, you must first learn everything there is to know about it and then practice with low sums until you gain confidence.
4. Graphic Designer
Graphic design jobs are currently in high demand, even more than they were a decade ago. Online graphic design jobs in Nigeria is lucrative.
You can work from home and earn up to $60 per hour if you are good at making designs like logos and cartoons.
You can land a job online if you have a large portfolio of creative graphics and Flash projects. Also, you can earn an extra $50 per hour if you add web design to your services.
We strongly recommend that you add your photography experience to your CV if you are skilled in shooting beautiful pictures.
See Also: How to Become a UI/UX Designer With No Experience
5. YouTube Vlogger
Some vloggers in Nigeria make over N200,000 per month from the comfort of their own homes.
YouTube's partner program offers an excellent opportunity to earn money from your videos, and the timing couldn't be better.
To make money from YouTube, follow these two steps:
Join the company's partner program.

Use your imagination to create high-quality videos that will attract a large number of viewers.
Thousands of Nigerians make a living by uploading clips to YouTube.
See Also: How to Start a Vlog and Make Money
6. Social Media Analyst
To work remotely as a Social Media Analyst, you'll need marketing experience to help companies increase their web profile and brand image by utilising social media platforms, blogs, and SEO initiatives.
Remarkably, it is a rapidly evolving area of corporate marketing that requires people with great online communication and problem-solving skills.
As a social media analyst, you'll be in charge of building and managing a company's online visibility on social media platforms like Facebook, Twitter, and Instagram, amongst many others.
Occasionally, you may be tasked with updating and maintaining the company's blogs.
See Also: How To Get a Job as a Business Analyst With No Experience
7. Online Sales Representative
Online sales reps are responsible for ICT services such as domain name registration, web hosting and network infrastructure services, company email account setup, etc.
Both commissions and salaries are used to calculate earnings. As a sales representative, you'll be expected to do direct marketing, data gathering for prospects, and lead generation.
Your employer may give you the facts and figures, or you may conduct your own study. You'll also be in charge of negotiating accounts, giving presentations online, and completing sales.
8. Affiliate Marketing
Affiliate marketing might have a challenging learning curve for a novice, but with practice and patience, this will become a job that can fetch you plenty of money from the comfort of home.
If you're an affiliate marketer, you'll get paid for every new customer or visitor you bring to a company's website through your marketing initiatives.
See Also: Expertnaire Affiliate Marketing: Make N250,000 Monthly
9. Online Translator
Translators are comparable to freelance writers in that they compose write-ups with similar content. However, they translate the source articles into an entirely different language.
In addition to English, many Nigerians are adept in other languages, such as Chinese, French, German, Japanese, and Portuguese.
Most big businesses prefer candidates fluent in at least one of these languages. This means you can make good money if you're an expert linguist who speaks more than three languages in high demand.
10. Virtual Assistant
A virtual assistant's responsibilities can be anything from research to customer support. Virtual assistant jobs in Nigeria are one of the highest-paid online jobs to venture into.
If you want to work as a virtual assistant, be aware that businesses will evaluate your ability to communicate effectively in English, Nigeria's official language.
To be successful in this job, you must answer and make support calls, manage client emails, and perform other clerical duties. The hourly rate for this administrative position is around $10.
See Also: How to Become a Virtual Assistant in Nigeria Without Experience
11. Web Designer
A web designer's job revolves around designing a website's style, structure, and functionalities. It's a career that requires a deep understanding of design aesthetics and programming.
If you have a good track record of happy customers, you'll have an easier time attracting new business. Customer satisfaction is key since it opens the door to referrals from customers you do business with.
A web designer's responsibilities encompass all areas of website creation.
Part of your responsibilities will include:
Managing content.

Building web page layouts.

Assessing technical requirements.

Upgrading websites.

Creating backup files.

Fixing code issues.
It is one of the highest-paying online jobs. 
12. Freelance Writing
Freelance online jobs are the most popular type of online job in Nigeria today. It is not necessary to be physically present at a company's office to submit or write content.
Because of this, freelance writing is a popular remote job in Nigeria.
A freelance writer must have a strong portfolio of written work; his or her content should be interesting enough to hold the interest of a large number of readers.
Working knowledge of the internet and being familiar with optimising material for search engines is vital.
Writers must also be creative in order to deliver insights in a user-friendly rather than technical manner.
See Also: 20 Best Freelance Websites to Get Jobs in Nigeria
13. Podcasting 
Podcasting is among the top online jobs for Nigerians. You'll have to do some audio recordings or live talks as well as sell adverts or sponsorships for businesses on your site.
It's up to you if you want to make podcasting your full- or part-time work. All you have to do is come up with a unique idea, plan ahead of time, take the stage, and expand your fanbase.
Podcasting is an amazing avenue for getting close to your listeners and having an impact on their lives.
14. Social Media Influencer
To earn a living as a social media influencer, you must first establish your social media presence.
Your duty is to market other brands on your social media page voluntarily. While you're at it, don't forget to tag the brands you want to target so they can stay abreast.
If your audience responds positively to your posts, you may be able to transform your hobby into a profitable business.
Most businesses engage in social media marketing in order to attract new customers.
You can earn somewhere around $5 to $10 and $150 to $300 every 1,000 and 30,000 followers to promote a sponsored post on social media.
This means that you'll be sending your followers to those businesses and encouraging them to buy their products or patronise their services.
Start promoting brands on your social media pages if you're already active on them.
However, if you're just getting started, it may take some time to generate a huge fan base that can entice other brands to sponsor your posts.
See Also: How to Become a Social Media Influencer in Nigeria (The Fastest Way)
15. Social Media Manager
Social media management is one of the legit online jobs that pay daily in Nigeria.
This online job involves assisting clients in implementing social media strategies for lead and conversion generation.
As a social media manager, you'll be responsible for optimising an existing account, generating and posting relevant content, and increasing customer engagement.
Most businesses prefer to handle their social media pages in-house in order to protect sensitive business information.
They may want to hire you full-time because of this. However, if you're employed as a freelancer, you'll have to acquaint yourself with the business so you can understand their business model and brand reputation.
As long as you have a working knowledge of social media marketing, you may start offering this solution to businesses who want to increase their engagement and earnings on social media.
According to recent data, social media managers in the United States make an average of $62,000 per year, compared to N979,592 in Nigeria.
This shows that Nigerian social media managers are underpaid. The reality is, if you want to apply for this online job in Nigeria, you'll need to use your negotiating abilities to get a good offer.
See Also: 15 Smart Ways to Make Money on Facebook in Nigeria
16. Social Media Consultant
Another booming online job for Nigerians is social media consultancy, which assists businesses and people in crafting social media strategies to handle marketing challenges.
If you have a lot of experience with social media marketing, this could be a great opportunity for you to make money.
According to recent statistics, social media consultants in the United States charge $25 per hour or $52,049 per year. However, the typical annual income for this position is somewhere between $29,334 and $66,188.
You'll be responsible for assisting clients in identifying problems that arise from incorporating social media into their businesses and providing effective solutions to help them enhance their businesses.
As a social media consultant, your duty is to educate your clients on how to use social media effectively in order to attain their goals.
Suppose the owner of an existing Facebook page gets in touch with you because he or she isn't receiving any positive results from it. In that case, you'll be the one to analyse the platform and figure out what's amiss with the tactic being employed.
It is your responsibility to design a blueprint for your clients and guarantee that they follow it. Having a social media manager at hand to assist them in implementing your ideas is the best option.
If you must take on extra responsibilities, inform your client that he will be charged an additional fee.
17. Business Coach
If you are an entrepreneurial guru, you can use your experience and expertise to assist other businesses to succeed by providing online business coaching. Since everything is done online, you can interact with your clients from anywhere in the world.
Your counsel is a valuable service that entrepreneurs are eager to pay for, whether it emanates from higher education or professional experience.
The demand for online business coaching is growing rapidly. The business coaching industry is projected to generate over $11.6 billion in revenue in 2022.
According to recruitment sites, business coaches earn an average yearly salary of roughly $74k, but with more experience, they can earn over $160k.
You'll have lots of opportunities to make money whether you plan on engaging in business coaching full-time career or part-time.
See Also: 10 Best Online Survey Sites to Make Money
18. Proofreader 
Proofreaders are eagle-eyed specialists whose duty is to review writings for inaccuracies and grammar errors. This job can be carried out remotely, which means work from the comfort of your own home.
A skilled proofreader should promptly and effortlessly notice errors in other people's work. So, you must have excellent grammar and spelling skills.
Please note that a proofreader's pay will be determined by how quickly they work each hour. Proofreading freelancers might earn anywhere between $25 and $50 per hour.
Working for yourself means deciding your own salary. If you work for someone else, they'll set your hourly wage.
19. Digital Marketer
Another lucrative remote job in Nigeria is digital marketing. 
Promoting products and services via digital channels like social media, SEO, email, and mobile applications is known as digital marketing. In a nutshell, digital marketing refers to any type of marketing that uses electronic gadgets.
A digital marketing manager is in charge of creating, executing, and overseeing marketing strategies for a brand, product and services.
He or she is responsible for increasing brand visibility in the digital realm, increasing website traffic, generating leads, and retaining customers.
A digital marketing manager also researches and analyzes new digital technologies and uses web analytics software to track site traffic and improve marketing efforts.
See Also: How to Get Digital Marketing Jobs With No Experience
20. Data Entry 
Online data entry jobs in Nigeria are highly lucrative. If you have excellent keyboarding abilities, a strong desire for precision, and a strong work ethic, data entry could be a good fit for you.
Data entry jobs online are the simplest and most affordable way to start working from home. If you have excellent keyboarding skills, this could be a good career for you.
This job entails typing data from one point to another in a systematic manner. Data entry jobs do not require any investment; it's a popular option for students seeking a part-time gig.
As the remote work culture grows, online data entry jobs from home will become increasingly popular.
21. Copywriter
Copywriting is the process of creating text for adverts or marketing purposes. It aims to convince someone or a group of people to take action.
The written material – or 'copy' – is usually enough to influence customers' purchase decisions. A well-written copy has the ability to close a deal on its own.
Copywriting is a very profitable, unique form of writing that is sometimes completely overlooked. It is a highly sought-after skill.
A skilled copywriter can create an attractive call-to-action that makes the reader want to buy right after reading it. If you're an excellent copywriter, you'll be able to dramatically boost your clients' annual turnover by rewriting text that increases their conversion rate.
Freelance copywriters can earn a six-figure salary working from home for their clients at their preferred hours. Highly skilled copywriters, particularly SEO copywriters, will attract high-paying clients that recognize their worth.
See Also: How to Build a Successful Copywriting Business as a Beginner
Free Online Jobs in Nigeria that Pays Daily FAQs
Here are some of the frequently asked questions about legit online jobs in Nigeria that pays daily:
How Do Online Jobs Work in Nigeria?
Every online job had its own set of requirements. Some jobs, like traditional jobs, require you to stay in touch via phone, email, and video calls during specific hours.
Others would require you to set your own project deadlines and timelines.
Most online jobs would want you to contact your colleagues and/or managers on a frequent basis via video teleconferences, emails, and phone conversations.
If you're looking for online business that pays daily with free registration in Nigeria, make sure to check out the 10 Best Online Survey Sites to Make Money
Are Online Jobs Legit?
Although there are some fake job listings, there are still plenty of legit online job opportunities. Some businesses are now deciding to operate purely online rather than having a physical presence.
This allows them to hire the most qualified personnel from anywhere globally while lowering their overhead costs. Before applying for any online job, do some research first.
You'll be shocked at how many amazing online jobs are available.
What are the Online Jobs for Students in Nigeria?
There are free online businesses that pay students daily in Nigeria. Some of the available online jobs for students in Nigeria are:
Copywriting
SEO Consultant
Digital Marketing
Proofreader
Data Entry
Vlogging
Social Media Influencing
Affiliate Marketing
Online Sales Representative
Freelancing
Graphics Designing
Blogging
How to get online jobs in Nigeria?
To get online jobs that pays in Nigeria, you must have some high-demand skills. However, there are some online jobs for Nigerians that requires little or no experience.
If you want to earn 6 figures monthly working online in Nigeria, you must have the high-income skills that businesses are looking for.
Conclusion
The desire for online work is unlikely to diminish very soon. And, at a time when earnings are declining and typical work policies are changing daily, the ability to earn money online could be just what you need to remain sane.
Whether you want to work part-time to save money or earn a full-time income while working remotely, these online jobs can give you a level of freedom that most regular workers will never have.
Also Read: