There are diverse and lucrative small business ideas for stay at home moms to venture into.
Being a stay-at-home mom is not something bad, as owning a large-scale business may require a lot of resources and time.
Whereas, most moms want to gain some source of income alongside spending quality time with their families.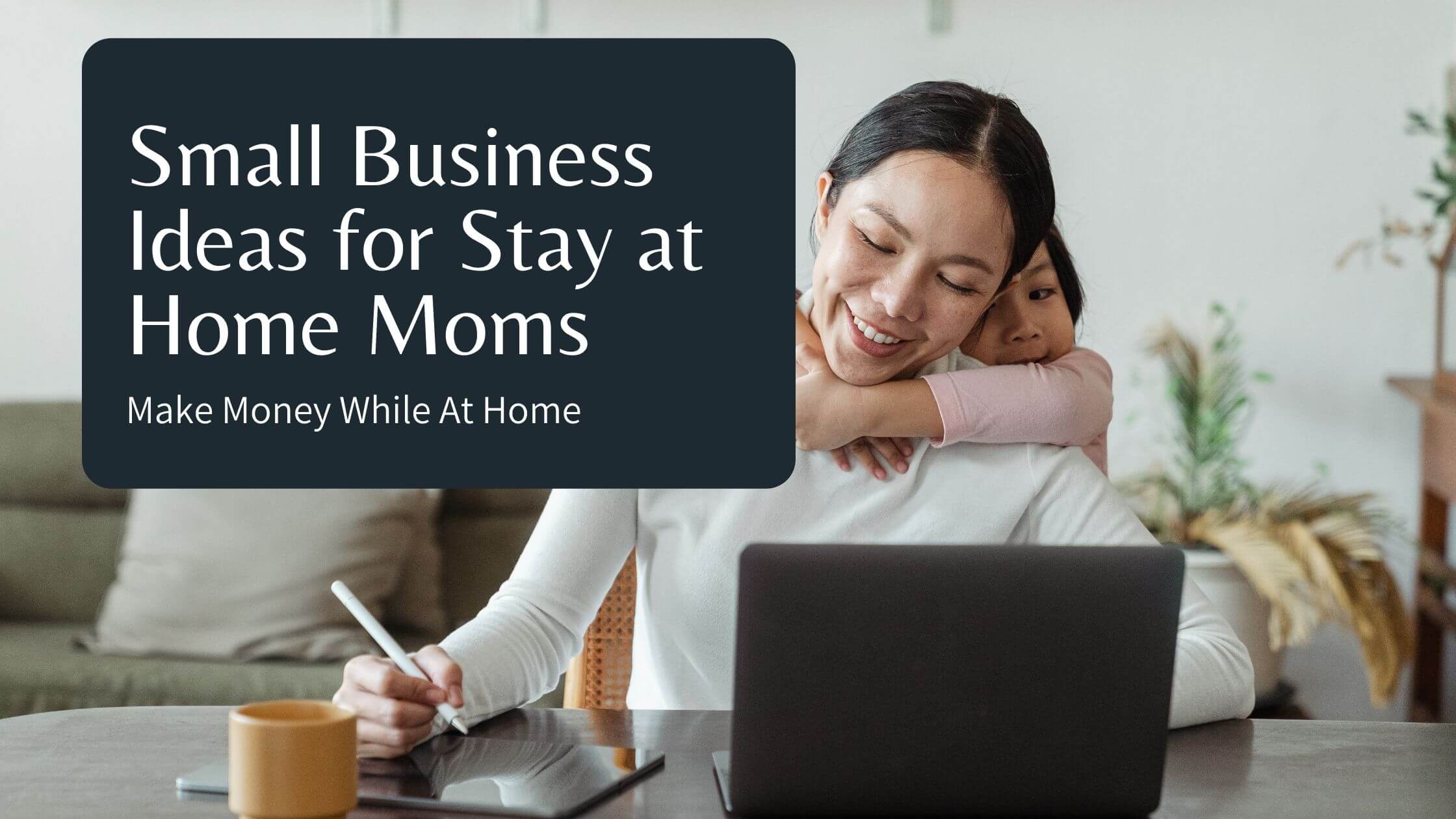 You might want to ask, "Does that mean there is nothing I can do to earn cash whilst being a stay-at-home mom?"
No! There are tons of small businesses you can do and still earn as much as you want. 
Therefore, this article aims to enlighten you on some of the businesses one can venture into as a stay-at-home mom.
So read this article to the end for the best pieces of information on varieties of businesses out there.
Are you ready? Good. 
Determine Your Capital Range 
Foremost, the first two questions you'll want to ask might be, "Where do I get capital? What are the things I will need to begin?" 
Well, most of the business ideas to be listed in this article have to deal with basic intellectual, managerial and communicative skills. This doesn't mean that you won't have to accumulate any capital beforehand. 
But you might have to acquire some capital in form of cash and products (materials). In other words, be ready to learn, unlearn, and relearn. 
With all these noted, we will drive into those business opportunities.
See Also: Top 21 Stay at Home Mom Jobs Online
Top 15 Small Business Ideas for Stay at Home Moms
1. Freelancing
Freelancing can be seen all over the globe and popular small business ideas for stay at home moms. It entails you being self-employed personnel who work for other people or bodies (as much as you can). This business involves intellectual and communicative skills. 
Thus, with the right talent or skill, you can venture into freelancing. Lest I forget, freelancing can be subdivided into many parts such as:
Accounting and finance

Administrative

Project management

Customer service

Healthcare service

Computer and IT

Writing & editing

Web development and designing (coding and programming)

Graphic designing

Virtual assistant and many more
The best part is that it can be done ONLINE! What a wonderful opportunity. So I'll say you should venture into anyone in which you're good at. 
It might be that you are good at writing stories, articles, SEO, graphic designing, coding, and even bookkeeping as it can be done online also.
See Also: How to Start a Profitable Freelancing Business
2. Catering Services 
The global demand for catering services is above $5 billion as of 2020, which makes it a lucrative venture. Thousands of moms are making wacks of dollars from the comfort of their homes. They make it through catering services. 
The catering world is wide. This variety gives you an avenue to choose the best niche for you to operate. You can start a business as a:
This means you will produce food for sale. It can be done even in your home. Also, making it popular online is not a bad idea either as it will boost sales. You can also be involved directly or indirectly in its packaging and delivery in a case where your food has been ordered online.
You can specialize as a baker, baking bread, cake, pies, and small chops for sale.
Knowing food and nutrition, you can begin a cooking class for all those interested in learning how to cook.
See Also: 15 Lucrative Small Business Ideas for Tourist Towns
3. Creatives and Crafts
Creating things and selling them to people can earn you some cash even as a stay-at-home mom. You don't have to make the sales a local one, you can introduce it online, perhaps someone might love it. 
You might be good at craft-work and artistry at the same time, you can do both at the same time, one can never tell which might favor sales.
4. Event Planning
One benefit of being a stay-at-home mom is that you have a lot of time to spend and utilize for yourself and your family, unlike other women who are always busy daily. Now imagine if someone requires an individual who is skilled at event planning. 
Once such a person comes across you, she won't mind hiring you, as long as you do what is required of you and place an affordable price on your service. Therefore planning and managing an event for someone is a business worth venturing into as a stay-at-home mom.
See Also: How To Start a Side Business While Working Full-Time
5. Seamstress/Knitting
A seamstress is someone who sows clothes or is someone whose job is to sow clothes. As a seamstress, you either sow for sale personally or to other industries in bulk. As a knitter, you deal in the knitting of attires.
Therefore with this knowledge, you can understand that being a seamstress or knitter can earn you some source of income. If you want to sell your products online, sites like Etsy and eBay.
6. Make-up Artistry and Skincare
This is another perfect small business for stay at home moms. Skincare services involve acts or practices mainly aimed at giving the skin a good look and enhancing its general health and also providing cures for skin infections or diseases. 
They work to create substances that are of benefit to the skin's health and also offer services such as spa services and also act as a skincare instructor. 
Mothers who are skilled in the aspect of cosmetology and dermatology are those who usually fall in this category. Make-up artistry has to deal with both communicative and skillful aspects.
As a makeup artist, your job is to communicate with your client to know her needs or wants, change her looks and also be able to remove the makeovers after such usage. 
Sometimes as a makeup artist you might also offer a pedicure and manicure service to your customer according to their preference.
You can communicate your skills in this aspect through relations (that is friends and families) or make it known online, or perhaps share a flier, as this will go a long way to let people (far and near) know about your services.
7. Daycare Center or Babysitting
Most reasons why parents tend to entrust their wards or kids to babysitters or daycare centers is the fact that they are mostly run by women. Mothers have this somewhat affection towards children as to taking good care of them. 
So, venturing into a daycare business or babysitting service isn't a bad idea as long as you have the necessary documents to certify yourself and also an affectionate attribute towards children.
8. Fashion Consultant/Designing
Fashion consultants are style experts who help their customers to choose attires or costumes and accessories for different occasions. 
Their work is to help their clients choose the best costume or accessories to give them a befitting look as most of the clients of a fashion consultant are glamours, celebrities, or those who are lovers of fashion and shoots (photographic shoots). 
They give professionalism to the look of whoever their client is. So as a stay-at-home mom with an intense love for fashion and glam, nothing is stopping you from being a fashion consultant.
9. Interior Decorating or Designing
An interior decorator help in giving the interiors of closed places ( like homes, halls, and many more) a good look through decorations and designs. 
They give any Location a desirable look through their designs and patterns. With the special skill and mindset and also communicative skills, a stay-at-home mom can easily venture into interior designing.
10. Property Management
What a property manager does is to take care of other people's properties (like houses and estates). They also act as an intermediary between the property owner and a tenant or renter. They also rent out properties (as directed by the owner).
Check out: How to Make Money on Airbnb Without Owning Property
11. Gardener or Garden Designer
A Gardener takes care of one's garden or her garden. They are hired to cultivate the crops of the garden and make sure it is in good shape. Whilst a garden designer might sound related to gardening. 
Their work is to only design or make outlines of how the garden is supposed to look in comparison with space, then they will then design the garden itself. 
Note that not only males are involved in gardening, there is some female gender who find joy in cultivation. If you are one of those people why not give it a try.
12. eBook Writer or Author
An eBook writer writes books for selling and transmitting a sense of humor and knowledge to whoever reads it (the eBook). 
E-books can serve many purposes such as providing knowledge and education, as well as entertainment. So as a gifted mum in this career path I would say you should try this business.
See Also: How to Build a Successful Copywriting Business as a Beginner
13. Virtual Teaching or Tutoring
There are many applications and websites out there which support virtual teaching or online teaching. You can gain a business opportunity through tutoring children / young adults in various places and teaching them in different aspects (s). 
It is somehow related to babysitting but it's just that it's more complicated than babysitting.
14. Health Consultant
The job of a health consultant is to ensure that his clients (inform of patients) suffer no health problems. The clients will regularly come over for an examination to ensure such a patient is well health-wise, they may also prescribe drugs and medications under some circumstances. 
So if perhaps you are good in the healthcare aspect and yet still want to spend time with your family, being a health consultant will not be a bad idea.
15. Travel Planner
Women are more employed in this aspect of business due to their communication skills. As a stay-at-home mom, you might want to test out a travel planner business. It entails planning and arranging trips for your customers. 
We all know that traveling comes with much knowledge and most customers don't know much about their destination. Here comes the usefulness of the travel planner. 
Conclusion
As a stay-at-home mom, your priority will most likely be your family; taking care of the kids, and other domestic activities. But beyond that, you can do one or two profitable businesses that are not time-consuming.
These smart businesses help you gain passive income even while you're taking care of your home. Moreover, reports show that the small-scale businesses highlighted above can even be more profitable than just giving passive income.
Once you are aware of these small-scale businesses for stay-at-home moms, we encourage you to pick one of them, do a little more research about it and start. 
Recommended Books for a Growth Mindset