Major tourist destinations present lucrative opportunities for entrepreneurs to take advantage of and get huge profits.
In fact, the Global retail travel industry is projected to reach about $145 billion by the year 2028 which is a projected growth of about 14% in the coming year.
So, if you want to get into the travel retail market, now is the time to do it.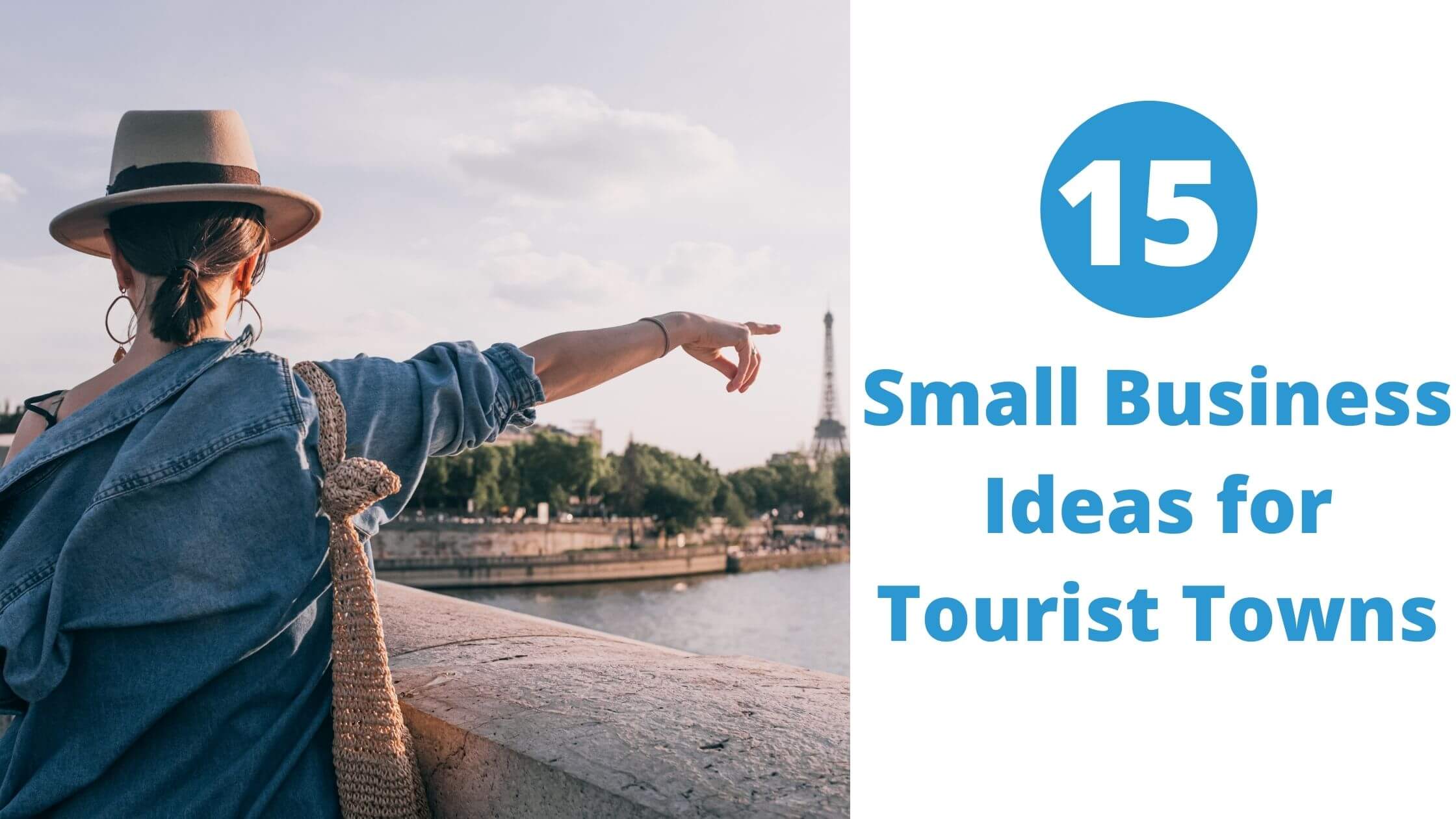 In this article, you will discover small business ideas for tourist towns.
See Also: Top 25 Digital Marketing Ideas for Small Business
What are Small Businesses?
Small businesses are occupations that don't need a whole lot of knowledge or expertise of the business in question before you can start up.
It does not require so many employees; they can be run perfectly from day to day with just 10 – 15 people.
Some common examples of small businesses include Carpentry, Photography, Bakery, Grocery Stores, Hairdressing, and many more.
See Also: Top 15 Small Business Ideas for Stay at Home Moms
What are Tourist Towns?
Tourist towns are destinations that are reserved primarily for tourism for economic or cultural purposes. They are locations where travellers head for vacation, leisure, or sightseeing.
They are the ideal locations for travellers to have some peace and get away from the hustle and bustle that accompanies everyday work life.
Examples of some common Tourist towns include:
Komodo Island, Indonesia, (which is the home of hundreds of Komodo dragons).
Dubai, UAE, where the Burj Khalifa (The highest building in the world) is located.
And of course, Paris, France, home to the famous Eiffel Tower.
There are so many more tourist towns all other the world, you can get a more comprehensive list here.
Because of this need to relax, tourism has grown so much over the years. Towns with exceptional monuments and structures or nice weather conditions and antique items are usually the target of travellers looking to take some time off.
And with this constant stream of people at a particular location, if you start up a business there, it is sure to pick up
See Also: How to Start a Vlog and Make Money
Top 15 Lucrative Small Business Ideas for Tourist Towns
There are so many business opportunities out there but before you choose whichever you will go for you should think about what you are good at, what you enjoy doing, and the resources available for you to start up this business. 
After carefully considering that you can then make a choice from these 15 lucrative small business ideas for tourist towns that best suit your skillset:
1. A Restaurant
This is #1 on our list of tourist town business ideas. Everyone needs to eat once in a while.
So it's a no-brainer that 'opening a restaurant is in this article, given the number of people usually at tourist sites of course there should be restaurants around to quench their hunger.
Opening a restaurant is no mere feat though, it takes passion, dedication, and orderliness to pull off the everyday workings of a restaurant, so before you settle for this be sure you have the appropriate skill set or know someone who does.
A restaurant can be opened in any tourist site around the world, the choice of which meals to serve will be up to you, so do your research before thinking of starting up.
2. Boutique
Clothing is another basic amenity that tourists look out for when visiting small towns on vacation. There are either no boutiques in small towns or the boutiques are not appealing enough so you can always take advantage of this.
Women and teens are especially keen on getting new clothes at vacation sites they visit to act as a reminder of the good time they had and also to show off to friends, especially those that depict the town or city in one way or another.
Just be sure to stay up to date with the latest trends in the market.
See Also:Top 21 Best Content Writing Tools To Create Better Content
3. Car Wash
Cars are the favored means of transportation in small towns and of course, with use, a car can't help but become dirty. That is where your car wash shop comes in.
Before you do this though, you have to get a very good location where people pass through constantly and where they will be sure to see your shop.
Also, their cars have to be dirty for you to have customers so consider all these before settling down.
4. Grocery Store
A grocery store is a guaranteed need in any and every tourist town.
You could choose whatever your shop will put on its shelves if there is already a grocery store in the town you could choose to sell special food items to the tourists or even to a restaurant if there is one in the town.
Though since it's a small town be sure to only store up a few specific goods to prevent a loss.
See Also: How To Make Money Online Without Investment – The Fast Way
5. Pet Grooming
So many people own pets these days, in fact, in the US alone 67% of households own a pet and these people can hardly do without the comfort and fun they bring with them.
When people go on vacation, they sometimes have to take their pets along with them when they have no one to leave their pets with.
A pet grooming shop will be a nice idea at a tourist location that sees a lot of visits at a time.
Small towns tend not to have any pet specialty whatsoever so from a pet shop you could even delve into other things like toys and food.
It just needs proper planning and you could be making a profit at the end of the day.
See Also: How To Start a Side Business While Working Full-Time
6. A Barbershop or Hair Salon
This is another very important service needed by most people regardless of their age.
Men need a haircut at least once a month and women don't just need a hairdo once in a while but they also need make-up, pedicure, manicure, and other fashion services.
So, from a small hair salon, you can grow your store to a full fashion store. This kind of small business is more suitable for tourist locations where tourists tend to stay for a while.  
7. Gym Studio
A gym is a nice business idea for tourist locations where the weather is usually cold and people need the means to keep warm.
People who have a cardio plan or a body-building plan can enjoy the vacation while still staying fit.
A fitness boutique is a new trend in this market niche, that is worth taking note of.
See Also: How To Start Shopify Dropshipping With No Money
8. An Ice-Cream Shop
Everybody loves ice cream but children love them even more. Before you think about opening an ice-cream shop in a tourist town you should make sure it's a location that children visit with their parents a lot.
Basically, any vacation town with popular parks and fun houses are good locations to set up shop.
Also, towns that are usually warm most times of the year are good locations to set up. Be sure to serve all the popular ice cream flavors and be available almost 24/7.
9. Open a Bookstore or Mini Library
Bookstores are important at locations where books would likely be needed.
Archaeological sites are good locations to set up shop as scholars around the world would want to read or know more about the Archeological structure in the town and where else can they get this information but from a bookstore or library.
There are very few bookstores in tourist locations so this niche is yet to be exploited fully.
See Also: 9 Best Ecommerce Platforms (Top Rated & Reviewed)
10. Gift Cards Shop
On average, Americans purchase about 6.5 million gift cards each year and this amounts to about $8 billion annually.
Gift cards or greeting cards are not readily available in little tourist towns because big stores like Walmart don't have shops set up in these areas.
You can choose to accept gift cards or sell out gift cards to those who want to purchase them, especially custom gift cards of the tourist location.
11. Rental Shop
Rental shops can be set up at tourist locations that have a high number of visits from tourists regularly.
You can choose to rent out cars, bikes or scooters, and other means of transportation but be sure to set up at a location where tourists will need one.
You could also choose to rent out specific tools that tourists may need; for example, you can choose to rent out mountain climbing gear at a tourist town where people go mountain climbing.
12. Translation Services
Language is needed for communication and understanding but tourist towns where the local language is not very popular in world are a good places to set up a translation service.
Be sure to choose a place that sees lots of visits from foreigners in order to maximize the possibility of profits.
See Also: How to Get Digital Marketing Jobs With No Experience
13. Become a Tour Guide
Tour guides are the life of any good tourist location, they lead the tourists through the location telling them about the history of the place and other fun facts about the location.
They also provide general guidance to the tourists about the 'do's and 'don'ts' of the locals.
So, if you feel up for putting smiles on people's faces and providing information to tourists you should look into being a tour guide.
14. Setup a Souvenir Store
Souvenir stores are good business ventures around tourist sites. You can offer to sell unique items and spices, different works by locals, artefacts, and little gift items representing the town's main attraction.
You could offer discounts or even shipping options for tourists.
15. Cleaning Service
A cleaning service is another high-demand service that you can easily start. It's becoming more common for people to hire different companies to perform different home cleaning operations.
In tourist towns, these services may not be available so you could take advantage of them.
Tourists may need their houses cleaned before they move in to stay for the vacation and you could be there to meet that need.
See Also: How to Start a Successful Cleaning Business
Conclusion
These various business ideas are massive opportunities in their own rights, just be sure to set up your business in a location where you can get profits from it and it can evolve and grow and you can eventually become financially boisterous.
With this list of tourist town business ideas, you can easily get started with your entrepreneurship journey.
Recommended Books for a Growth Mindset