The freelancing industry in Nigeria has greatly grown at an amazing record-breaking rate in the last couple of years. Same as the number of high paying remote jobs that are posted on freelance websites.
Becoming a freelancer in a country like Nigeria is such a wonderful route to financial freedom.
As a freelancer, you can make money without limits from the comfort of your home.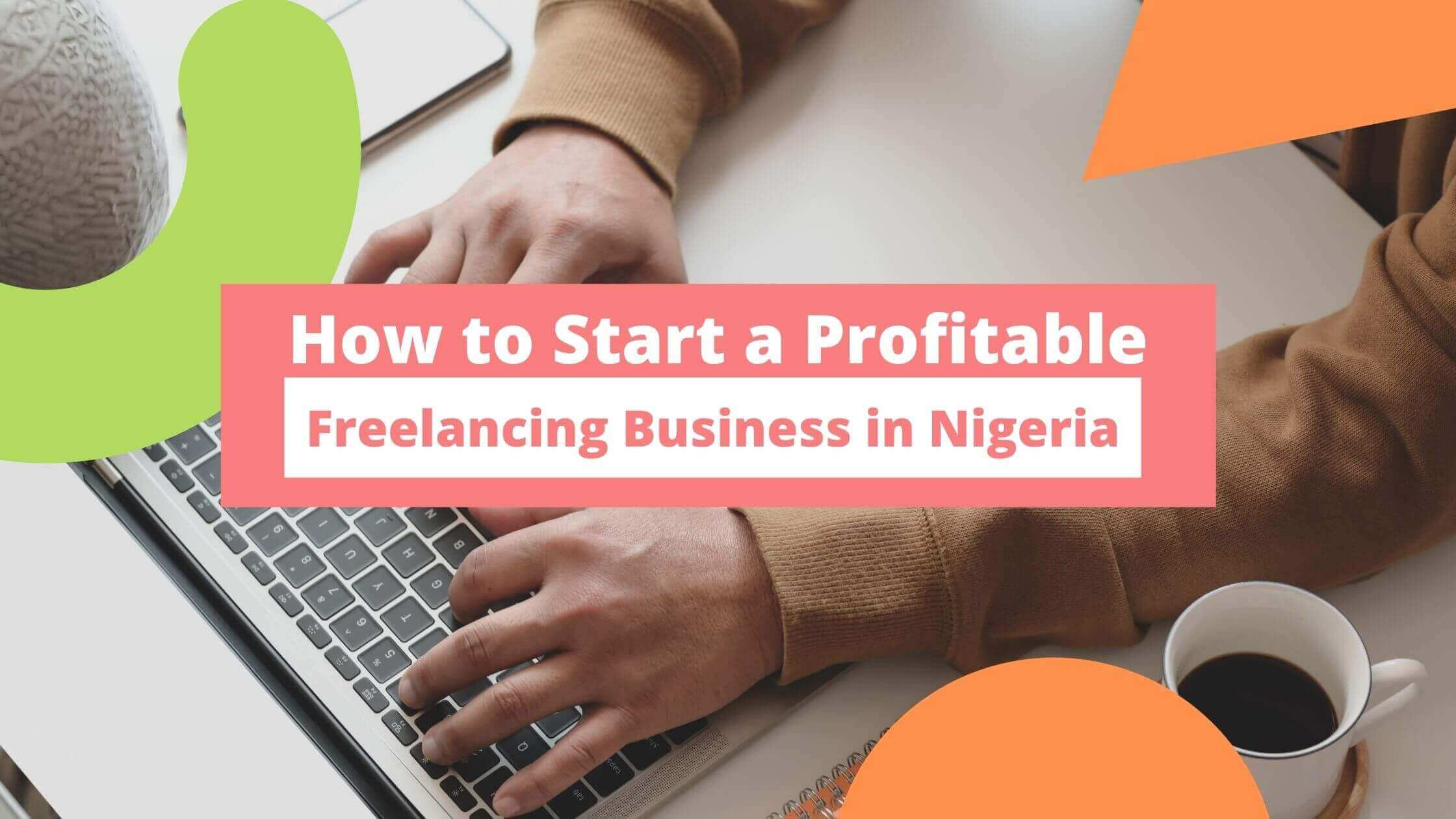 Perhaps as a freelancer in Nigeria, one of the major challenges is receiving payment. However, that should not stop you from monetizing your skill as payment platforms like Payoneer, Transferwise, cryptocurrency wallet and even a domiciliary account helps to get that resolved.
Therefore, if you want to become a freelancer in Nigeria and monetize your skill to a global audience, then this post will be a guide for you.
Who is a Freelancer?
A freelancer is an individual that is mostly self-employed and is hired to work for different companies on specific assignments.
They are specialists in their field and most times get gigs from lots of clients from across the globe. It can either be short or long term, depending on the type of project.
As a freelancer, you define how much you want to earn based on your skill and experience. We have lots of freelancers in Nigeria that charges over $1000 per project.
You can be the next successful freelancer in Nigeria.
See Also: 15 High Paying Side Hustle to Start in Nigeria
High-Income Skills to Acquire and Make Money
Here are some of the skills that are in high demand in the global market. Acquiring any of these skills will make you a fortune.
1. Blockchain
2. Video Editing
3. Search Engine Optimization (SEO)
4. Digital Marketing
5. Copywriting
6. Coding
7. Sales
8. Project Management
9. User Experience (UX)
10. Content Marketing etc.
If you can learn any of these skills and be a professional at it, then you are a potential millionaire. But if you're yet to acquire any of these skills, or any skills at all then you just need to take an extra step by acquiring them.
You can learn these skills online or at most computer centres, within three to at most six months. This might seem like a really long time, but the end result should motivate you.
See Also: Digital Marketing: 20 Things You Should Know as a Beginner
How to Start Freelancing Business in Nigeria with Just Your Skill
There are lots of ways to get started as a freelancer in Nigeria. And we will take you through all of these steps.
1. Carry Out a Market Research
The research is quite necessary because it'll enable you to know the best niche that'll be profitable and also fetch you a whole lot of money.
This way, you'll be able to get clients consistently and without difficulties.
Without a doubt, if your services are so good, your clients will have no other option than to stick to you. And even refer you to friends and business partners.
There are many freelancing skills you can learn and offer.
For me, I actually started with copywriting. It was so horrible at first. But got better as I gained practical experience. Here's how you can also build a successful copywriting business in Nigeria.
As my one cent, don't limit yourself to the Nigerian market. If you want to earn more, think globally and you will attract clients that pay you 150X what you would have earned for the same project in Nigeria.
Who wouldn't want to earn in dollars?
2. Build a Portfolio
You must be wondering what a portfolio really is. Well, if this is your first time coming across this word, I'll explain better.
Becoming a freelancer in Nigeria is way easier and possible if only you can convince clients of your skills. This is where the importance of a good portfolio comes in.
What is a Portfolio?
A portfolio is simply a compilation of your skills, qualifications, training(s), or even samples of your jobs.
Building a portfolio of your own might be a bit tricky and also confusing. It might be a bit difficult as a new freelancer with no job experience, this means that you'll have to go the extra mile to convince your clients that you know your job.
Unfortunately, if you're not able to convince your clients to hire you without your job samples, you can go ahead to create samples on your own.
Your portfolio could also be a file you send to potential clients when they ask for it.  There are many freelancers in Nigeria, and your portfolio convinces your client that you're the best person for the job.
See Also: 15 Legit Passive Income Ideas in Nigeria to Make Extra 500K Monthly
3. Get a Freelance Mentor
Mentors are amazing individuals in your industry or field, with amazing experiences that seem unbelievable.
In a time like this, I can say that I'm your mentor. And I'm mentoring you on how to start a freelance business in Nigeria.
Asides from having a mentor, you could easily connect with other freelance professionals (Someone you know is of great value and will greatly help you out in your Freelance journey).
A freelancer mentor knows the market perfectly well, more than you do. Through their journey of experiences, they can guide you on the right path.
Your mentor will help you avoid mistakes you might likely make as a freelancer. You need the help of someone that can serve as your guide and show you the ropes as you take your first steps.
With an exceptional mentor by your side, you'll realize that you'll become even more confident when it comes to succeeding in Nigeria as a freelancer.
Though the truth is that it's not that easy to find a mentor that'll be willing to show you everything, and be genuinely happy for your progress.
Everyone out there seems to be so busy with no time to spare, except you'll be ready to pay for their mentorship.
4. Promote Your Freelancing Services
The channel you're using to get your clients doesn't really matter. You can even go the extra mile by promoting your services.
Freelance platforms like Fiverr, Upwork, and other freelancing sites allow you to create gigs and promote them.
How to Promote Your Freelancing Services in Nigeria
Below are a few ways you can promote your services.
i. Business Card
You can also promote your Freelance services by leveraging on business cards, asides from digital marketing. Create a business card for the skills that you offer.
ii. Paid Promotion
This does not require you to have millions of naira to begin. You can use the little money you have to promote your freelance services on platforms like Facebook and Twitter.
It will provide you with the opportunity to reach your target audience faster.
iii. Social Media
You can use social media platforms to promote your freelance services. Platforms like Twitter, Facebook, Instagram, or any social media platform can help you reach your target market easily.
Create engaging content that naturally attracts your target audiences to you.
5. Join Freelancing Sites
Freelancing sites can be likened to a marketplace, where you can easily hook up with clients that are interested in the services you render.
There are many freelancing sites you can join, both Nigerian and foreign sites. Depending on your choice.
So many people make the mistake of trying to belong to almost all the freelancing sites they see online and expect to break records. The truth is that it really doesn't work that way.
You will have to carefully discover where you have higher chances and then stick to it.
Here's a list of freelancing websites in Nigeria where you can easily make money as a freelancer.
1. Gig Nigeria
2. Freeciti
3. OYERR
4. SourceGig
5. Jo-Lancer
6. Findworka
7. Justfrom5k
8. Alance.Co etc
After you've been able to build a very good portfolio, you can now think of going global (having international clients).
Here are the top freelancing sites you should join to get international clients:
1. Upwork
2. Fiverr
3. Freelancer
4. Toptal etc
Your journey as a freelancer will be made easier if you can successfully create an attractive profile with any of the freelancing sites. You are free to use other professional's profiles as a guide to creating yours.
6. Improve Your Writing Skills
Before going into freelancing, you should be a good writer. This will enable you to communicate your skill and services better than your competitors.
Understand the art of SEO. Leverage on it to rank higher when potential clients are in need of your services.
The best way to get started is to find out the keywords that your target audiences are using to find your services. Then incorporate it into your portfolio.
Over time, you can optimize it to better suit your needs.
See Also: Top 21 Best Content Writing Tools To Create Better Content
7. Set Your Rates
Before you finally come up with your rate, you have to take a very good look at the freelancing environment and the underlying competition. While you might want to earn so much money, you'll also need to be patient until you've learnt the ropes.
It'll definitely make no sense to get a job you know you really can't deliver, just because of the pay. A few guides online can help you.
Also, you can browse freelance writing rates, freelance rates for programming, freelance graphics design rates or whatever services that you are offering to analyze what the average is.
As you gain more experience, you can charge premium rates.
8. Build Your Brand
Your brand speaks so much of you. Freelancing in Nigeria is most often a path that can make you become your own boss. Imagine making up to 20,000 Naira to 30 Naira daily doing little to nothing.
Some freelancers in Nigeria even make more than this amount on a daily basis.
It's possible for you to grow to the point where you hire skilled individuals to do the job. Whenever you have a new job, you can just assign it to them while you go about handling other tasks.
This is how you start building your brand. You can even register your business in Nigeria with the Corporate Affairs Commission (CAC).
9. Pitch
Let's assume that you've successfully defined your niche, and have been able to come up with a compelling brand. The very next step here is reaching out to prospective clients through pitching.
Pitching might be similar to marketing because this involves selling your freelance services to individuals that are likely to patronize you.
Volume and relevance remain the keys to successful pitching. The main thing here is to remain committed to your abilities.
You never can tell when that bid you submitted some time ago will yield the result that will change your career.
See Also: 21 Best Online Learning Platforms (Free & Paid)
10. Get Started as a Freelancer
It's one thing to learn, and it's another thing to apply what we've learnt. Just like a full-time 9 to 5 job, freelancing also requires a level of commitment.
The more clients you are able to secure, the better your chances of getting paid on a more consistent basis.
But it's better you start today and stop the procrastination. You can decide to crawl, walk, run or even fly. The most important thing is that you start, and not just start but be consistent in building your portfolio and working for your Clients.
Strive to get better by the day and you won't regret the fact that you took the step.
Conclusion
Freelancing gives you the chance to earn a living from simply offering services on one's passion and skill. You also have the freedom to work from any part of the world at your own convenience.
Also, you don't necessarily need to quit your job because you think freelancing is a better option. Build it over time before thinking of going full-time.
I'll advise you to keep your job if you have any, then utilize your free time in building your portfolio and freelance structures.
There is no better time to get started than now.