Think of the last secret romantic getaway you went on with your girlfriend. How about the last time you partied at a club your friends had no idea about?
Sometimes being unpredictable and taking risks can be exhilarating, but it can embarrass you or put you in a negative light if it is discovered. 
Let's assume that when you were having fun in secret, you uploaded some pictures to your Instagram page, and then a friend (who could pick a fight with you due to those pictures) sends a request to follow you.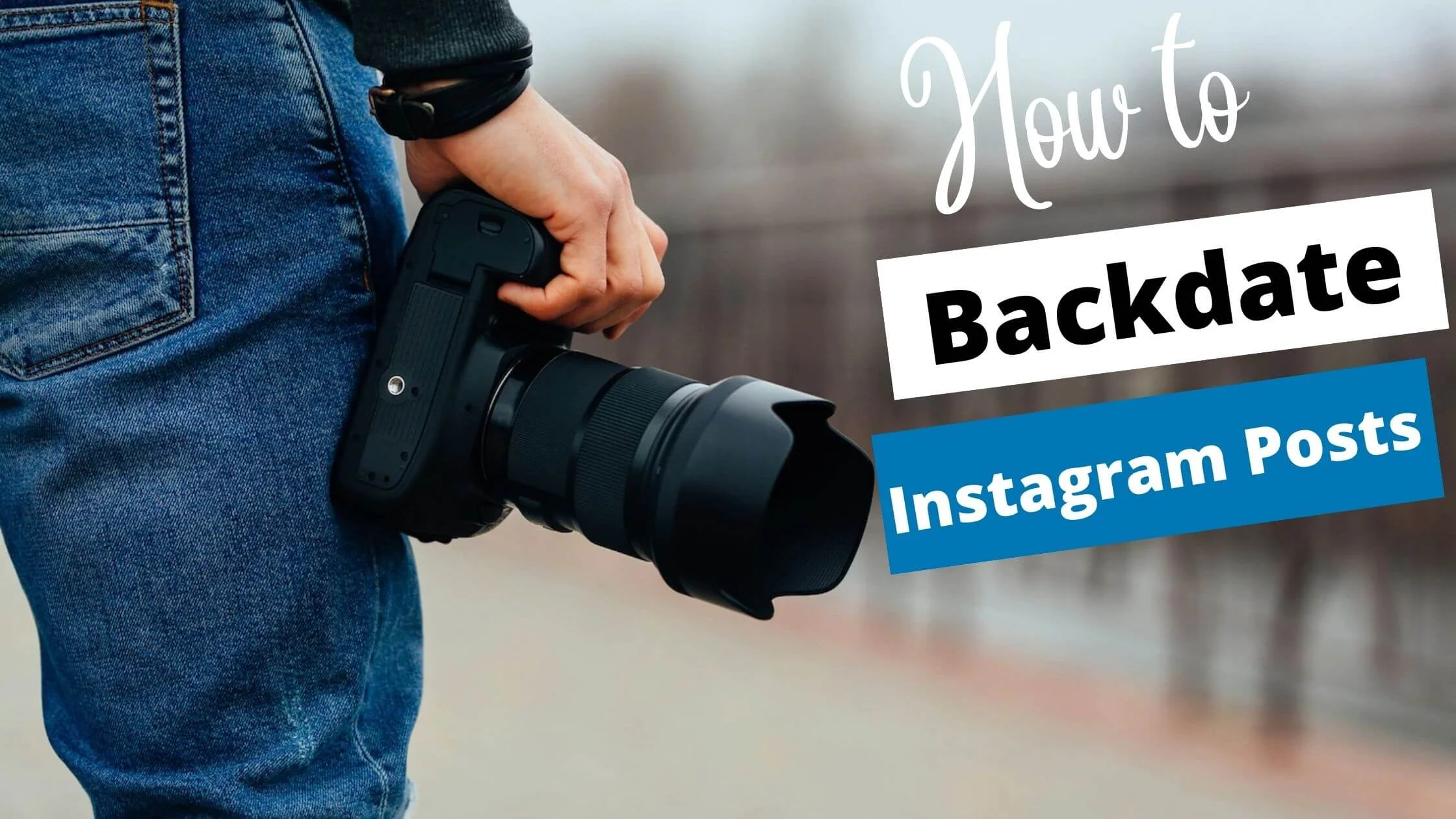 In this case, what would you do? Obviously, ignoring their request is in bad taste. Isn't it?
In this article, we will let you know if "backdating your Instagram post" is an effective and easy solution. 
Without further ado, let's see if it's possible to backdate your posts on Instagram. 
Can I Backdate my Posts on Instagram?
Let's address the main issue without any delay: The question of whether you can backdate any of your posts on Instagram.
Well, we are sincerely sorry to let you know that it's impossible to backdate any Instagram posts, and we'll explore why it is so. 
The reason is that whenever you post content on Instagram, you can only make edits, modifications or changes to those elements that you input via manual processes.
A good example is your Instagram caption. You can return and edit the caption of whichever post you choose, regardless of the time, it was made, without hassles.
Similarly, you can easily untag and tag other Instagram users in your picture or video; you can make edits or remove comments you might have made on other people's posts, make changes to location etc. 
The same cannot be said for the time and date of posts because when you create a post, Instagram instantly logs its time and date in its servers.
This makes it impossible to either make edits or modify it in any form. But don't feel frustrated or despaired; there are other methods you can try out. 
While backdating your Instagram post is not possible at the moment, there are other alternatives that will still help you achieve your goals.
If not 100%, close to that. Let's explore them in the section below.
See Also: How to Change Date on Facebook Post
Alternative Methods for Backdating Instagram Posts
Now that you know that it is impossible to backdate your posts on Instagram, what other options do you have?
Well, if you have challenges with the date of your post, you can steer clear of problems through other methods. Let's explore some of these alternative solutions that can give you succour. 
Take Down (or Delete) the Instagram Post and Re-upload it.
Let's assume you may get into trouble if one of your followers detects the date of a specific picture you have posted on Instagram; a great technique to solve the issue is to take down or delete the picture quickly.
Next, upload the picture again. We will explore how to do this in the next part of this article. 
Here's how you can successfully take down (or delete) any Instagram post:
Step 1: Launch the Instagram mobile app on your iPhone or Android device and ensure you have successfully signed in to your account if you are yet to do so.
Step 2: Navigate to the home page (where you have your newsfeed section), and click the profile icon (a miniature of your profile image) to access your profile section. You can find this in the lower right area of the page.
Step 3: When you enter your profile section, you can access all the posts you have uploaded on the platform. They will be organized in a grid. You will also find your profile image, highlights and bio. You can select any post you wish to delete/take down. Select it to display in full.
Step 4: After the post is fully viewable on your screen. Locate the hamburger icon (…) in the upper-right area (besides your IG handle and location). Select it.
Step 5: A hovering menu will pop up on your screen when you select it. You will find a menu listing for the post. The delete option will be first on the list.
As soon as you select "Delete", a confirmation popup will appear asking you if you are certain you want to continue with the action. Select "Delete" once more.
The post will be instantly wiped away from your profile. 
Please keep in mind that taking down an Instagram post is no longer a final and irrevocable process.
If an Instagram user deletes any Instagram post, it won't be found on their profile grid but will be stored in the Recently Deleted folder for a minimum of 30 days.
During this time, you can retrieve it by accessing the folder if you have a change of mind. 
The next step is to re-upload the post to your profile now that you have taken it down.
You won't have any problem doing this, especially if you have uploaded a picture or video clip on Instagram. It is very easy to do this. If you upload the post again; it will include today's date.
See Also: How to Post a Vimeo Video on Instagram
How to Post on Instagram
Select the plus "+" at the upper corner of your screen. 

Select post from the list of options on the drop-down menu.

Create a new caption (optional)

Include hashtags (optional)

Upload your picture or video.
Archive Post on Instagram
If you do not wish to delete or re-upload a specific post on Instagram, but you seek an easy way to stop your followers from viewing the date of your Instagram post, then archiving is the ideal technique for you.
It will take down the In/ post from your profile for as long as you like. If you don't know how to archive an Instagram post, here's a guide to help you get started: 
Step 1: Launch the Instagram app on your iOS device or Android smartphone and sign in to your account with your credentials if you are yet to do so.
Step 2: You'll access the home tab after you have signed in. Tap your profile image located in the lower corner of your screen. This will direct you to your profile section.
Step 3: When you enter your profile section, you will access a grid containing all the Instagram posts you have uploaded in chronological order (newest to oldest) From this grid, select the post you intend to archive and select it to display in full.
Step 4: After displaying the post in full, you will find a hamburger icon (…) on the upper right area of your screen beside your IG handle and location. Select it to access the menu listing.
Step 5: From the menu listing, you'll see the archive option on the second point. Select to archive your post. You'll be asked to confirm your choice. Select "Yes".
So that's all! Your Instagram post has been taken off your profile and is safely stored in your archive folder. Access it whenever you want. 
See Also: Does Instagram Notify When You Screenshot a Story?
How to Backdate Instagram posts FAQs
What is Instagram?
Whenever you upload any pictures or video clips to your Instagram profile, it is viewable to users who are your followers. Videos and pictures of other users you have followed will show up on your feed. 
Similarly, you can also access posts from Instagram users who you have followed at any time. Instagram revolves around sharing memories, experiences and fun times through pictures and videos.
The Instagram app is also available for free installation on your smartphone, whether on iOS devices (iPads or iPhones) or Android OS (mobile phones manufactured by Xiaomi, Samsung, Oppo, Vivo, Google and Redmi). 
How do you archive a post on Instagram?
The steps below will assist you in archiving your Instagram post:
Access the Instagram app and sign in to your account. Locate the post you wish to archive and tap on it.

Tap on the hamburger icon (…) in the upper right corner of your screen. You will see a menu listing with "archive" among the list of options.
Tap the "Archive" option. That's all! You've archived your Instagram post.
Why should I use Instagram?
Instagram is a great platform to share pictures and video clips. You can explore fun and exciting content as well as follow and interact with users of similar interests. 
Brands and businesses can effectively promote, create awareness and grow their popularity. They can also build brand loyalty through constant engagement with customers. 
Everyone on Instagram can access the followers and follower counts associated with their account. This helps to keep track of your account growth and your engagement.
You can access this data by tapping on the follower's tab on your profile. 
You can also "follow" other users by tapping the "follow" button beside their usernames. 
For users who have private accounts, it's impossible to access their content until they accept your follow request. 
Conclusion
Instagram is arguably the best social media platform today.
It can help you succeed if you want to build your career as an online personality, promote your music or photography business or grow your brand.
If you are looking for an exciting app to idle away your time on, Instagram is the ideal platform. 
This article clarifies if it's possible to backdate your Instagram post or not. It also explores other alternatives to backdating your posts on Instagram. Ensure you try them out.
Also Read: