"How do you unread Instagram messages?" For most Instagram users, this is a very pertinent question.
Instagram has emerged as the biggest social media platform for business growth and brand awareness after Facebook. In the past, it was difficult to rectify the challenge via the official app.
But today, you can easily unread Instagram messages through your account.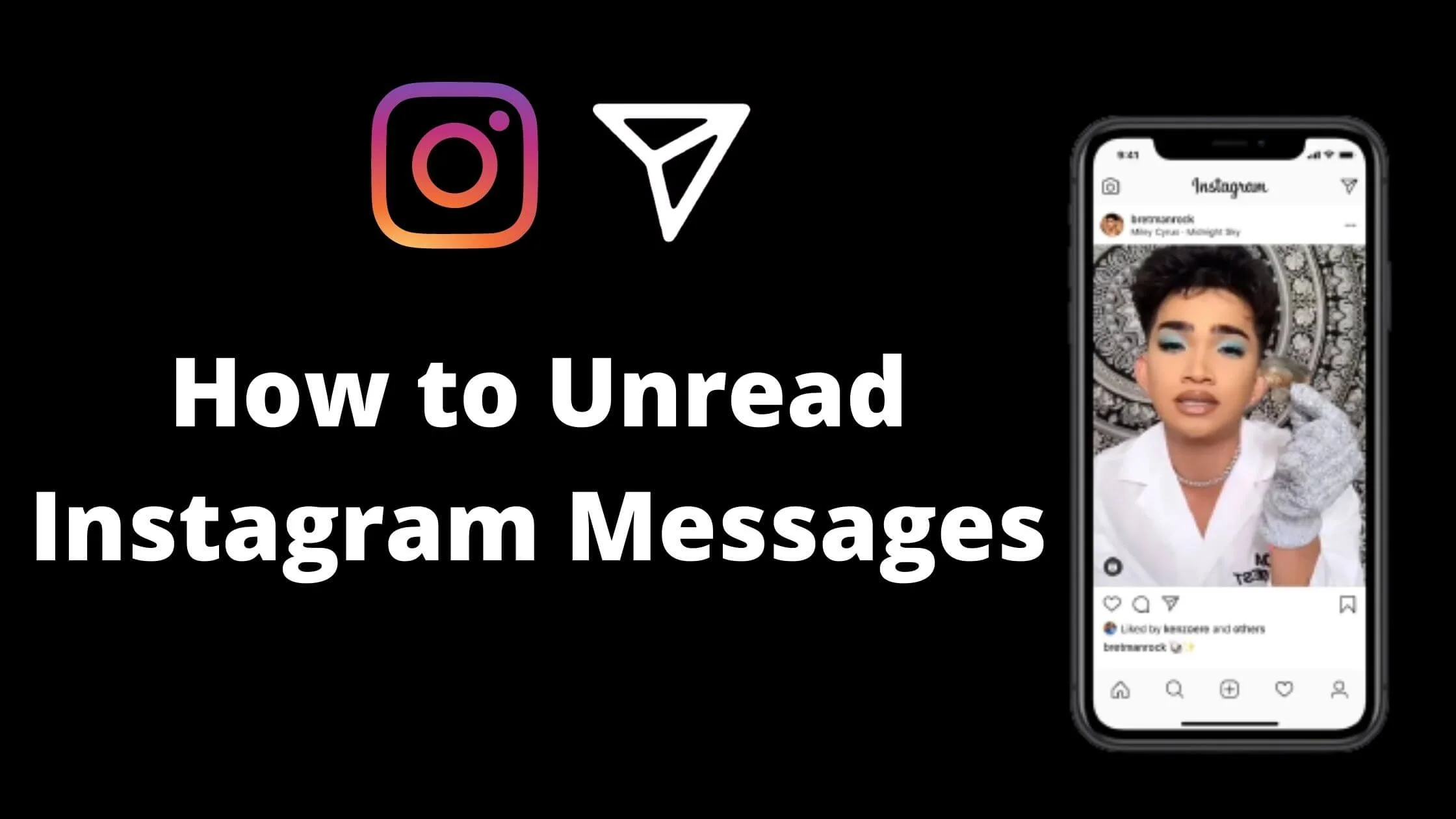 Still, some Instagram users are still confused about this problem. This is because anytime somebody unreads an Instagram message, the seen receipt will still be present.
This implies that the seen receipt will still be visible, but Instagram will list the message as unread. In this regard, you will have to focus on the message. 
However, what will you do if you can't access this feature? Or how do you eliminate the seen receipt from read messages?
The amazing thing is that this article presents you with all the strategies to unread all the direct messages in your inbox. 
We will explore permanent ways to classify your Instagram DMs as unread so you can revert and access them at any time. 
See Also: How to Fix Instagram Says I Have a Message But I Don't Notification
Is it Possible to Unread Messages on Instagram?
Only an Instagram business account will enable you to access the unread messages feature. In spite of this, to unread any Instagram message is a complex process.
As we have stated earlier, the feature that enables users to unread messages is available exclusively to business account users.
Instagram introduced the feature not long ago, and it has met widespread acceptance from everyone on the platform. 
If you access the Instagram business account, two tabs will be available in your inbox: primary and general. You will find users who are deemed valuable or significant in your primary tab.
Many people prefer adding their family members, close friends and colleagues to this tab. Whenever messages from primary tab users hit your inbox, a notification will be sent to you.
However, you will not receive any notification when users who are listed in the General tab drop a direct message in your inbox. These messages are stored in your inbox indefinitely.
Feel free to access them whenever you like. A huge benefit is that the default message tab in your inbox is the primary tab. So, you can only read the general messages when you want. 
How Do You Unread Instagram Messages Using the Official App?
There is a way you can unread Instagram messages via the official app. Let's analyse it!
It's easy to unmark your messages regardless of whether they're in the general or primary tab. 
To use your business account, follow the instructions below:
Access your Instagram app, navigate to your inbox, and select the upper left panel of the screen.

Tap the messages you wish to flag as unread. Afterwards, select "More".
Quick tip: After you have accessed your inbox, look for the message you wish to unread. Select and press hold on the message for two to three seconds, and you'll find a drop-down menu with a list of options.
Lastly, select the "mark as unread" option.
Once this is successful, you will observe that there is a blue marker next to the message with a notification number.
However, you must note that the unread mark won't appear in the sender's inbox as well. 
The aim of this feature is to monitor and be aware of messages you may have lacked the time or opportunity to adequately read or reply to.
Furthermore, Instagram desktop users can't access this feature at this time. 
What if you don't have a business account? Is there a strategy to unread Instagram messages on a private account? Or can you eliminate the read receipt easily for this type of account?
We will be addressing all these questions shortly. 
See Also: How To Send Direct Message To Private Instagram Account
Unread Instagram Messages If You Don't Have A Business Account
Let's answer the question of whether you can unread Instagram messages on a private account. We want to reiterate that the feature to unread messages on Instagram is exclusively available to business accounts. 
However, most people set up Instagram accounts for private use. They do not feel the need to use a business account. If you were one of those, what would you do in this situation?
Will you be able to unread messages on Instagram?
Absolutely! You can get around this challenge via the app. Anytime you restrict an Instagram user, messages sent to you via their account will be flagged as requests. Thus, if you access them, they won't be classified as "Read".
To mark messages as "unread" on your private account on Instagram, use the following strategy:
Access your inbox; locate the messages you intend to unread.

Afterwards, on the upper right panel, select the hamburger icon and select "restrict".
Next, validate your actions.
Please note that this technique is largely inefficient because it limits your ability to engage with other users, and you may breach Instagram's daily limit. Is there a superior alternative? 
How to Unread Instagram Messages with a Third-Party Tool (AiGrow)
AiGrow
AiGrow is the most sophisticated tool for marking an Instagram message "unread" for those without a business account. It is better than restricting messages from other users or even evidence such as read receipts!
Through AiGrow, you can interact with Instagram messages within your email inbox. This allows you to easily directly message other users via your computer without any proof of accessing unread messages!
AiGrow is one of the best tools to enhance your Instagram engagement and growth rate. It is also used by many as a profile management kit that facilitates better control of Instagram DMs.
Here are some other things you can do with AiGrow:
Boost your followers on Instagram

Automate IG stories and posts

Schedule IG media content repost

Administer multiple accounts simultaneously

Explore trendy and hot Instagram hashtags. 

Host and schedule giveaways and promos on Instagram

Facilitates online business on Instagram. 

Synchronise your Instagram messages with your email. 
AiGrow is a powerful tool for interacting with Instagram messages via your email inbox. Email services have capabilities for flagging, categorising and marking messages as unread, read or important. 
As we noted before, whenever Instagram messages are "unread", it does not remove the read receipt. But AiGrow rectifies this problem.
The tool enables you to easily unread your Instagram DM without detection by synchronising your Instagram account with an email address. 
To utilise AiGrow to unread Instagram messages, do this:
Set up a free account. 

Access your profile dashboard and sign in to your Instagram account. Also, you can simultaneously add and administer multiple accounts. 

Afterwards, tap the "Manage Account" option.

Next, Navigate to the "DM to Email" section and input your desired email id. 

A verification code will be sent to your email inbox. Select the link.

Congrats! You've synchronised your email inbox with your Instagram messages.
This sets up your email to receive your Instagram DM. Every time you get Instagram DMs, you will get notifications via your email. 
This feature will enable you to interact with your Instagram DMs. This means you can respond to, send or even access your messages via email. 
Similar to your email, you can reply and send Instagram DMs. The messages received will be exactly like your email. Thus, it will be far easier to unread them. 
This will help you get around the unread challenge because you can read your Instagram messages without them being marked as unread. Better still, you can review your DMs with ease and convenience through this technique. 
Lastly, AiGrow is a great tool to circumvent this "unread Instagram messages" challenge as a private account because DMs won't be recorded as seen.
The tool is also available for download in your respective Android and Apple app stores. 
See Also: How to Disable Direct Messages on Instagram
Unread messages on Instagram FAQs
What is The Best Way to Turn Off Seen On Instagram?
According to many erroneous reports online, anyone can toggle off Instagram read receipts via settings. This is false. If it were that easy, this article wouldn't have been necessary. 
On Instagram, there is no straightforward technique you can use to toggle off Instagram read receipts.
As we have stated previously, using AiGrow is a nice way to get around this challenge because you can interact with your Instagram messages via your email.
Thus, no evidence of read receipts will show in your inbox. 
How Do I Check My Instagram Unread Messages?
In the event that your inbox is replete with unread Instagram messages, it will be helpful to understand how to check them. Here's how:
Launch your Instagram app

Access your Instagram inbox via your feed.
Select the chat, and your messages will be displayed.
If you need to access those Instagram messages with no read receipt showing, you have to use Instagram growth tools like AiGrow. 
Why Can't I Unread Instagram Messages?
The unread Instagram messages feature is not for everybody. It is exclusively available to Instagram business account holders.
Thus, you will have to set up a business profile to enjoy this feature. If you currently use a private account, you won't have access to the "mark as unread" feature. 
See Also: How to Reply to a Specific Message on Instagram
How do you search for unread texts on your iPhone?
You can use the messages app to easily locate any unread messages present on your iPhone. The messages will be organised in chronological order for the purpose of ease and accessibility. 
Are there read receipts on Instagram?
Are there read receipts on Instagram? Absolutely. There are read receipts on Instagram. If somebody accesses the message you have sent them, you can check if they have opened it.
Conclusion
You can only mark messages as unread via an Instagram business account. For users with private accounts, you can get around this challenge via AiGrow.
This will help you synchronise your Instagram messages with your email and access unread messages easily. 
Also Read: