Instagram has been a huge success for businesses and has played a major role in connecting people.
It's one of the best social media platforms out there for marketing and growing your business.
However, as with all social media, it's not without its issues. One of the biggest problems with Instagram is that it doesn't always load images correctly.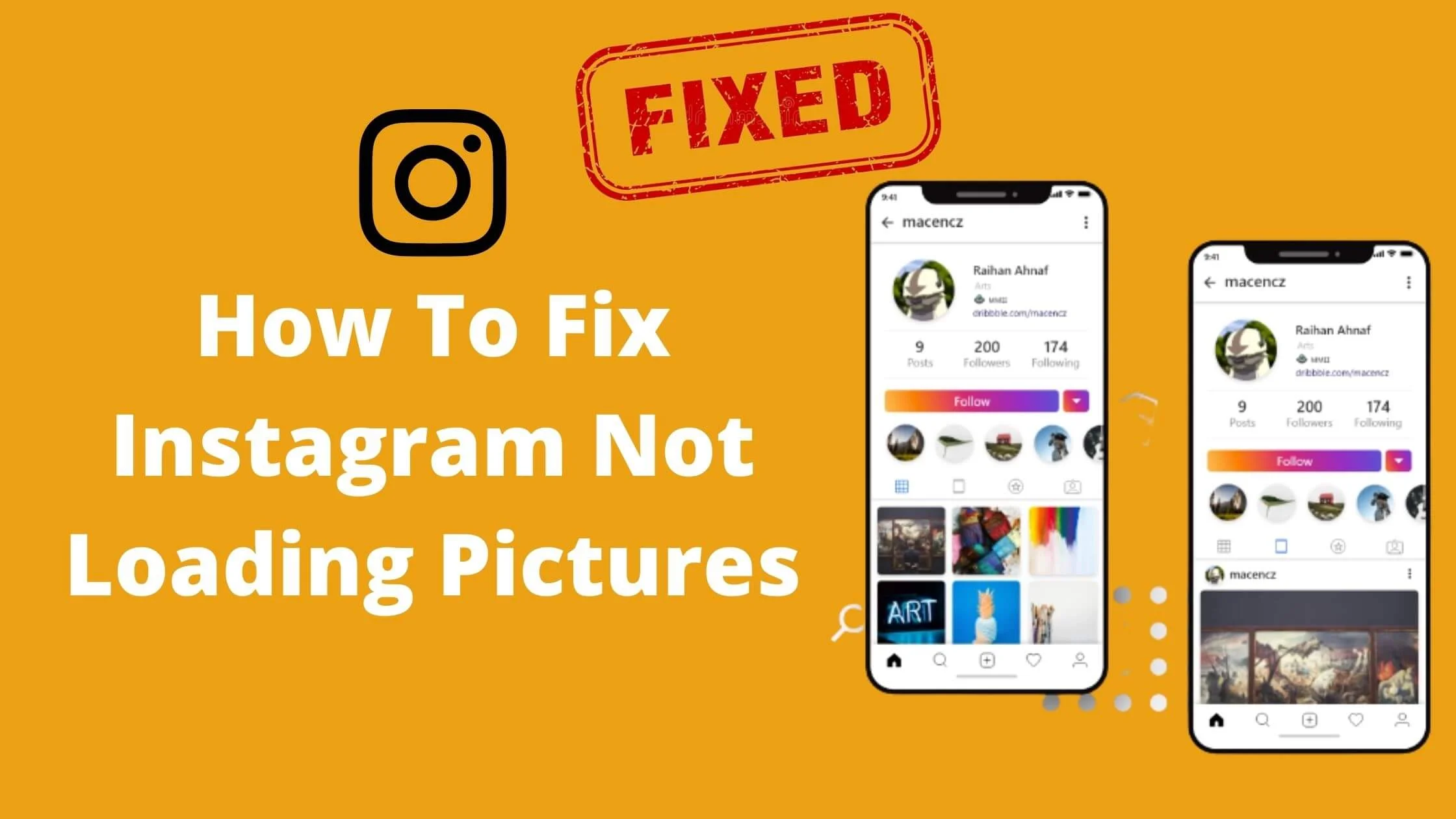 This can cause a few problems, from images not loading on Instagram at all to having a very slow loading time.
The good news is that there are some simple things you can do to fix it.
To help you get to grips with what's going on, we've put together a step-by-step guide on how to fix Instagram not loading pictures.
We'll walk through what to do when your Instagram images don't load and what to do if your images are taking too long to load.
See Also: How To Fix Snapchat Can't Load Image
How to Fix Instagram Not Loading Pictures
If you're experiencing Instagram not loading images, then you're a few steps away from getting this issue resolved.
It can really be annoying when you want to view a picture on Instagram and it doesn't load.
Below are the ways to fix Instagram pic not loading.
Restart Your Smartphone
The first solution that requires no technicalities in resolving Instagram photos not loading is to restart your mobile device.
Perhaps your Instagram app isn't loading correctly, then is step can fix it. This method has been shown to resolve most issues with the Instagram app, and it is highly recommended that you try it out.
Below is how to restart your smartphone and fix image loading issues on Instagram.
How to Restart Android Phone
It takes few minutes to restart your Android phone. Simply follow the steps below:
Find the power button.
Press and hold it until you see restart on the screen.
Next, tap on the restart.
That all. Your smartphone will be restarted.
This step will fix Instagram not loading pictures on Android.
How to Restart iOS Device
Just as it takes a few steps to restart Android devices, the same applies to iPhones.
To restart your iPhone or iOS device, simply follow the steps below:
Click on the volume up or down simultaneously with the power button until the phone screen becomes black.
This will restart your device and help you fix Instagram not loading pictures on iPhone.
 See Also: How to Pin a Comment on Instagram Feed, Story and Live
Clear the Instagram Cache
A cache is a minute part of RAM memory that stores a copy of information or data.
It is designed to increase the system's performance by speeding up access to data and programs without having to reach out to the core memory.
When your phone cache is full or corrupted, Instagram pictures won't load. To fix this issue, clear the cache of the Instagram app.
How to Clear Instagram Cache on Android
To clear the Instagram cache on Android, follow the steps below:
 Open your App Settings.
Tap on Apps & Notifications.
Locate the Installed Instagram app.
Click on Storage.
Finally, tap on Instagram clear the cache.
This will erase all cache of the Instagram app from the local phone's storage.
How to Clear Instagram Cache on iPhone
Go to the Settings App first.
Next, Navigate to General > iPhone Storage > Scroll down to locate the Instagram App.
Now, you can see the app's data, tap on "Delete App".
Proceed to confirm to delete the app and then you will get the Instagram cached files deleted.
Check Your Wi-Fi Connection
Most Instagrammers have complained about Instagram not loading pictures on WiFi.
If you have a poor Wi-Fi connection, it can cause Instagram images not to load. Hence checking your network connection is very important.
To fix Instagram pics not loading, simply restart your wi-fi device and see if Instagram not loading images is resolved.
Change Your WiFi DNS
Perhaps your internet connection is pretty good, it might be that your domain name system is unstable.
In this situation, you will have to change your nameserver to resolve this issue. Perhaps, changing the DNS of will fix Instagram not loading pictures.
How to Change WiFi DNS
Go to Settings of your smartphone at the upper section of your screen.
Tap on the connection tab where you see the WiFi.
Proceed to click on the WiFi and choose Advanced options.
Find the IP setting section, and Switch DHCP to Static.
Navigate to the DNS2, delete the previous IP and enter 8.8.8.8. In the same way, on DNS2, enter 8.8.44.
Lastly, tap on save changes.
See Also: How to Hide Reels from Someone on Instagram and Facebook
Re-install the Instagram App
Perhaps all of the above methods do not work, the problem is with the Instagram app. It could be that your app is running on the older version.
If the Instagram app isn't functioning properly, simply update or reinstall the app.
Follow the steps below to re-install Instagram App:
Goa ahead to delete the Instagram app
Open your Play Store on Android and App Store on iPhone device
Next, search for the updated version of Instagram.
Download it and Install the app on your device.
This will fix issues with Instagram not loading pictures from the gallery.
Pause Ad Blockers
If your device is rooted and you have an Adblocker installed, it can cause Instagram not to load pictures.
Make sure that the Ad Blocker is running in the background or paused for Instagram. Once done, restart the Instagram app.
You should be able to load Instagram images properly.
See Also: How to Know if Someone Restricted You on Instagram
How to Fix Instagram Not Logging Issues | Can't Log into Instagram Connection
A lot of Instagram users have raised complaints about login.
Even more annoying is that most Instagrammers have reported this issue of not being able to connect to Instagram and it's happening every moment.
If you're having a similar issue, no worries. Below is a comprehensive step-by-step guide to help you resolve the problem and enjoy Instagram again.
So, let's get started on how to fix Instagram's not logging issues.
Review Your Username and Password
The first thing you have to check when you're having issues with Instagram not logging in is your username and password.
If you enter the incorrect login details, you may be kicked out of the account. Hence, the reason why you see "wrong username/password" error message that displays on your screen.
Maybe you are unable to remember your Instagram password, you will be required to change it in order to gain access to your Instagram account.
If you still having trouble logging in, please contact Instagram support to resolve your issues.
Check Your Internet Connection
One problem with Instagram is that it's sometimes difficult to log in. This usually occurs when you have a poor or unstable internet connection.
Your login details might not be read completely by the system due to interruptions by the bad network.
Once you have examined your internet, go ahead to restart your Wi-Fi device. If that does not work, then reach out to the Instagram support specialist to look into the issues from their end.
Don't Use VPN
If you're accessing Instagram over VPN, you may experience login issues.
The fix to the Instagram login issue is to stop the use of a VPN and connect to another network before logging in to Instagram.
Perhaps you have installed any kind of third-party apps connected to your Instagram, please delete it.
Third-party apps can clash with the Instagram app which makes you get an error message while logging in to your account.
You can delete these apps and login to Instagram. Once done, you can reinstall the various apps again.
If that does not work for you, then try the next method.
Shut Down and Re-open the App
Maybe it sounds silly, but shutting down and re-opening the Instagram app can fix the issues with Instagram pictures not loading.
This procedure will enable the app to sync with the server, which will help Instagram images load again.
Reactivate Your Instagram Account
If you have a deactivated Instagram account, you won't be able to access your account.
Maybe it hasn't reach 30 days since the deactivation, and the username and password can be used again.
However, if the Instagram account has been deactivated for more than 30 days, you will not be able to access it.
See Also: Instagram We're Sorry Something Went Wrong [FIXED]
Instagram Loading Issue FAQs
Why are Instagram feeds not loading for me?
This is a very common issue resulting from Instagram glitches. There are a couple of steps to take which include, restarting the app, clearing Instagram cache, re-installing the app, stopping the use of VPN and Ad Blocker etc.
How do I download Instagram?
You can download and Install Instagram by simply going to Google Play for Android users or App Store for iOS users.
Why does my Instagram app keep closing itself?
There might have been a recent update on Instagram that is causing your app to crash. Makes sure that your app is updated to the latest version.
Why is Instagram not Loading Pictures in DM?
This could result from a poor internet connection, an Instagram glitch or a bug in the system. Not running on the latest version of Instagram may cause Instagram not to load images in DM.
Conclusion
Instagram not loading pictures can be frustrating especially when you want to view a very important photo.
Following this guide, you should be able to fix issues with Instagram not loading images on your gallery.
Also Read: