An Instagram Reels account gives you access to thousands of endless short-form content.
This is what every Instagram user enjoys, but at times one can be overwhelmed by the sheer amount of content.
If you see an interesting video on Instagram Reels, you'd like to save or download it. This is not far fetched as it is incredibly easy to download Instagram Reel content.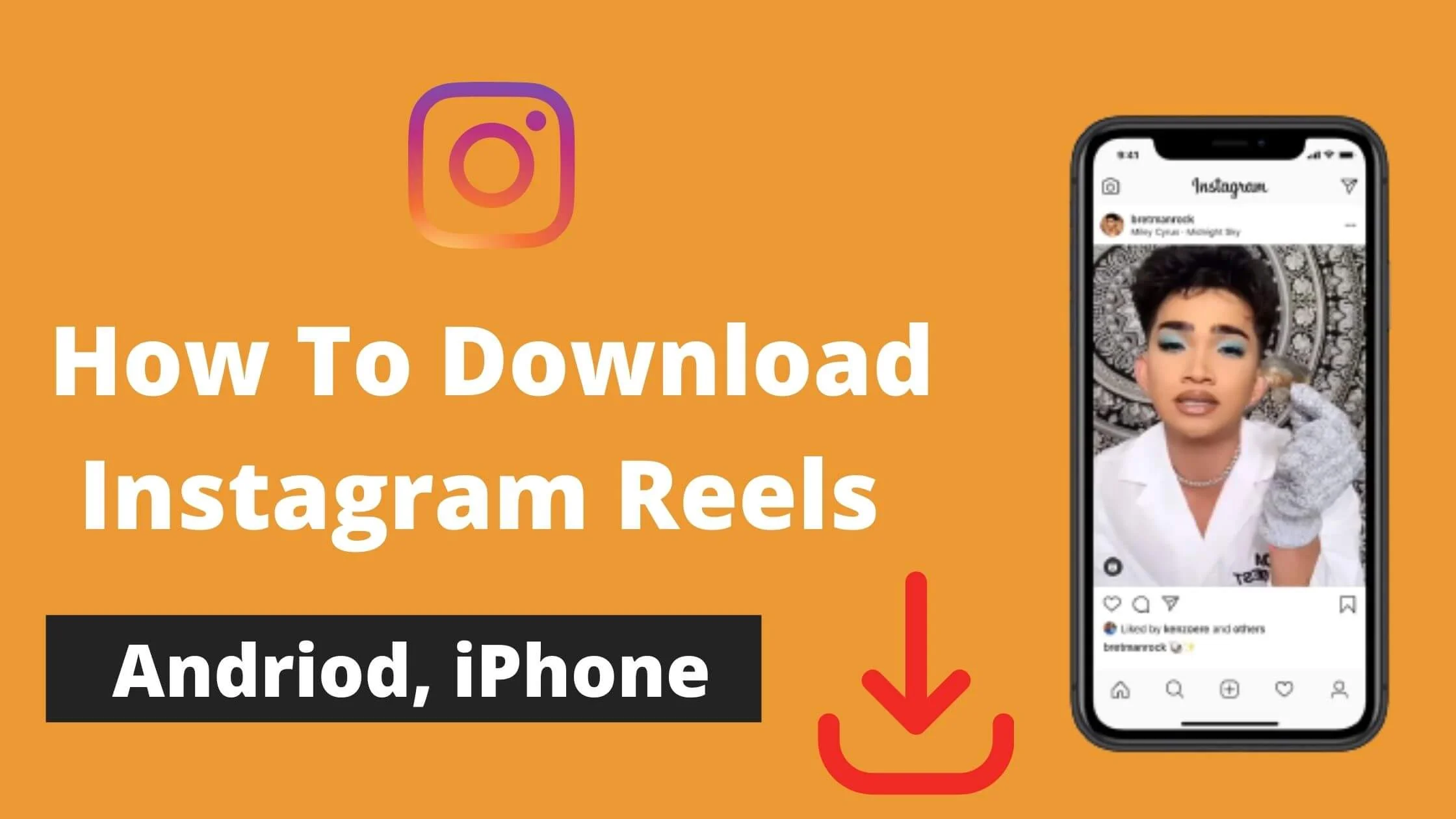 This article will explore strategies you can use to download Instagram Reels on your iPhone or Android smartphone. 
How to Save Instagram Reels
The steps below explain the strategies you can use to save Reels videos within the Instagram app.
Launch the Instagram app.

Select search for the Reels video you are interested in downloading.
Another method is to navigate to a user's profile and select the new Reels page ( positioned beside the IGTV tab). Tap the Reels video you intend to download.
As soon as the video load time is over, select the three-dots button.
Select Save.
To check out the saved Reels video, navigate to Instagram's main screen. Select your profile button.
Select the three horizontal icon.
Select Settings, then account.
Head to the "Saved" option.
You will access all the videos you have previously saved via the All Posts folder.
See Also: How to Download Facebook Reels Video on Android & iPhone
Easy Way to Download Instagram Reels on Android Smartphone 
There is an easy way for Android smartphone users to save Instagram Reels video to their device's internal storage. Here's the step below:
Open the Google Play Store app.

Search and download the "Video Downloader for Instagram – Repost Instagram."
After downloading the app, launch it.
Configure the settings to your preference.
Log into Instagram.
Tap on the Reels video you intend to download.
Afterwards, copy the link by selecting the three-line symbols.
Launch the newly installed Video Downloader for Instagram. You will see that the copy link will be automatically inserted into the field.
Next, launch your gallery app. You will see the downloaded Reels video. The video can be freely customised or sent to friends and loved ones.
Easy Way to Download Instagram Reels on iPhone 
We want to analyse a mobile application that enables you to download Instagram reels onto your iOS device. Here's how:
Launch the App Store.

Search and Install "InSaver for Instagram."
After downloading, access the app, customise its settings.
Once the app is properly configured, log in to Instagram, tap the Reels video you intend to save in your phone library, open the video.
At this point, tap the three-dots button and select the "copy link" option.
Launch the newly installed InSaver for Instagram app and check out the copy link that has been instantly pasted.
Select the Save video button to download the short video to your device gallery.
See Also: How to Add Music to Instagram Story or Post
Best Third-Party Tools for Instagram Reels Download
There are third-party apps to download Instagram reels. Below are some of  them:
Inflat
Simplistic and Powerful Reels Video Tool
Inflat, previously named Ingrammer, is among the most effective platforms for simple downloads of Instagram Reels videos. 
The tool's best feature is that it lets you save video clips directly to your smartphone, windows pc or MacBook, iPad etc.
Inflat also has a powerful algorithm that facilitates easy downloads of content from other well-known social media sites like TikTok and Facebook. 
Additionally, the site also enhances your Instagram account's engagement and growth using certified techniques. However, if you are interested in Instagram growth features, you will need to pay for a subscription package. 
It comes with an auto-reply feature, optimal hashtag generator, and lead generator automation feature. You can get even more goodies on the premium subscription. 
Here's how to download Instagram Reels with Inflat:
Launch the Instagram app and navigate to the Reels section. 

Identify the Reels video you are interested in downloading. Afterwards, tap on the hamburger icon to copy the link. 

Access the Inflat tool. Navigate to the tools page. You'll see the Instagram reels downloader on the page.

Paste the link you copied into the download video field. The tool will locate the video and display a snippet of it.

Once you tap "download", your Instagram reels video will be Instantly saved to your phone gallery.
Story Saver for Instagram
Instagram Story Downloader – Top Instagram Reels Video Tool for Android Smartphone Users
For Android smartphone users, this is a good tool for saving Instagram Reels without any complication or hassle.
You can install Story Saver for Instagram. It has over a hundred thousand downloads. You can use the tool to save Instagram Reels to your phone in less than a minute. 
The app also has other features. For instance, the app lets users download Instagram videos and Instagram stories. With one or two clicks, you can store images and other content. 
You can also download photos and video clips from restricted or private profiles. There is also a multiple download feature that allows for hitch-free download of numerous videos simultaneously. 
Here's how to use the tool:
Head to the Google Play Store and search for "Instagram story downloader ". Alternatively, install the tool via this link. 

Next, launch the Instagram mobile app and select the Reel you are interested in downloading.

Select the hamburger button at the lower part of the Reels, tap Share. 

Next, post the video link to the Downloader for Instagram app.

Once you tap the download option, launch the app.

The video will be promptly downloaded. 
InSaver App for iOS
A Quick and Powerful App to Save Instagram Reel Videos on Apple Smartphones.
For iPhone users, this is a unique tool to save Instagram Reel videos to your phone library. The tool has plenty of features that allow easy sharing of content on Instagram.
You can copy and save Instagram pictures and videos. 
Additionally, the tool gives you access to hundreds of thousands of hashtags to increase your account engagement. This is important for brands and social media influencers who want to grow their audiences.
It is easy to locate the app, simply navigate to the Apple App Store and search for "InSaver app". Install it. 
Here's how to save an Instagram reel via the app:
Launch the app 

Access the reel video you are interested in downloading.

Tap the hamburger button to copy the Reels video link.

The link will be instantly pasted on the InSaver app.

Tap the "Opens" button. Next, select "share" and tap "save" to download the reels video on your Apple smartphone.
Instadp
Fantastic website for Reels Video Download.
Instadp stands out as one of the best Instagram Reels video downloaders. It allows anyone to save video on their smartphone or desktop computer.
All you have to do is paste the link of the reels video into the site, and your video will automatically be saved. 
This website is completely safe to use, free of malicious ads and popups. You can easily save Instagram stories with similar tips. Simply copy and paste the reels video. 
Here's how to save Reels video via Instadp:
Launch the Instagram app and navigate to the Reels tab.

Tap on the Reels Tab. Once you see a video you like, tap on the hamburger icon to copy the video URL link.
Access the Instadp platform and paste the Reels link into the search area. Tap on the  "Download" box below.
You will find a preview of the Reel video and a download option beside it. Tap "Download" to save the video.
Igram.io
Instagram Reels Video Saver with Uncluttered and Simple UI 
A lot of users are seeking a top Instagram Reels video downloader that has a hitch-free and smooth interface. Igram.io is the optimal solution.
It has a sleek layout, easy-to-navigate and uncluttered UI. The website can easily be accessed via smartphone and desktop computer. 
Here's the step you can use to save Reels video on your phone via the platform:
Launch the Instagram app and tap "copy" on the reels video link.

Browse the Igram.io site
Ensure you correctly insert the Reels video link via the paste button.
Next, tap the download button.
Instantly, the reels video will be saved to your phone's internal memory.
Download Instagram Reels FAQs
What are the benefits of using Instagram Reel Downloader?
We live in an attention economy, and short-form video content is like a drug to most people. It takes a few seconds to create this type of viral video.
Hence, hundreds of thousands of videos are uploaded daily, ranging from informative to hilarious to entertaining. At times, it can be hard to keep up with the amount of Reels videos posted on Instagram. 
If you find a reel video that appeals to you, you might want to download it on your phone for later viewing.
This might seem impossible as Instagram does not permit direct download from their platform to your phone. Hence the need for a third-party reels download tool. 
Most of these tools are easy to use, seamless and safe.
How do I upload a video from Instagram Reels to Facebook?
Instagram facilitates easy sharing of Reels clips with other social media platforms like Facebook. The good thing is that there is no need to download the video to your phone library before sharing:
Here is how to do it:
Launch the Instagram app. Navigate to the Reels tab. 

Next, select the hamburger menu and choose the "Post to other apps" option. 

Tap the button beside the Facebook icon to share the Reels video.
If I save an Instagram Reels video, would the owner be notified?
The user will definitely be notified when they access their content. Most third-party tools will never request you to input your sensitive details.
This means you can fully save someone's Instagram reels while being fully anonymous. 
You can save your reel video privately without the fear of the user finding out that you have downloaded their content. 
Conclusion
Instagram Reels is a wonderful channel for social media influencers and content creators to grow their popularity and market appeal.
In this article, we have instructed you on how to download an Instagram Reels video to your phone library. 
Also Read: