If you're very active on Facebook, you must have noticed the "Reels and Short Videos" section on your Facebook News Feed.
With the introduction of Facebook reels, the engagement rate on the platform has increased.
Not only can you watch Facebook reels, but you can also watch Instagram reels on Facebook. You can find the "Reels" tab displayed alongside other shortcuts.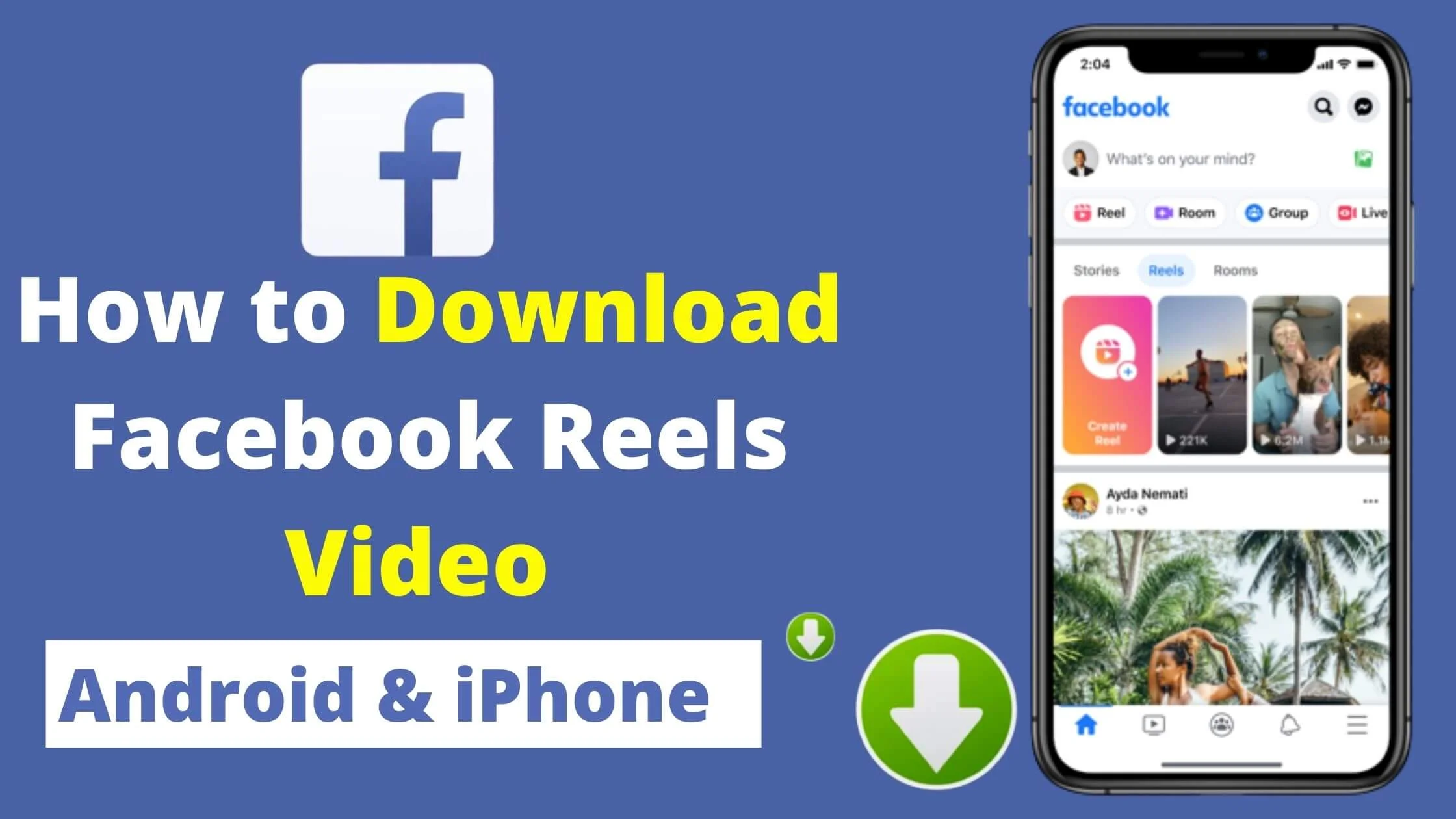 Facebook has a lot of videos uploaded daily, and this can be a real challenge to sift through all the content.
It becomes more challenging when you want to download reels video on Facebook to watch offline or on other platforms.
In this article, you will discover how to download Facebook reels video easily.
See also: How to Save Videos on Facebook to Your Phone or PC
Can I Download Reels Video on Facebook?
There's currently no official way to download Facebook reels video. However, there's a workaround to download videos on Facebook.
With lots of third-party services, downloading all forms of video, including reels, has become much easier.
How to Download Facebook Reels Video with Music
To download Facebook reels video with music, follow the steps below:
Open your Facebook app and log in to your account if you haven't.
Navigate to the "Reels" tab and search for the reel you desire to download. If you want to find the reels that you posted, click on your profile at the upper right section of your screen and locate the "My Reels" section.
Click on the three-dot icon in the lower-right section of your screen.
Choose "Copy link."
Navigate to an online downloader site like fdown.net.
Paste the URL of the Facebook reels video that you copied into the section provided.
Next, tap on "Download."
Tap and hold the "Download Video in HD Quality" and select "Download Linked File" to download the reel.
Once you have downloaded the video, open your file manager and go to "Downloads."
Open the reel file downloaded and click on the "Share" button.
Next, click "Save Video" to save the Facebook reel video to your photo application.
Note: These steps to download Facebook reels are applicable for both Android and iPhone.
How to Download Your Own Reels from Facebook
Did you know that Facebook has an in-built feature that allows you to download your own reels video?
Yes, you can. However, it does not allow you to download the reels with the audio added from Facebook or Instagram music library.
The original reels audio will be saved to your gallery with music.
To download your Facebook reels video, follow the steps below:
Open your Facebook app and log in to your account if you haven't.
Navigate to the menu section and click on the "Reels" shortcut.
Click on your Facebook profile photo in the top right section of your screen.
Below the "My Reels", launch the reel video you desire to download.
Next, click on the three-dot icon in the bottom-right corner.
Tap on the "Download reel" option.
That's all. The Facebook reels video will be automatically saved to your smartphone's storage, and you can access it via the gallery or photo app.
See Also: How to Download Instagram Reels
Why Can't I Download Reels From Facebook?
If you are trying to download other reel videos on Facebook, there's no official way to do so, except if you use third-party apps like fdown.net.
Perhaps you are having issues downloading your reels. You can contact Facebook live chat support to help you fix the issue in real time.
Best Tools to Download Facebook Reels Video
Fdownloader. Net
FDownloader.Net is one of the most reliable Facebook video saver tools. It is only good for saving Facebook reels.
The most amazing thing about the platform is its ability for users to use the website to save Reels video clips in the highest quality without any hassles.
It also has multi-device support, which means you can easily access the platform on your PC, iOS device or Android.
FDownloader helps you quickly save Reels videos directly from the Facebook website.
A lot of people use the online tool because of its ability to save their preferred Reels videos without any loss in quality.
Here are some features of FDownloader:
Easy to use and fast
This Facebook Reels downloader lets you save Reels videos in an easy and quick manner.
Multi Format support
Save Facebook Reels videos in .mp4, and .mp4 format on mobile devices (Apple and Android) and PC (Windows and Macintosh).
Zero cost
The tool is completely free to use. You can save your Reels video for offline viewing without worrying about the cost. The site has some ads for maintenance and revenue.
Fbdownloader.app
Fbdownloader.app is a great tool that lets you save Reels video on Facebook, simplifying the process of downloading Reels content in high definition, 1080p, 2k, 4k and even 8k with audio intact.
It is one of the few tools that allows you to save Facebook Reel videos of this kind of quality.
The Facebook Reels Download tool lets you quickly download Reels clips from Facebook to your smartphone or PC, regardless of the format.
All you have to do is paste the URL of the reels into the field provided on the tool, and you are also free to save any Facebook Reels video.
Multi-device support for computers, iPads and smartphones. Use any web browser to save Facebook Reels videos. Installation of any sort is not required.
How to save Facebook Reels videos to your device using the Fb Downloader app.
Access the Facebook mobile app or use your web browser to visit the Facebook website.
Locate the video you wish to save and select the share option under the video and select the copy link button.
Navigate to Fbdownloader.app. Paste the URL of the reels video you have copied into the space provided and select the download option.
Select your preferred format, select the download option and hold for a few seconds for the file to download to your smartphone.
FBdownreels
FBdownreels is a platform designed to assist users around the world to save their favorite Reels videos quickly without requiring them to utilize any tools or applications, at no cost, directly to their devices.
FBdownreels is a platform created to save new videos on Facebook in high-quality and real images.
Features:
Save audio in great quality.
Download the video quickly to your PC, mobile device or iPad.
FBdownreels is user-friendly and simple to use.
FBdownreels is totally free to use.
The website assists you in saving videos from Facebook without requiring the installation of another app. All that is needed is to open your preferred web browser and visit the FBdownreels website.
There is no cap or limit to how often you can download Reels videos daily.
The website is fully secure since it doesn't require your Facebook data or the presence of cookies.
It is highly functional irrespective of your browsers like Safari, Firefox, Chrome or Opera, and it offers multi-device support and operating system without restriction.
The website offers you preview mode after inputting the URL of the Reels video you wish to save just prior to the beginning of the download.
FBdownreels supports both Android and iOS devices.
No need to install any software or tool.
Lastly, all saved videos are without loss of quality or compression (No reduction in picture quality)
How to use FBdownreels to save Facebook Reels Videos to your device:
Copy the URL of the Facebook Video Reels you wish to save.
Select the hamburger icon or share option and then select copy link.
Paste the FB Reels Video URL
Access fbdownreels.com. Next, paste the URL of the video you wish to save in the space provided in the fbdownreels platform, and lastly, select the download option to start viewing the video offline.
Snapsave.app
SnapSave is among the most widely used Facebook video-saver platforms. As the leading tool for saving video, SnapSave will offer you top-notch video quality, rapid speed and an excellent user interface. It supports mobile devices, both iOS and Android OS. You are not required to download any app.
Features:
Speed
The SnapSave website assists you in saving high-quality videos at optimal speeds.
Multi-device support
Support devices of all types (smartphone, desktop or iPad) and any OS (Windows, Macintosh, iOS, Linux and Android
Free
SnapSave downloads all Reels videos for free. The website has ads to grow and maintain the website.
How to use SnapSave to download FB Reels videos:
Locate the Reels videos you wish to download. Copy the video link by selecting the share option and tapping Copy Link.
Copy and paste the Reels video link into the space provided.
Lastly, choose the format and select the "download" button.
Conclusion
Facebook Reels is one of the most powerful features to gain visibility and also consume content of all types.
Follow this guide on how to download Facebook reels video. You should be able to save reels video from Facebook easily.
Also Read: