As a Facebook user learning that there is a job section on Facebook that can make it possible for you to create and publish a job post, is a great discovery.
Not until you tried making use of the feature and encountered difficulties.
It can be frustrating to not be able to make the job post you desperately need to fill a vacant space in your brand. What do you do if making a Job post is not working?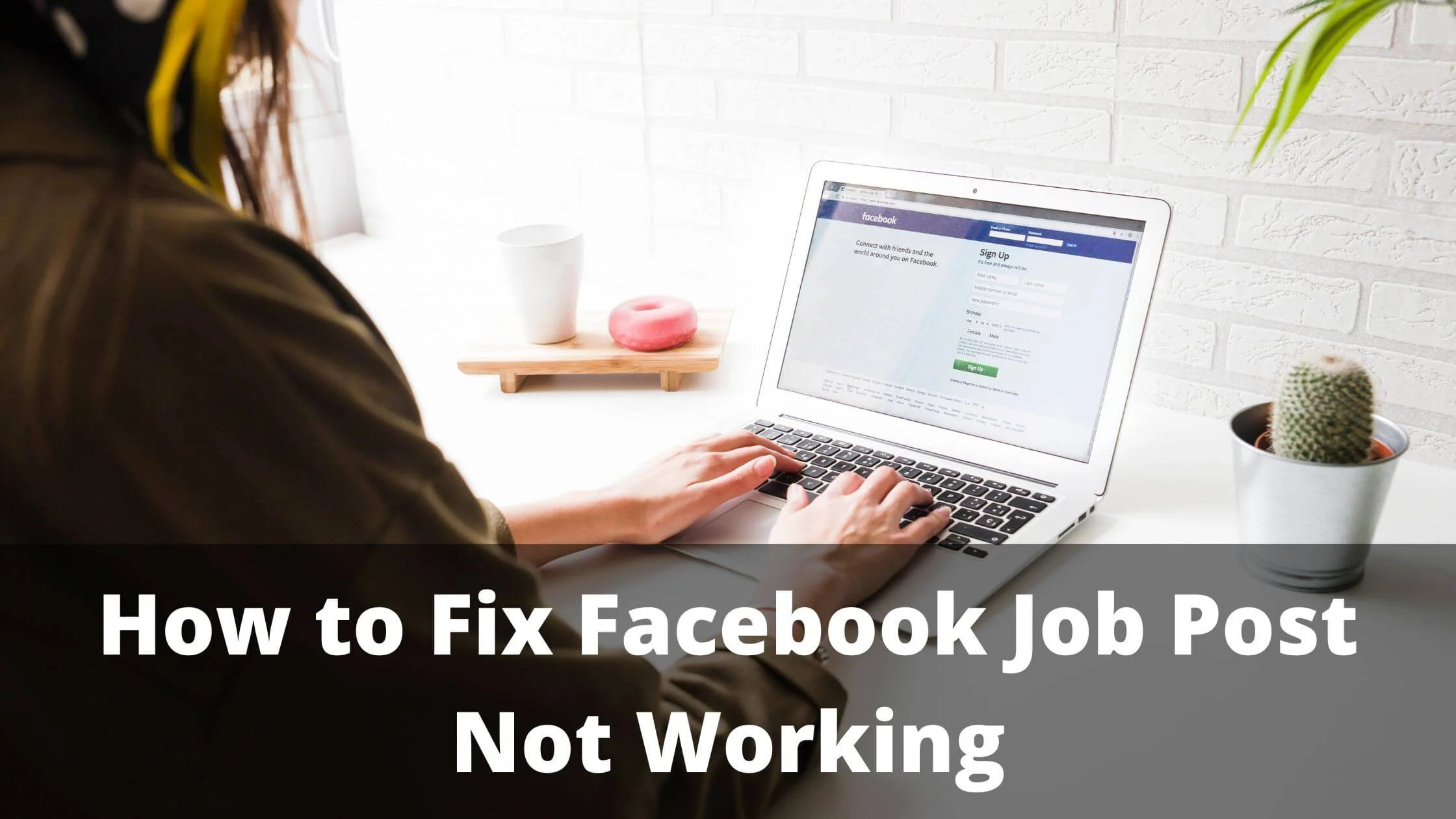 In this article, different situations where a job post on Facebook may not work will be examined with possible solutions to the problems.
What Happened to Facebook Jobs
Before going further into the main subject of this article, it is important to draw attention to the latest development as it regards the job section on Facebook.
This section was reviewed and no longer provides services for Facebook users who are not based in America and Canada as of February 2022.
This means, that Facebook no longer makes your job post available to the public from the jobs section of the platform.
However, people can still view a regular job post made on your business page irrespective of your location.
How to Fix Facebook Job Post Not Working
If you are having problems making a job post on your page, these are the possible causes and solutions.
Posting From an Account
Facebook does not permit a regular account to make a job post.
Therefore, the first question you may have to answer if your job post is not working is what account are you using to make a post? If it is a regular account, it will not work.
Only Facebook business pages are permitted to make job posts on Facebook.
To fix this, you can simply, create a Facebook page by using your account.
In your Feed section, locate the page icon and initiate the Create Page process. Enter the details that are needed and have your page created.
See Also: How to Create Facebook Business Page
Gadget Issues
The reason your job post is not working may be a result of certain issues with your device. A system problem with the device you are using might make your Job post not work.
The first point call can be to restart the device. Most times, issues with your device can be a result of the device being in continuous use for a long time.
In this case, a simple "Switch OFF" and "Switch ON" can remedy the situation.
Another thing that can be done is to update the system of the device. An out-of-date system can make simple operations like Job posting difficult or impossible.
Go to your settings and have your system updated.
Ensure you have space in your device. A minimum of 200MB of ROM is needed to operate the Facebook app.
Having anything less can crash the Facebook app and make it difficult for you to manage a Job post on the platform.
Clearing out the cache of the app in your device can be a solution if you have an updated system and ROM space yet have issues doing certain things online including job posts.
When the cache memory for Facebook is full on your device, it might refuse to carry out operations on the platform. To clear out cache;
Go to Settings.
Select "Apps and Notifications".
Press "Manage Apps" or "See All Apps".
Choose the Facebook app.
Clear Cache under the Cache and Storage section.
App Issues
The Facebook app might be the one with the problem. An out-of-date Facebook app is bound to malfunction. To ensure the proficiency of the Facebook app, it is constantly being updated by Facebook.
To enjoy the usage of the app, you must have it upgraded whenever the need arises.
Go to Play Store to have the app upgraded. If not, you may have issues carrying out certain actions on Facebook one of which might be making a Job post.
Another problem with the app that can make it difficult to use for Job posts can be an installation problem.
If your Facebook app is not installed, you will not be able to make use of it. Have the app installed on your app's page and make use of it directly from your apps.
Internet connection
Of course, you need a cellular connection to publish and manage a Job post on Facebook.
So, if you are not connected to an internet source, you will not be able to make a Job post on your page. Therefore, it is necessary to check your internet connection.
It is possible to navigate through Facebook without having a strong data connection or even being connected to the internet at all.
This is why it is important to confirm your internet access. Do you have a strong connection to cellular data? If not, then, make sure your device is connected.
A wi-fi can save the day if a normal cellular connection is not coming through.
Browser Issues
Your browser can make internet usage effortless and swift and can make performing actions online almost impossible.
If you access your Facebook page via the Facebook website, then, the web browser you use is of utmost importance.
Even with an updated Facebook app, good internet connection, and a good and up-to-date device, you will still struggle with making Job postings if your preferred web browser is out of date, has buggy software or is slow.
Get the updated version of your preferred browser or make use of a different and better browser if need be.
See Also: How to Post a Job on Facebook
Facebook Job Post Not Working FAQs
Why is my Job post not working?
If you go to your Facebook account and try to make a job post from the account, it is bound to not work.
This is because the regulation guiding job posts is that it has to be made from a business page. As such a regular Facebook account is not allowed to make a Job Post on Facebook.
That is the reason why your Job post is not working. If you do not need a professional job post, then, you can a regular post requesting certain services and products.
However, for an official Job Post, you have to own a Facebook page.
Why am I connected to a good internet source, yet, cannot make a Job Post?
It is possible to be connected to a good internet source yet have a job post not work. A cause of this as far as an internet connection is concerned can be cellular data restriction.
If the device you are using has its cellular data restricted or is on "Data Saver" mode, you will still have problems making Job posts.
One way to manage this is to set up Facebook to use background data on your device. Here's how to do this;
Go to Settings on your device.
Open Apps and Notification
Press the Manage App button.
Choose Facebook from the apps displayed.
Select the cellular data/ Wi-Fi feature.
Have the background data turned ON.
You can remove data usage restrictions instead by turning OFF data saver mode.
Conclusion
If you encounter difficulty making job posts on Facebook, there are several things you should look out for.
First of all, ensure you have access to a good internet connection, afterwards, make sure your device, web browser and app are all in a good state and working fine.
Do not do all of this and leave out a principal thing; posting from a Facebook page.
Also Read: