Privacy is most likely everyone's concern in this present age of social media. As interesting as it may sound, this privacy isn't just needed online but also offline.
Hence, the need for this amazing feature on Messenger that gives you the option to hide and unhide messages on messenger whenever you want to.
Messenger is one of the best instant messaging apps. Some people prefer it to WhatsApp and Instagram when it involves sending and receiving messages, video chatting and the rest of it.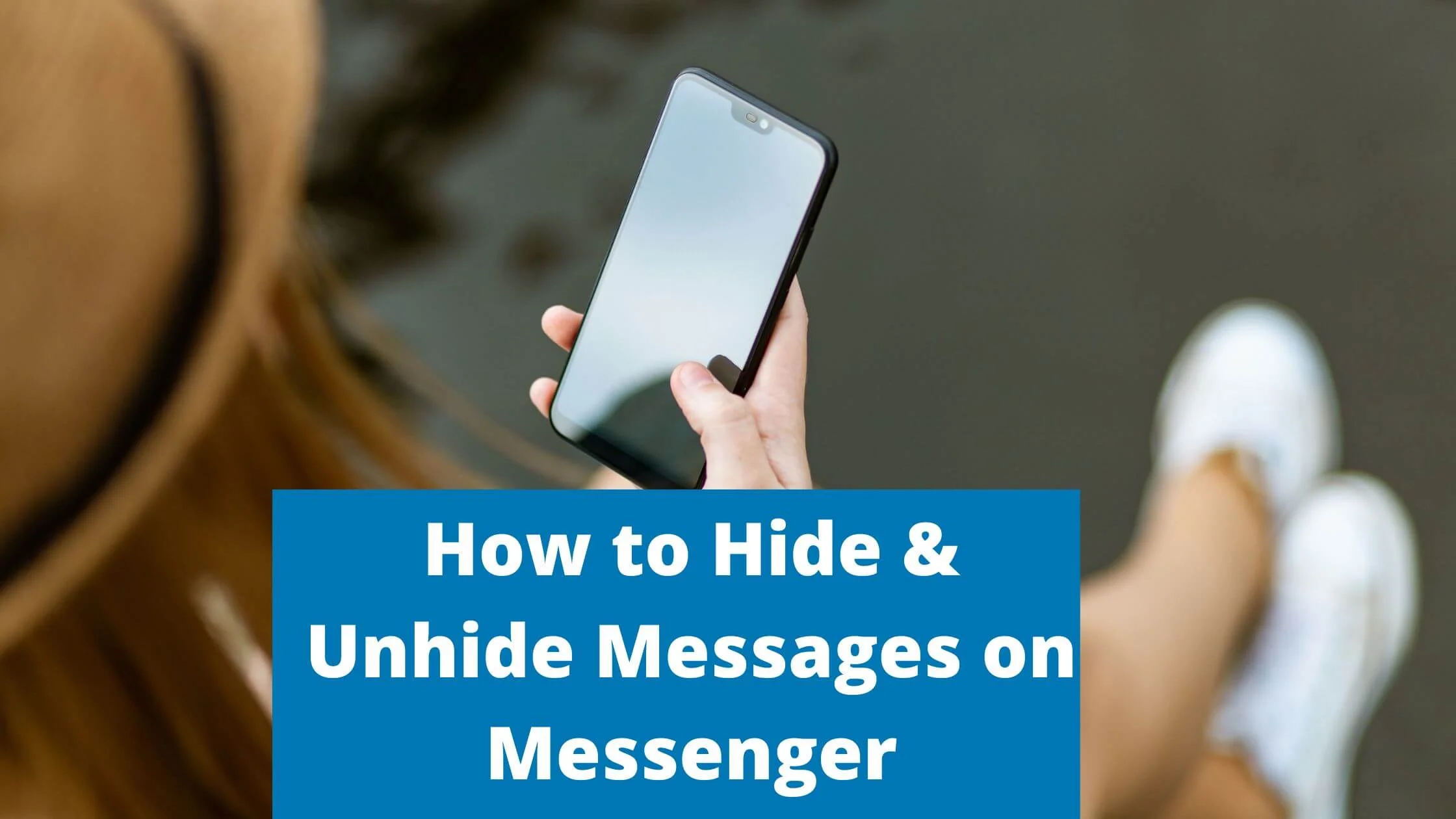 There are lots of reasons why you might want to hide messages on messenger, and that's really up to you. 
For instance, let's say you have a conversation that's ongoing with your boss or spouse and you mistakenly shared some confidential information that you want to keep to your eyes only.
It's pretty easy, all you need to do is to hide the chats so that anyone that has access to your primary inbox on messenger doesn't get to see them.
The archive feature will help you do that without stress. This feature has always been on Messenger, but most Facebook users, unfortunately, have no idea.
If you really want to know how to hide and unhide your messages on Messenger, this guide will help you.
How to Hide Messages on Messenger
Facebook messenger has a distinct feature that enables us to easily hide our messages, and this feature is included in the app as Archive conversations.
I guess you've heard about this but probably you didn't know what it was all about.
Once you enable the "Archive conversation" feature, you will successfully hide your chat from the primary list. You'll only be able to get back into the conversation by unhiding the chat.
The archive feature is the only feature you can use to hide your chats and conversations on Facebook Messenger.
The steps below will guide you on how to hide your chats on Messenger
Launch the Messenger app

Swipe the chat you want to hide from right to left.
Click on the Archive option.
It's been done, your chat or messages have successfully been hidden.
That's it. Following the steps above, you can easily hide messages on Messenger.
See Also: Can You Rewatch a Video Call on Messenger?
How to Unhide Messages on Messenger
In case you want to unhide the messages you once hid on Messenger, there's actually more than one way to get that done.
First of all, if you actually blocked anyone just to hide their messages, you will just have to unblock them to see their messages again because there's no magic to be done.
The only issue here is that you both will have to become Facebook friends again, in case you didn't want that.
The other way is if you want to unarchive the chats you once archived, you can do that with any of the three methods I'm about to spill. Let's go straight to those three methods now.
Method 1: Unhide Messages on Messenger
This particular method is used to discover hidden(ignored or new message requests) messages on your Messenger.
Launch the Messenger app

Click on your profile picture at the top of your screen.

Right there at the profit section, click on message requests.

Tap the Spam folder

You might also get to see new messages in the "

you may know

section."
Method 2: Unhide Messages on Messenger
If you want to find those archived conversations, this method has been made easier than ever.
Open your messenger app

Search for the username of the person whose chat you archived.

Tap on his or her profile name and picture once it comes up.

To unarchive the chat, all you have to do is just reply to that particular conversation and that's it.
Method 3: Unhide Messages on Messenger
The third method has to be the easiest of all.
Open the Messenger app

Click on your profile icon

Then click on archived chats

There, you will find all the chats you archived

Tap and hold the chat(s) then click the unarchive option to simply unarchive or Unhide the conversation.
See Also: How to Fix Facebook Messenger Video Call Not Working
How to Hide Messages on Messenger on iPhone or iPad
The steps remain the same for both Android and iOS devices.
You just have to make sure that your Messenger app is up to date.
To hide any messenger conversation on your iPhone or iPad device, you have to follow the steps below
Open the chat on our Messenger app

Click and hold on to the particular chat(s) you want to hide.
Tap the menu option that has the three lines button
Click on the archive option that'll pop up on the conversation.
And that's it, the conversation will be archived until you unarchive it.
The only challenge here is that you have to remember the name of the person's chat you actually hid.
That way, it will be easier to archive it. You might just have to quickly take note of the person's name somewhere, probably in your Notes app on your iDevice.
How to Unhide Messages on Messenger on iPhone or iPad
The step-by-step procedure of unhiding a chat on Messenger is quite easy with an iPhone.
If you noted the name of the person in question, it would be way easier.
If you can recall the name, then follow the steps below:
Go to chats on Messenger with your iPhone.

Using the search box, type the name of the person.

Click on the profile once it comes up.

Send a message to the person and the conversation will be automatically unarchived.
Note: For these steps to work would ease, you need to have the latest version of Messenger installed on your device.
See Also: How To Know If Someone Muted You On Messenger
How to Hide and Unhide Friends on Facebook
Asides from trying to hide and Unhide messages on messenger, you might also want to know how you can hide and also Unhide some friends on Facebook.
Maybe you were thinking it's not possible, but hey dear it's 100% possible. Almost everyone has that very annoying Facebook friend that keeps updating uninteresting topics with a very alarming frequency.
To make matters worse, the person in question might just not be an ordinary Facebook friend, but someone you know so well.
How do you actually get rid of seeing this person's posts without actually having to block or unfriend the person in question? Oh well, we are here to help you do just that.
How to Hide Friends on Facebook
You might want to hide a friend on Facebook for reasons best known to you.
To hide a Facebook friend, all you have to do is to click on the small grey X that will appear once you mouse over the status update.
You'll then decide if you just want to hide that particular post or all the posts from that particular friend.
You can always Unhide them anytime you want to.
How to Unhide Friends on Facebook
If you've made up your mind to Unhide a Facebook friend, all you have to do is scroll down to your home page until you get to the very bottom.
Tap the "Edit Options" to finally remove the friend from the Hide list.
Once you've done that, their updates will no longer be hidden from your news feed.
You will be able to see their Facebook posts again.
Conclusion
There are so many reasons why anyone would want to hide and Unhide anyone's conversation on messenger, as well as hiding and unhiding friends on your Facebook list.
Whatever the case may be, I hope this article has been of help to you by providing answers to the questions you had in mind.
Feel free to share this article with friends and in your community.
Also Read: