Snapchat is known for impressing its users with plenty of interactive filters and functionality.
The app has exploded in popularity amongst young users in recent times. Snapchat is used extensively to catch fun and interact with exciting people. 
Snapchat has a similar signup procedure with other social media platforms. It will require you to sign up with your email account.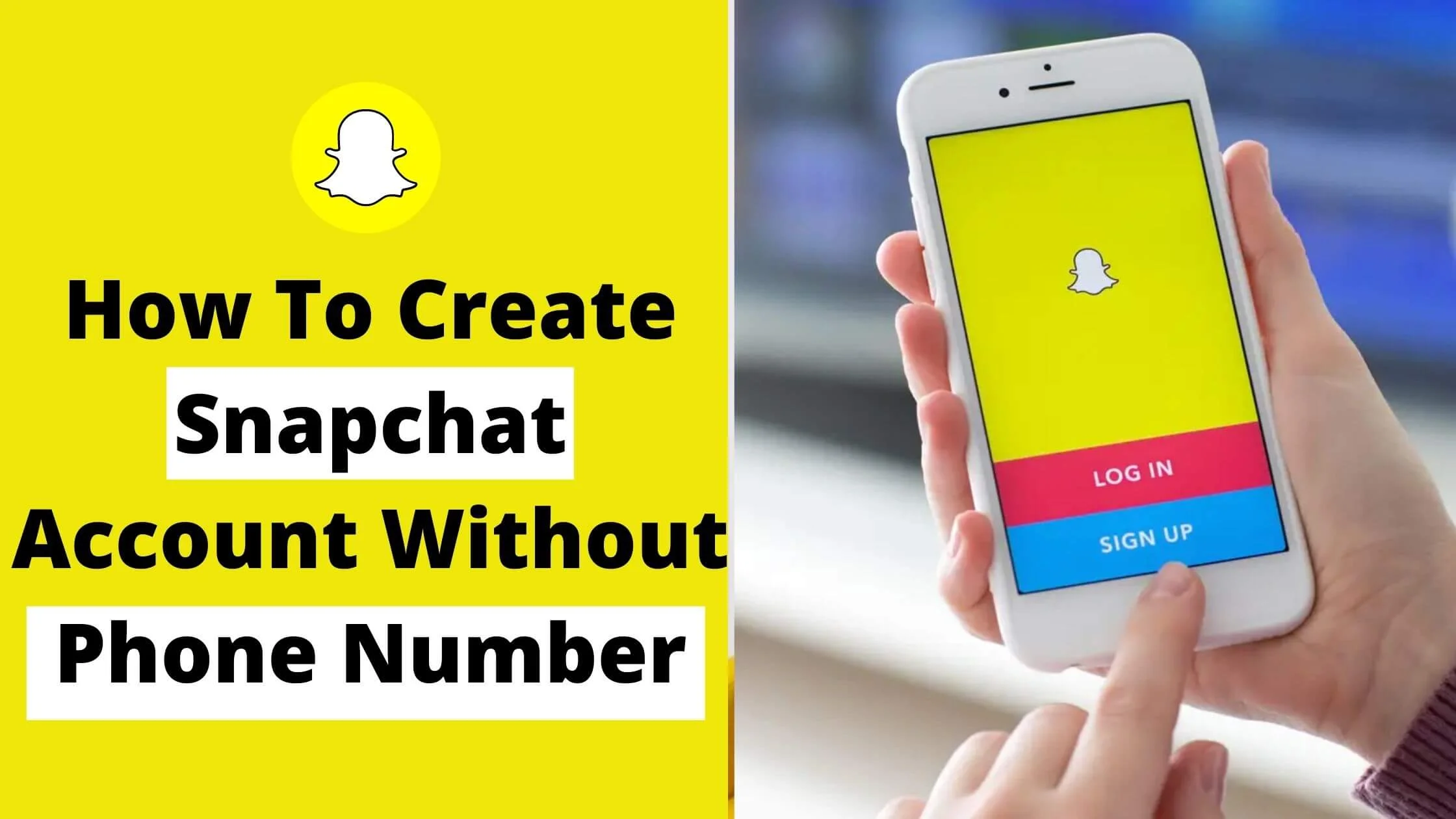 To create a smooth signup process or suggest related friends, Snapchat requires users to input their phone numbers when registering for a new account. 
We understand that many users may feel uneasy about giving out their personal phone numbers. If you are reluctant to use your number during the Snapchat account creation process, this article will reveal methods you can use to circumvent it. 
A great method is setting up your account via email address. This wouldn't require any phone number. 
So, if you are seeking a quick and hitch-free technique to complete your Snapchat account registration process, ensure you bookmark this page. The content here will satisfy your curiosity. 
So below are highly effective but simple ways you can set up your Snapchat account without the need for your phone number.
See Also: How To Increase Your Snapchat Score Fast
How to Create Snapchat Account Without Phone Number
It is important to note that Snapchat will never share your private data with 3rd parties, so you have nothing to worry about.
There won't be any form of data infringement if you plan to use your phone number. 
But we understand in spite of these assurances, some users might still feel reluctant to provide their phone numbers. If you are one of them, we are pleased to inform you that there is a solution for you.
Sign up with Your Email Address
In order to tell an actual user from a bot, Snapchat will require some personal detail or some sort of authentication to validate your sign up process.
Whatever personal identification detail you supply will be used by Snapchat to send you a confirmation code. 
It is not always compulsory to input your phone number for account verification or authentication. An alternative method is to provide your email address.
Confirmation code  will be sent to that email. 
The fact remains that the email address is the perfect replacement for your phone number. You can seamlessly set up your Snapchat account and access confirmation code to finish the account creation process. 
Let's explore how to sign up with your email address:
Launch the Snapchat application on your smartphone.

Select the blue coloured sign up option located at the lower part of the screen.
To make the account creation process simpler, you can activate the app permission and then select "continue".
You will be requested to "allow Snapchat access to your contacts", select the "allow" option.
Input your names (first & last), afterwards select "sign up".
Input your correct date of birth, and then select "continue."
The Snapchat algorithm will recommend a username centred on the name you provided. You are free to use the "change my username" option to change this.
Next, select your password. It should have a minimum length of eight-character long.
The platform will afterwards request your phone number. At this stage, ensure you utilise the "sign up with email" button. Once you opt to use your email for account registration, Snapchat won't need your phone number again.
After inputting your email address, select the continue button. You will receive a  confirmation code via your mailbox. Correctly fill it in the relevant field and authenticate your account.
Next, you can now add friends, view stories and exchange snaps. You can also create an avatar and engage in other fun activities typical with Snapchat.
See Also: What Does Pending Mean on Snapchat? How to Fix it
Sign Up Using a Different Phone Number
We have stated in the preceding section that Snapchat requests phone numbers during the signup process strictly for authentication and account verification. 
The truth is that who owns the number is irrelevant to Snapchat. It is also unimportant who is connected with that number. 
So this is where the second method stems: Instead of using your personal phone number for account sign in, you can fill in your friend's contact number.
You can set up a Snapchat account using any number so far as it is functional and valid. The underlying fact is that you should be able to access the number when required. You can also utilise your family member's phone number. 
Here are the steps below:
Install Snapchat from the Apple Store or Google Play Store.

Correctly input your personal details like first and last name, username, a secure password when required.
Input your friend or family member's phone number.
Wait for the verification code that will be sent to the number. As soon as you have received it, ensure you input it.
Tap the "Sign up" option.
How to Create Snapchat Account Without Phone Number FAQs
How can I Setup a Snapchat Account via Phone Number
This is the most popular method of setting up a Snapchat account. Using your private details (email address and phone number) is important for account recovery and login data loss (e.g. forgotten password). 
So here's how to create an account using your phone number:
Install the Snapchat application. 

Open the app to begin the account creation process. 

Create your account by inputting your phone number, username and password. 

Enter the verification code and select sign up.
What should you do if you've forgotten your Snapchat password or email address?
If you have forgotten your password or email address, you can reset your password via the login page. This process is quick and won't require much hassle.
But before this step is successful, you must have registered your Snapchat profile with a phone number or email address. 
Below the password text field, select the "forgot your password" button.
Tap "via phone".
Correctly fill in the phone number you registered with your snap chat account. ( Ensure your smartphone is accessible and has good network connectivity).
Proceed to the next step by tapping "continue".
On this page, you can specify how you want your verification code to be sent. You can select "call me," and you will be contacted via a phone call and orally given the code.
Next, input the 6-digit code. You will be directed to a page where you can create another password and successfully log in.
Why is Snapchat requesting my phone number for verification?
You can enjoy some perks when you verify your phone number on Snapchat. Firstly, the verification process can help secure your account and authenticate your identity. 
Verification can also help in easy account recovery in cases of forgotten passwords or profile hacks. 
Two-step verification provides an extra layer of safety. Whenever someone makes an unauthorised entry into your account, a code is sent to your phone.
This discourages hackers or intruders from getting hold of your account.
Try as much as possible to use only your 'actual' phone number for verification purposes because you may be asked to use the number on multiple occasions. 
Phone numbers can effectively tackle spam accounts. Without a verification system, spammers or bots will set up hundreds of thousands of fake accounts.
It's easy to eliminate fake or fraudulent accounts when they are associated with a number because they are easily trackable. 
Why is Snapchat refusing to validate my mobile number?
 Many Snapchat users have complained that they find it difficult to get their legit numbers authenticated. They see a popup message "We cannot verify this phone number". 
Here are some reasons why this situation happens:
The platform is unavailable due to maintenance.

Your phone number is invalid. 

The site has a traffic overload. 

The connection is lost, or poor internet connectivity. 
Snapchat's phone verification algorithm isn't foolproof, and sometimes it may not successfully validate a legitimate mobile number.
Can I reset your Snapchat password without a phone number?
The good news is that you can still change your password even without a phone number linked to your account. 
Here's how to do it:
Go to the login page and tap the "forgot password" option.

Then select via email.

Next, enter the correct email address you used during the account registration process.
Tap "submit"
Snapchat will eventually send you an email. The content of the mail will include a password reset and a link. 
When you have successfully changed your password, you will be able to log into your Snapchat account.
Why Shouldn't I Verify My Snapchat Account With a Phone Number?
Poor handling of user data by big tech companies has become a source of worry.
Most social media companies (like Facebook, TikTok, Twitter, Tumblr, Instagram and Snapchat) have been rumoured to sell their user data for marketing and political manipulation purposes.
Some Snapchat users have allegedly received spam texts and calls after signing up with their numbers.
Conclusion
So there you have it! We have covered all the strategies you can use to set up a Snapchat account without the need for a phone number. 
You can now create your Snapchat account without a mobile number and enjoy snapping.
Also Read: