Snapchat has gone mainstream as a tool to communicate with friends by sharing photographs with special filters that create a funny and distinct appearance for users. 
Users can now make stickers that reflect their identities, thanks to recent improvements to the online messaging app. Snapchat also allows users to interact, share snap stories, and design stickers that depict their personality types.
This kind of sticker is referred to as a Bitmoji. Another fact that you should know is that the app has a lot of interactive features. This includes Snap Map, 3D Bitmoji, and Snap Streaks. These features have brilliantly captivated millions of users.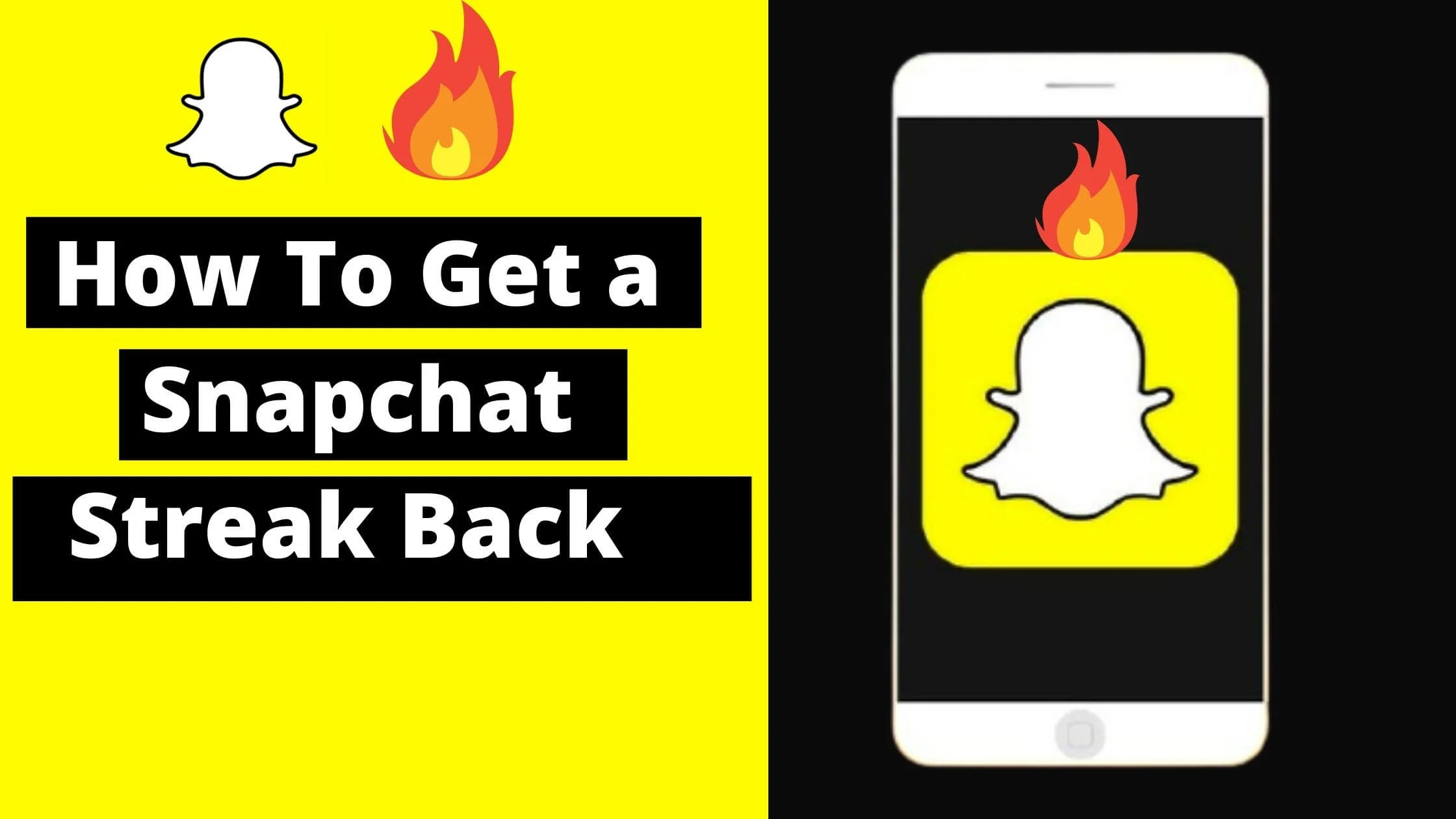 A lot of snap chat users are engrossed with Snap Streaks. This is because it symbolises close relationships and frequent engagement.
With the explosive growth of conversations and photos sent, the use of Snap Streaks and emojis has continued to grow, demonstrating the richness of the Snapchat community.
A common way of losing your Snap Streak is through failure to interact with any of your Snapchat contacts. Uninstalling the app can also cause your streak to end. If you lose your streak through these ways, you may not get them back easily. 
But, if your Snap Streak ends because of technical difficulties or service downtime, you can still get it back. If you're in need of a well-detailed tutorial on how to get a snap streak back, look no further.
See Also: How To Fix Snapchat Can't Load Image
What is the Meaning of Snapchat Streaks?
Snapstreaks, or Snapchat Streaks, are a pictorial display of frequent interactions between two Snapchat users.
Snapstreak occurs when at least two Snapchat users begin exchanging Snaps at least daily for not less than three days in a row.
To be clear, text interactions via the Snapchat application will not contribute to your Snap Streaks. If you do even exchange a picture or video clip with Snapchat contacts or friends in a 24 hr time frame, you'll lose your Snapstreak.
Once your streak starts, you'll notice a flame emoji (🔥) beside your name on the chat list. 
As you continue to interact and share snaps with your Snapchat friend, you'll notice that a number appears close to the flame emoji. The numerical digit measures your snapstreak or the number of days you exchanged snaps with your contact. 
If you do not even share the other user a snap in 24 hours, your Snapstreak will vanish. The notification appears in the shape of an hourglass emoji, reminding users to exchange snaps with another user.
However, technical glitches or connectivity problems can cause you to lose your Snapstreak. For cases of unintentional loss of snapstreak, Snapchat lets you appeal through a simple process. 
To understand how to get your streak back on Snapchat, continue reading.
Is There any Benefit to Keeping a Snapchat Streak Going?
It's something to show off. Basically, that's what you're trying to achieve.
On the other hand, your Snapchat score measures how much time you spend on the app. This means the more Snaps you share, the better your in-app score will be.
What Do Snapchat's Streak Emojis Indicate?
To begin, keep in mind that these emojis aren't like Trophies. Nevertheless, the greater Streaks you complete, the higher the possibility of receiving all or most of the Snapchat Trophies.
You'll find your contacts via the Chat feature. Most, but not all, of these usernames will be accompanied by emojis (largely depending on the number of Snapchat friends you have added and how often you chat).
If you regularly interact with the same user, you'll notice a smiley emoji next to the side of their username. This implies that you and your friend are good buddies. While on a Snap Streak with another user, this will undoubtedly show up.
What's the way to know if you and your Snap friend are on a Streak? A flame emoji will appear next to their username, along with the duration of time that they have maintained their streak.
Once your streak reaches hundred days, your achievement will be commemorated with a '100' emoji close to the flame emblem.  Then it will keep displaying the number of days you've stayed on the current streak for.
Because nobody is perfect, one side will undoubtedly forget that they haven't delivered a Snap in the past 24 hours. Snapchat will notify you by placing an hourglass sign beside your Streak number. Ensure you send a Snap if you come across an hourglass emoji. 
If you're concerned that the other user has failed to remember, drop them a text on chat and pray they've toggled on notifications.
What's the Most Effective Way to Keep a Snap Streak Going?
The trick is not to become overly attached to what you snap. You might not be able to come up with important snaps day after day, so don't start feeling awful if you snap the wall.
Be sure to include a short text clarifying the situation. You can say that the motive for your activities is to keep your streak alive. Alternatively, you can post a lovely "thinking of you" picture.
Use effects, frames, and stickers to spice up your Snaps and add flavour to your photos and video clips.
How To Get a Snapchat Streak Back
Snapchat respects and cherishes its loyal user base and they recognize that some events are beyond the control of its users.
Because of this, there is a method you can use to recover your Snap Streak back: 
You will have to send an appeal to Snapchat.
What You Should Know Before You Get Your Snap Streak Back
Before we delve into the specifics, keep in mind that recovering a Snapchat Streak back is subject to rules.
Don't fall into the trap of deliberately throwing away your streak and turning to Snapchat for help. They're not going to fall for it.
They might just do it once, and it depends on how kind the corporation is feeling at that time.
Furthermore, if you have a high number of streaks that have ended due to no fault of yours, this technique might work. There is, without a doubt, a threshold of one username per appeal. Ensure you prioritise your longest-running streak.
Steps to Get Your Snapchat Streak
Go to the Snapchat Help page. You'll find a list of possible issues. Select My Snapstreaks displayed from the listing.
An appeal form will appear below the info about Streaks. Standard account data (username, email id, phone number, and device type) will be required, followed by details surrounding the streak.
Provide as much information as possible. Let's hope that you can recall the number of days your streak lasted in a row. If you're not sure, ask someone who might know.
If all else fails, make an educated guess. There's room subsequently in the appeal form to mention that it's an estimate.
Similarly, knowing the correct date your streak ended is useful information. You can even claim that the problem started after downloading the latest update.
The hourglass emoji is the focus of the final question. The question is to find out if you merely forgot. If this is the case, Snapchat is unlikely to be of assistance.
You can also clarify your claim in the closing section, "What information should we know?"
Don't lie. If the application won't launch, a Snap won't successfully send, or the web server goes down, let Snapchat know.
Submit your appeal and expect a response. That is, assuming the company responds.
Why isn't Snapchat Helping me Restore my Snap Streak?
If your streak simply ended due to a fault of yours, Snapchat will not restore it. It does not matter if you were almost at 499 days: if anybody forgot, it's their fault.
Of course, you might lie and claim that the app malfunctioned. However, we do not recommend it.
Perhaps the company does not believe the problem requires rectification. You'll have to begin new streaks in this situation. A new beginning can be beneficial at times.
How To Get a Snapchat Streak Back FAQs
Is it possible for one user to maintain a Snapchat streak?
Not a single user can keep a Snapstreak running. To maintain the streak on Snapchat, both users must share a snap (picture or video clip) at least once per 24 hours (about once per day).
When recovering a Snapstreak, how long would it take?
When you submit an appeal to recover a Snapstreak, the Snapchat team usually responds within 24 hours. They will notify you if your streak is reinstated or not.
If you lose a Snapstreak because of site downtime or related glitches, it's easy to get it back, but always remember to send snaps daily and never make it a routine to seek Snapstreak restoration.
Is it true that a Snapchat Streak can only Last 24 Hours?
Snapstreaks are only offered during a 24-hour period. The streak is not sustained by exchanging texts in the chat. To keep your Snapstreak alive, you must send (and receive) photographs or videos within the 24-hour timeframe.
Does Snapchat have a customer service number that users can call?
Snapchat does not provide a contact number for customer service. You must reach them using their "Contact Us" form for responses to questions and issue rectification.
Conclusion
So there you have it, our strategy for getting your Snapstreak back on Snapchat. In cases where you fail to send Snaps to maintain your Snapstreak, we implore you to include the details in the "what information should we know?" text field.
After that, all you have to do is hope that Snapstreak will be restored by the company. Snapstreaks have been known to be easily reinstated, even under the most negligent of situations.
However, if you turn this into a habit, you will be unlikely to regain your streak.
Best of luck, and kindly tell us about your experience and whether you successfully recovered your Snapstreak in the comments area.
Also Read: