Did you know that currently, TikTok boasts over 800 million monthly active users? When it comes to average watch time, TikTok is currently the most popular social media network.
It's no surprise that many users want a verification badge next to their usernames. However, do you know where to begin and how to get started?
Let's take a quick look at the TikTok Verification badge and how you can get it.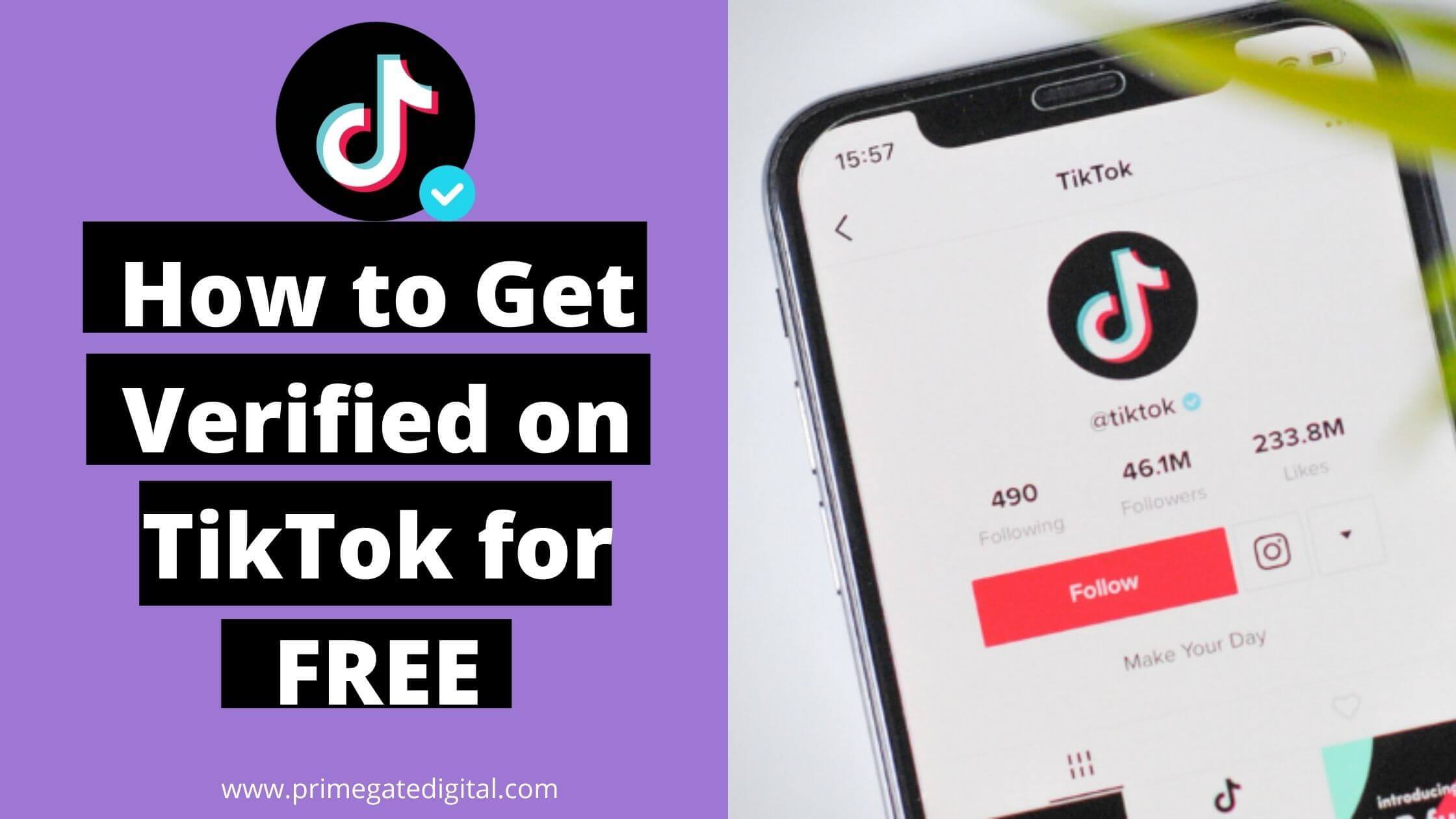 You might also want to check out:
What is a TikTok Verified Badge?
A TikTok verified badge is a confirmation that TikTok has determined that the account belongs to the person who created it.
Usually, when a TikTok account is verified, the badge appears in search results, distinguishing that account from other lookalikes, etc
The TikTok badge is always below the username. A lot of users often edit their profiles to have some sort of badge look alike. However, you should know these are not authentic.
Every badge given by TikTok will only appear at the same spot at all times.
Getting the desired blue tick will help you stand out as an artist in today's digital world and will give you some clout.
It immediately establishes your account as an official brand channel and assures your followers that they're communicating with the genuine you.
New potential followers that come to your verified account are more likely to follow you.
See Also: How to Grow TikTok Followers Really Fast
Why Do We Have the Tiktok Badge?
We have the TikTok badge because high-profile accounts love to give their followers the feeling of authenticity. The verified badge makes it extremely easy to do so.
There are a lot of fan pages that could gain even bigger attention than the original page.
However, a verified badge makes an authentic account stand out on every search.
On the other hand, a TikTok badge just hugely displays a certain level of clarity and trust between the user and the platform.
How is the Tiktok Verified Badge Given?
To get the verified badge for TikTok you need an authentic account build-up.
TikTok would not be issuing your account a verified badge if you're not active, unique, or adhering to all the guidelines and terms of use.
See Also: How To Get TikTok Account Unbanned (REVEALED)
The Difference Between Tiktok's Popular Creator and Verified Account Badge
Often we fall on conversations where users express thoughts regarding the two terms and status.
Some users say the popular creator badge can also represent a verified status. However, there are some differences.
Anyone with a very good amount of followers can be rewarded with the popular creator badge. However, to get the verified badge your followership is not the only thing put into consideration. 
Also, be aware that followership is not enough to get the popular creator badge on TikTok. Every video you publish needs to have a lot of views and you have to be active daily to achieve that.
What this means is the popular creator's badge comes as a result of hard work. You would have to continuously create content to engage your audience.
The more views, comments your videos get, the closer you are to receiving a popular creator's badge from TikTok.
See Also: How To Make Money Daily With Cryptocurrency
How to Get Verified on Tiktok for Free (Tiktok Verified Badge)
Below I have listed the verified steps to get verified on TikTok. 
1. Give Your Followers Content
No strategy should be based on spontaneity. Sure, having a steady stream of brilliant ideas is important, but optimizing their impact boils down to having a solid plan in the background tugging the strings.
Giving your followers the best content you can give out is key. However, you must also ensure that you examine what times of posting produce the best results.
Measure the influence of your videos, remain up to date with trends, make the most of popular hashtags, and respond to any relevant problems, among other things.
You'll also need to determine some key marketing elements, most notably the tone of voice for your account.
See Also: How To Recover A Hacked Instagram Account Really Fast
2. Give Your Account Time for Growth
You should spend the bulk of your time working on your account if you want to acquire a TikTok Verified Badge.
Your profile should progressively gather followers, but remember that number does not necessarily equal quality—amount of views is crucial, but so are engagement and session durations.
The more people who see your films, the more likely they are to become viral, which is just what you want.
Because TikTok's major lifeblood is viral content, displaying your skill to make these sorts of videos can help you acquire a verified badge.
It's also worth mentioning that becoming verified on TikTok isn't entirely determined by your participation on the network.
In fact, if you have verified profiles on other social platforms or have been highlighted in certain online publications, your chances of receiving a badge will rise.
This provides you instant credibility and demonstrates to TikTok that you're a person of interest worth having on the platform, providing them with a compelling reason to promote your engagement with a TikTok Verified Badge.
3. Always Engage With Other Users
Challenges, 
likes, 
duets, 
comments, 
and 
shares 
are 
just 
a 
few 
ways 
to 
communicate 
with 
other 
TikTok 
users. 
Each 
and 
every 
one 
of 
them 
should 
be 
utilized.
Aside from making your followers feel valued through comments and likes, you should also provide them with additional incentives in form of giveaways to continue following you.
Create movies, challenges, or duets just for the sake of communicating with your audience. High levels of involvement will increase your chances of obtaining the TikTok Verified Badge significantly.
Of course, your efforts should not end with your followers; instead, follow and communicate with your preferred people.
TikTok expects its top accounts to be as active as possible, so make sure your attention isn't just on your own profile.
See Also: Our Top 25 Most Powerful Content Marketing Tips Ever!
4. Always Maintain or Increase Your Level of Consistency
Even if your videos are visually stunning, your prospects of becoming verified on TikTok are slim unless you upload fresh content on a regular basis.
Roll up your sleeves and make sure your profile is known for producing consistently high-quality videos.
You should post at least three videos every day to fill up the top row of your TikTok account, but this does not imply you should generate meaningless filler content.
If you want to get the most out of this platform, you must consistently release high-quality videos. Working with an agency, once again, maybe useful in this situation since they may assist in meeting the high daily upload request
5. Be Real With All Your Content
You want to make sure that your videos represent the quality of your service as a brand.
Along with having creative material, your production qualities should be as good as possible, which necessitates the purchase of professional-grade equipment.
Yes, you may have to invest in quality recording tools.
Obviously, you should always video using a recent iPhone or Samsung Galaxy phone because they have the greatest cameras.
To go the additional mile, invest in a gimbal to prevent last-minute camera tremors and an auxiliary microphone to ensure faultless audio.
High-quality video editing software is also beneficial.
See Also: 9 Best Video Marketing Tools Ever for Online Marketers
6. Don't Rebel Against Tiktok's Policies and Terms of Use 
Following the platform's criteria is usually a good idea if you want to acquire a TikTok Verified Badge, it should go without saying.
Follow all of TikTok's guidelines and be compliant.
If you break the rules, the moderators will identify you as ineligible for the verification badge, and your chances of receiving it will be significantly reduced.
FAQ on How to Get Verified on TikTok for FREE
Can You Request Verification on Tiktok?
You may apply to be verified and receive the TikTok blue tick on most networks, such as Instagram and Twitter.
That isn't the case with TikTok. The TikTok team looks for accounts that may need verification and requests it on their own.
Can You Buy the Tiktok Verification?
Users that have been chosen by the TikTok team will receive verification for free.
Many artists promise to be able to connect you up for a few hundred or thousands of dollars. Don't be fooled!
It's not legal nor legitimate, and there's nothing you can do if they take your money. To be verified, you must satisfy the criteria and be approved by the TikTok staff.
How to Get Your Music on Tiktok?
If your song isn't already on TikTok, make sure it is before we begin. Spinnup makes it simple to get your songs on TikTok. You'll need to do the following:
Log onto your account

Have at least one Spinnup-distributed release in shops

Go to the 'My Releases' section of the website. 

Locate the release you wish to distribute to social media networks – this procedure will get your music on Instagram, Facebook, and TikTok. 

Before opt-in to this feature, make sure you've read and understood the confirmation box on the release.
That's all there is to it. Your release(s) will be available for you and your followers to share on TikTok within a few days.
See Also: How to Become a Tiktok Influencer and Make Over $10K Monthly
Conclusion
Unfortunately, nothing can ensure TikTok verification; nonetheless, follow the recommendations and keep making high-quality videos while working to grow your account.
Persist, but most importantly, have fun.
The best approach to win a race is to go slow and steady. You can't get the blue TikTok tick unless you get the blue TikTok tick.
Recommended Accessories to start out as a TikTok Influencer with a Bang!