The idea of ​​TikTok is to bring users a more entertaining experience. The platform offers you the chance to create and share short videos with your friends.
The fact that you can speed up a TikTok video may be the perfect solution for you if you're looking for a way to shorten a video without losing too much content.
If you are looking for a quick way to post a video recipe for a Chocolate Chip Cookies, then you may want to use TikTok instead of Youtube.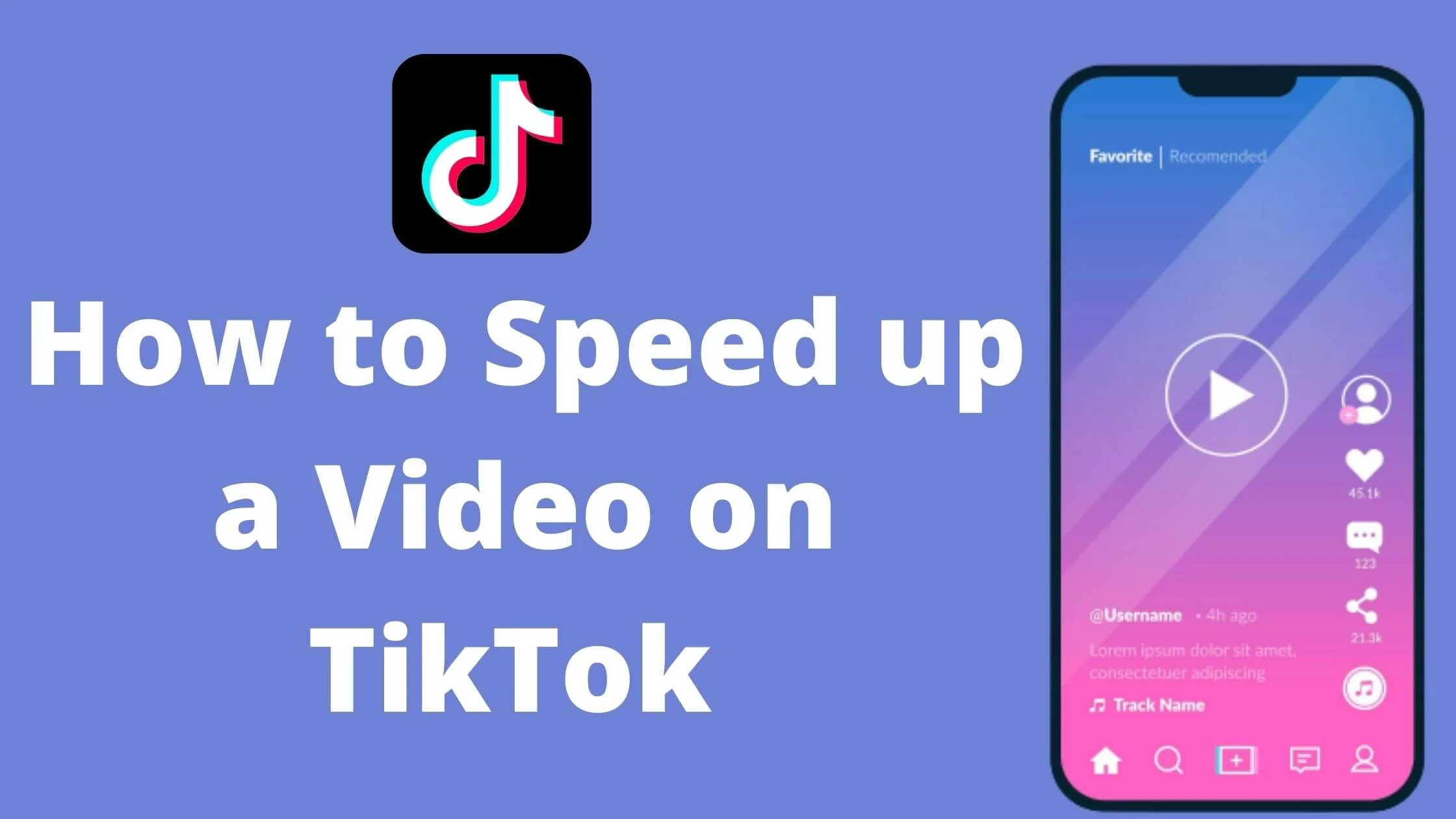 TikTok allows you to add a musical theme to your videos which will help with your video's length as well as making it entertaining and interesting.
That brings us to the important question, how do you speed up a video on TikTok?
This guide will help you answer all questions you have on speeding up TikTok video, change the TikTok speed and more.
Without any further, let's get started with how to speed up a video on TikTok.
See Also: How to Contact TikTok Support to Fix Account Issues
How Does TikTok Work?
TikTok has become one of the most popular social media apps in the world.
It has become a worldwide phenomenon because it has been a huge success since it's launch.
If you haven't heard of it before, TikTok is a short video platform where you can uploading all kinds of videos.
Once of the requirements to getting started is that you will need to download the app and create an account.
Then you will need to pick a niche, from entertainment, fitness, food, to arts, and more are topics that you should choose if you are interested in them.
When you are ready to post your first video, tap on the (+) sign on your home screen and begin recording.
You can make your videos more exciting by adding voice and image effects, filters, stickers, and other flavor later on.
Why Should You Speed Up or Slow Down a TikTok Video?
TikTok videos are meant to be fun, but you can make a TikTok video more fun by speeding it up or slowing it down.
You might want to speed up or slow down a TikTok video if you have an exciting moment in your video that you want to emphasize.
If you're doing something fun, like dancing or acting out a scene, you can speed up that part of your video to make it stand out more.
You can also change the colors, background and even add effects like blurs and glows. These things can all help spice up your video, giving it a better chance at being viewed and shared.
How to Change Speed on TikTok
The best part about TikTok is that you can change the speed on the app. This means that you can slow down or speed up your videos.
This feature can be a great way to add variety to your videos and help you stand out from other content on the platform.
If you want to change your speed, follow the steps below:
Open the TikTok app on your iOS or Andriod device.
Navigate to the bottom of your TikTok homepage and click on the (+) icon. This will redirect you to the page to create a new TikTok video.
At the right menu, you will notice several icons with diverse recording options.
Click on the "Speed" icon.
Select the desired speed that you want to record you TikTok video.
Click on the red circle icon at the bottom of the screen to your video.
Also, TikTok allows you to speed up or slow down a premade video that you wan to upload on TikTok. This option is best to shorten a long video that you might want to upload.
Below is how to do so:
Open the TikTok app on your device.
Click on the (+) sign to make a video.
Next, click on the upload icon at the bottom right corner of your screen.
Proceed to upload a video. Wait for it to load, then click on the "Adjust clips" and again tap on the clock icon located at the bottom right of the screen.
Select the desired speed for your TikTok video.
Lastly, save.
See Also: How to Remove Phone Number from TikTok Account
Does TikTok Update Change How Video Speed is Done?
If you're a social media freak, you will be familiar with what happens when the app has been updated. It comes with some new features and changes.
However, newest update on TikTok does not alter the way users can either speed up or slow down videos. They are trying to make sure that the app stays a fun and entertaining platform for everyone.
How to Change TikTok Video Speed on Android and iPhone
It doesn't matter what kind of device you are using to view TikTok videos, the process for changing the speed is exactly the same.
However, if you're looking for different ways to edit your TikTok videos on different devices, there are a few features that are not available on every device.
With the right app and a little bit of creativity, you can trim down your videos as you edit them. You can then upload them to other social media sites.
Apps such as iMovie, Final Cut Pro, or Adobe Premiere, help you trim your videos if your phone does not have the default capacity to do so.
How to Use 3x to Change the Speed of Videos on TikTok
TikTok has a feature that allows you to make a really fast video. It is fun and easy to use.
Below is how to change the speed of videos on TikTok using 3x:
Click on the (+) sign to create a new video.
Then choose the Speed icon. This will display different options to select.
Proceed to select 3x.
Note: During the recording of your TikTok video, it will appear default speed. Don't get worried. Once you click on the checkmark after recording, the video will be automatically transformed to 3x speed.
See Also: How to Change Snapchat Emojis
Can I Slow Down a TikTok Video That I am Watching?
TikTok doesn't offer any features to do this for now. It is something for the TikTok team to think about since there are a lot of questions about when this feature will be available.
The way to slow down a TikTok video is to download the video and use your own tools to slow down the videos.
Hopefully, in future, TikTok incorporates the feature to slow down videos.
How to Slow, Speed and Reverse Your TikTok Video Using Snapchat
It is no longer news that you can slow, speed and reverse TikTok videos using Snapchat.
To use the method, you must have a Snapchat account.
If you're already do have a Snapchat account, follow the steps below:
Downlaod the TikTok video.
Launch you Snapchat app and open your camera roll.
Click on TikTok video that you downloaded.
A new snap will be displayed on your screen. Swipe right to locate the snail icon. Upon the appearance of the icon as a pop up, you will see that the video will begin to slow down. As you swipe again, it will become faster and even faster as you keep swiping.
Proceed to save the video. That's all!
Note: When your video is too long, there isn't a rewind video option on Snapchat. If you trim it down to ten seconds, you will be able to see your video in reverse after you swiped one more time.
See Also: How to Fix TikTok Notifications Not Working
How to Speed up a Video on TikTok FAQs
How Do You Upload Videos to TikTok?
It is very easy to upload videos on TikTok. To do so, follow the steps below:
Launch TikTok app on your smartphone.
Click on the (+) sign located bottom of the screen.
At the bottom right corner of the screen, click on the icon just above the word "Upload".
Once your phone gallery open, select the video that you want to upload.
This is how you can upload videos to TikTok.
What is the Length of a TikTok Video?
The default duration for a TikTok video is 60 seconds. It is the recommended duration if you're using TikTok to create the video.
However, with thirs-party video editing tools, you can record a video that is longer than one minute.
The best part of it is that TikTok allows you to upload such videos.
Is There a Way to Speed up and Slow Down Video on TikTok?
Absolutely Yes!. TikTok offers a feature to speed up and slowdown videos. These amazing features gives you more control over your videos.
There's no better way to show your creativity than with this feature, espacially when you are trying showcase your new dance skill with other TikTokers.
Conclusion
As you have seen, speeding up or slowing down your video a no brainier feature offered by TikTok.
Hence, the increasing popularity of the platform. Its popularity comes in part from the fact that it allows people to create short (less than 15 seconds) videos that are fun, creative, and funny.
Have you ever wanted to speed up a video, or record in slow motion, or change the audio pitch in a video on TikTok? While it's not as easy as it sounds, the feature offered by TikTok makes it seamless.
I hope that this guide on how to speed up TikTok video helps you get more creative with your TikTok videos.
Also Read: