Having huge followers on all social media platforms, including TikTok, is a way to build credibility, trust and authority as a brand.
Over time, I have seen that posting relevant content that entertains consistently is the fastest way to grow your TikTok followers.
You can become a TikTok influencer and make money doing what you love. This can easily translate to other social media networks.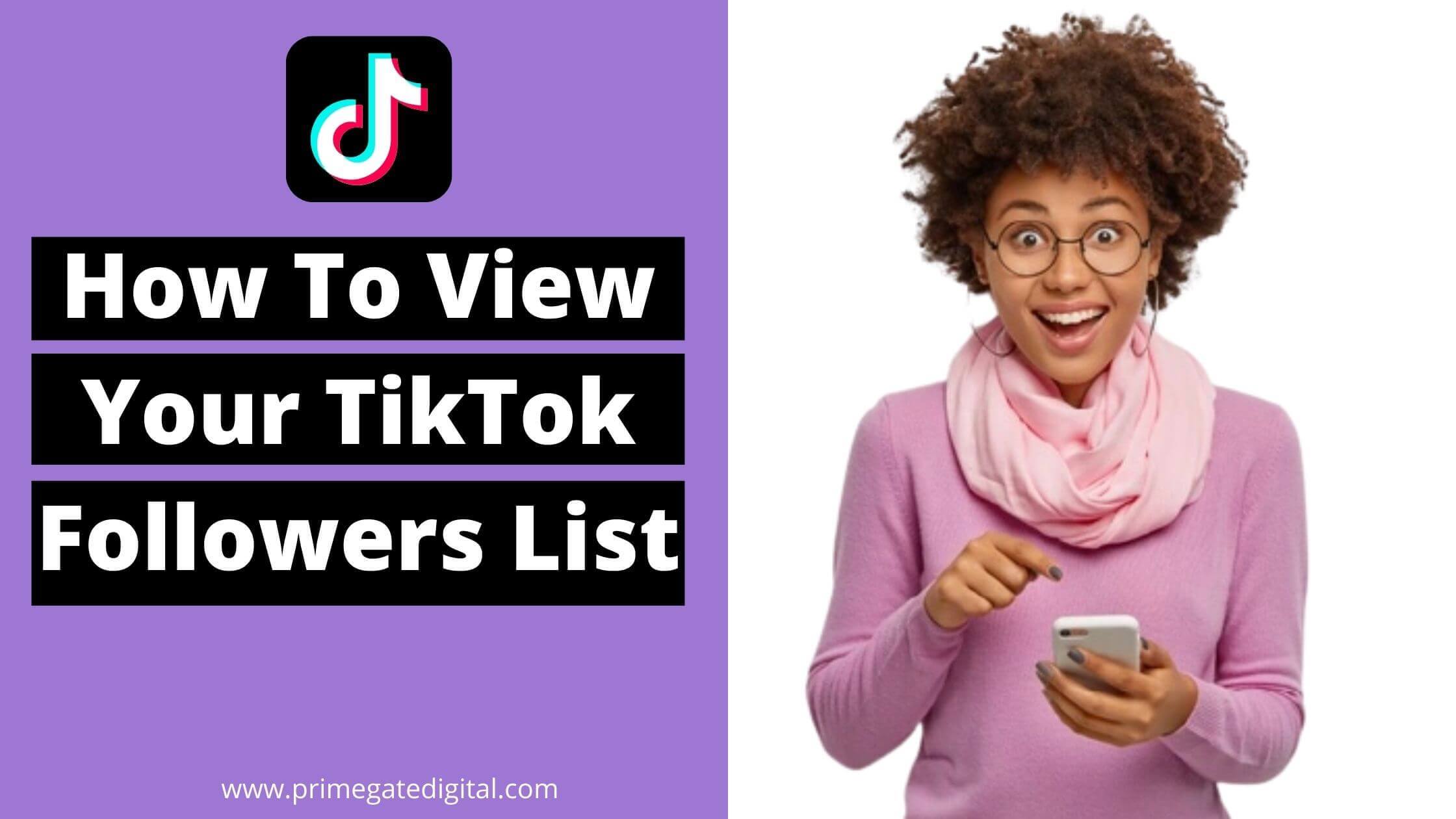 Once you have built a brand name on TikTok, it is much easier to have these followers follow you on other social media channels.
This makes it more important to monitor and track your TikTok followers and growth as well.
In this article, we will guide you on how to view your TikTok followers list.
Getting more interesting? Let's get started.
See Also: How to Get Verified on TikTok for FREE
What is TikTok Followers List?
The TikTok followers list, in the simplest definition, is the users following your TikTok account. They can also be referred to as your fans.
Similar to all other social media followers, these users stay up to date with your posting and also are the first to interact with your TikTok content.
They are very important to your growth and success on the TikTok platform.
How to View Your TikTok Followers List on the TikTok App
To view your TikTok followers list, follow the steps below:
Launch your TikTok app and sign in to your account
Click on your profile icon at the bottom of the page
Tap on the follower's option displayed on your profile page
A complete list of your TikTok followers will appear alongside their usernames
See Also: How To Recover A Hacked Instagram Account
How to View Your TikTok Followers List on Computer
Sadly, you can't access your TikTok followers list via a web browser on your PC.
TikTok is designed to be used on mobile devices and offers limited features when accessed through web browsers.
However, the latest report we got from TikTok insiders is that the platform has launched a Live Studio platform that easily lets users install web-cast their content directly from their PC in real time.
It only lets you optimize and manage your live sessions, similar to YouTube Live Studio. Whether this platform will incorporate a follower list in the future is not yet known.
Since the Live Studio platform is under-utilized and has limited features, the most effective way to access TikTok followers list on PC is through BlueStacks, a third-party tool.
BlueStacks is a user-friendly Android emulator that enables users to use mobile apps on their personal computers.
This simplifies the process of using the TikTok mobile app on your PC.
Let's explore all the processes involved in using BlueStacks to view your TikTok followers list on your computer:
Install BlueStacks
First, you will have to download BlueStacks on your PC. This is very important if you want to use the TikTok mobile app on your computer.
However, note that the process of downloading the BlueStacks software is entirely different for Mac and Windows PCs.
For users of Windows PCs, adhere to the instructions below:
Access https://bluestacks.com/.
Select the "Download BlueStacks" option from the upper menu.
Once the installation process is completed, BlueStacks will start instantly.
You can set up a new account or log in using your email address.
Now, you can access the "BlueStacks" software on your PC, and you can use it to install Android apps easily.
For Mac OS users, you have to use the steps below to download the BlueStacks software to your computer:
Access https://bluestacks.com/ and select the "Download BlueStacks" button.
(There is no need for permission at this stage of the installation process since you are using a Mac computer to download it)
Next, click on the BlueStacks set-up file and confirm the permissions from the installer prompts.
Once the installation is disallowed, select Install Helper and input your registered email and password. This will prompt a popup labeled "System Extension Block."
Navigate to the upper menu and click on Systems and Privacy Settings.
Tick the box that restricts Oracle America Inc.
Locate Restart on the menu section and click on it.
After the Mac restarts, the software will work without a hitch (100% functional).
Once you have finished downloading the BlueStacks software on your computer, you have to set up an account and log in with your email.
Add Your TikTok With BlueStacks
At this stage, you should have downloaded the BlueStacks software.
Now, you have to add your TikTok account to it.
This lets you easily use your TikTok account on your PC
The steps below will guide you in adding your TikTok account to BlueStacks:
Launch the BlueStacks software and ensure you are logged in.
Use the search bar to look up TikTok.
Select the TikTok logo. (This should lead you to the main website of TikTok).
You will access TikTok mobile app on your PC. By using these steps, you can install the TikTok mobile app on your computer without any hitches.
After signing into your account via your PC, ensure you are not logged in on your mobile device.
This is a recipe for trouble, as your account will be signed into two separate IP addresses.
View Your TikTok Followers
View Your TikTok Followers After you have accessed the TikTok mobile app on your PC, you can easily view your followers list.
Let's explore how this is done. Here's how:
Access the TikTok mobile app and sign in via your credentials.
Select the profile button. You can find it on the upper or lower side of your news feed. (The position of the profile button entirely depends on your version of BlueStacks)
After accessing your profile, select Followers from the upper section.
You will find the list. This lets you check the usernames and followers count with so much ease.
These easy steps enable you to access your followers list, regardless of the number of followers you have.
How to Track your TikTok Followers list
Here are three of the best 3rd-party tools to track your followers on TikTok.
TokCount
TokCount is one of the most popular tools for monitoring your followers in real-time.
It assists you in staying updated on how many followers you have and the patterns and variables that impact your follower growth.
This tool is important for anyone that wants to improve their craft and succeed as a TikTok content creator. The value of keeping an eye on your TikTok followers cannot be overemphasized.
It assists you in creating compelling and engaging content as you better understand the wants and preferences of your audience.
TokCount is a user-friendly tool that helps you track your audience's interests. It also has a powerful analytics platform that allows you to access your followers' age range and geo-location.
TokCounter
TokCounter is another highly effective and problem-free tool for viewing your TikTok follower count.
Are you interested in changing profiles? All you have to do is select the Change User option under Counters, input your username, and click the profile!
TokCounter is unique in that its analytics and stats are super accurate!
It also features a comparison tool that you can use to evaluate two follower counts of TikToks and highlight the points of difference and similarities among them!
You can find the comparison feature on the panel (for computer users) or the menu bar (for smartphone users).
SocialBee
SocialBee is a feature-rich tool for managing social media.
It allows users to set up, automate, post and track their posts across multiple social media platforms (like TikTok) using a single, user-friendly interface.
SocialBee's advanced analytics technology allows you to leverage data-driven insights to guide and improve your social media plan.
You can access followers' trends and backgrounds, review your profile's growth in real-time, track your post visibility and engagement, pinpoint your most popular posts, discover the ideal time to upload content and many more.
3 Ways to Grow Your TikTok Followers
Understand your target audience
Growing your followers begins with understanding your current followers. What type of content do they engage the most with on TikTok?
Do they prefer informative videos or comedic skit clips?
This is why you must use a TikTok follower tool to undertake audience research.
It is important for making data-driven decisions and adding value to your content.
You can uncover your follower counts and your most popular content.
This will give you a clue about your audience's preferences, allowing you to make videos that cater to their interests.
High-quality video
True, TikTok content doesn't have to be Oscar-worthy. However, people will likely quit or ignore videos with low-quality frames or bad sound.
Getting a ring light and mic can make a difference in your video appeal. Another way to boost your quality is to shoot in a tranquil, serene and well-lit venue.
Like other social media sites, hashtags are important for boosting the reach of your TikTok content.
When you utilize trendy hashtags (and create videos that reflect those hashtags), it improves your content visibility.
Conclusion
Keeping up with your TikTok followers is very easy. With this guide, you will see the complete list of your TikTok followers.
We hope that you can now view your follower list.
You might also want to review how to get unbanned on TikTok and also how to make money on the side while working full-time.