Going Live on TikTok is a fantastic way for media personalities, businesses, entertainers, content creators and social media influencers to engage with their followers in real-time. 
TikTok Live is a basic but highly effective marketing tactic that can enable you to forge stronger and more emotional bonds with customers. For businesses that are targeting the Gen Z demographic, the best platform to use is TikTok. 
Thus, it is highly important to understand the technicalities involved in going live on TikTok so you can easily connect with younger audiences or display your skills for the world to see and appreciate.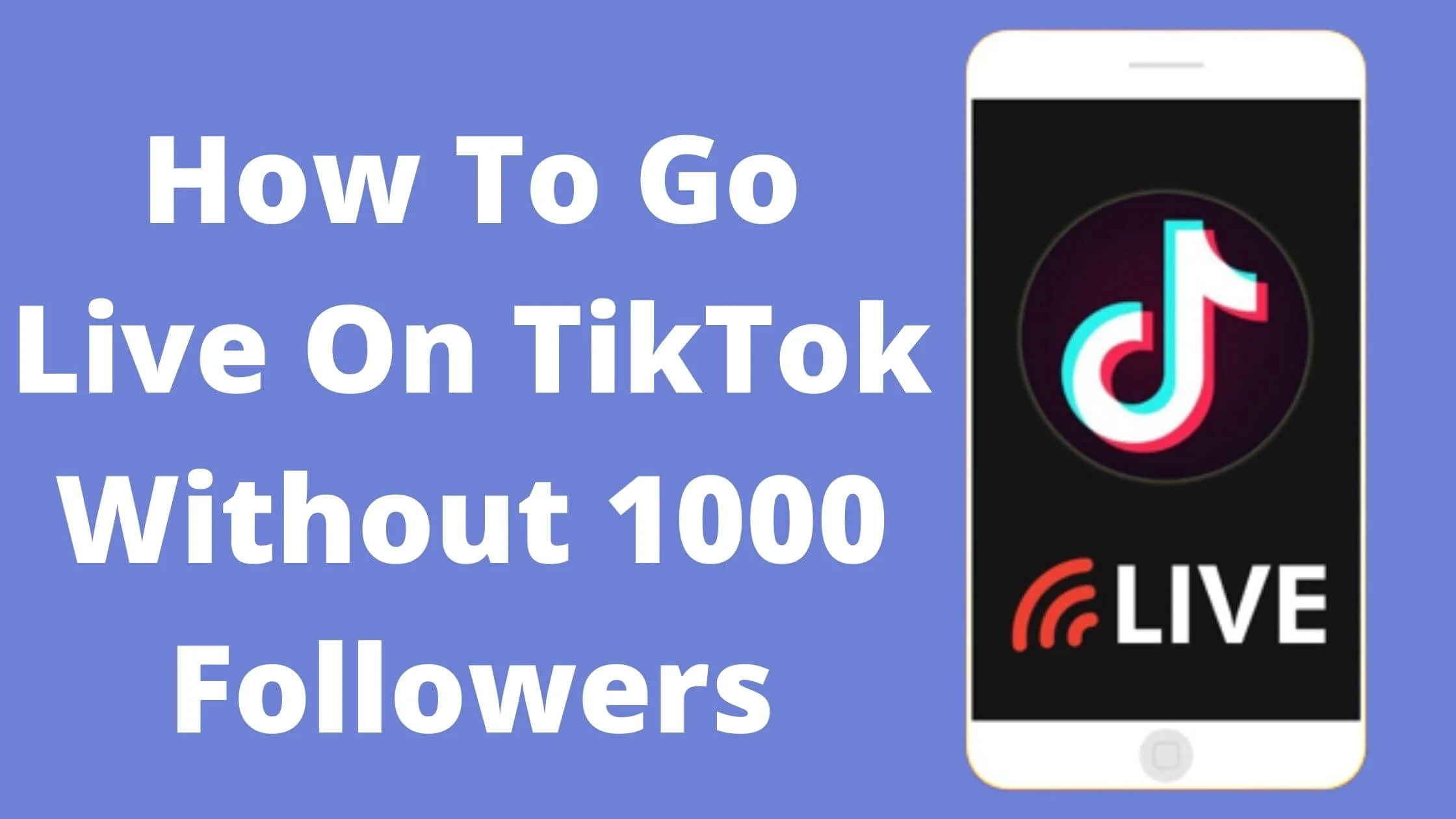 So if you are a new TikTok user, this article will give you all the great tips to help you go live on TikTok without 1000 followers.
See Also: How To Recover Deleted Video on TikTok
What is TikTok Live?
These days, TikTok videos are synonymous with the word 'viral' as they are scattered everywhere across the internet.
The creatively designed content with nice effects and transitions has struck a chord with netizens across the world. 
TikTok lets users access the live-stream feature. This is the platform's selling point apart from its editing capabilities. 
The TikTok Live feature was launched in 2019. This feature is a powerful way to amp up the interaction and engagement of TikTokers. If you are a content creator, this feature can help you stay in contact with your audience on a personal or deep level. 
It is not uncommon for many TikTokers to have a real-time chat with their audience via the live features.
The comment box can be used to suggest ideas or show approvals while live streaming is ongoing. This gives an opportunity for content creators to reply in real-time.
In addition to that, every successful TikTok live is akin to a badge of creativity or artistic ingenuity for TikTokers. This is because live videos are unscripted and raw, so they thrive on spontaneity and improvisation; the hallmark of creatives.
How Many TikTok Followers Do You Need Before You Can Go Live?
Not every TikToker can access the live feature. You must have a particular follower count before you can use the live feature. 
So what's the number of TikTok followers you need before you can go live?
To access the live feature, TikToker must have a minimum of 1000 followers. You will find it difficult to utilise the TikTok Live feature without fulfilling this criterion. 
Aside from having a certain amount of followers, users must be 16 years of age or older to access the TikTok Live feature. 
See Also: How to Recover a Hacked TikTok Account
How to Do a TikTok Live Stream
With at least a thousand followers, you can access the TikTok Live feature directly from your home screen. After that, it will only get easier.
Let's explore how to use TikTok Live on your smartphone:
At the lower part of your app's home screen, locate and select the 'create' option.

Scroll to the left navigation bar till the "Live" button appears.
Begin your live by uploading a picture from your gallery or snapping a new one
Input a descriptive title for your Livestream to give your followers a clue about its theme. Please note that your title is limited to 32 characters. Ensure it is brief but catchy.
Enable the "chat" option and pick a topic so that your followers can easily discover and participate in your Livestream.
You can use beauty filters to improve your looks. To spice up your video aesthetics and create a streaming light, you can utilise filters and effects in your video.
As soon as you are ready and set to go Live, Select the 'Live' option to begin your Live video with your audience.
Are you done with your Live video? To discontinue your stream, select the tiny circle with a line segment at the lower end of your display.
A pop-up box will appear asking you to confirm; tap "End Now".
An interesting thing about TikTok Live is the ability for users to send you virtual gifts. To receive virtual gifts from your followers, you must be at least 18 years old.
These gifts can be in the form of beautiful stickers, unicorns, sunshine etc. You can exchange them for cash afterwards. 
As you continue with your webcast, TikTok Live lets you easily request funds if you are associated with an NGO. Simply tap the "Support Nonprofit" option.
Your audience can freely donate or contribute to your preferred organisation during your Livestream.
Go Live on TikTok with Someone Who Doesn't Have 1000 Followers
If you have less than a thousand followers on TikTok, a highly effective method of going live is by joining another user's live broadcast. 
The co-hosting feature is a great way to use TikTok Live for live streaming without the required 1,000 followers. But, your co-host should fulfil the compulsory requirements. 
Let's show you how to stream live on TikTok while co-hosting with another user. 
During the Livestream, navigate to the comment area of the user. 

Select the two-smiley icon.

Select "Send Request". The host will be informed that someone wants to take part in their live video. 

Patiently wait for an approval or decline of your Livestream request.

Once the user approves your request, the TikTok live screen will be split into two, and you'll be in one half.
Why am I Unable to go Live on TikTok?
Are you unable to access the TikTok Live feature in spite of fulfilling all the requirements? Let's explore some ways you can rectify the issue:
Patiently wait a week to use the live feature if you have newly gained a thousand TikTok followers. 

Ensure you have the latest version of the TikTok app. You can use the App Store or Google Play Store to upgrade the application. 

Delete the app from your phone and reinstall it afterwards.

If none of the methods above work, submit a complaint with the TikTok support team as a last resort.
See Also: How to Fix TikTok Notifications Not Working
Bonus: 5 Best Ways To Increase Your TikTok Followers Via TikTok Live
TikTok's user base is made up of creatives and fantastic content creators. 
It is a wonderful place to showcase your talent, express your passion, spread knowledge, create awareness and entertain people. 
If you have a newly created account, you may find it tough to gain popularity.
Sometimes, it may be painfully hard to attract an audience to your Livestream and sustain their interest.
Please don't feel bad; we have great suggestions that can help you improve your engagement and interaction.
It's All About Timing
What's the best time to use the TikTok live feature? While an entirely impromptu Livestream can come as a great treat to your audience, it's a bad idea to go live at eerie hours.
Imagine surprising your followers with a random Livestream at three in the morning with the majority of them sleeping; that's a terrible plan.
When planning your TikTok Live, always take your followers into consideration.
Always time your TikTok Livestream to coincide with when your target audience is most likely active and online. It's a good idea to schedule your TikTok Live in advance. 
An advantage of scheduling your TikTok Live is that your followers will be notified when and before you go live. 
Keep Your Settings as Simple as Possible
The maxim "less is more" is applicable to your TikTok Live settings. Having a simple background will work well to create a nice ambience.
This is because your audience will be able to concentrate on you and what you have to say. So aim for a minimalist backdrop with decluttered surroundings.
Purchase High-quality Audio and Lighting Gear
Purchase high-quality audio and lighting gear. Compared to a YouTube Livestream, TikTok Live is by far simpler and has little to no technical expertise.
However, it's still a good idea to invest in decent audio and lighting gear. 
You can purchase quality but affordable ring lights for your smartphone on the internet. If you have nice wireless earphones with a mic with a recording feature, you are set to go.
See Also: How to Monetize TikTok Videos on YouTube
Take the Opportunity to Connect with Your Audience
The purpose of live streaming is to engage with your fans in real-time.
A great method of improving your connection with your audience is to reply to their questions and acknowledge their responses. 
Appreciate your viewers by doing a shout-out and calling them by their names. This will create a bond with them that can serve you well in the future. 
Your Livestream Needs Promotion
To generate buzz and interest among your followers, ensure you promote your live stream. Don't forget to share details on your scheduled TikTok Live with your fans or followers.
We suggest you post a promo clip for the planned Livestream.  
Also, you can utilise other social media channels for publicity. Facebook, Twitter and Instagram can be used to promote your TikTok live stream.
Let your target audience know what they stand to enjoy if they tune into your stream. You can also ask them to submit ideas and questions before time. This is a good way to grow your audience interaction.
Conclusion
Do you want to showcase your skills, flaunt your knowledge and share your passion while creating a reputation online?
TikTok is a great platform for that. It is a fantastic medium to build a relationship with your audience on an emotional level. 
This article on how to go live on TikTok without 1000 followers covers all the tips that will help you utilise TikTok Live effectively. 
So don't wait any further. Head to the platform and access the live feature to start engaging with your followers. 
Also Read:
Recommended Tools to start out as a TikTok Influencer with a Bang!