Due to the benefits of having a Facebook business page, it's natural for one to desire to join a group as a business page and not as an individual profile.
This helps to further explore the business cuties that come with doing business and owning a business page on Facebook.
If you are wondering how to join groups with your Facebook business page to accelerate the visibility of your business, this article got you covered.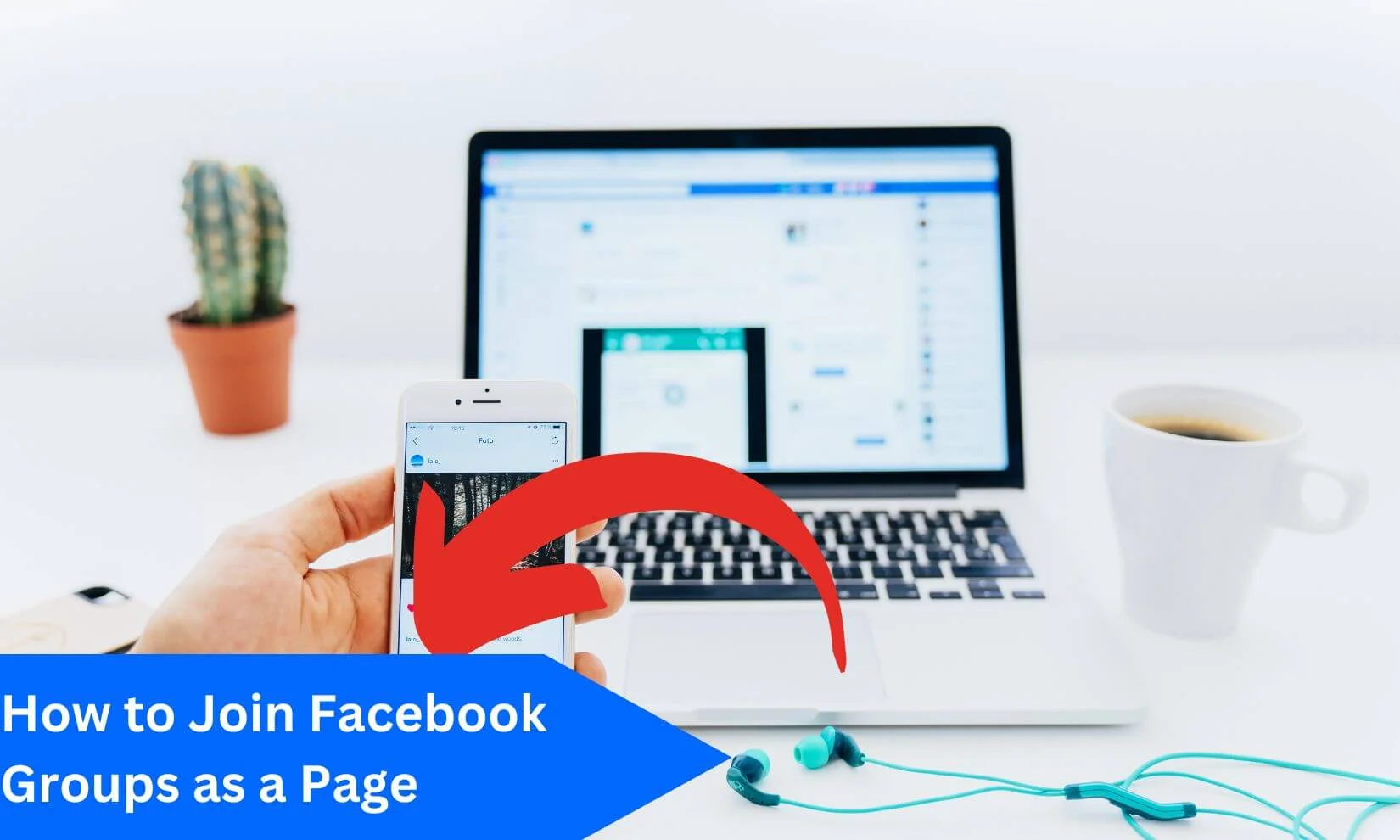 Before we get started, let's take a look at what a group on Facebook entails.
What Facebook Group Really is
A Facebook group is a feature on the social media platform that allows users to create and join communities of people with similar interests.
Groups can be public, meaning anyone can see the group and its members, or they can be private, meaning that only members can see the group and its content.
Facebook groups can be a useful way for people to connect with others who share their interests.
They can also be used by businesses and organizations to engage with their customers or members.
How Do I Join Facebook Groups as a Page?
In early 2019, Facebook introduced a new update that allows both Facebook business pages and other pages to join Facebook groups, that way users can post, comment, and engage on their business pages.
Before that time, only personal profiles can join Facebook groups, thankfully Facebook business pages have now been included.
However, the process is not as easy as joining with a personal profile. It's rather tricky with some differences.
STEP 1: Log into Your Facebook Profile
Whether you log in using the app or you make use of a browser e.g Chrome, after which you search and get into the Facebook group you intend to join.
STEP 2: Click on the Join Group Icon
You will then be shown joining options like do you want to join with your profile or you will like to make use of any of your pages?
Click on the business page you will wish to use in joining the group.
STEP 3: Read and Follow the Instructions Given
Some groups are most likely to ask questions to be sure if your business page is fit for the group or not.
The questions are to ensure your page's interest, and if you're willing to keep to the rules of the group.
STEP 4: Approval
If there is an approval process, you will need to wait until the admin approves you.
But if there is no approval process, then, you can join right away.
One of the admins will have to be available to view your request and scrutinize your answers.
STEP 5: Interact as Your Business Page
If you eventually get approved and you wish to switch between your profile or page, you can click on the "Interacting as…" button.
If you wish to join as two or multiple pages, leave the group and try rejoining. Start all over by selecting the other pages you like to join as.
If approved, you will be able to use any of the pages and switch to another anytime while communicating and engaging in the group using the "Interacting as…" button.
How to Join a Group With Facebook Business Page Through Your Page
To join a Facebook group with your FB business page through your page, follow the steps below:
Switch to your Facebook page by clicking on the switch button. This will not be necessary if you're already logged in.
On the search bar, search for the group you want to join. You can make use of the intended group link by pasting it on the browser tap if available to your reach.
Send the join request by clicking on the "Join Group" bar.
If the group has auto-approval, you can join right away, and if it doesn't, follow the instructions given or fill out the form and wait through the pending approval process.
Why Can't I Join a Group as a Facebook Page?
There are several reasons why you can't join a group with your Facebook business page. They include:
If you can't join a group as a business page, it can mean that an admin has disabled the function on that page, making the join request available to only personal/individual profiles.
Group admins are allowed by Facebook to enable or hinder pages from joining a group.
Hidden groups won't appear in search results.
Answer group qualifying questions. Most group admins won't approve your request if you do not answer the questions.
Note: When you join a group, other members will see that you've joined. Depending on the group's privacy, non-members may as well see that you've joined that particular group.
How to Post on a Group as a Business Page
To post on a group as a Facebook business page:
Go to your Facebook business page.
Click on the "Groups" tab in the left-hand menu.
Select the group you want to post in from the list of groups you manage.
Click on the "Write something" field at the top of the group's timeline.
Type your message or add any attachments you want to include.
Click on the "Post" button to publish your post to the group.
Note: To post in some groups, you must be an administrator or moderator of the group to post on your business page.
If you are not an admin or moderator, you will need to ask the group's admin or moderator to add you as an admin or moderator before you can post on your business page.
Best Practices When a Joining a Group as a Facebook Business Page
Make sure the group is relevant to your business or industry.
Follow the group's rules and guidelines.
Be respectful and courteous when interacting with other members of the group.
Use the group to engage with and learn from other members, rather than just promoting your business.
Only post content that is relevant to the group and its members.
Avoid spamming the group with promotional content or self-promotion.
Engage with other members and contribute value to the group's discussions.
By following these guidelines, you can effectively use groups to connect with potential customers and build your business's online presence.
Things to Note When Joining Facebook Groups as a Page
You can't send invitations to pages to join a group but only send requests.
Group admins may decline requests to join their group or disable the function that allows the page to join their group.
If you've already joined a group as an individual and wish to switch on intervals to the page, you can do that by changing "WHO YOU'RE INTERACTING AS…"
It is possible to have multiple of your pages on a group by switching at will using "WHO YOU'RE INTERACTING AS…"
Only admins of a Facebook page have the power to request joining a group.
How Do I Find a Good Facebook Group for Me?
There are several ways to find a good Facebook page. They include
Use the Search Function
From the Facebook homepage, click on the "Groups" tab in the left menu and use the search bar to search for groups by keyword or category.
You can also filter your search results by group type (public, closed, or secret) and group membership (all groups, groups you're in, or groups you've joined).
Browse Through Suggested Groups
Facebook will often suggest groups for you based on your interests and the groups you've already joined. You can find these suggestions by clicking on the "Discover" tab in the group's menu.
Ask for Recommendations
Reach out to friends, colleagues, or other industry professionals and ask for recommendations for good Facebook groups in your field.
Check out Popular Groups in Your Industry
Do some research to find out which groups are popular or well-respected in your industry.
You can do this by searching for keywords related to your field and looking for groups with a large number of members and active discussions.
How to Determine Which Facebook Group to Join
When evaluating a group, consider the following factors
Size
A larger group may have more resources and activity, but it may also be more difficult to stand out or get your questions answered.
A smaller group may be more intimate and allow for more personalized interactions.
Engagement
Look for groups with active discussions and a high level of engagement from group members. This is a good sign that the group is well-managed and provides value to its members.
Rules and Moderation
Make sure the group has clear rules and moderation policies to ensure a positive and respectful community.
Relevance
Choose a group that aligns with your interests or business goals. This will help you get the most value out of your membership.
Facebook Group as a Third-Party Recommendation
It has been discovered that Facebook groups are a great source of third-party recommendations, Making it a great advantage to businesses.
Facebook can be used as a third-party recommendation platform in several ways:
Businesses can ask their customers to leave reviews on their Facebook page. These reviews can be seen by other users and can help establish credibility and trust for the business.
Users can recommend businesses to their friends on Facebook by leaving a recommendation on the business's page or by sharing the business's page with their friends.
Groups on Facebook can be used as a way for users to recommend businesses to one another. For example, a group for local businesses in a particular area could be used as a way for users to recommend and discover new businesses.
Facebook also has a feature called "Facebook Recommendations," which allows users to recommend businesses to their friends and receive recommendations from their friends. This feature can be accessed from the user's profile page.
By using these features, businesses can benefit from word-of-mouth marketing and recommendations from their customers and other users on Facebook.
Join Facebook Groups as a Page FAQs
Why Can't I Join a Facebook Group as a Page?
The group may not allow pages to join. Some groups only allow individuals to join, rather than businesses or organizations.
Why Is Facebook Blocking Me From Joining Groups?
You may have reached the maximum number of groups you are allowed to join. Facebook limits the number of groups that users can join to help prevent spam and abuse to 6000 groups.
Another reason can be a result of violating Facebook's terms of security and joining too many groups in a day or releasing content with explicit details etc.
Why Can't I Link My Facebook Page to My Facebook Group?
The page and group may not meet Facebook's criteria for linking.
Facebook has guidelines for linking pages and groups, and the page and group must meet these guidelines to be linked.
How Do I Join a Facebook Group Without My Friends Knowing?
Go to the group's page and click the "Join" button.
Click on the dropdown menu next to "Who can see this?" and select "Only Me."
Click on the "Join Group" button.
Can Anyone Join a Public Group on Facebook?
Anyone can join Facebook groups and engage in the group without the admins' approval even though admins still have control over posts in the group.
Conclusion
Groups on Facebook are good platforms for interactions and can serve as wonderful media for business advertisement and networking.
Not so recently, Facebook included the possibility of joining a group as a business page instead of joining as an individual profile. This is a great way to increase the media visibility of your business.
Not all groups allow pages to join the platform.
However, for the larger population of groups that are okay with pages joining their platform, ensure that you obey the rules and regulations of the group when you join the group via your business page.
Also Read: