The news feed is an integral part of Facebook, just as music is to Spotify and photos are to Instagram.
Facebook has done plenty of work to improve the user-friendliness, simplicity and accessibility of the platform.
However, users complain about glitches and errors. One of the most widespread complaints is that the Facebook newsfeed is not loading.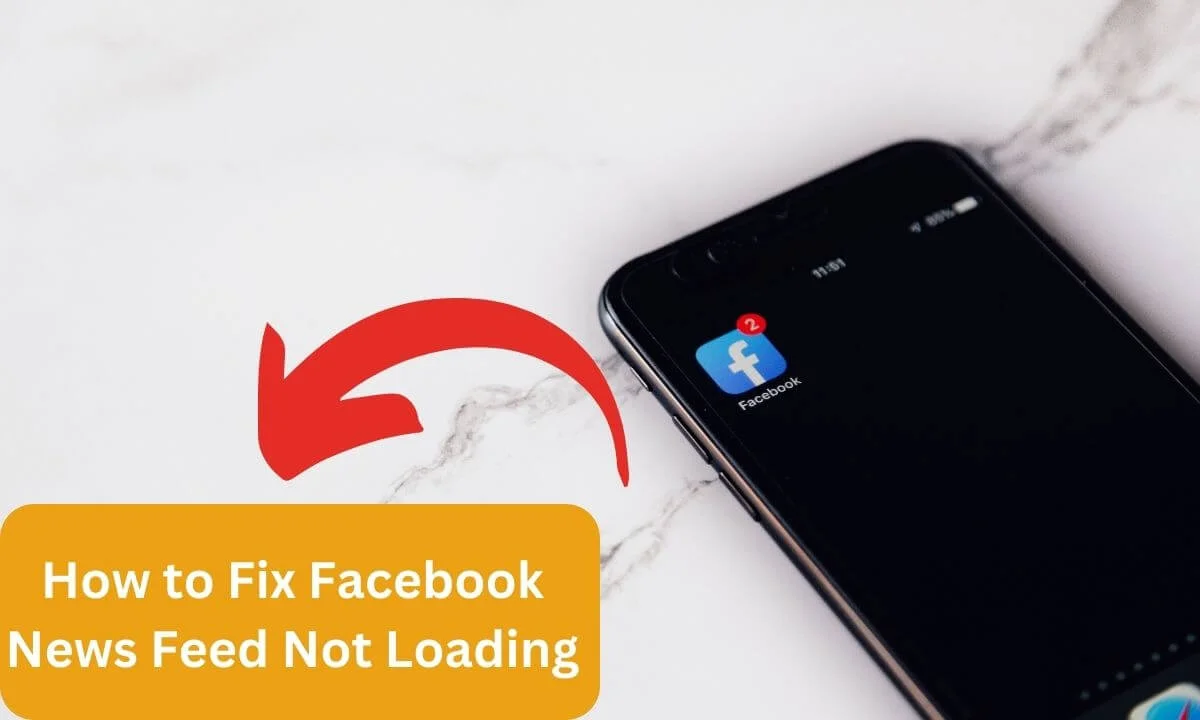 If you encounter loading issues while navigating the Facebook news feed, I will explain some ways to rectify these issues.
How to Fix Facebook News Feed Not Loading
To rectify the "Facebook news feed not loading problem" issue, try restarting the mobile app.
If the application is unavailable or hangs and can't be accessed, you can reset it by force quitting Facebook to halt its operations.
Generally, this will be enough to rectify the news feed.
If this solution isn't effective, don't fret. The fixes I have explained below will clear away the issue.
Without further ado, let's get started.
Here's how to fix Facebook news feed not loading:
Clear Facebook Cache and Data
While cache and data can improve the user experience, they can clutter your storage space and lag your device.
Thus, I suggest you delete your Facebook data and cache whenever this issue comes up.
Follow the steps below to delete your Facebook data and cache:
Access the Settings menu and navigate to Apps.
Select Apps, navigate to Facebook and select it.
Select the following options: Clear Data and Clear Cache.
This process will delete the app files from your smartphone, refresh your app, and quickly fix your problems. If the issue still persists, try the next step.
Clear all Data and cache From the Browser
One of the major causes of the "Facebook news feed not loading" issue is poorly configured or compromised data originating from your browser.
To fix this, you will have to clear the cache and data files in your browser.
Let's explore how to clear data and cache on Google Chrome:
Launch Chrome browser.
Tap Ctrl+Shift+Dlt together on your keyboard. This should make an option box appear.
Specify the time range and choose "All time."
Tick Cookies, cached pictures, files and other site data from the checkboxes.
Select Clear data.
For Mozilla Firefox users, here's how to clear cache and history:
Launch the Firefox browser, select the Tools bar in the upper right and click settings.
Click Privacy & Security.
Select Clear History below the History option.
Specify the time range to "Everything." Tick the cookies and cache checkbox.
Next, select OK.
For Microsoft Edge users, here's how to delete data and cache:
Launch the Edge browser and select Settings from the lower right corner.
Navigate to Privacy and select the Search and Services option. Next, select the Choose what to clear option.
Tick Cookies, Browsing history, cached images, files and other site data checkboxes.
Click the Clear now button.
For Safari browser users, here's how to clear data and cache:
Access Safari.
Navigate to the menu bar and select Settings.
Scroll to the privacy section and select Manage Website Data.
Click Remove all and select Remove Now.
Click History from the upper tab and select Clear History.
Depending on your web browser type, once you complete these steps, restart it and see if the issue is fixed.
Update Facebook News Feed Preferences
One of the reasons it is difficult to find the latest posts or updates from your newsfeed is due to your settings.
If you are interested in checking out the latest posts or popular stories from your feed, then change your priorities or "favorite" from your news feed settings.
Here's how to change your news feed preferences from Facebook.
Access the Facebook mobile app.
Navigate to the lower-right and select Settings.
Tap News Feed from the Preferences tab.
Select Favorites.
To prioritize any friends or pages, tap the add button on the section.
If the "news feed not loading issue" still occurs, I recommend that you try the next fix below.
Set Time Zone
In the past, I played a lot of games. One trick I used to unlock hacks and cheats was to change the time and date on my mobile device.
If you currently do this, it will be difficult to access news feeds on Facebook.
To configure your time zone on your Android device, do this:
Navigate to Settings.
Tap System
Select the Date and Time.
You can either choose to configure your time zone automatically or manually.
Select Save.
For iOS users, here's how to configure your time zone on your device:
Select the settings app from your menu screen.
Select General.
Navigate to Date & Time.
Either configure the time zone automatically or set it manually.
See if your news feed is loading. If this is not the case, it is possible that it is due to another problem.
Restart the Facebook App
At times, restarting the Facebook app might clear up bugs or glitches affecting it.
This action is enough to get your news feed to load.
So a good solution is to force quit or relaunch to refresh the process.
Here's how to restart your Facebook app:
Tap and hold the Facebook icon on your mobile device.
Select the app info.
Select Force stop and tap OK.
Restart the Facebook app and check if the problem is fixed or not.
Sign Out of Your Facebook Account
Attempt to log out of your Facebook account and sign back in. This could solve the problem of "Facebook news feed not loading."
To do this, you have to:
Access the Facebook app on your smartphone.
Select Menu, navigate down and tap Log Out.
Sign in once more to see if you have gotten rid of the problem or not.
Please note:
Ensure you sign out of your account on connected devices.
Update Facebook App
If you are using outdated versions of the Facebook app, you may experience glitches and a lag in functionality.
This is why you need to update the app to the latest version to install it to fix any pertinent issues.
To update your Facebook app, do this:
Access the App Store (for iOS devices) and Google Play Store (for Android devices).
Then navigate to the search bar and input "Facebook."
Once you see an update on the page, select it.
Next, the update will install instantly.
I understand that if your Facebook app is riddled with bugs or glitches, an update will rectify all this.
Thus, the news feed not loading issue should be cleared by now. Access your Facebook app and check if the issue has been fixed.
Check Your Internet Connection
Poor internet connection may be responsible for poor functionality in the app.
At times, you get obsessed with what is happening on Facebook's end. But you don't remember checking your internet connection.
Start by checking the online status of other apps and websites from your smartphone and then access the Facebook app again.
Disconnect and reconnect your internet. Ensure your internet connection is great.
Furthermore, you can reset your modem. Connect your PC directly via LAN.
Then see if the news feed is loading or not.
Review the Date and Time Settings
If your computer has an invalid time because your clock is either too early or late or your CMOS battery malfunctions, it can cause your newsfeed not to load properly.
So the fix is to update the time and date.
Here's how:
Click on the date and time in the lower right section of your screen.
Choose Adjust Time/Date
Tick Set time zone or time automatically.
If the time and date on your PC are still wrong, update it manually by navigating to the date/time and setting it to manual. Access Facebook and navigate down to reload the news feed. Check if this step is effective.
Check if Facebook Server is Offline
If Facebook encounters server issues or is going through a server maintenance, it will cause your news feed to not load.
To find out the availability status of websites, you can use status-checking tools like Down Detector.
This will give you an idea if the Facebook website is offline or not.
Frequently Asked Questions
Why has my Facebook feed failed to display posts?
The most likely reason for this is that your internet connection is slow.
Other reasons include the use of a VPN connection, outdated Facebook versions, glitches and Facebook servers offline.
Furthermore, your browser cache can also cause this problem.
Can I reset my Facebook feed?
To reset your Facebook feed, access Facebook and click Most Recent.
How can I fix my Facebook news feed issue?
Check above for the complete guide to rectifying the problem.
Some of the solutions to this issue include relaunching the Facebook app, updating the app to the latest version, clearing your browser cache and data, and resetting your online connection.
Conclusion
Facebook is among the popular social media platforms for interacting and engaging with family and friends.
But when the news feed stops loading, it defeats this purpose.
Thus, if you are experiencing a "Facebook news feed is not loading" issue, use the tips I have explained above to rectify your problem.
Ensure you share this article with your friends and loved ones using the social button below.
Also Read: