Facebook is now one of the most well-known social networking sites in the world, with cutting-edge features that will blow your mind.
You may find or search for your friends on Facebook in various ways. Even methods you may not be aware of existing, and the method in question is searching by a person's mobile phone number.
People aren't aware of how to search for someone on Facebook using their phone number.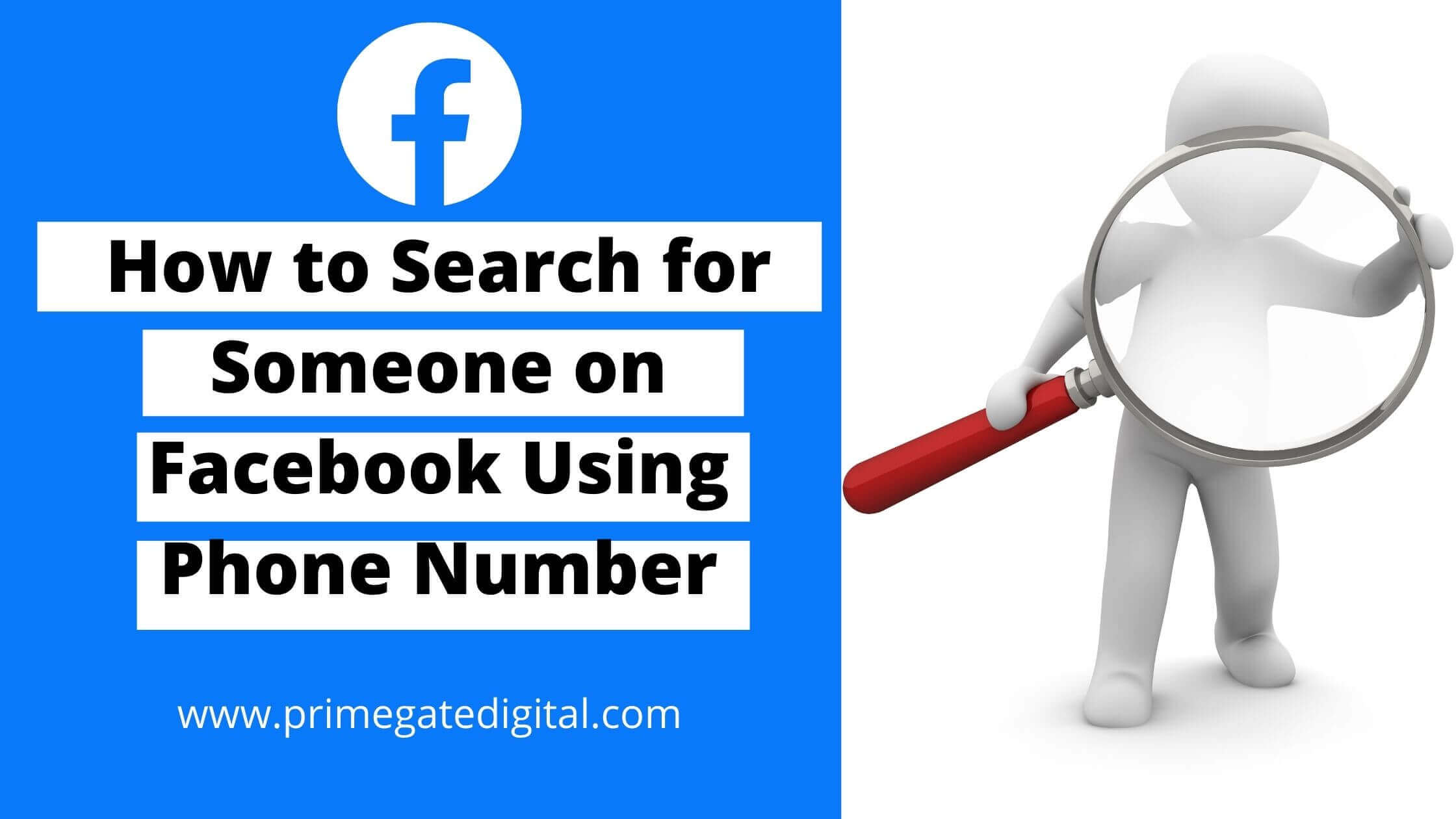 One of the primary reasons Facebook ever requested users' cell phone numbers was for added security. However, posting your phone number serves a purpose other than security.
With it, individuals can find you on Facebook by searching for your phone number.
Searching for someone on Facebook using their phone number is a relatively new tool for most Facebook users, so it may be unfamiliar to you.
But don't worry, since I'll explain how to Search for Someone on Facebook using a Phone Number in this article.
See Also:  How to Delete a Facebook Account Without a Password
Challenges with Searching for Someone on Facebook Using Phone Number
There are lots of features that Facebook has optimized when it comes to searching for someone on Facebook with a phone number.
Because people took it as an advantage to target users with unsolicited Facebook ads, with the option to opt-out, Facebook has limited the search feature.
You can no longer find someone just by searching for their phone number.
Users can now hide their phone numbers from the public and limit who can look them up using their phone numbers.
Facebook has now given users the following alternatives for who can search them using their cell phone to help them fix the problem:
Friends
Everyone.
Friends of friends and
This implies that if you set it up for everyone, everyone on Facebook who has your phone number will be able to find your Facebook account.
See Also: How To Get The Facebook Dating App Back After Deleting
How to Search for Someone on Facebook By Phone Number
It's not difficult to search for people on Facebook using their phone numbers; all you have to do is follow the steps below:
Once the app has opened on the Facebook app or web
Find the Facebook search bar on the Facebook page
Type in the mobile number of the person you wish to look for
Press the Enter key, and you will be brought to the Facebook profile of the person you are looking for.
If there are any restrictions on the search that you fell into these categories, you might not be able to search them on Facebook using Facebook.
See Also: How to Recover a Hacked Facebook Account Really Fast
Other Ways to Search for Someone on Facebook
Use Facebook to search for the person's name
Another amazing way to find someone on Facebook is by searching the person's name directly. You can input the name and next use the filter tool to sort through the relevant results.
Here are some strategies to keep in mind when looking up a person's name on Facebook:
If you are looking for a specific person, simply tap People to avoid seeing the results of groups, places, brand pages, photos, and videos.
You can fully tailor your search results using the filters. For instance, you can look up ex-classmates by their names and the Place filter ( select your college), or choose a company you are underpaid employment for from Work to look up colleagues with that name.
To find someone, you do not have to be associated with them. Search for Names + City, for instance, to look for profiles that have such details in them.
Look up Someone on Facebook by searching "Person's name + Workplace or School."
Not sure of the person's name? There's a way to search for a person, even if you are unsure of the name. For instance, if you have an idea about their workplace or the school they went to, you can easily search for them on Facebook.
You can begin by searching for the workplace/school.
Next, select People to narrow down the results to people who have included that information on their profile.
Because so many people add details about the schools and businesses they presently attend or work for, it's simpler to find them on Facebook.
Leverage the Friends of Your Friends
If you believe that the person you are looking for is on the friend list of your friends, it is best that you take advantage of this situation. How do you do this?
For instance, if they usually attend the same academic institution as you and/or another Facebook friend, or used to work in the same business or reside in the same geolocation, the best way to find them is to do a mutual friend search.
Here's how:
Access a friend's profile and tap the Friends option to view their friends list. You can browse through the entire list or go through their newly added friends and friends from groups, like places of business, residence, or college.
Going through the "People You May Know" section is a good strategy for searching for someone. This has a list of people you may be familiar with via your mutual friends.
Please note that people hide their friend lists from the public view, so if this is the case, this method won't be effective.
Search using Public Groups
Searching in public groups is another interesting way to look up people on Facebook.
Since groups are gatherings of people with common interests on Facebook, it may be the best place to check if you know what the user is interested in.
To successfully do this, navigate to the search field in the upper section of the site, input a keyword and tap Groups on the menu. On the group page, check the Members section to find the person
Tips:
On the search results, ensure you tap on Public Groups if you wish to access the entire member list (Private groups will require you to join before you can access the list of members).
See also: Facebook Image Search: Find Someone on Facebook With Images
Another strategy you can use is searching for a person's related information. For this to happen, you need to possess their Facebook information.
However,  you are looking for their social media account links too, and check if they also have Pinterest, Twitter, LinkedIn, Tinder usernames, and so on.
All Facebook profiles have a unique username in the last section of their URL. Look it up on Google and other search platforms for related information and accounts.
Alternatively, you can carry out a reverse image search on a picture from the person's profile.
This can be sourced from their profile picture or any photos they have uploaded.
A reverse image search will help you find out if the same actual photo has been shared on any other social media platform. You can carry out this search on websites such as Google Images and TinEye.
Search for Someone on Facebook by Phone Number FAQ
How do I Use Facebook to Search for someone?
Access the Facebook mobile app on your smartphone.
Navigate to the upper right corner and select the search button.
Input the person's first name you wish to search for and tap the button.
Select the "People" tab in the upper area.
You can tailor the search results using the filter button beside the search bar.
Can strangers use Facebook to find you?
Yes. Anyone can search and locate your account on Facebook, excluding those you have blocked. However, you can choose to keep your profile details hidden from the public.
Using privacy settings, you can hide your posts, pictures and tags from strangers.
Can people track who has seen their Facebook?
No, no tool enables Facebook users to see who has accessed their profile. No 3rd-party apps can offer this feature.
Do you know if someone is searching for you on Google?
It is impossible to check if someone is searching for you on Google. However, you can create alerts to be notified when your name pops up on a social media platform, on a message board or website.
Can you access a private Facebook account?
The simplest way to access someone's private profile on Facebook is to add them as friends. Once someone is on your friend list, you can access their profile even if their account is set to private. So send them a friend request and hope they accept it.
Conclusion
By following the above steps, you will be able to search for someone on Facebook using a phone number. Do not hesitate to share this with your community.
Also Read: