As against popular belief, MailChimp is not the only super-duper email marketing tool – it has several alternatives.
Would you care to know these Mailchimp competitors?
This piece is your exhaustive resource that will draw out other surefire email marketing tools. Aside from that, you will see for yourself the edge that some of these softwares have against MailChimp.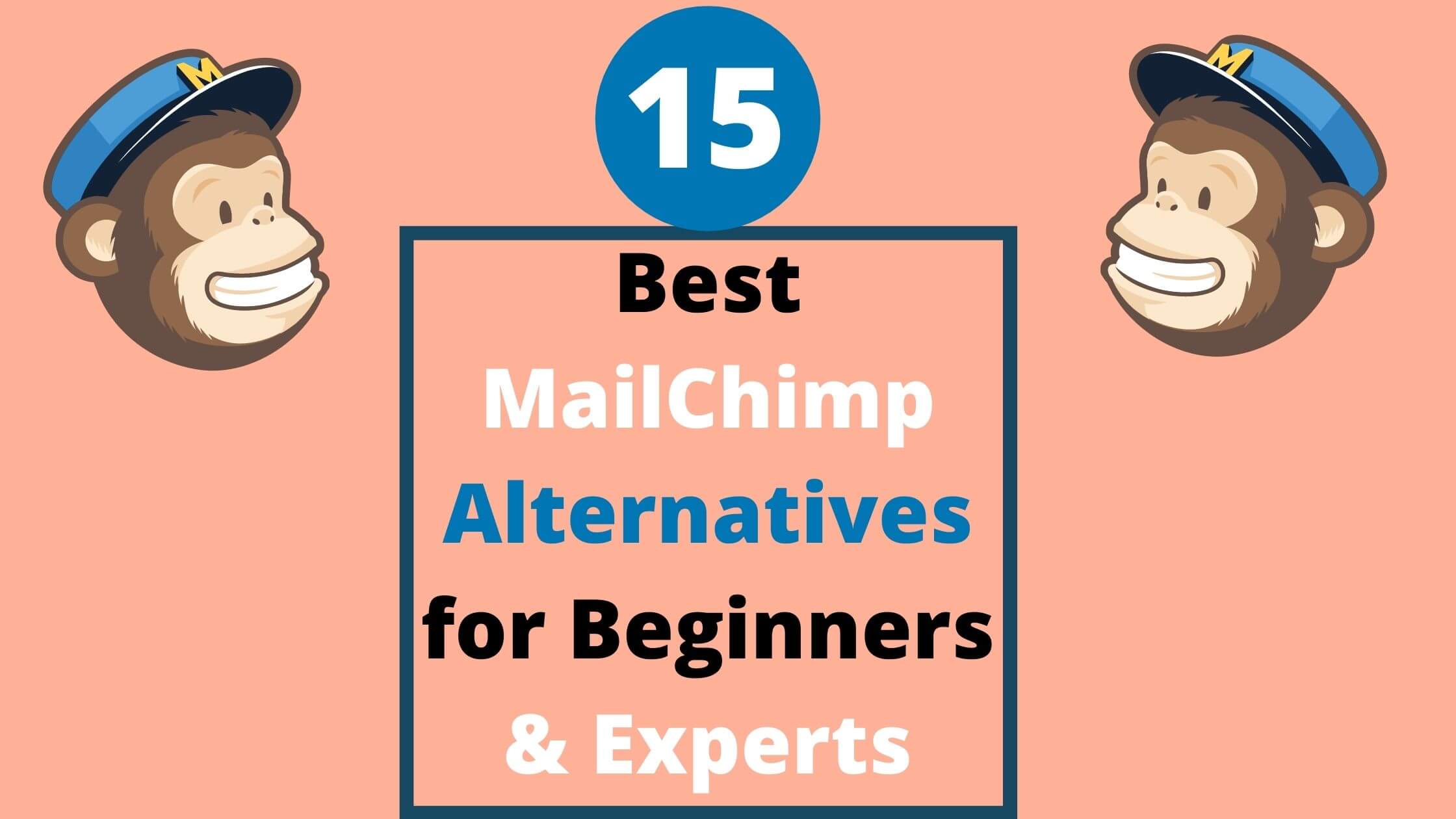 If you're ready to skyrocket the delivery, engagements, and conversion rate of your marketing emails, read on this content more keenly.
Before we proceed, you might want to ask, "Why Should You Look For MailChimp Alternatives?"
Well, there are several reasons for that. And we will explain below.
Foremost, variety is the spice of life. You can't keep using one software for ages. You have to test other ones and deepen your experience in other choices. That's even the way you can get to know your onions and become an authority.
Be that as it may, even the almighty MailChimp has a lot of cons why you should think of trying out other alternatives. Here are a few of them:
you can only check the analytics on the mobile app.

it doesn't have a monetization feature like Substack.

you'll need a designer to design a template that suits you.

its user interface is quite hard to navigate.

they can block your account without notice.
Can you now see the reason you need to know the best alternatives to MailChimp?
Without much ado, let's get into it.
The 15 Mailchimp Alternatives | Best Email Marketing Software
1. Convert Kit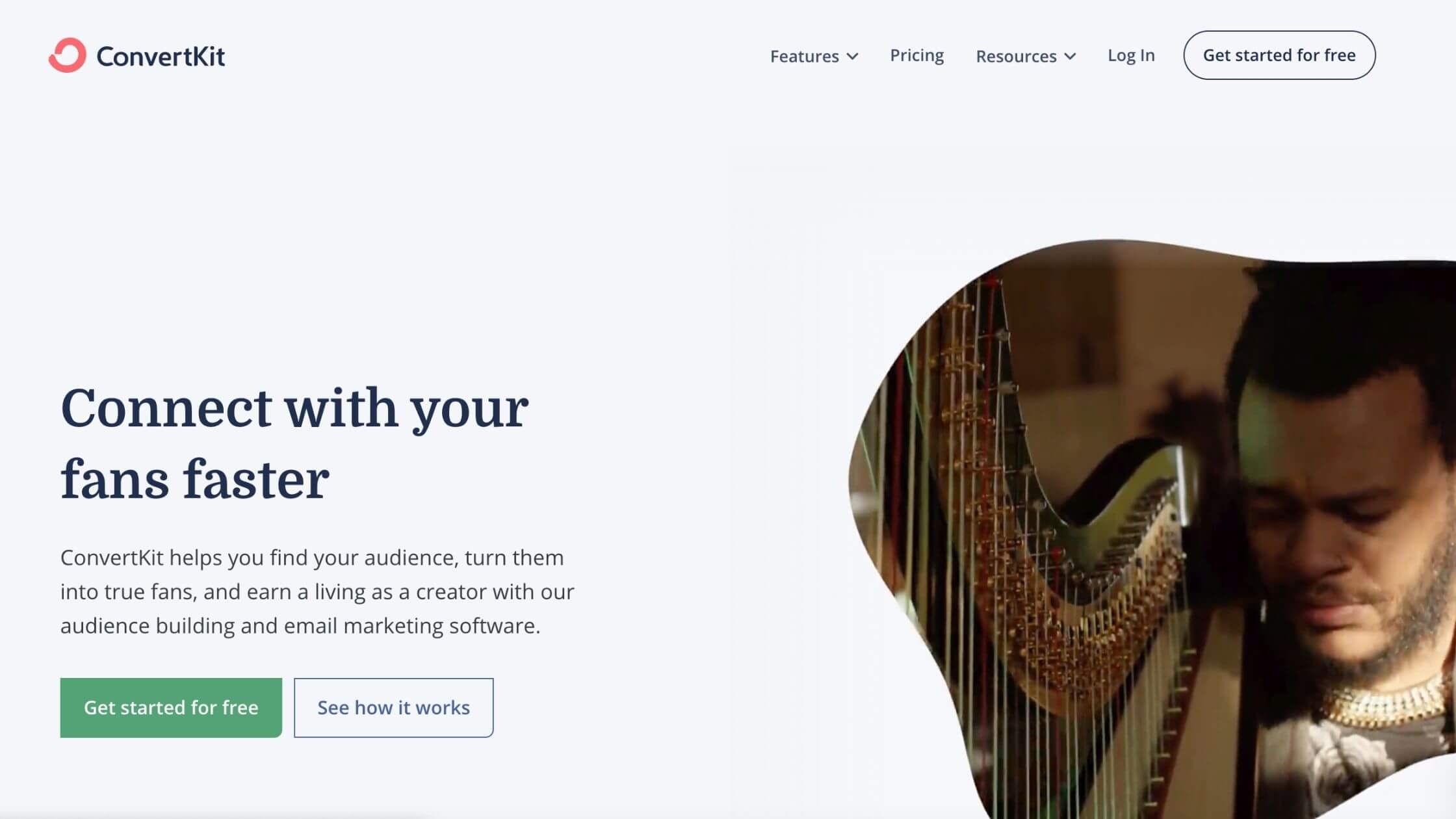 Almost every email marketer cringes when their beautiful and rich emails end up in the spam. That's true, right?
You can jump over that by leveraging the Convert Kit. One of the reasons folks use Convert Kit is because of its high tendency of deliverability – up to 98% and 30% average open rate. 
It has stronger software engineering qualities to get its way into your audiences' inboxes. With that, you can pass your message as efficiently as possible – an imminent high-conversion rate.
You don't need to be a coder or designer before you start using Convert Kit. It has several attractive landing pages where you can draw inspiration and even use any one of them.
When you have built your signup form with any of these landing pages. You're all set to gaining massive subscribers.
Now, this is the magic: you can add incentives to your first-timer's auto-responder. 
What does this mean? 
When a new subscriber signs up for your newsletter, such a person will get to download any content or resources that you have added to it. Or, think of all this as a gift. Everyone loves gifts, don't we?
Aside from that, you can get to categorize your audience and address them accordingly. No doubt, Convert Kit is a great tool for email customer conversion and retention.
See Also: 25 Actionable Email Marketing Strategies for Businesses
2. Klaviyo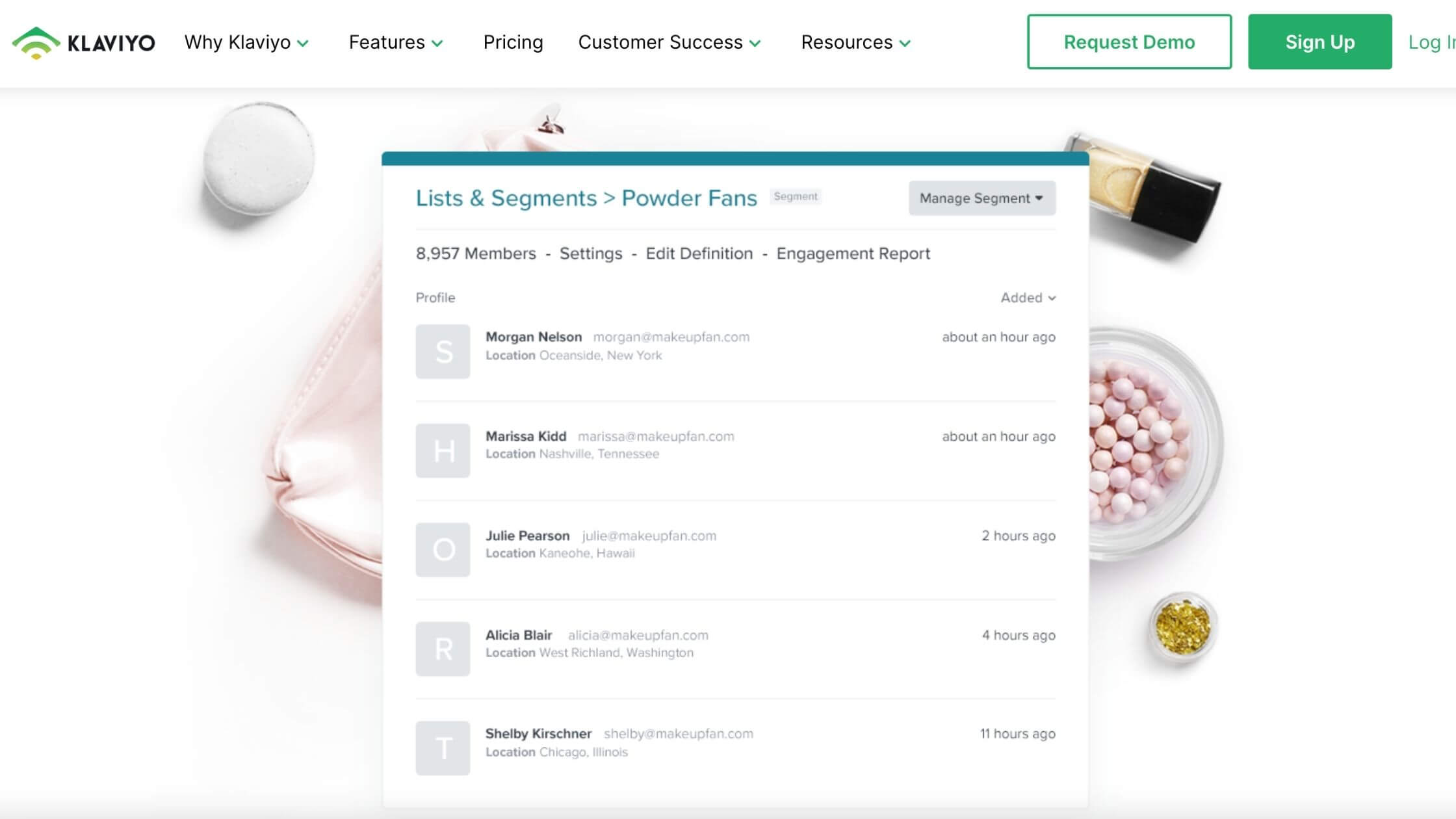 Klaviyo is the #2 on our list of  MailChimp alternatives.
What Klaviyo came to solve is the poor and watery email campaigns that B2B companies often execute. However, this doesn't mean that a B2C, SaaS, or even an individual cannot use this software.
Klaviyo helps B2B email marketers to send targeted email campaigns – like sales announcements, product promotions, and newsletters.
With that, they will be able to enjoy more quality engagements, the building of prospects, and the generation of leads.
It's important to note that Klaviyo is perhaps of the email software that is easier to set up. It has a Setup Wizard, a designer AI, that will help you build your page and brand you accordingly within a few minutes.
Then it helps you to segment your customers and talk to them segment-by-segment with just one email.
The beauty of that is: each of your customers in each category will enjoy personalized content which will make them feel that you're human.
Because of that due segmentation, you have a higher tendency of getting increased readability.
Apart from that, Klaviyo has an amazing feature: you'll be able to test each part of your email to predict how well you're going to deliver and convert. This in-built AI can track your headlines, CTA, and all that.
See Also: 15 Best Lead Generation Software to Consider
3. GetResponse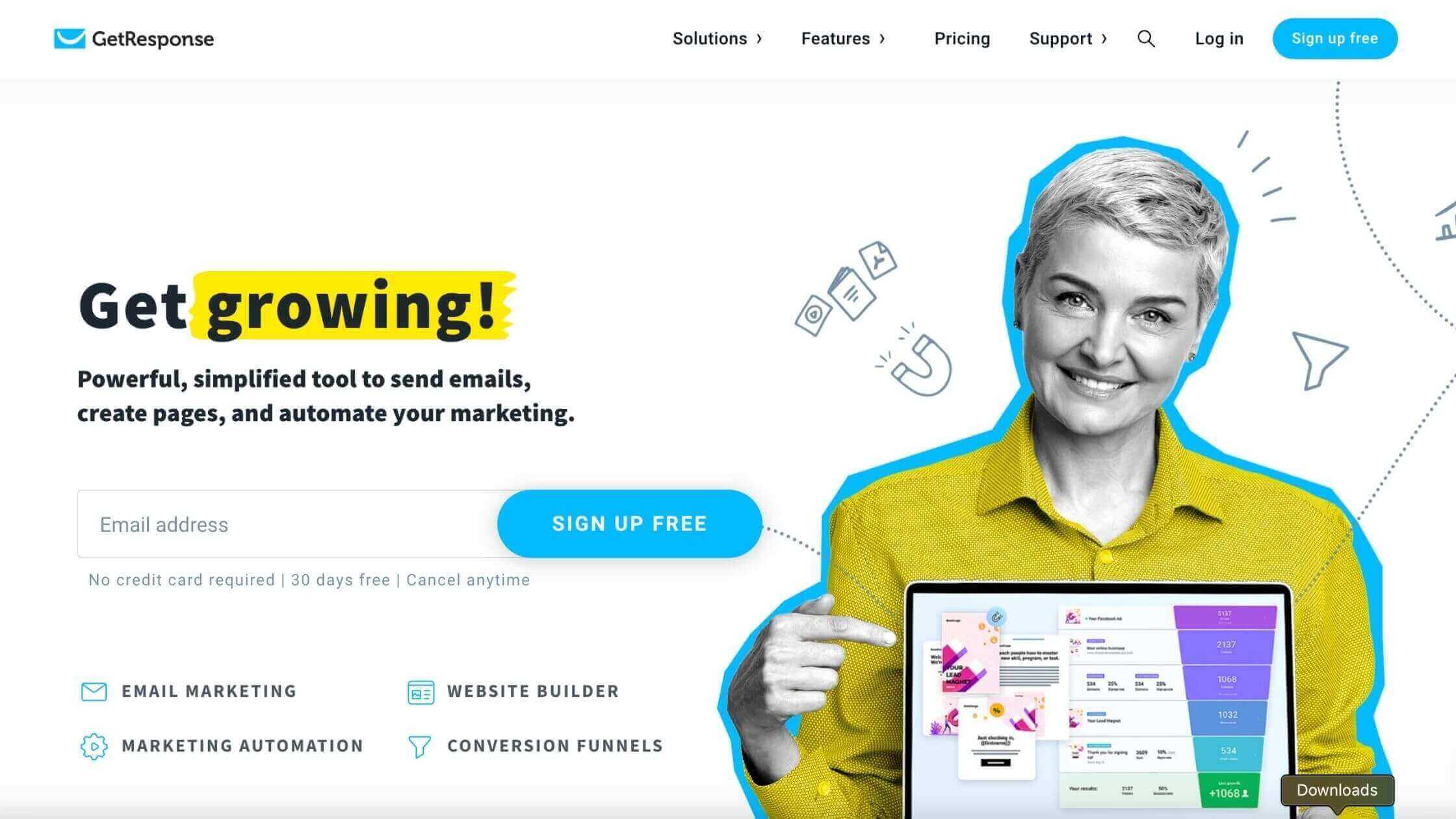 So far in the email marketing industry, GetResponse has a track record of delivering consistent results. Thus, making itself one of the email marketing software around.
GetResponse has email templates with powerful UX copies that will move your customers. So you don't have to start from the beginning – just move faster with GetResponse.
All you have to do is just drag and drop, or adjust, these designs to suit your taste. You can enhance those emails with GIFs and images. At the end of the day, you can preview before sending.
Of course, a marketer who is worth his salt knows that time is a big factor that can determine email open rates. That is, there are ideal times—according to best practices—for you to send your emails.
Doing otherwise, always brings poor click-through rate, reading rate, and conversion. We can spare you that.
On this note, GetResponse has an AI called Perfect Timing.
Therefore, if you schedule your newsletter to send at 8 A.M. Tuesday from Melbourne, this feature will make it deliver to your recipient in Nigeria by 8 A.M. West African Time.
In other words, it balances the timezones of both the sender and the sendee. That's beautiful, right?
Wait, there's one more thing: GetResponse has a 30-day free trial. Don't worry, they won't even ask for your card details. So you can go ahead and try them out.
See Also: 21 Best Webinar Software to Consider (Top Ranked)
4. Substack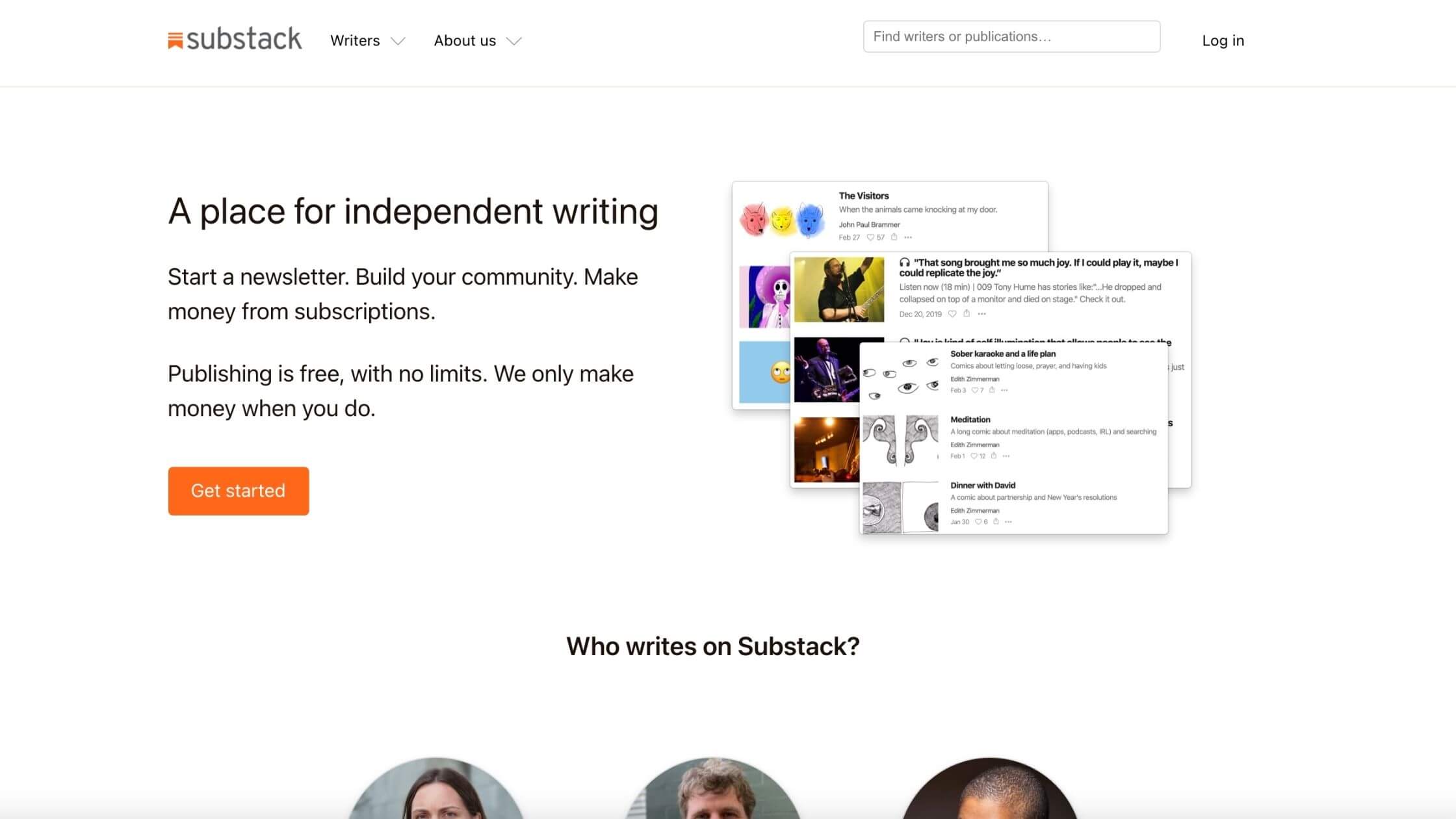 So many newsletter writers are rushing to Substack and leaving MailChimp behind without looking back. Why do you think they are doing that?
It's simple: if you run a newsletter on MailChimp, you won't get direct money for it. Folks just use it to build a name in their niche and gain an audience. 
But if we should face it: writers use their time and creativity to curate content and they deserve to make a robust living on that. That's where Substack comes in.
As a newsletter writer, you get paid for your emails; yes, it's as simple as that. Let's assume that you have 800 subscribers and they pay only $7 per month. Do you know that you'll have nothing less than $4,400 per month?
This monetization feature is the edge that Substack has against other software like MailChimp.
Be that as it may, all you have to do is to build your exclusive email list and make sure that you're always dishing superb out-of-the-box content for your readers. Before you know it, you're making big bucks as a writer.
Of course, a business can also run Substack exclusive newsletters as described above.
5. Mailer Lite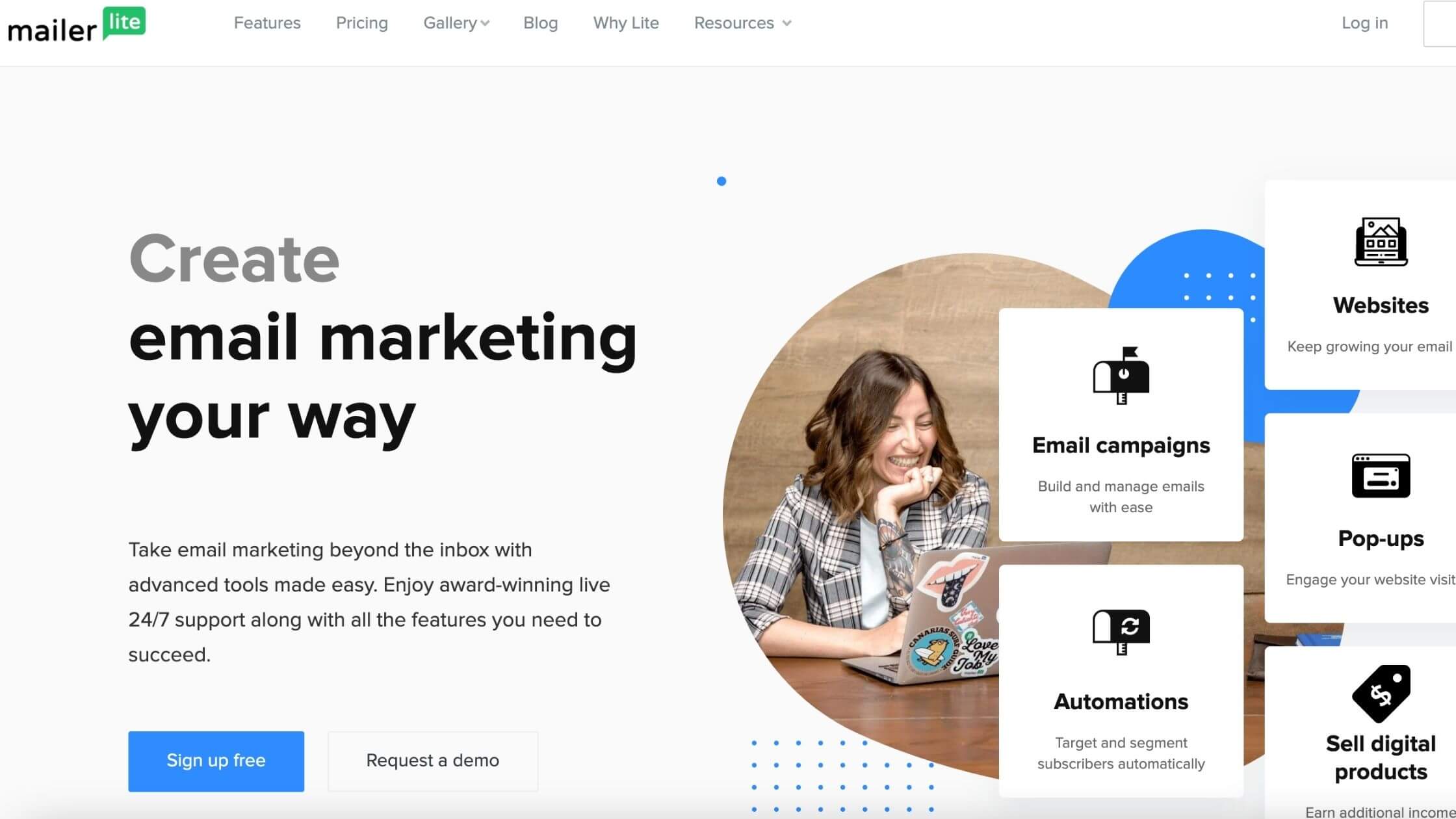 The modern improvement and outlook of contemporary email marketing are Mailer Lite. It's so unique and way unlike a lot of its earlier competitors.
It is one of the biggest Mailchimp Alternatives that you can consider.
Mailer Lite also has email optimization features. You can perform A/B testing to be sure everything is okay before you press "send."
Apart from that, it also delivers emails by time zones – thereby making it come at the right time when your recipient will love to read.
Also, there are times that emails bounce. If not checked, this reduces engagement and conversion – you won't meet your marketing goals faster. 
But Mailer Lite has good news concerning that.
Would you like to hear?
Mailer Lite has an auto-resender that will fire your emails wherever it has bounced. With this, none of your emails will backfire.
Finally, you can track your email campaigns with accurate analytics. This will show you up-to-date pieces of information about each of your campaigns and how each recipient responds to each of them.
This resourceful data will help you to track where you are getting it and where you'll have to work on it.
See Also: Top 21 Best Content Writing Tools To Create Better Content
6. Sendinblue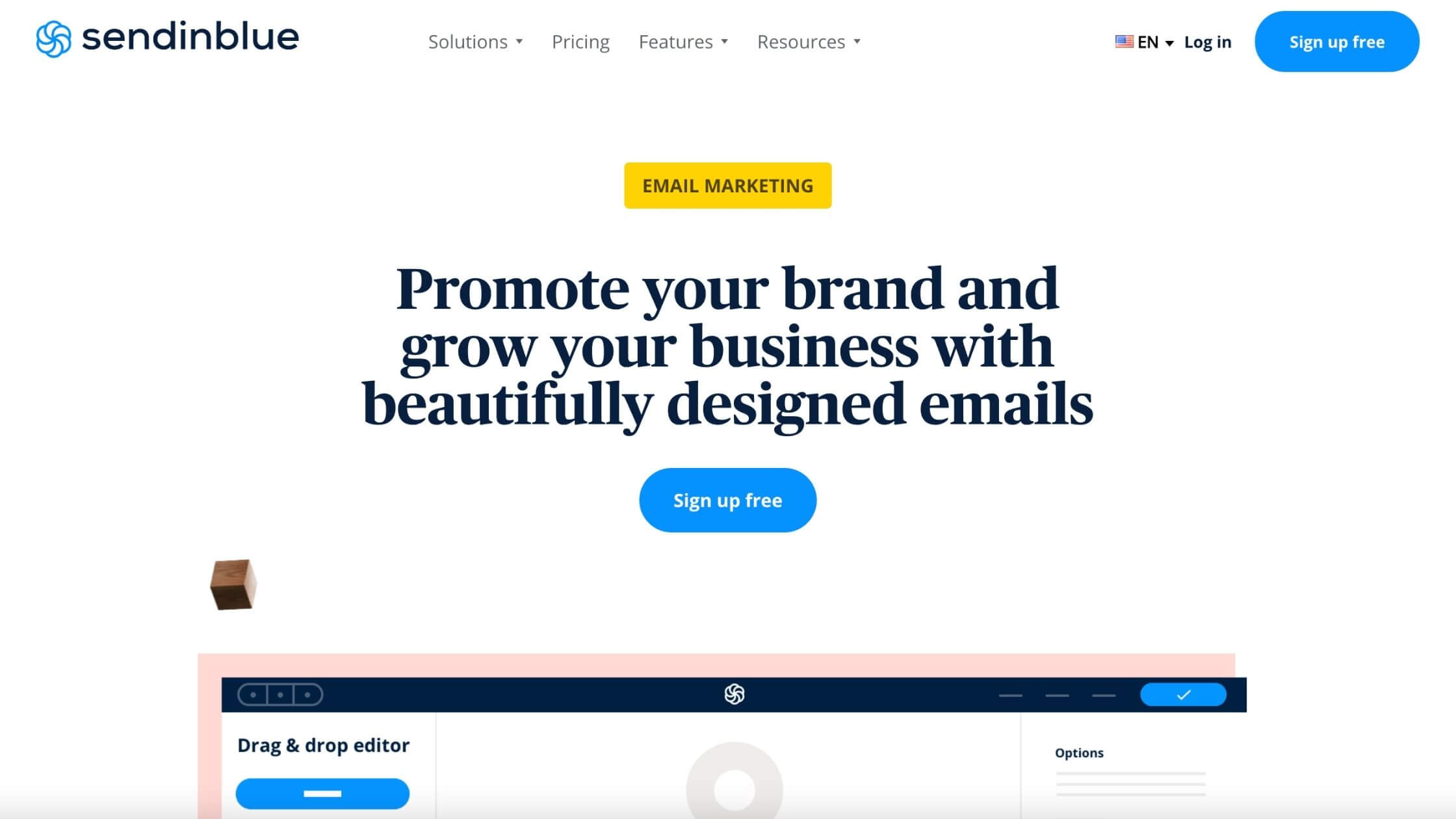 Sendinblue has perhaps the most beautiful user interface among all other email marketing software. A lot of pros in this niche have doffed their caps for Sendinblue.
Whether you're just starting email marketing or it's been a while you've been at it, Sendinblue is one of the most efficient tools – and by extension a potential alternative to MailChimp.
With Sendinblue, you can design an artistic landing page and newsletter layout without prior knowledge of tech.
It has an intuitive adjustment AI that you can use to design your style, fonts, color, alignment, and anything you want to import.
As we all know, you're sending your emails to real people – therefore that should reflect in your email content.
How do you do that?
By personalization. But we know that you can't personalize the email of more than 100 subscribers – that's hectic.
Thus, you can utilize Send In Blue's personalization AI to add the names of each of your recipients to your email and make them feel the humanity in you.
Finally, you can also segment and perform A/B testing before hitting the "send" button.
7. Aweber
We can agree that design is one of the core concepts of email marketing. That is, you will have to design templates, e+flyers, and logos.
Aweber knows this, that's why they integrated Canva into their software.
What does this mean?
You can design everything you want to design without leaving Aweber. The design software called Canva can also be used on Aweber just like the way you can add Unsplash images on Medium posts.
Not only that, Aweber has its pile of royalty-free stock images. You know people go all the way to Unsplash or Pexels to download stock images, but you don't need to do that on Aweber.
The stock images that you need are also available on their software. Guess what? You don't need to pay for it because it's royalty-free.
That is so relieving, right? So we can say that one of the ways Aweber is ahead of others is their brilliant integration with Canva and beautiful stock images.
No doubt, Aweber is one of the biggest MailChimp alternatives for businesses of all sizes.
See Also: 15 Best Backlink Tools to Boost SEO Strategy
8. Mailjet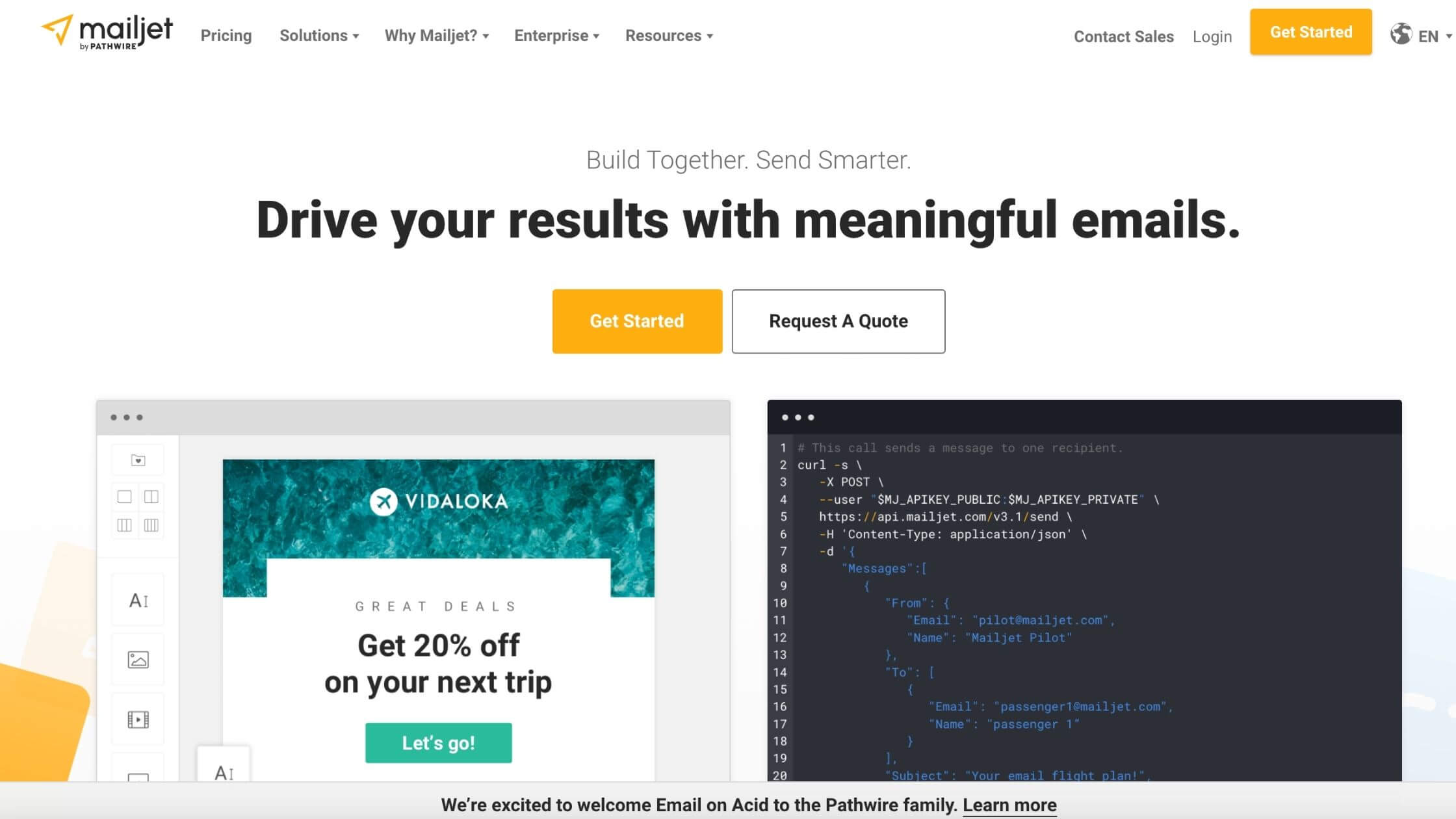 Jet is one of the fastest and most portable aircraft. Now, the Mailjet is one of the sophisticated modern email marketing tools.
One of the most attractive features of Mailjet is that you can collaborate with the other people in your email marketing department when you're writing your email copies.
You know, just like the way you could have collaborated on Slack.
That will help teamwork and maximal delivery of value. Because what one man will achieve is lesser than what two or more three efficient people can achieve.
Are you falling in love with Mailjet already?
Before you send your emails on Mailjet, you don't just send and leave its appearance to chance. It has a preview feature that helps you see how your email will appear across devices, like Outlook, Google Mail, or Apple Mail.
This Preview feature will help you to effectively check how responsive your emails are so your receivers will be comfortable reading them.
9. Constant Contact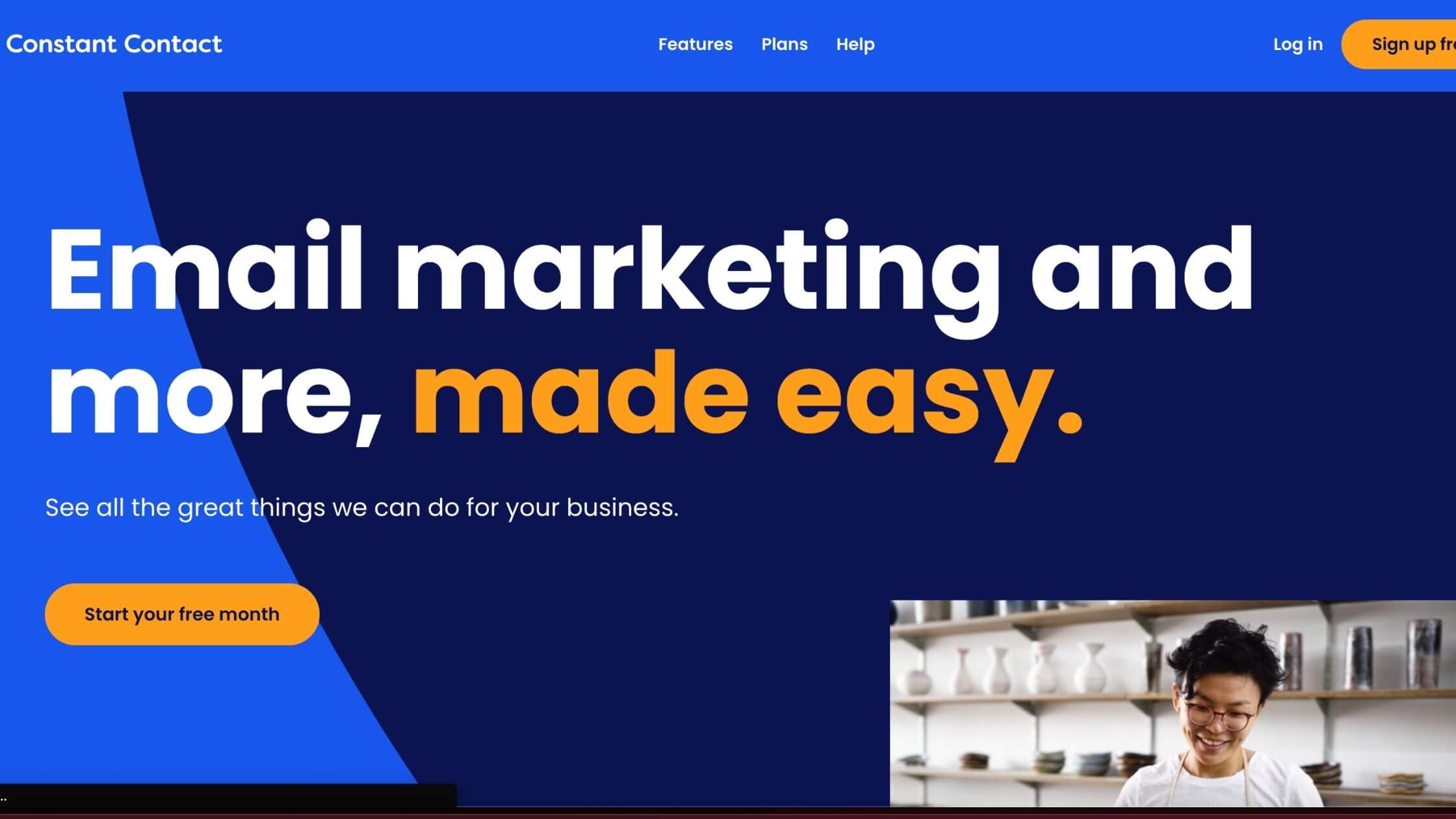 If you hope to build an uninterrupted connection with your audience, then you should start using the Constant Contact email marketing tool. 
It's one of the smart email tools that anyone can use.
Like several other Mailchimp alternatives, it has a drag-and-drop functionality that gives you the privilege to build your email template with no-code.
Also, it has a large species of email templates that you would love to choose from. With all this, your emails will eventually come out as if you are an expert marketer.
Welcoming new subscribers is important, and Constant Contact will not hesitate to help you with that. Besides, you can construct email sequences for your marketing funnels and grow leads.
If it is the case that some of your emails, Constant Contact will help you resend them to your subscribers. With that, you're sure that your emails will have a wider readership.
See Also: 21 Best Online Learning Platforms (Free & Paid)
10. Active Campaign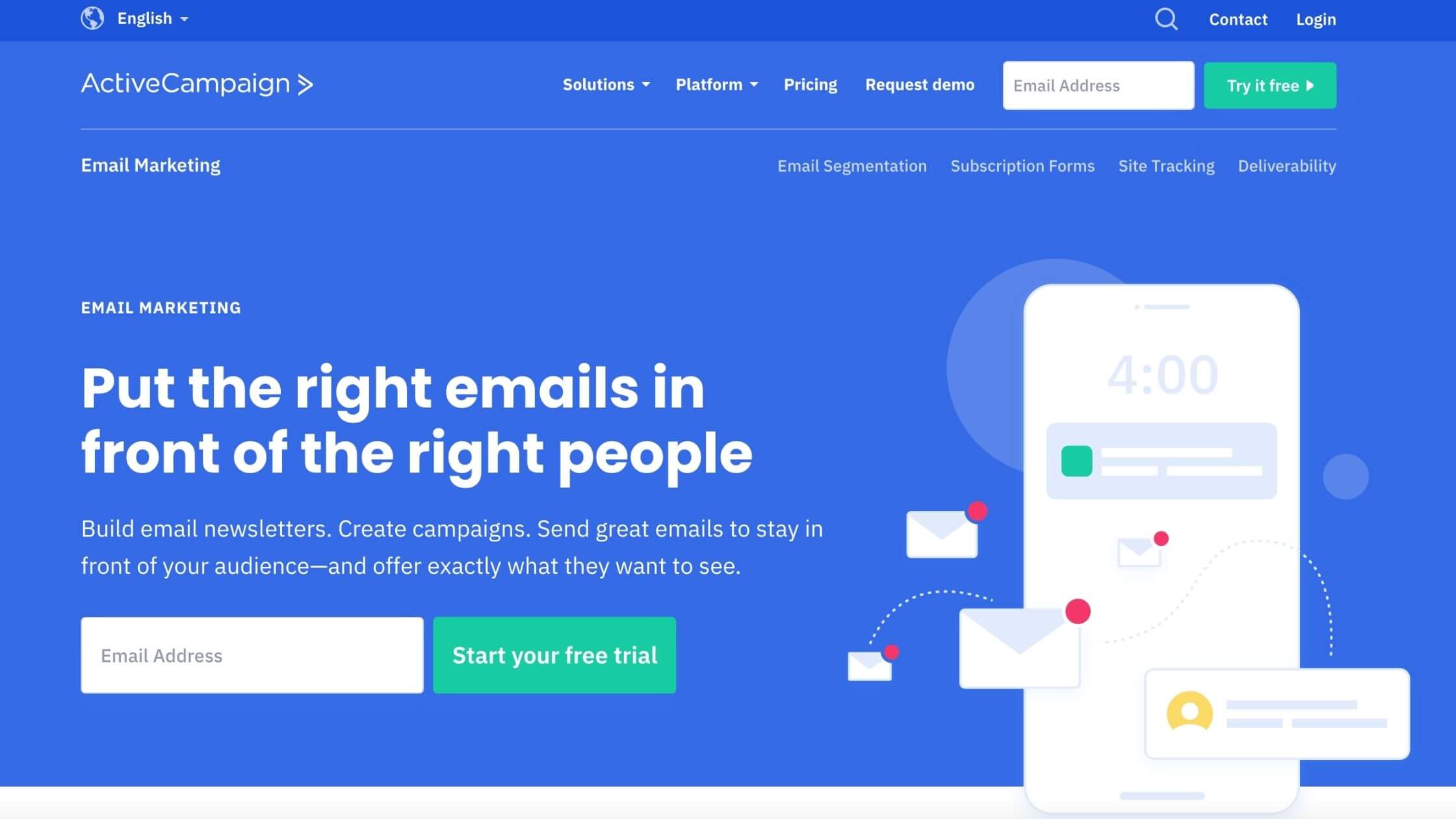 This is one of the biggest MailChimp competitors. Using Active Campaign can catalyze your engagements and conversions.
Like some other software, Active Campaign has a multi-user collaboration functionality. Therefore, you can come together with your teammates and write email copies.
That way, it's likely that you fashion out creamé de la creamé email content that will resonate with your audience.
As a business, you must have different types of audience – buyers, recurring buyers, leads, and first times. Therefore, the same content or copy cannot address all of them. Hence the need for segmentation.
Active Campaign will help you have a cleaner segmentation of your audience and address them accordingly.
11. Omnisend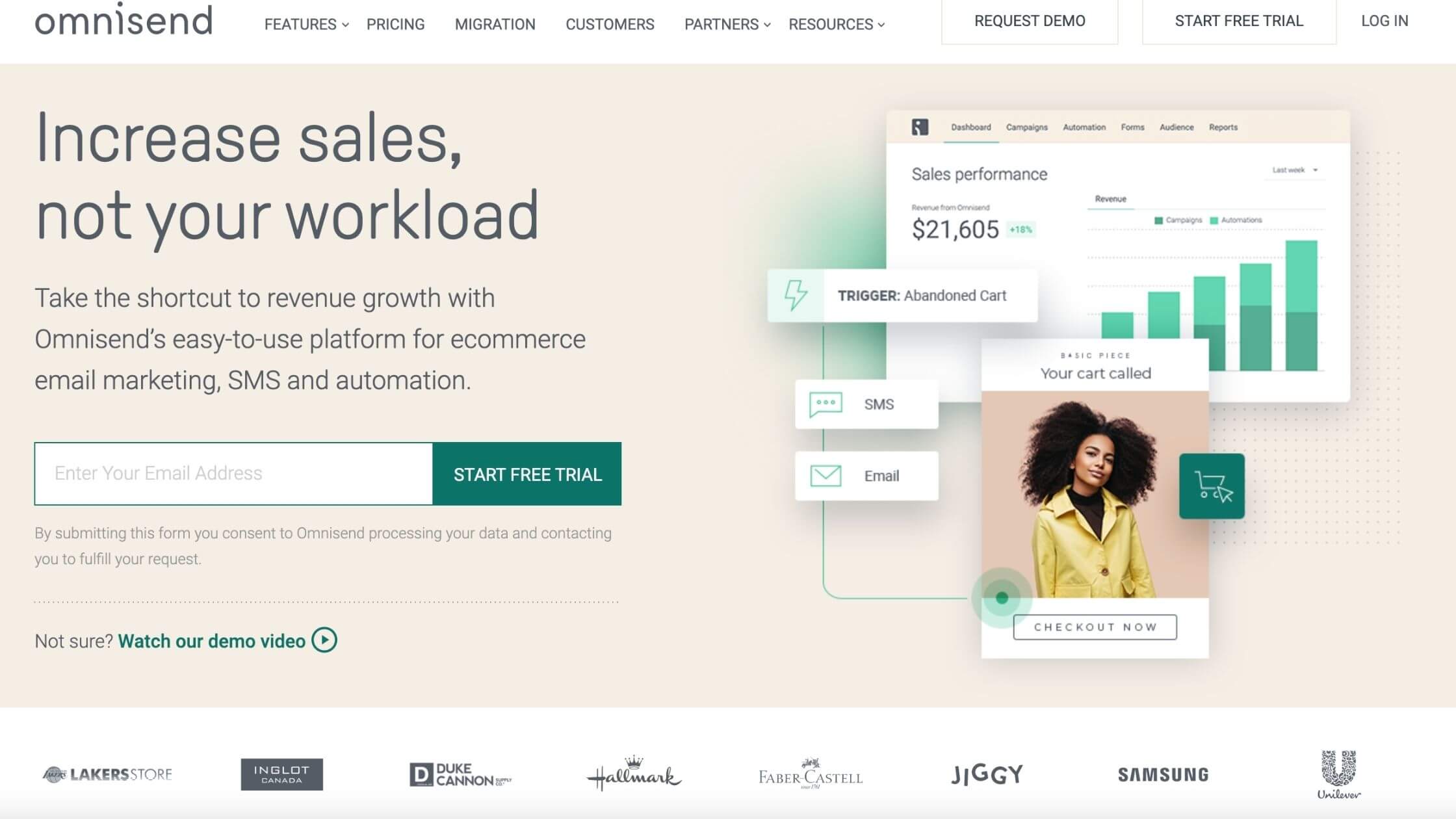 Let's be honest, the user interface of your email goes a long way in impressing your audience and determining whether or not they will take you seriously.
Being aware of that, Omnisend has a whole library of email outlook samples, or what some others call email templates, which will enhance the quality of your message.
When you have selected the right template for you, you can easily customize it and make it fit into your brand identity. No, you don't need any designer. All you have to do is just click-and-drag.
Unlike some other MailChimp alternatives, when you have sent your emails, Omnisend will give you periodic reporting of your campaigns.
This will show you how many people are receiving, reading, and performing the CTAs of your emails.
Omnisend also has a two-week free trial. You don't need to input your card details, would you want to try it out?
12. Benchmark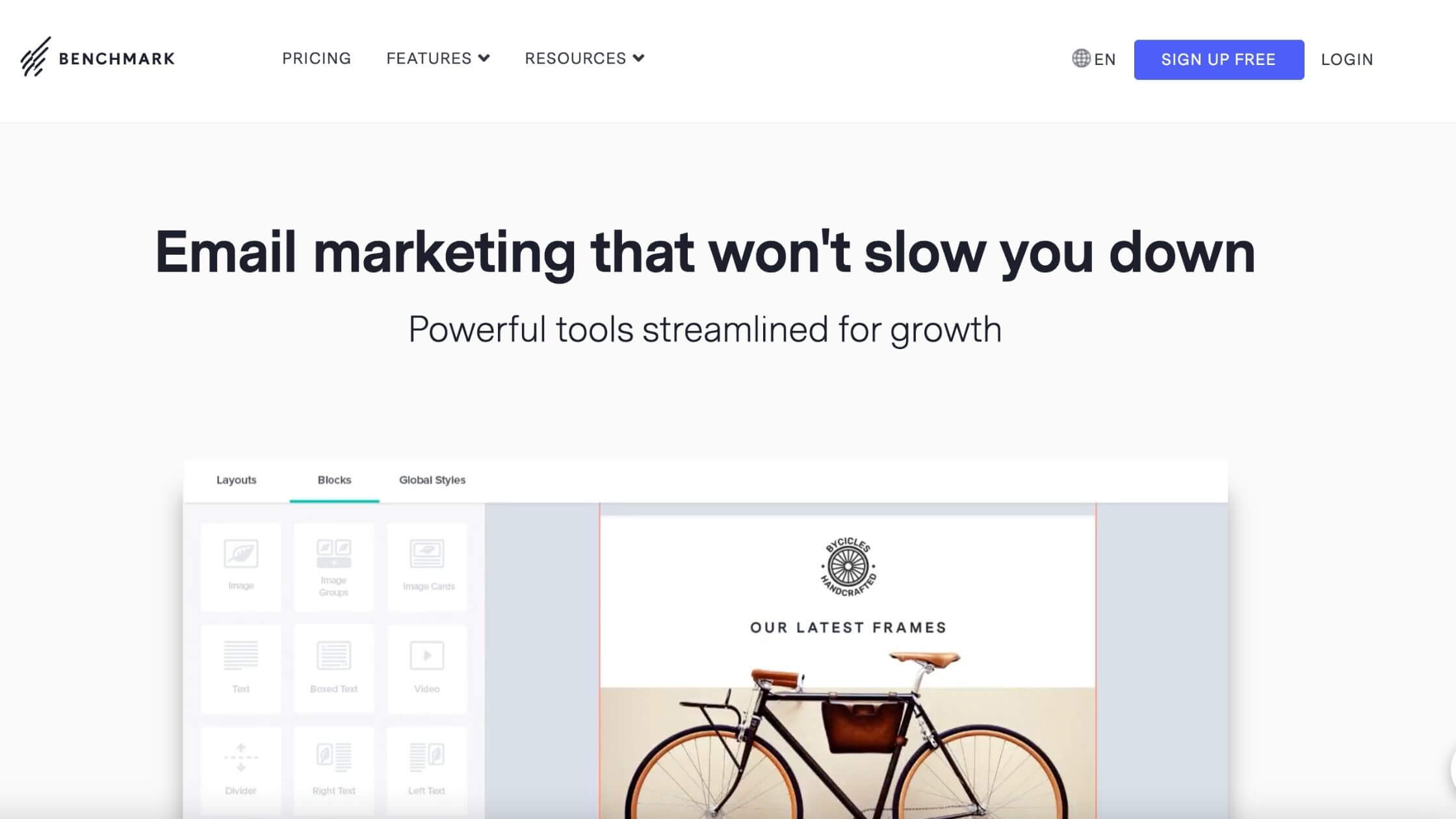 With Benchmark, you have two options: either you build your email template yourself or you download one. Anyone you choose is fine.
If you know a little bit about HTML, the basic programming language for coding email templates, Benchmark has an HTML editor that will help you to preview your template as you're building.
As one of the best Mailchimp Alternatives, it will save you a lot of stress and give you better clarity.
On the other hand, you can choose to use the pre-loaded templates. 
On that note, one of the reasons people get lost while choosing email templates is because they didn't see the one that is perfect for their purpose and peculiar marketing campaigns.
But with Benchmark, you'll find the exact template for your brand within minutes.
Why is it that easy?
They have classified their templates to every relevant field that anyone can belong to.
Having said that, do you know that you can edit the images on your emails right on Benchmark. That's one of the reasons Benchmark remains a potential alternative to MailChimp.
See Also: 21 Best Online Learning Platforms (Free & Paid)
13. Moonsend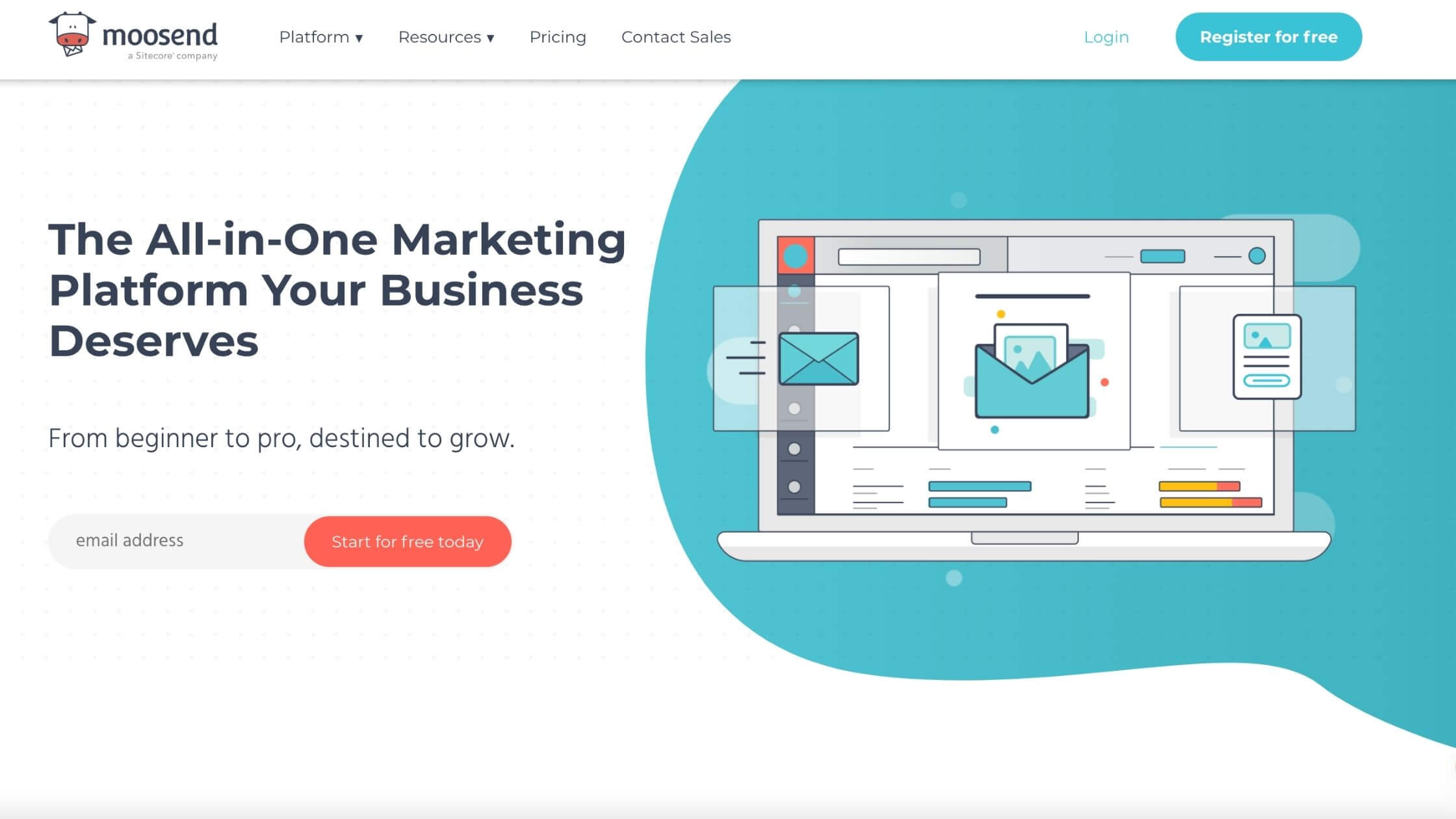 We recommend Moonsend if you're just starting as an email marketer. It is not complicated to navigate – so easy to use.
You can also, as we have it on some other software, segment your audience and address them according to their respective stage in your marketing funnel.
Mind you, top marketers have affirmed that segmentation is the magic of email marketing.
A/B testing is essential before you send out emails. With Moonsend, every copy you want to send will pass through automatic and thorough testing to make sure there's no hitch.
Every time you have executed your email campaigns, Moonsend provides you with brilliant data analytics.
This would help you to, see for yourself, the behavioral response of your audience and use it to map out better outreaches.
14. SendPulse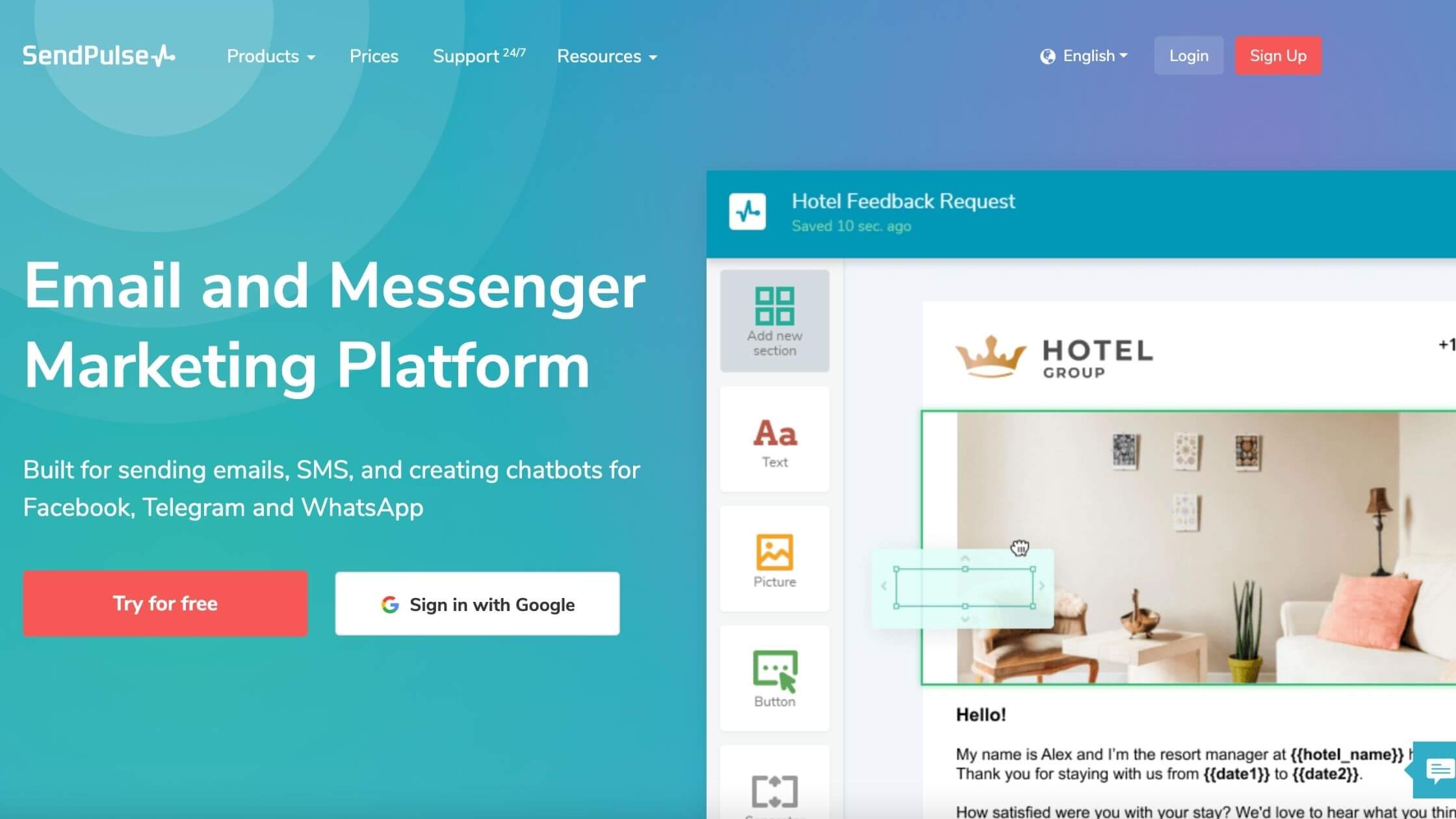 With more than 130 juicy templates, your email marketing campaigns have more likelihood of success. That is part of what you stand to gain when you use SendPulse.
If it is the case that some subscribers don't open your email, Send Pulse will—out of your AB testing options—send out a new email with a new subject to that set of people.
Most times when recipients receive such a type of resend, they always open and read to the end.
And that's a win for you, isn't it?
A/B testing is important in email marketing. With this functionality, you'll be able to write different headlines, CTAs, and main copies to see the likelihood of each of them succeed.
When that is done well, you can only send the best of the best.
See Also: Reddit Marketing Strategies: Get More Leads (Complete Guide)
15. Hubspot Email Marketing
Hubspot is by far one of the most efficient email marketing tools. It's the choice of most of the pro email marketers of big brands.
This is one of the reasons people like Hubspot: you don't need any knowledge of design or copywriting before you'll make an amazing and impressive email outreach.
You can choose from a lot of professional and saucy email templates. Beyond that, you can also adjust the layouts, colors, logo, and font to what is in your mind.
That's so simple, isn't it?
Having said that, one of the reasons some email campaigns are not successful is because the software the sender used didn't make the emails responsive.
What does that mean?
We say an email is not responsive when it cannot adjust to the device of the recipient. For example, when an email is so uncomfortable and overlapping on mobile phones.
But with Hubspot, your emails will enjoy a higher click-through rate because it will auto-adjust itself to whether the recipient is using a laptop, tablet, or mobile phone.
Conclusion
There are several email marketing tools out there, but there are also the best of the best that have stood out because of their extreme uniqueness.
While most people only know MailChimp as the most efficient email marketing tool. We are sure that you've seen the other 15 Mailchimp alternatives to skyrocket your email marketing.
At this point, you can choose from any of the email marketing tools from number 1 to 15 and choose the best one that suits your marketing campaigns.