Are you planning to host an online seminar soon or you're on the lookout for the best webinar software to help you achieve this? 
Then you are about to discover the silver bullet.
We are in the age of awareness, there are several pieces of information you will want to pass across to your target audience.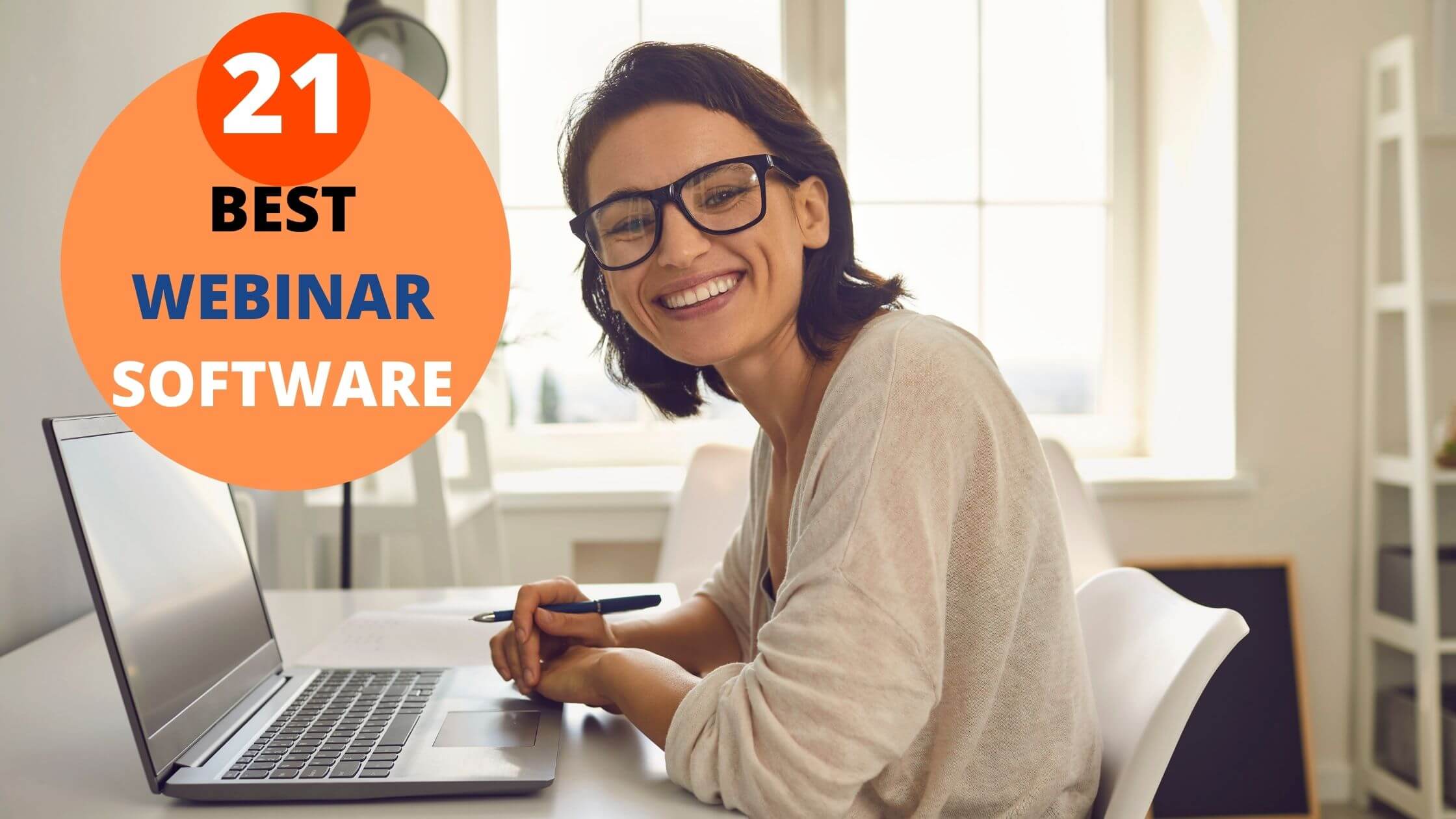 But in doing that, you'll need a platform; whether physical or virtual.
The reality is that not all your meetings will be physical. The first and the most obvious reason is that the ripple effects of Covid-19 are still all over, and it's not too safe to meet physically.

Secondly, if your audience is scattered all over the world, the idea of having a physical seminar will be off the radar.
Therefore, since the suitability of webinars to converge your audience online, beating cost and health issues, is not only necessary but intelligent.
On this note, there are zillions of webinar software for your PC.
However, this huge number is a huge deception to know the software that is working well or the ones have amazing user experiences.

No, you don't need to start installing every webinar software to know which one is the best. Your time is more precious and we will spare you that.
We have tested a lot of this software, and carried out user experience surveys to fashion out their creamé de la creamé.
So sit back while we fine-tune these 21 best webinar software one after the other.
They appear in no particular order.
After you've gone through it, you'll get to see the most suitable one for you.
No more suspense, let's begin.
21 Best Webinar Softwares to Consider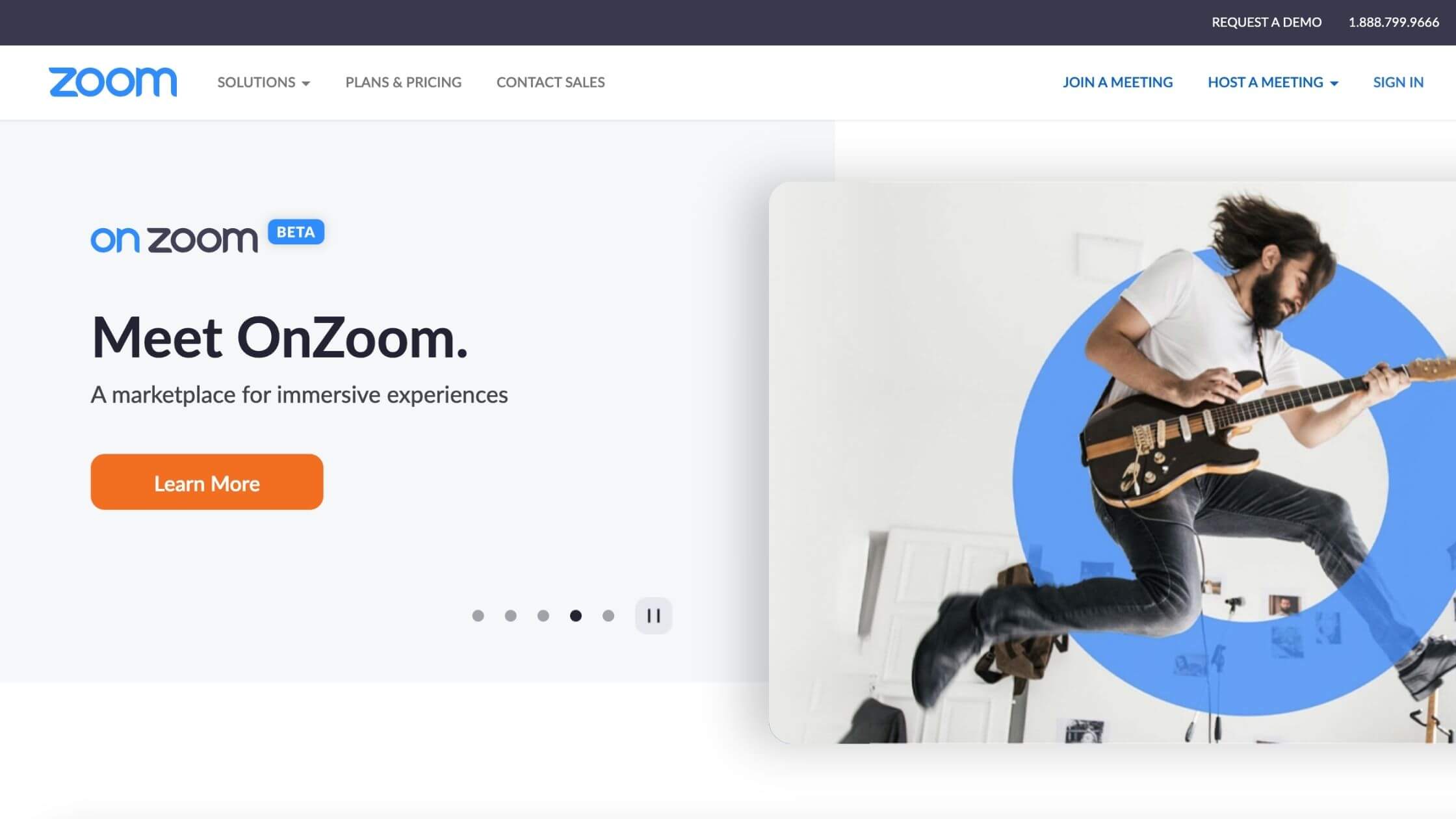 1. Zoom
Zoom is perhaps one of the most popular webinar software out there. We're sure that you must have also attended one or two webinars via zoom.
But do you know why most organizers often prefer to host their webinars on zoom?
Depending on your webinar license, you can host between 100 to 10,000 attendees. This maximal accommodation feature is one of the foremost reasons it's always a go-to.
If you want to host a webinar on zoom, all you need to do is to generate the link.
Moreover, it's easier because your attendees can integrate the webinar details into their Google Calendar.
In terms of its functionalities, the designers made it with users in mind; you'll get to see every bit of function to make your webinar seamless and amazing.
Perhaps you want your participants to see some documents or figures on your PC, you can easily do that by sharing your screen.

This feature will relieve you of unnecessary stress, and make you pass your message across faster.
Moreover, webinars are more thrilling on zoom because nobody will interrupt the speaker's address; so far the other participants have switched off their mics.
This will enhance the coordination of your webinar.
See Also: 15 Best Lead Generation Software to Consider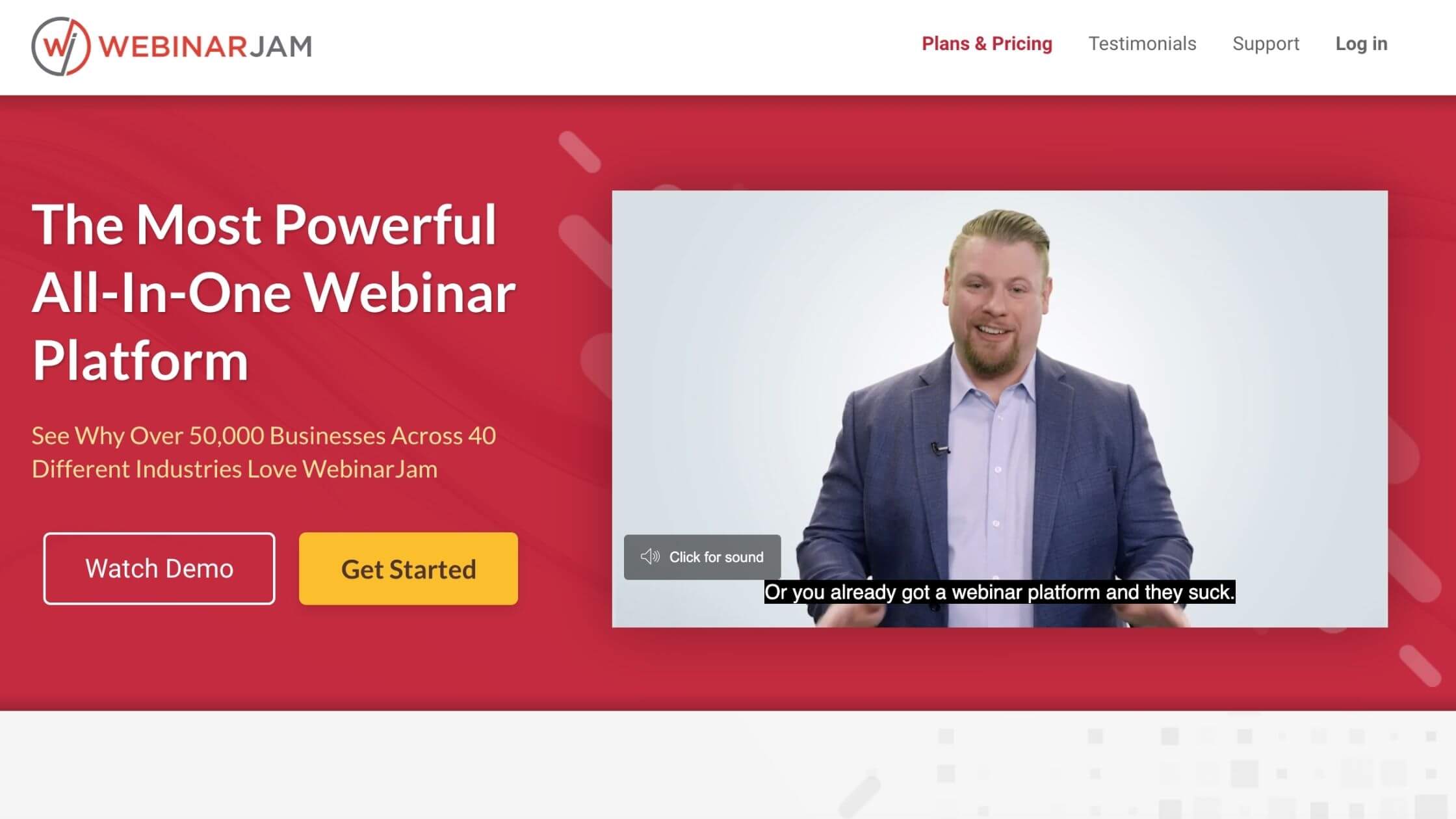 2. Webinar Jam
Webinar Jam is our  #2 best webinar solution. Most people have testified that Webinar Jam is worth the price; indeed, that's true.
With just $1, you can have a free trial and see how Webinar Jam works. $1 is cheap enough for testing, isn't it?
Unlike some other relatively complicated online conferencing software, the product team of Webinar Jam made the software with their users in mind; so easy. The general user interface is excellent to interact with.
There is a short and exhaustive tutorial video that accompanies and enlightens you on technical know-how. These videos will save you from being lost in the labyrinths of technological complexities.
Do you know the reason most people always choose Webinar Jam over other software? It's because of its marketing benefit. You'll be wondering what we meant by that. Read on 
Webinar Jam has a functionality where you can enable a pop-up during your webinar.
For instance, if you're a Blockchain Law firm holding a webinar on topics relating to new crypto projects and how techies can kickstart theirs. 
You can send a pop-up to make them register for your paid consultation or buy your book. Most times, people always take these calls to action.
Moreover, you can integrate the webinar with your social media platforms. You can also collect the data of your attendees on some intriguing issues through polls and votes. 
See Also: Reddit Marketing Strategies: Get More Leads (Complete Guide)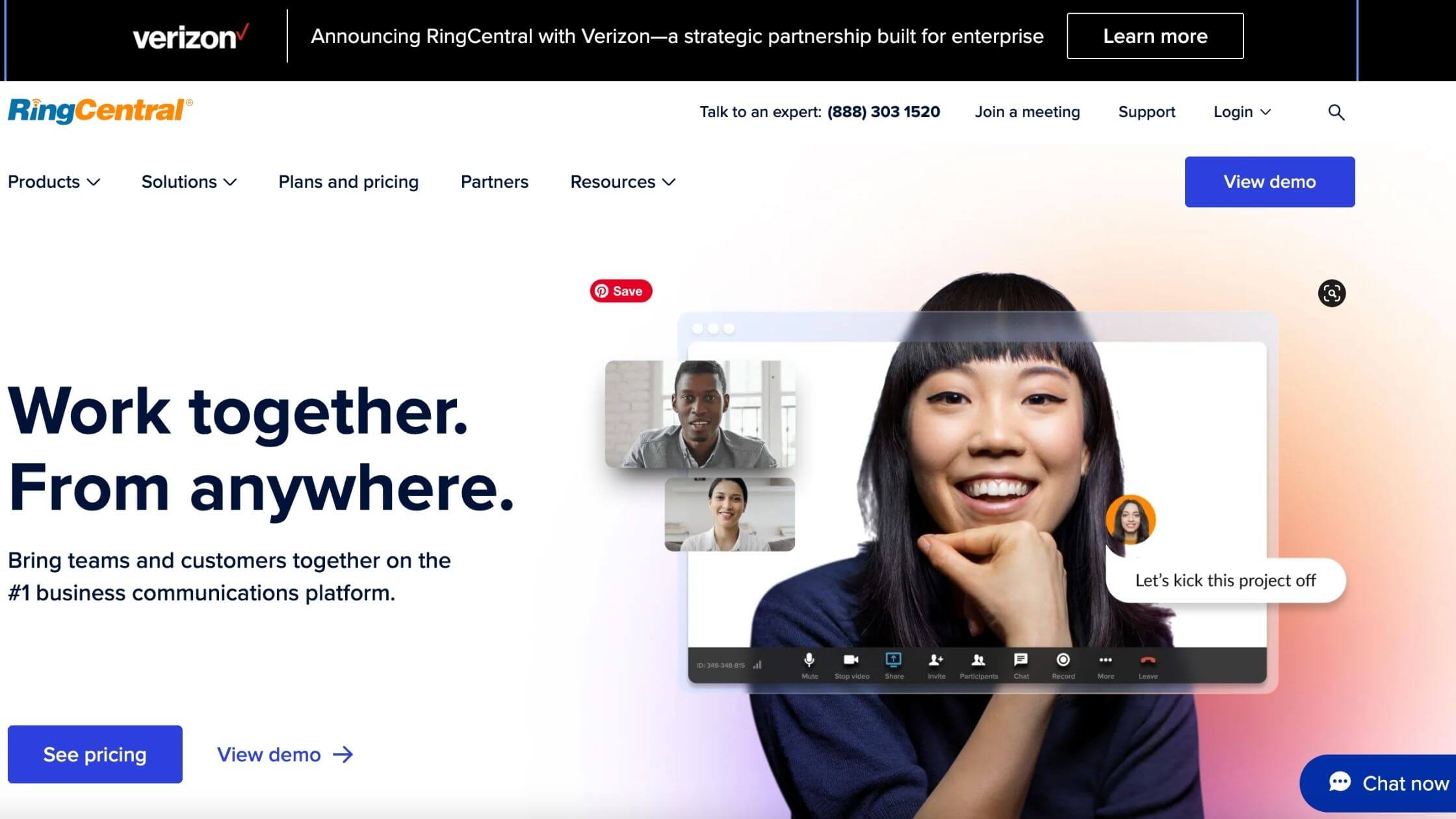 3. RingCentral
Foremost, it's important to know that you need to be an Account Administrator before you can host a webinar on RingCentral. Once you're an administrator, you'll have a RingCentral webinar license with which you can start your virtual seminar.
However, you'll need to purchase these licenses. The good news is that they are all affordable.
For anyone familiar with online events, RingCentral won't sound new. The interface is accommodating and you can flow with it.
With a maximum capacity of 10,000 attendees and 500 panelists, RingCentral has experienced exponential usage from different businesses, organizations, and firms. That's pretty big, right?
It facilitates a fantastic webinar experience because it gives the host the privilege to moderate well through screen sharing, unmuting attendees who want to contribute.
On the other hand, the participants can have an uninterrupted interaction as everything would be coordinated.
As a plus, RingCentral can accommodate all the devices—iOS, Android, PC—that your attendees might be using.
See Also: Push Notification: Everything You Need to Know as a Marketer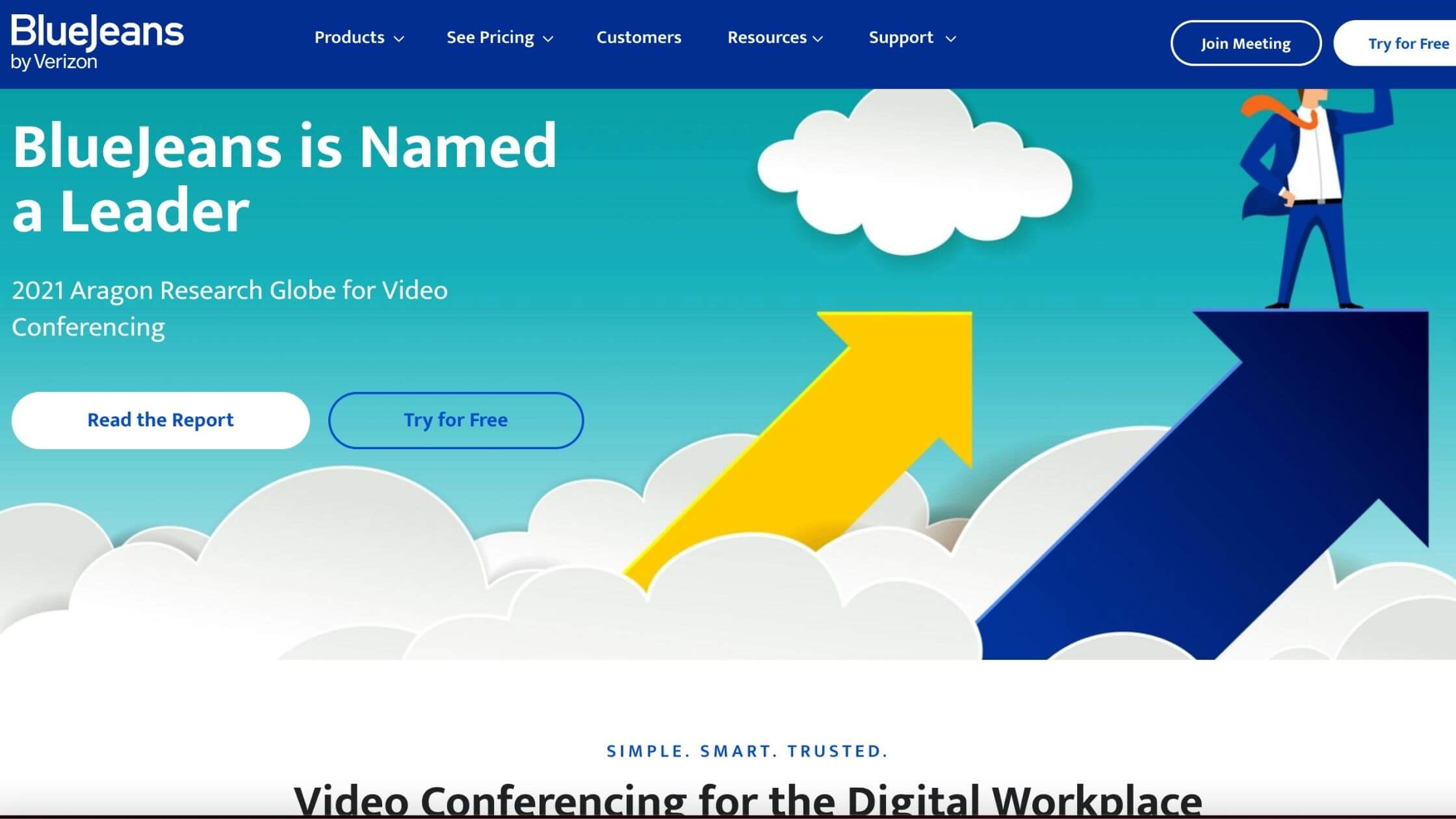 4. Blue Jeans
BlueJeans is the best option we will recommend if you'll want to have a mega town hall webinar or virtual events. So far, it has the largest accommodation capacity.
At the moment, you can host as many as 50,000 participants conveniently and 150 presenters without experiencing a bandwidth hitch or server crash.
From what we have seen around, most organizers of global summits often prefer it. Whether your virtual summit is on marketing or education, don't look far – BlueJeans is the best for you.
In terms of coordination, the host or panellist has several functionalities to his advantage; to mute others and ensure maximal attention.
For the records, Blue Jeans is a cloud-based solution. Meaning that if you permit, it will record your webinar automatically so you can have something to reference in the future.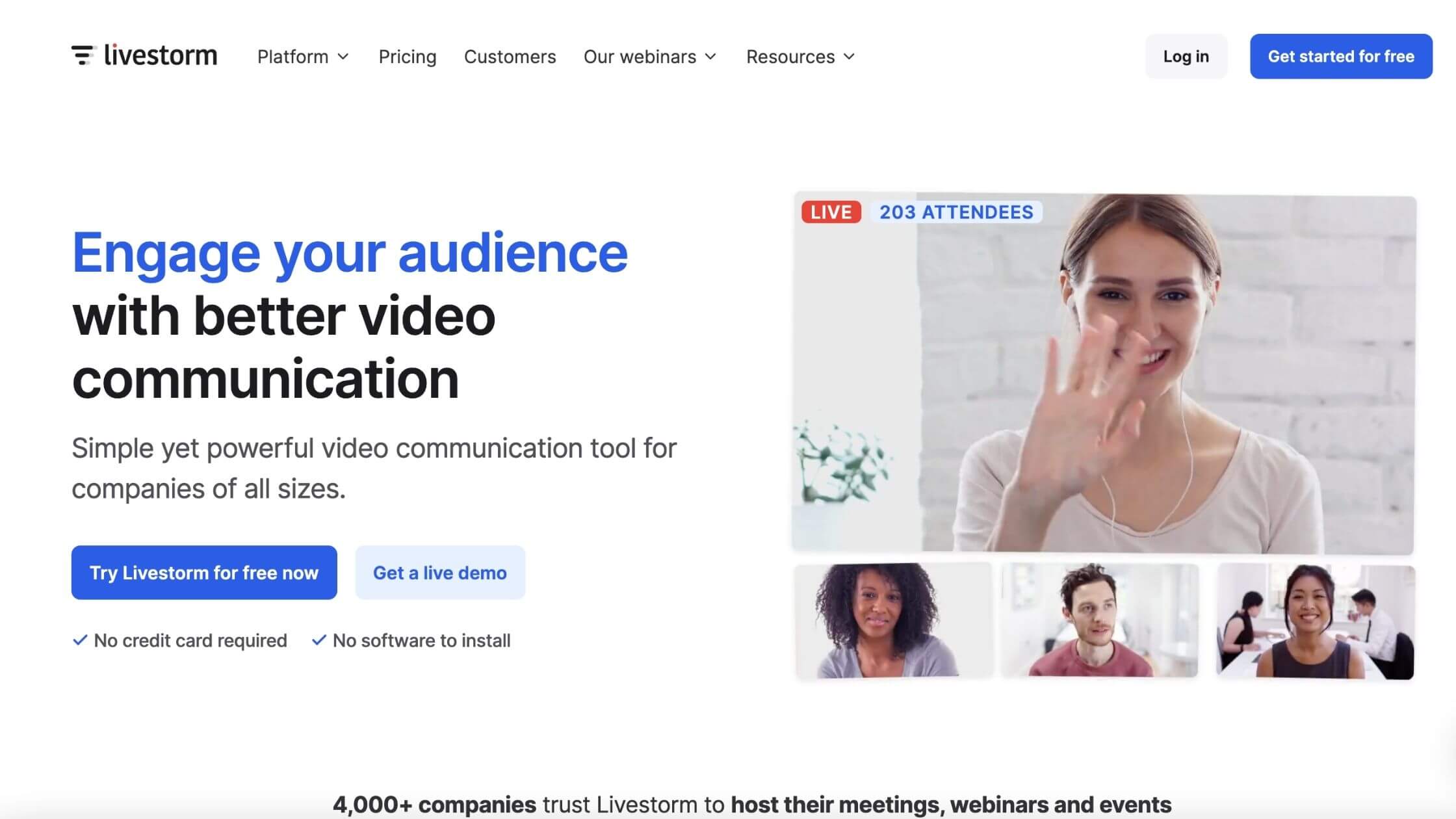 5. Livestorm
Livestorm is your go-to for mature corporate webinars. You don't need to integrate any credit card nor download any software; it's that easy and friendly.
Your audience has zillions of software on their PC and phone, and it's burdensome to download the next. On this note, all your attendees need to hop into your Livestorm webinar in a working browser.
This is why most corporate organizations prefer it: you can customize the webinar with your brand's logo and make your participants feel you're the one in charge.
If it is the case that your webinar will have participants from several sparse countries, you shouldn't worry about the language barrier. Livestorm has optimized linguistic support where any of your attendees can select from 19 major languages of the world.
From a marketing perspective, what is the essence of a webinar when you don't make sales? Thus, Livestorm allows you to fire irresistible CTA offers for your attendees to purchase. That's using a stone to kill two birds.
See Also: 10 Effective SEO Techniques to Drive Organic Traffic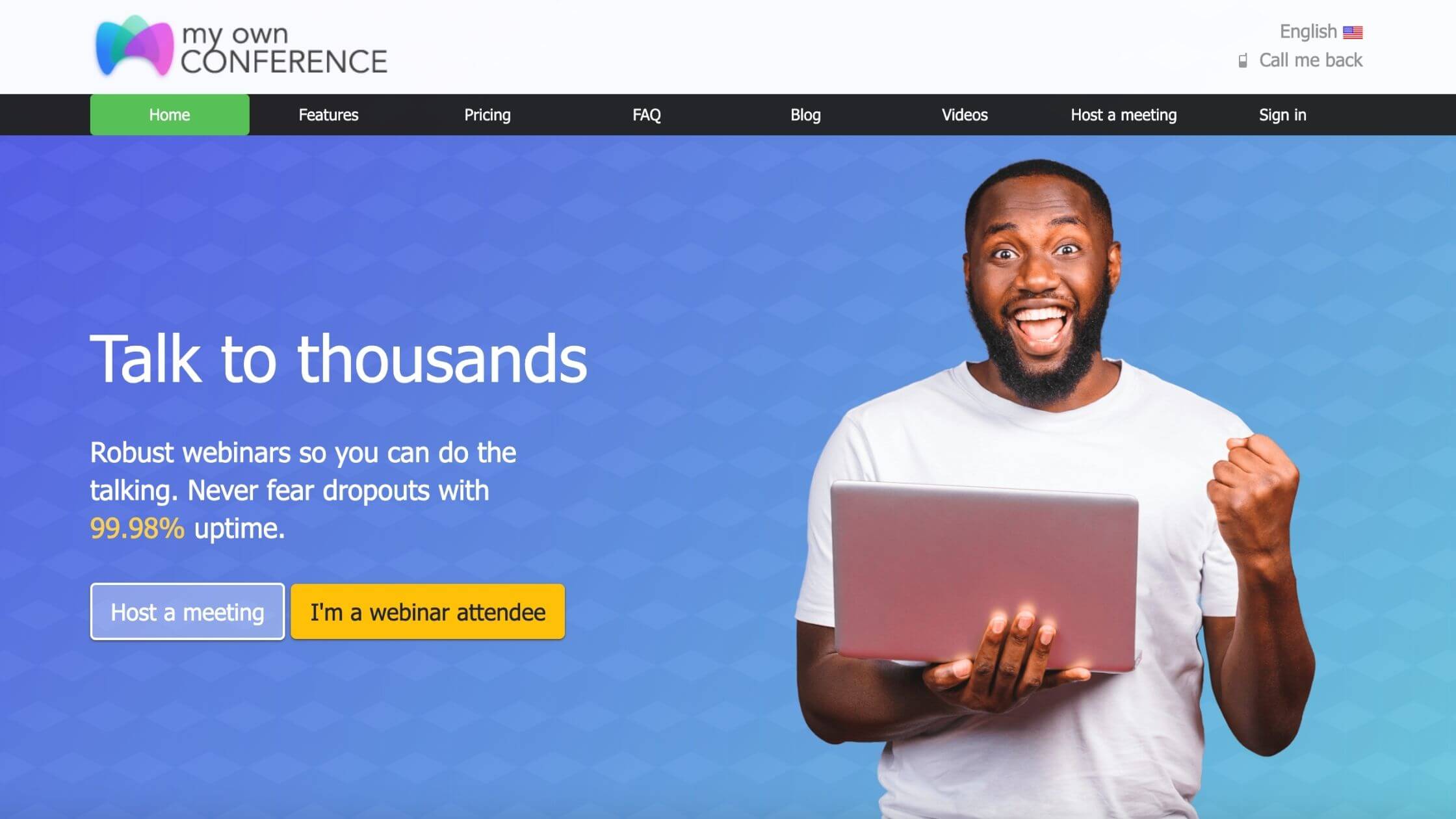 6. My Own Conference
If you want to host a webinar where you're the man in the show, then choosing My Own Conference webinar software won't be a bad idea after all.
Similar to some other software that we mentioned. Neither your attendees nor yourself need to download any software or app when it comes to My Own Conference. The latest browser on your PC is okay.
Let's face it, people have a lot on their schedule and it takes more intentionality to show up at your webinar. How do you bridge that and ensure that they come?
You can set up an email sequence on My Own Conference. Where your attendees will start receiving welcoming emails from the start, countdown emails, to a reminder email an hour before the webinar. No wonder the attendance rate of this software is always massive.
As we said, you'll be the man in charge. You can send warnings to any participants who want to be giving everyone a tough time. If such persists, you can remove them. There you have your peaceful webinar back.
See Also: 12 Best Mobile Marketing Strategies to Boost Sales Conversion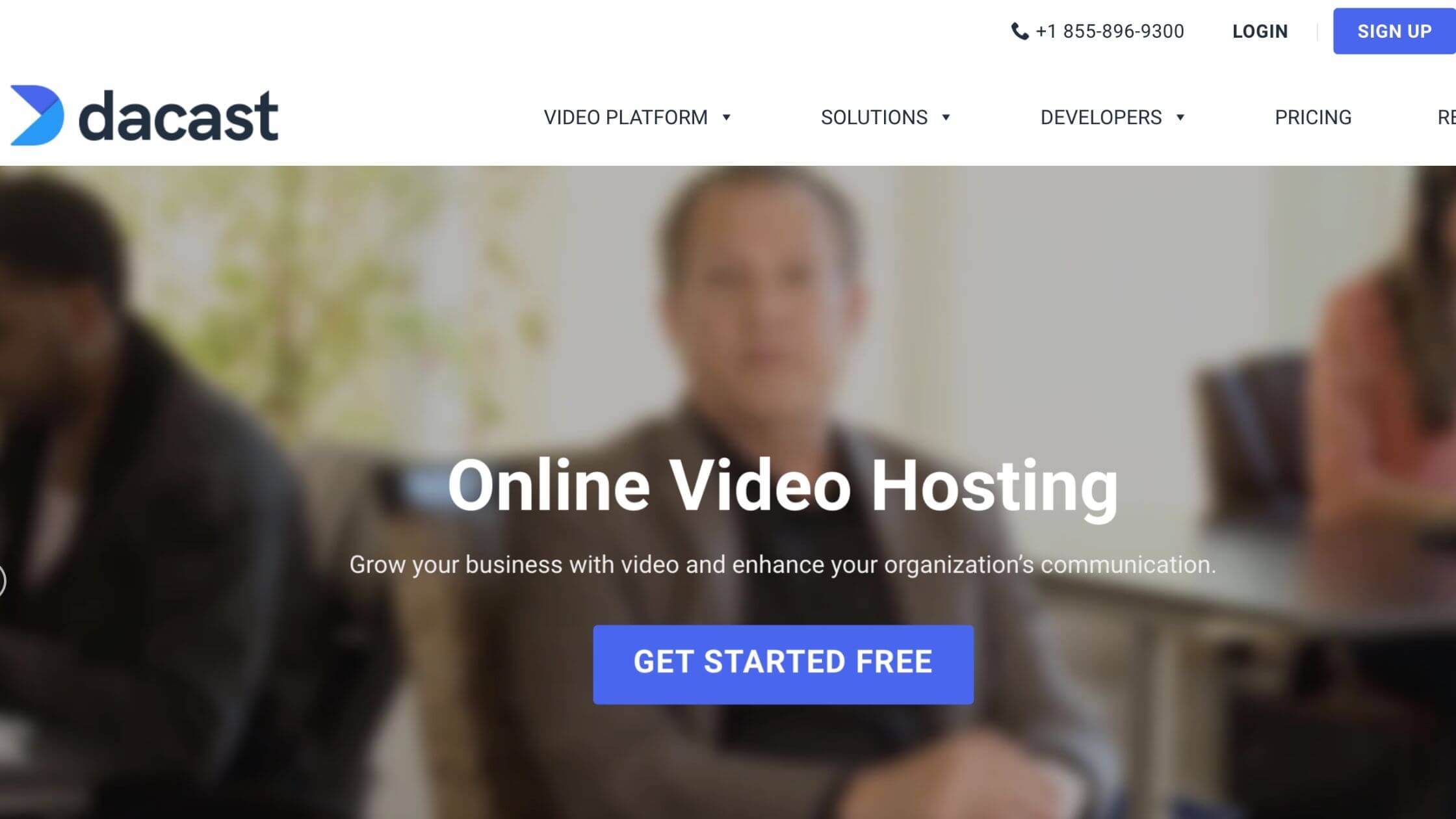 7. Dacast
Dacast offers live streaming solutions for businesses, organizations, and firms to conveniently host insightful webinars. It's one of the high-ranking webinar software.
Participants don't need to cross-check whether or not they landed in the wrong webinar, Live Webinar allows you to customize your webinar experience with your branding identity. With that, your participants will be double sure that your webinar is in progress.
It is good for webinars because you can share your presentations or resources with everyone. Just a simple upload will do and everyone else will get it. 
After all, is said and done, analytics is the KPI of performance, and you can easily do this on Dacast. Also, you can record your sessions for future reference. 
See Also: 15 Successful Twitter Marketing Strategies That Actually Work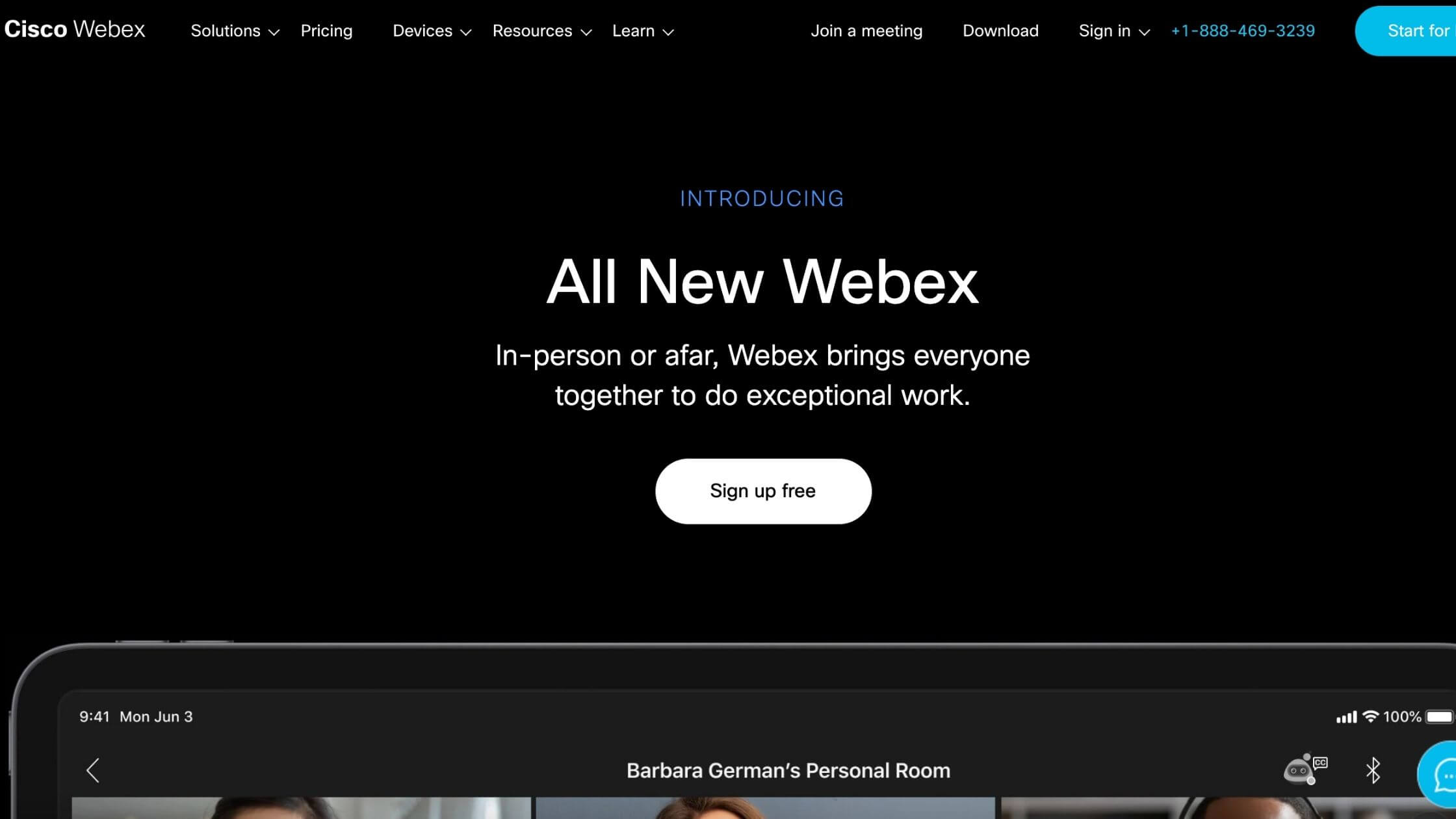 8. Webex
If you want to hold your prospects, customers, or leads in intriguing stimulating webinar sessions, we recommend that you make use of Webex.
With Webex events, you can host over 3000 attendees comfortably. While Webex webcasting can cater to as many as 100,000 attendees with Hi-Tech connectivity.
Right from the initial planning to follow-up, you can customize and brand your webinar outreach to make your customers feel at home. As one of the best webinar software on our list, Webex offers services to boost your audience and engage leads.
What are you waiting for? Hop into Webex right away.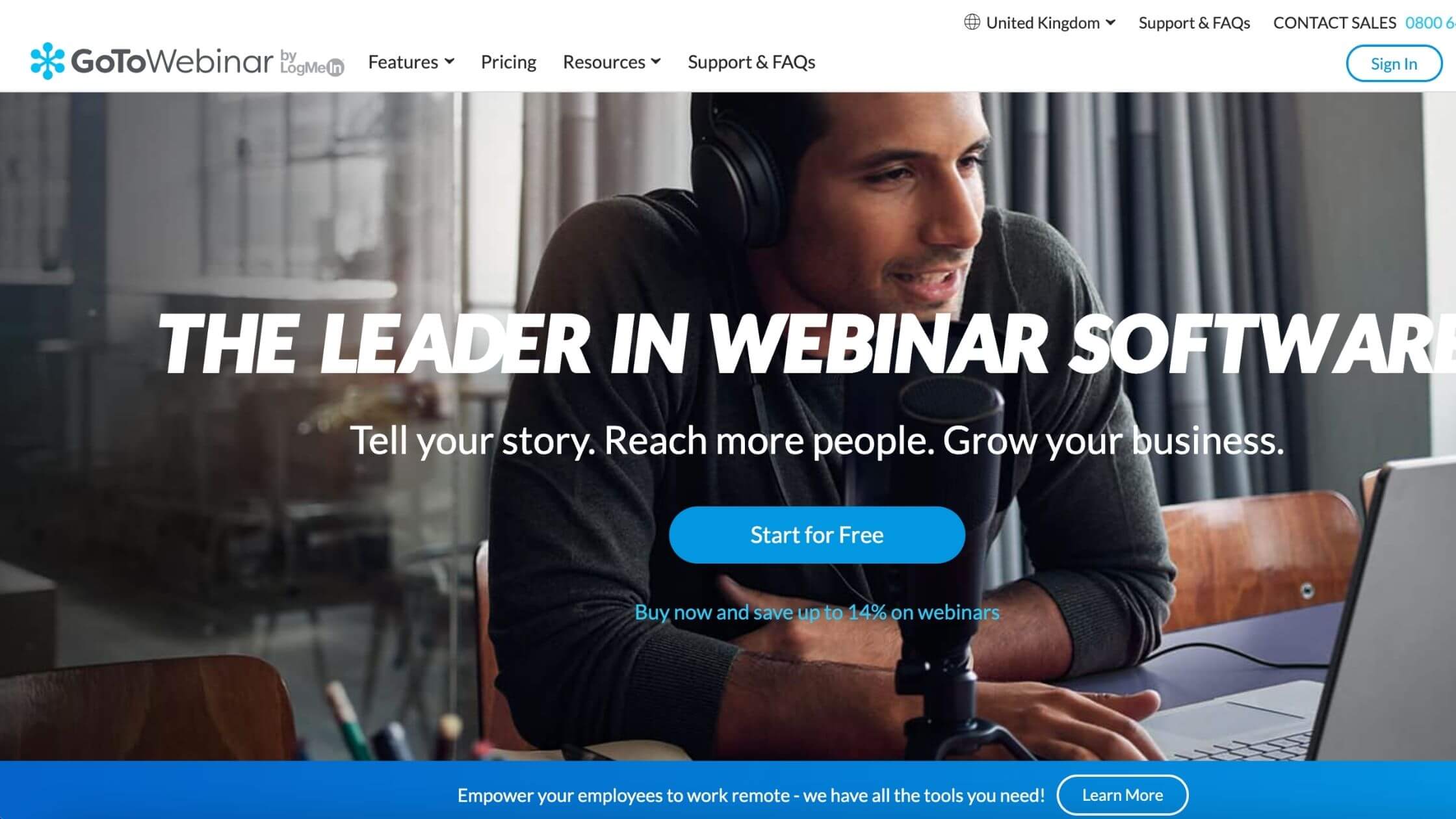 9. GoToWebinar
Have you ever given thought to use GoToWebinar for your next webinar? Here is why:
GoToWebinar will save you the trouble of looking for how to caption or carry out campaigns for your webinar, there are already suitable templates for you to follow.
The invitation and registration process is handled to a world-class standard. GoToWebinar has a series of punchy email sequences to make your attendees up-to-date about the latest thing about your webinar.
That's why most webinars held there have a huge turnout.
The engagement there is impressive. You can ask your attendees questions, and they can also raise their hands to do the same. The poll functionality can also help you to get the opinions of your attendees and to track if they are indeed following.
See Also: How To Choose The Best Content Marketing Agency For Your Business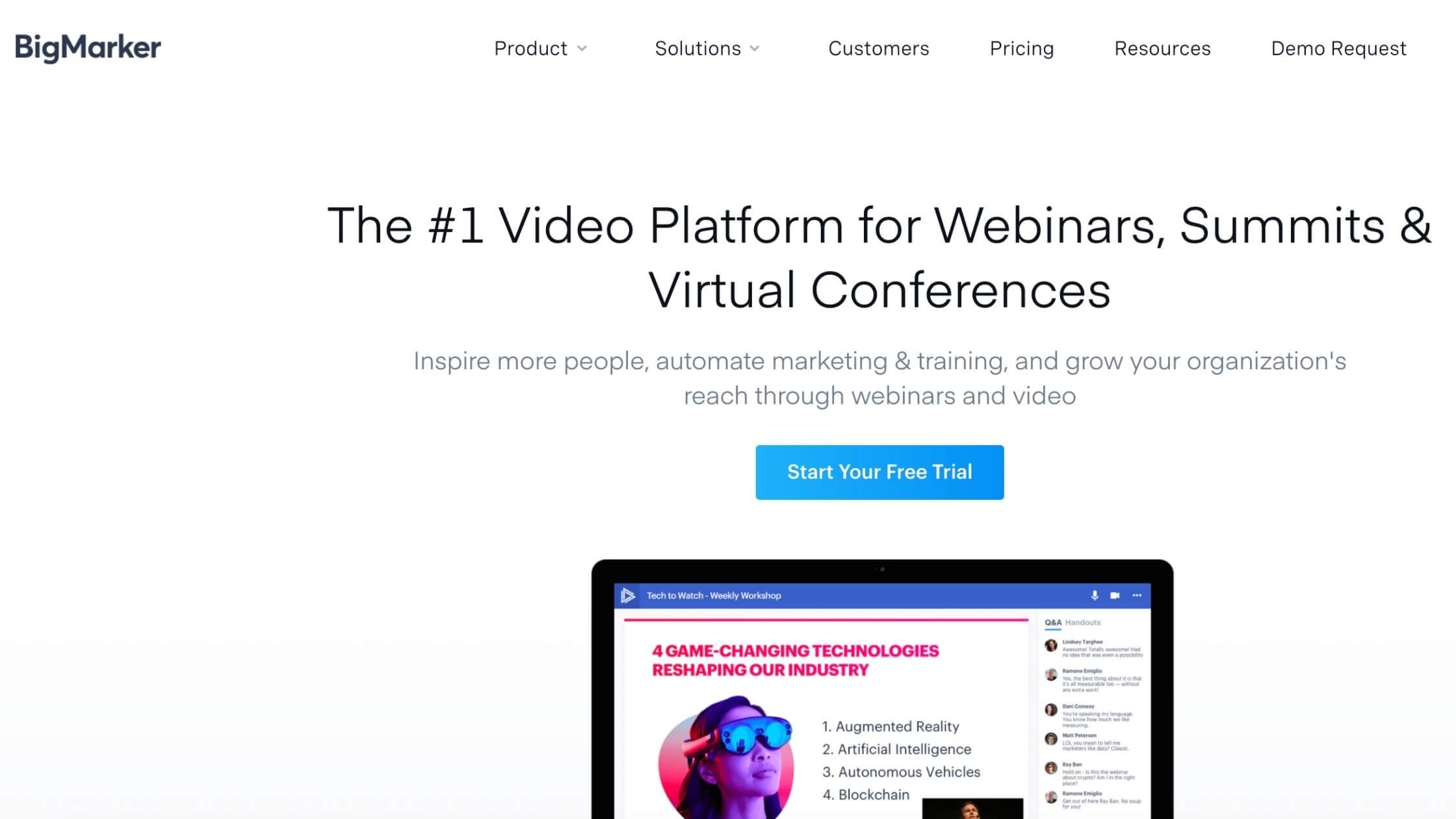 10. Big Marker
Big Marker is one of the few webinar software that will walk you through the making of successful and engaging webinar solutions.
Starting from email campaigns, there are tons of well-designed templates for you to utilize. You can choose the custom questions to ask participants or what data to extract from them when registering.

Asides from the design, there are templates of email copies to accompany your mail and fire up conversions. The more punchy an email copy is, the more it will interest your participants to put in.
At this point, we've noticed that the reason most people don't finish signing up is that the page is not responsive or mobile-friendly.
Big Marker guarantees you a mobile-friendly way to enhance your user experience.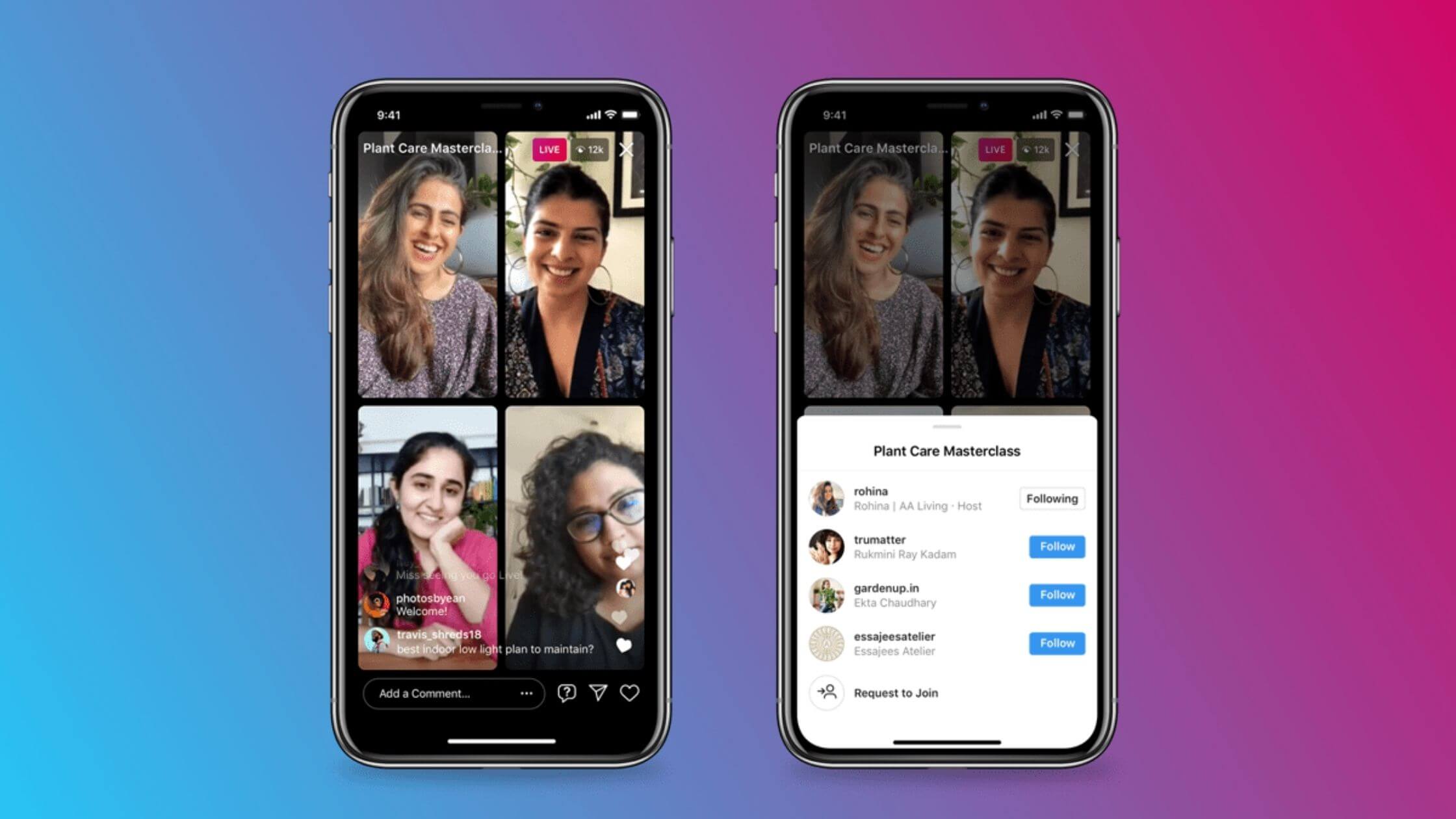 11. Instagram Live
Originally, Instagram Live wasn't designed specifically for webinars.
However, the creativity of people recently has shown us that there's nothing bad about hosting webinars on IG Live.
This is perhaps one of the most engaging webinar platforms. Especially if your target audience is on Instagram, don't be too conservative – use IG Live and speak the language of your audience.
Funny enough, your audience doesn't need to download Instagram before they join, it will just be via the web app. And to research, Instagram Live has been quite resourceful to both the panellists and participants.
However, the connectivity is always slower than the other software. Nonetheless, it remains the most engaging and highly-converting webinar software around.
See Also: 15 Effective LinkedIn Marketing Strategies to Grow Your Business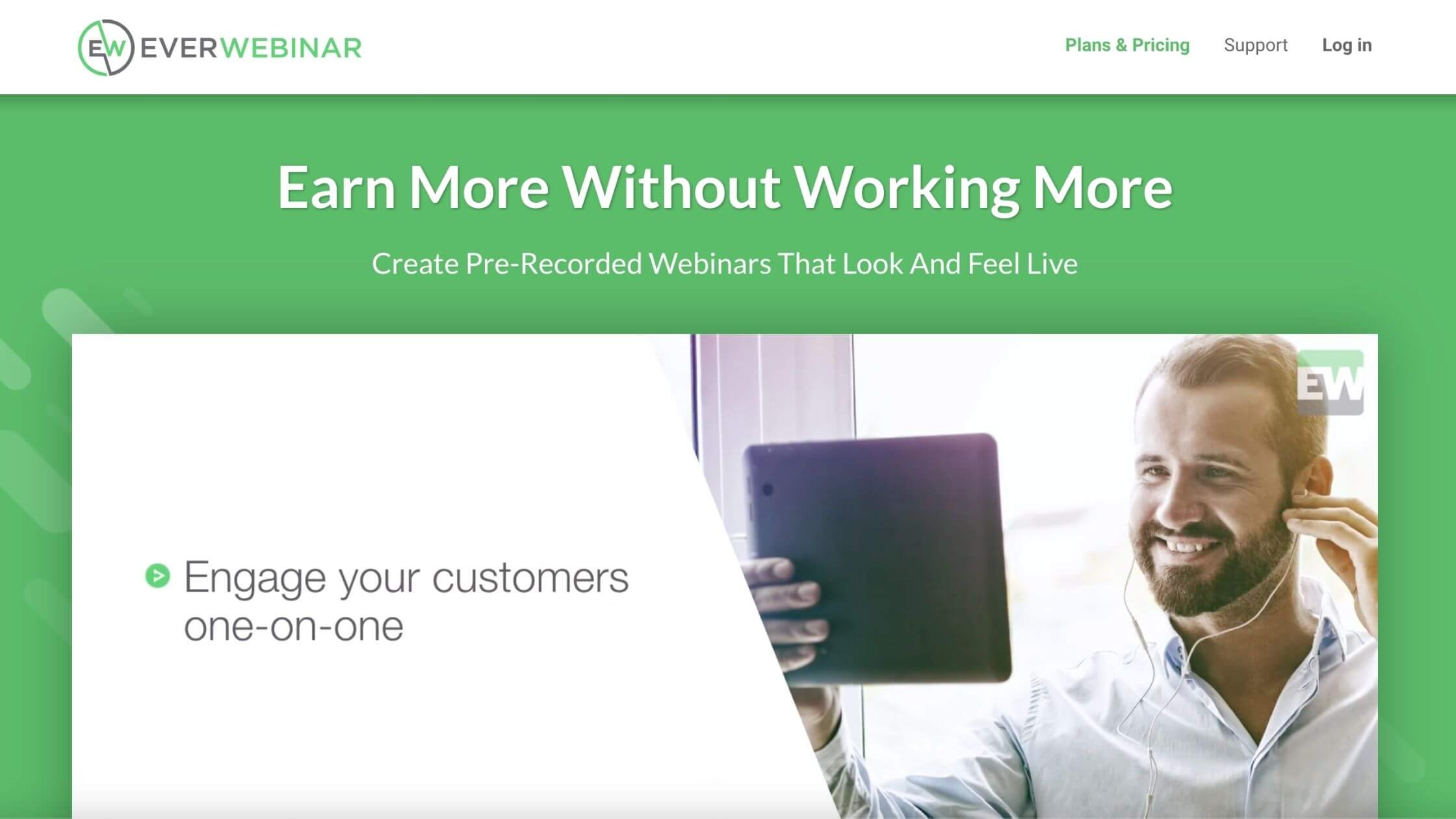 12. Ever Webinar
You cannot always have the time to organize and address people in a real-time webinar. Several tasks might come up that you would need to attend to. In that wise, what do you do?
Just set up a pre-recorded webinar. That's where Ever Webinar is ready to help you.
They are a web-streaming solution that only offers pre-recorded events and webinars. 
In other news, these pre-recorded events can also be used in your marketing funnels; so that a prospect or lead listens to the fascinating insights in your webinars and they are impressive.
Here is the good news: you can add or integrate any other software to your Ever Webinar software.
It can be Slack, MailChimp, or even social media accounts.
When you want your attendees to take a marketing action or purchase your offer, Ever Webinar can help you to spark urgency by including a countdown functionality. Most times, this works for their clients.
See Also: How to Create and Optimise Your Google My Business Listings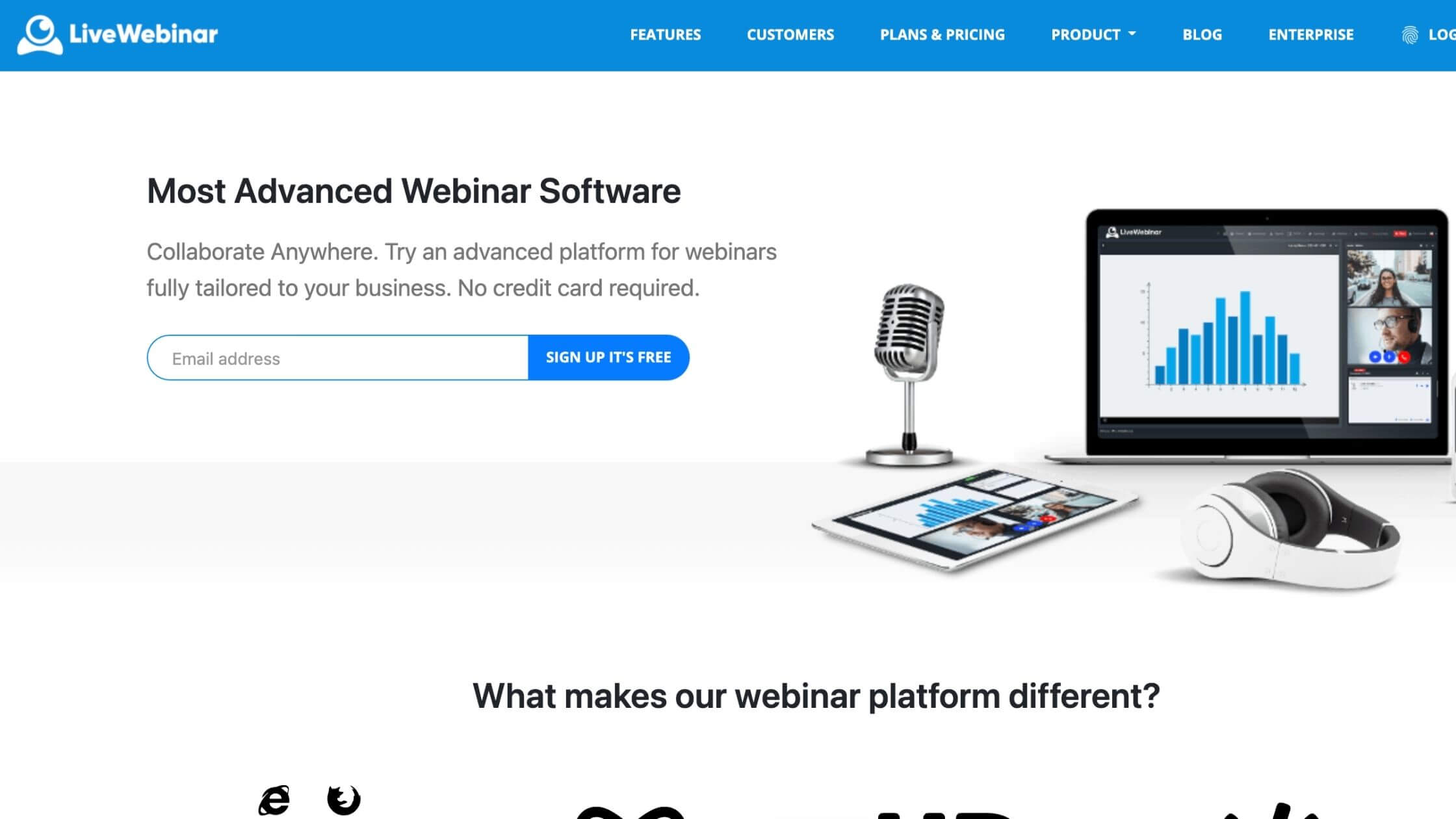 13. Live Webinar
The list of the 21 best webinar software won't be complete without mentioning Live Webinar. Just like the name sounds, Live Webinar projects clear-cut and uninterrupted webinars for their clients.
It's a webinar solution with cloud storage. Meaning that all the data and files of your webinars are pretty much safe and secured in the cloud.
Unlike solutions like Clubhouse, Live Webinar is all-inclusive because you can initiate it on PC while Android, iPhone, and even Smart TV users can also join. 
Your participants should bother to download any software; just hop into their browser with a click.
With its state-of-the-art connection excellence, Live Webinar enhances your webinar with sharp HD videos for maximal enjoyment and participation.
Most importantly, you don't need to go all out because of a webinar. You can integrate it with your website, and the virtual meeting will hold on your website. That's magical, right?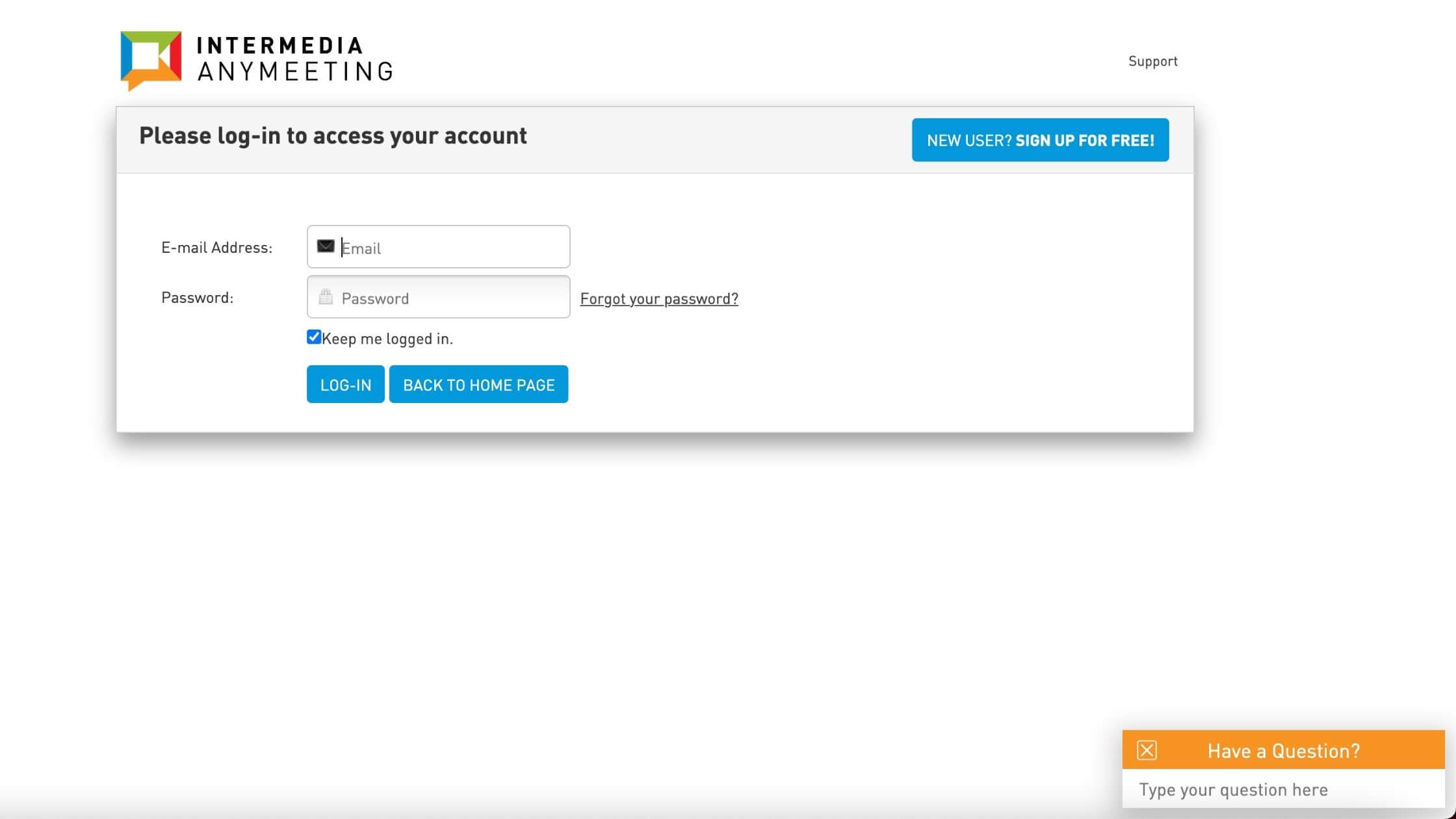 14. AnyMeeting
Have you ever heard of AnyMeeting? It's not quite popular, but it's still one of the best webinar solutions out there.
One, of its most amazing features, is its high-quality audio and clear HD video; it will be more like you're meeting your attendees in real time.
From our research, most people who use it are always those in healthcare, finance, tech, and law.
Therefore, it's a choice for most firms and B2B or SaaS marketers.
With Any Meeting, you don't need to hire a transcriptionist for your webinar, its high-tech artificial intelligence will carry out an accurate automatic transcription of every word in your webinar.
Moreover, it is synced with calendars and content management tools which will help you to efficiently manage your schedules and sessions.
See Also: 10 Best WhatsApp Marketing Strategies for Businesses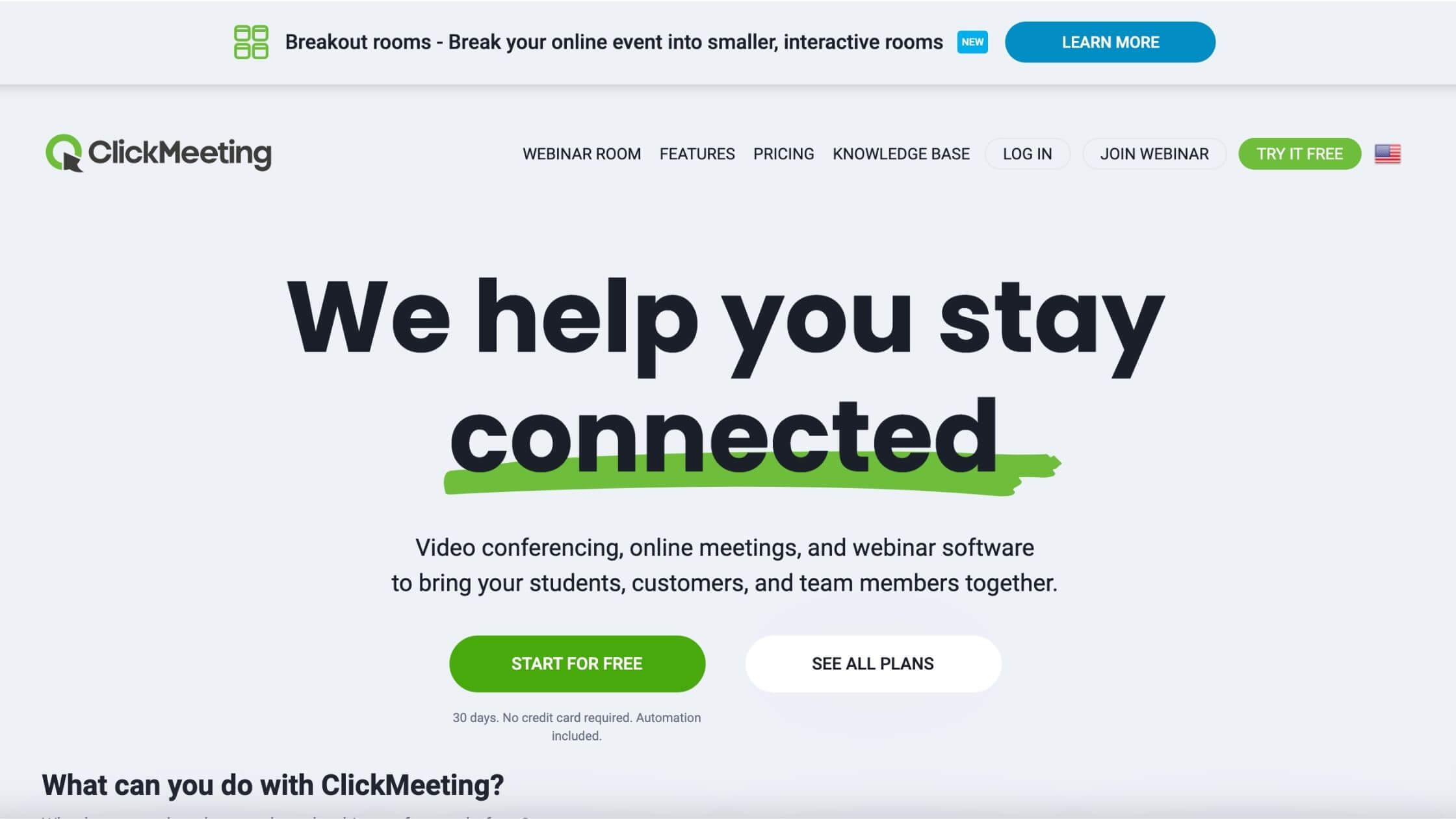 15. Click Meeting
Click Meeting is such an encompassing software for whatever you want to organize. They don't only offer webinar solutions, but you can also host a Breakout Room, where you can train more than 20 separate classes at once.
In their real-time webinar, you can host almost 1000 participants comfortably. Besides, they've also provided for their clients to auto-save their webinars and add them to their leads acquisition funnels.
When you're making your presentations, you can set up polls or Q&A series, share your screen, or—if you're an artist—even draw and sketch on the whiteboard. Just be informed that you'll be able to communicate well with your audience via Click Meeting.
Not only that, you can utilize their mass webcasting technology to interact with over 10,000 attendees. 
See Also: 10 Common and Costly Google Ads Mistakes To Avoid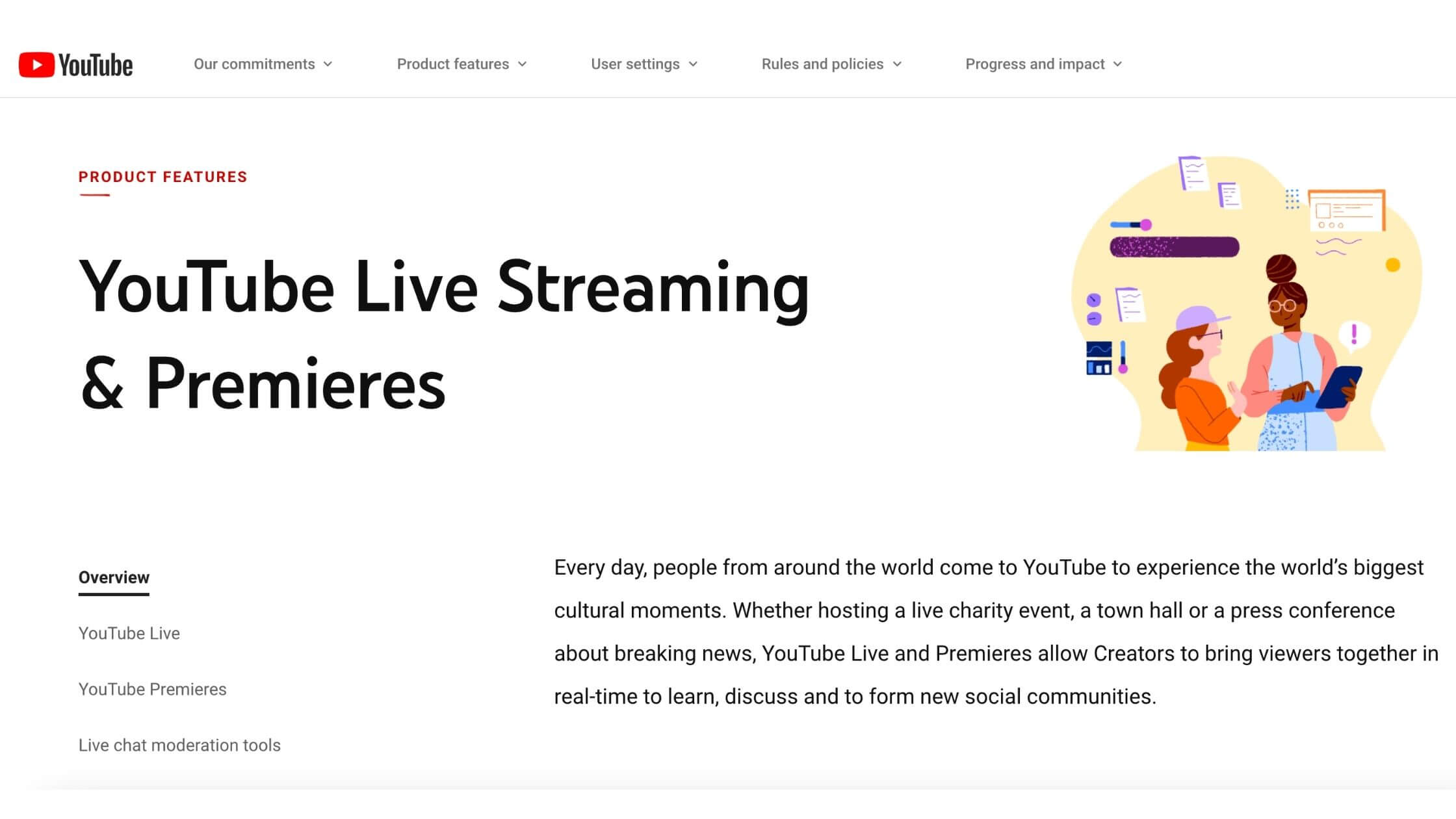 16. YouTube Live
This is a usual webinar software that is now in vogue. Several personalities and businesses have developed the idea of hosting YouTube live sessions for their online summits and marketing conferences.
The first thing you need to do here is to hop on YouTube and open your channel. Without this, you cannot stage any YouTube Live. When you've done that, you'll see an option by the side that enables you to create a live stream.
YouTube Live gives you the privilege to engage with your audience in real time. The good news about YouTube Live is that you can choose if it's a closed streaming or a public one.
Meaning that if you're setting up a paid webinar, closed streaming is a better option.
Also, if the content of your webinar pertains to security and you'll need privacy, we recommend choosing closed streaming too.
Moreover, it's important to note that you can accommodate as many participants as possible in a YouTube Live. All they need to do is to join through the link, and that's all.
See Also: 10 Sure Ways to Make Money on YouTube in Nigeria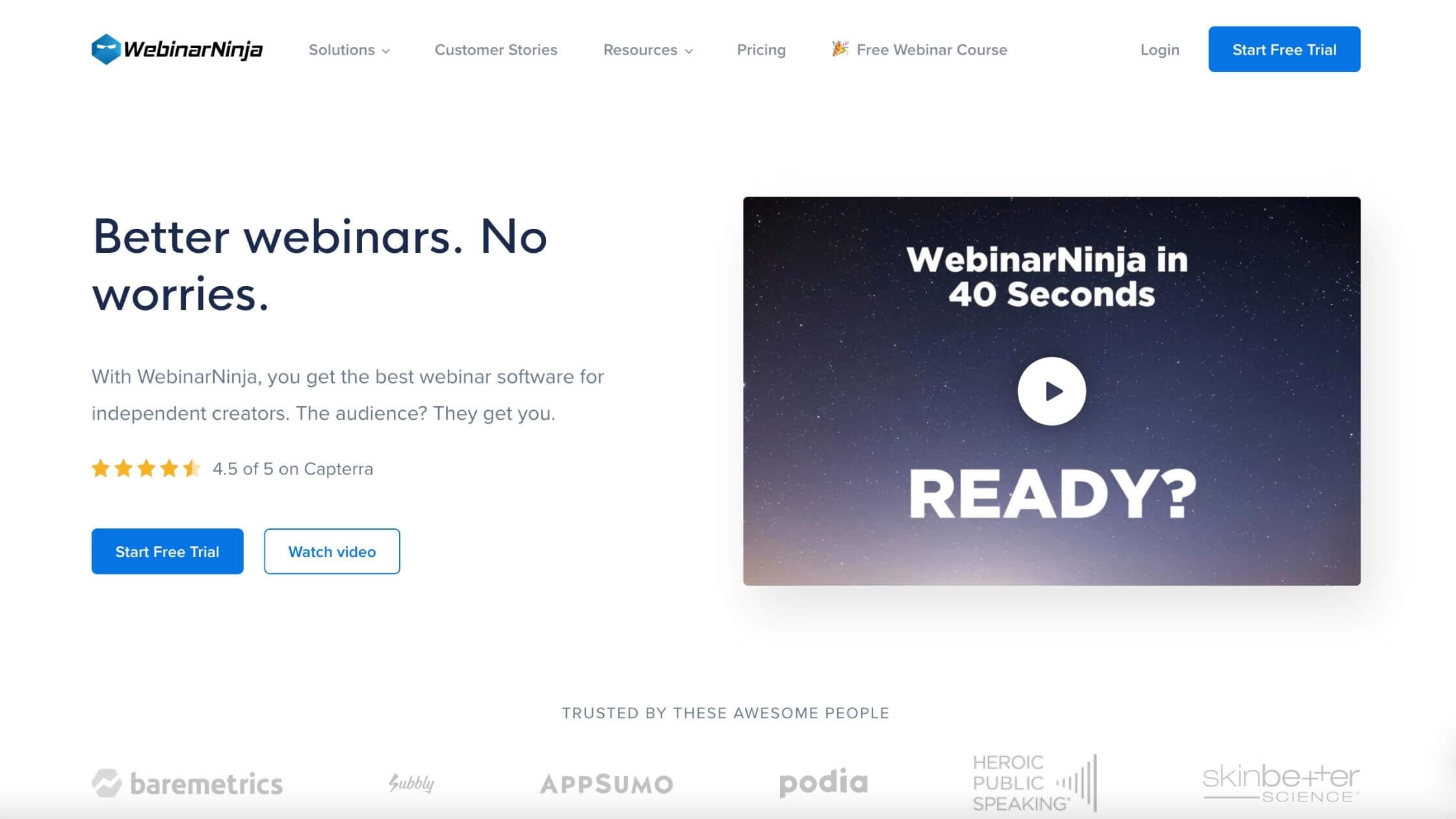 17. Webinar Ninja
If you're planning to host paid webinar sessions, don't bother asking your attendees to pay into your account separately. With Webinar Ninja, your attendees can pay money directly to your account via the registration landing page.
There are so many reasons Webinar Ninja tops the list of a lot of businesses, startups, and firms. One of those is certainty and efficient monitoring through analytics.
You can track those who clicked on your link, signed up, registered, or buy your offer, and so on. Perhaps you used Facebook ads to drive traffic to your landing page—as most people do—the analytics make you know how successful it went. 
Every growth or product manager would hold such precision of data in high esteem. With this data, you can get to know how far your webinar was effective, and what you can or should do better next time.
It's important to also note that Webinar Ninja is one of the webinar software that increases or records a high level of engagement. In an interactive session, you can allow your attendees to air their opinions through question & answer and timestamp the most accurate response.
See Also: Best 15 Free SEO Tools to Boost Your Website Ranking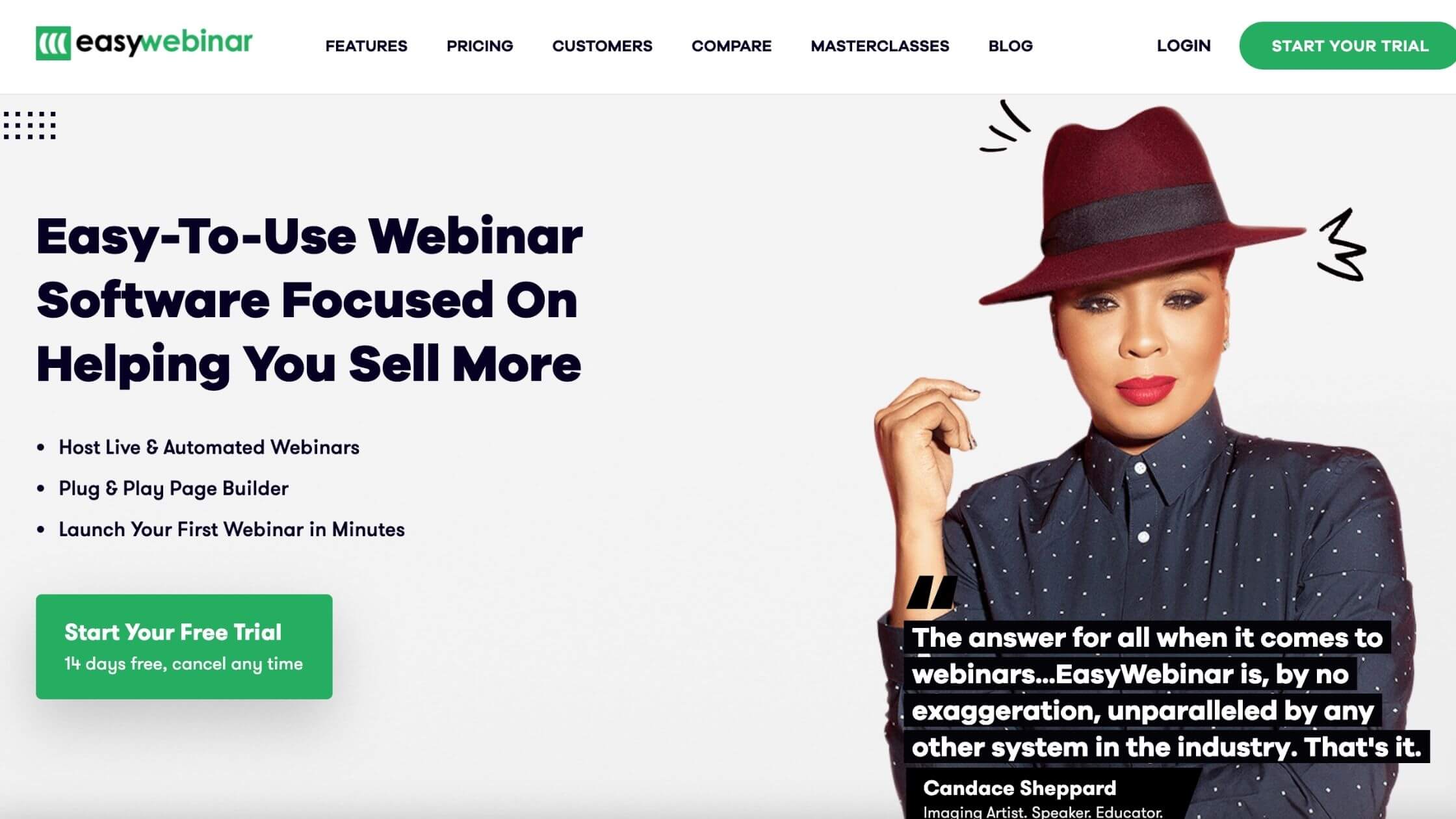 18. Easy Webinar
Sometimes, the reason people get bored of webinars is not that the content was indeed boring. Instead, it's the frustration from buffering and unnecessary connectivity delays.
As the name sounds, that's where Easy Webinar comes in.
Easy Webinar guarantees uninterrupted streaming to the extent that if an attendee asks a question, the speaker can hear and answer in less than a millisecond.
While some other software gives a blurry delivery of the speaker's picture, Easy Webinar presents a clear and clean avatar—with their powerful Live Engine—that will get the audience more engaged.
Also, you can share your screen with your webinar attendees if it's necessary to do. This is how Easy Webinar is different: the shared screen will show in HD and at an impressively high resolution.
If you attend webinars well, you'll agree that there are some times an average participant will have much to say concerning a subject matter. Because of that, Easy Webinar has a feature where you can turn a resourceful attendee into a speaker with only a click.
See Also: Pinterest Marketing: 10 Great Hacks For Beginners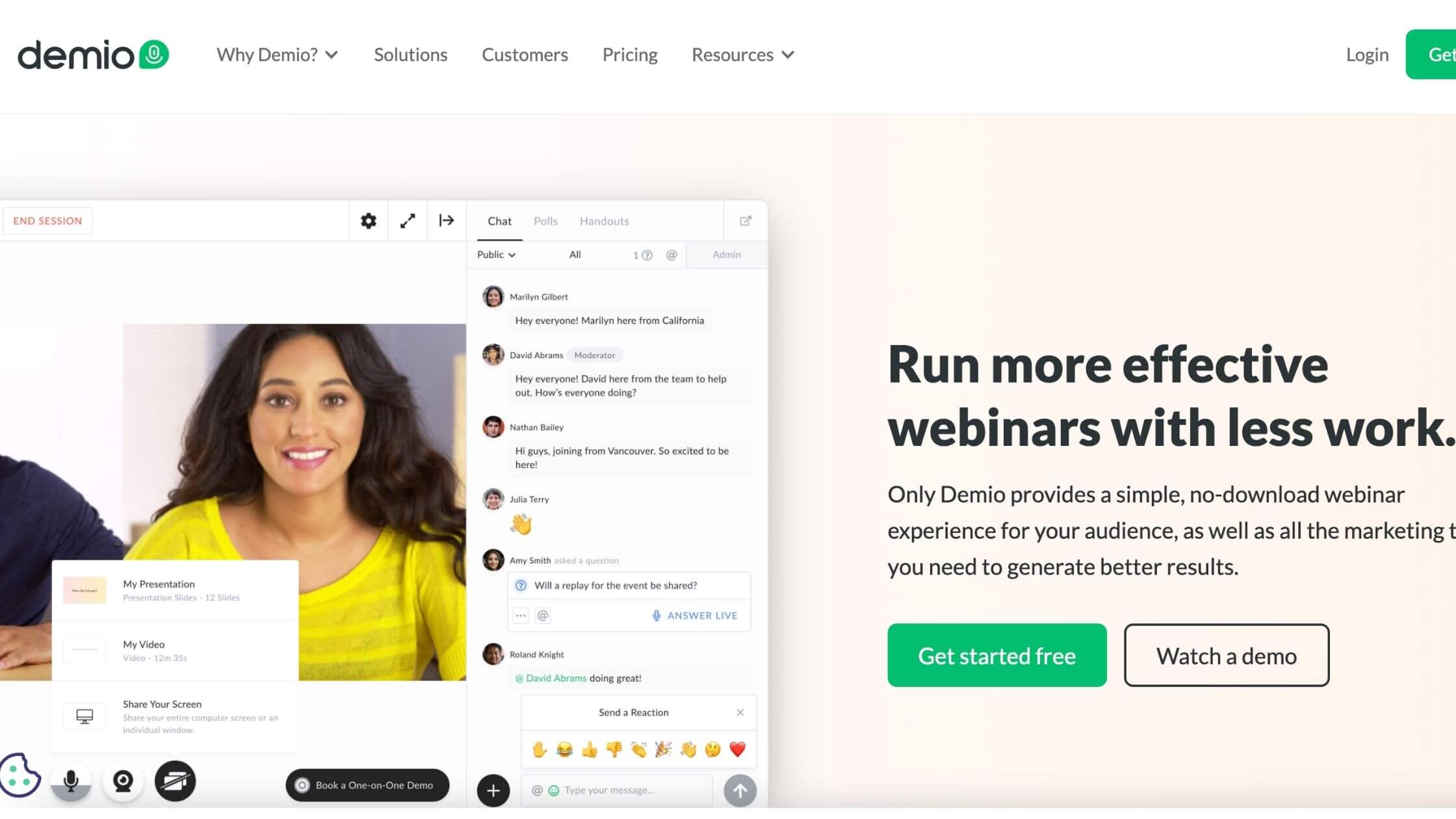 19. Demio
In our judgment, Demio is the best webinar software for anyone who is not tech-savvy and doesn't want to look funny while navigating a conference app; we can spare you the embarrassment.
Also, folks who are well familiar with conferencing software can find it way easier to use. The reason is simple: among all the webinar software out there, Demio is one with an impressive user interface that is most intuitive.

You don't need anybody to teach you how to use Demio. It's that seamless and easy. The icons, typography, and UX copies are so simple to flow with. In other words, the design team of Demio is one of the best in their craft.
The foremost benefit of Demio is that you don't need to download anything at all; not even software or apps. All your audience needs to do is click on the link and join you using their browser.
If we are, to be honest, there are more than 40 widely used webinar software and people have more things to do with their storage than to download all that; it's ridiculous. That's where Demio tops everyone, no need to download. You will host your webinar right there on any browser of your choice.
Isn't that relieving? Breathe in. Breathe out.
If you're having a business webinar where you need to share files, you can send it over to everybody right there on the browser. And you can always invite people to take the lead.
No worry, the session will be automatically recorded in HD and you can hold on to that.
See Also: 10+ Common Affiliate Marketing Mistakes to Avoid
20. Twitter Spaces
Twitter Spaces are creative webinar platforms of the Twitter engineering department. Although it's only audio, that doesn't diminish its efficiency.
However, there will be more functionalities in the future.
You must have been seeing people organizing Twitter spaces on Data Protection, Marketing, Design, Mental Health, and every area of life. Therefore, Twitter spaces are the next big thing for webinars.
Ideally, if your target audience is on Twitter, you don't need to roll your eyes and try to figure out the best webinar software. The answer is right beside you – a Twitter space. Be creative.
Twitter spaces can hold up to 100 participants, and 11 people can speak at the same time. That's ideal for webinars where you have different speakers, especially those who would have to argue and dissent.
Sadly, some webinar software doesn't take people with hearing problems into practical consideration. That's unlike Twitter space. With the permission of the speaker, the people can read the bot transcription of what the speaker is saying. That's the "caption" functionality.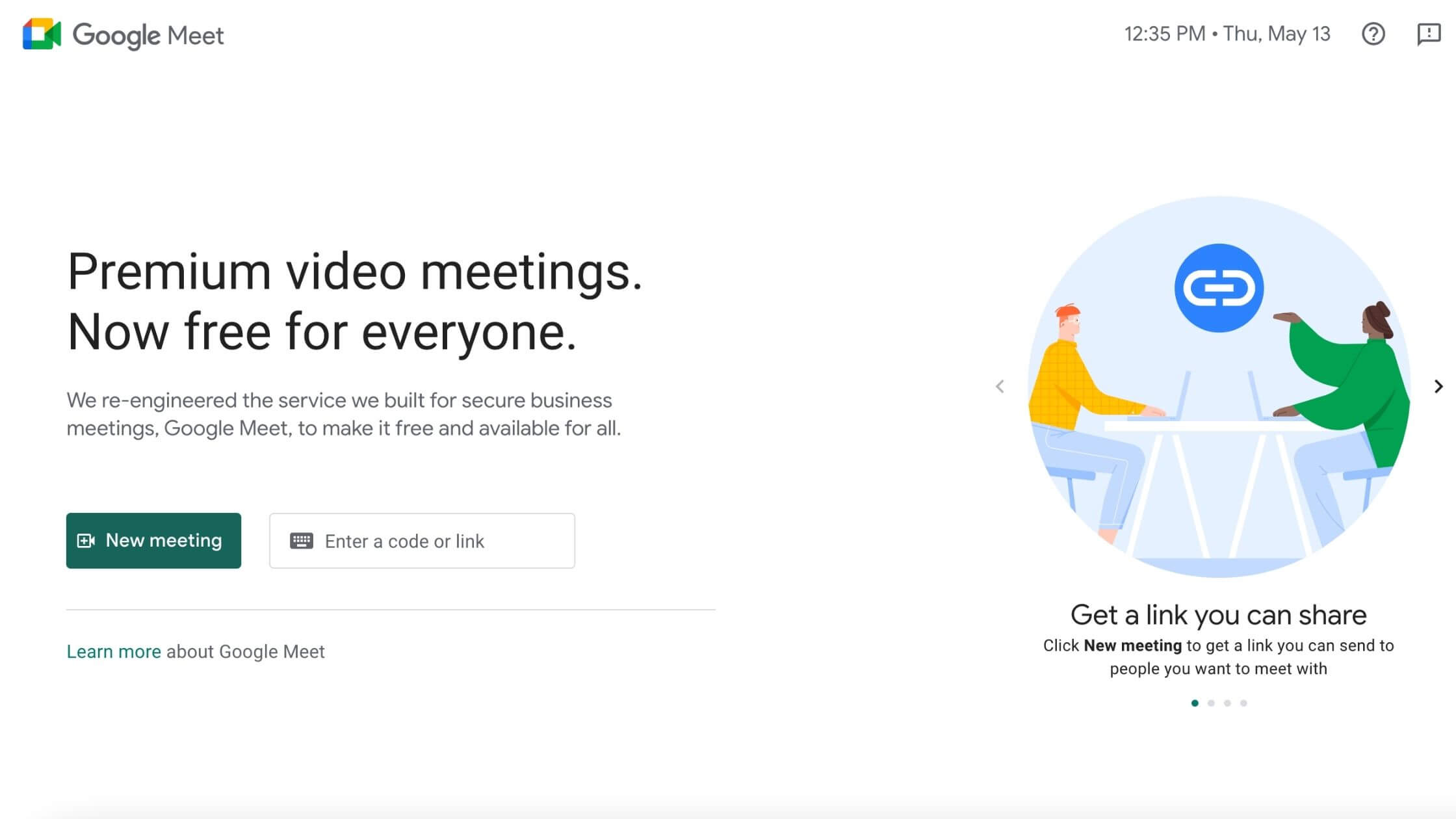 21. Google Meet
The Google Meet we know today is an upgrade and continual development of Hangout apps that Google got through mergers and acquisitions. 
The reason Google Meet is one of the most used online conferencing software is simple, the latest versions of Gmail are accompanied by automatic Google Meet software. 
Therefore, the turnout of your participants will be more inclusive if you choose to host your webinar on Google Meet. 

A meet is an integral software of some other Google software. So, depending on your suite subscription, you can sync your Google Calendar, Spreadsheet, Cloud, and Documents. 
If you have linked your Google Suite software, you can always show your PowerPoint presentations while it also records your meeting and sends it to your Google Drive account.
Isn't that easy?

Google Meet can accommodate up to 250 participants at once. With that secured, you can keep calm and hold your webinar without stress.
Perhaps you're not too clear about anything while using it or you encounter a hitch, feel free to mail their customer support. They always respond as fast as possible.
See Also: How To Target Wealthy Individuals With Facebook Ads
Conclusion
Whether you're planning your first-ever webinar or you have been doing it, you certainly need the best platform. Especially in this high-tech age where what you claimed to be the best software yesterday might have become outdated two hours ago.
While you may be unsure about the creamé de la creamé of this software, we have examined—in this piece—the 21 best webinar software to consider.
We're sure you must have been on the long list and now asks, "Alright, which one do I specifically choose out of all these?" Well, that's an open-ended question and we cannot give a one-size-fits-all answer.
It depends on your audience, budget, taste, and the nature of your organization or business. Anyone you pick, be sure that what we've listed above is the best of the best; any of them is safe for you to use.
We wish you a successful webinar.