It can be really frustrating to lose money because you don't know how to receive money from USA to Nigeria.
With the help of online apps and international money transfer services, receiving money has been made easier.
There are over 1000 apps to receive money from your employer, friends and family as well as earn as a freelancer in Nigeria.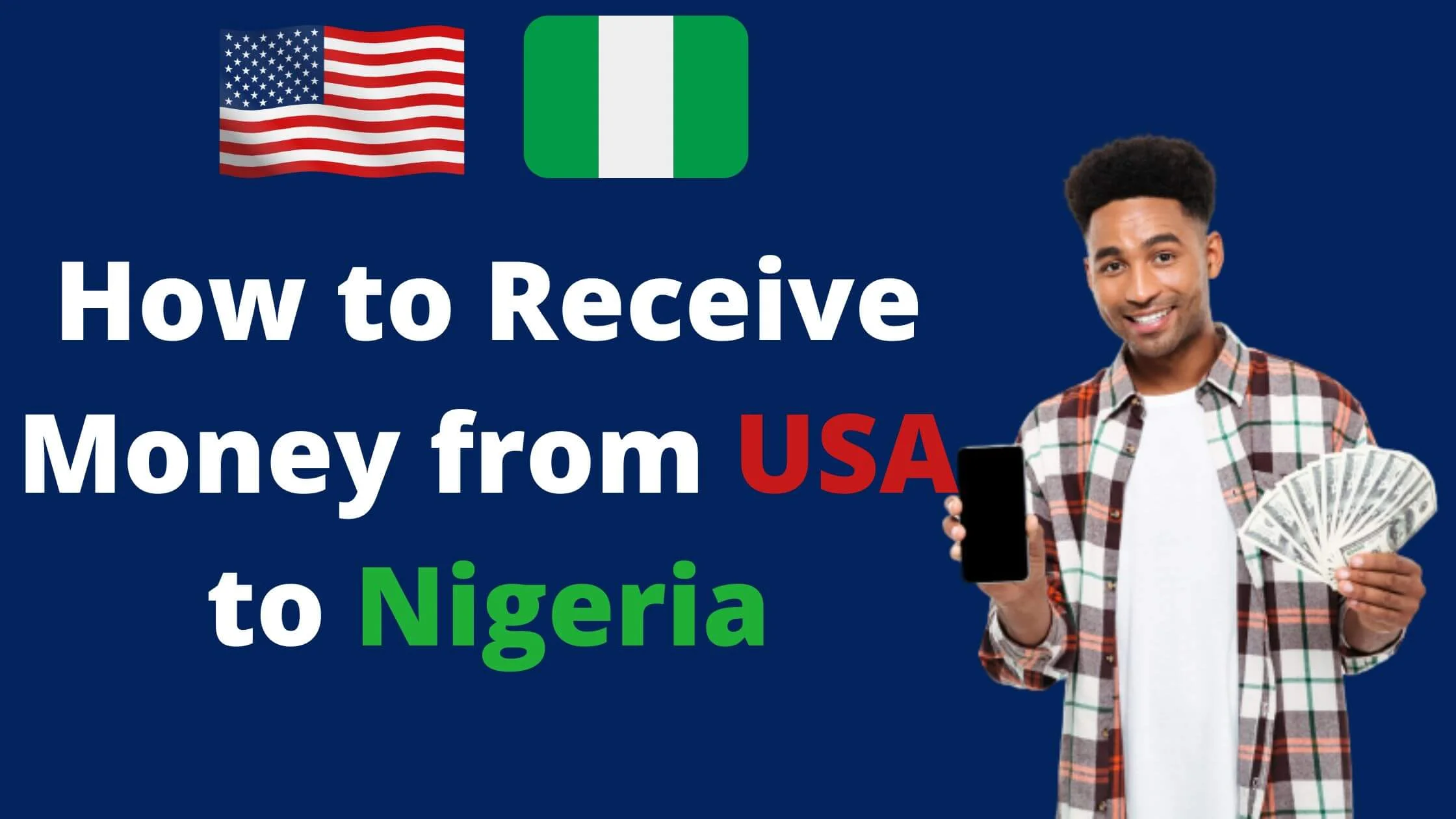 In this article, I'll share with you the best apps to receive money from USA to Nigeria and how receiving money in Nigeria actually works.
This guide will go a long way to create additional value, by pointing out the actual challenges and ways to totally avoid them.
However, there are usually charges associated with these international money transfer services, so you need to check your fees.
The best services will definitely always offer quite reasonable rates that'll be convenient.
Security is also one thing you should look out for when using money transfer apps. You need to ensure that your transactions are protected, and this should include very strong encryption between devices.
To make things easier for you, we have carefully selected some apps we think will suit your international money receiving needs in Nigeria.
Best Apps to Receive Money from USA to Nigeria 
Below are some of the best apps to receive money in Nigerian bank account from USA.
1. Wise
If you're looking to receive money from abroad then you'll know that the process can be costly and complicated.
Fortunately, there are now several options available which can make receiving money abroad much easier. One of these is Wise.
Wise provides a seamlessly, fast and cheap way to receive money in Nigeria.
With Wise, the beneficiary receives the money directly to their bank account within 24 hours without any hidden fees.

2. Payoneer
Payoneer is an online banking platform through which people send and receive money from USA to Nigeria.
It is one of the best money transfer services in Nigeria.
With Payoneer, you can open a virtual bank account in various currencies such as US Dollars, Euros and British Pounds.
Whether you are a professional or freelancer or small business owner, Payoneer offers you the opportunity to receive payment from the global marketplace easily.
Payoneer also provides its users with cards such as MasterCard and Visa.
Because of the limitation with Paypal, Payoneer is the best alternative platform to send and receive money from USA to Nigeria.
Payoneer charges $15 for every withdrawal made to your bank account.

3. Deel
If you are an employer with remote workers in Nigeria, Deel is the first payroll platform that keeps payment records and automates everything.
Deel is one of the trusted payment platforms trusted by remote workers all over the world.
As a contractor for foreign companies, you will need a verified account to be able to receive funds from USA to your Nigerian bank account.
Deel supports bank transfer, Payoneer, Paypal, Coinbase, Revolut and Wise withdrawal methods.
Also, charges apply to every withdrawal made from your Deel account.

4. Bitcoin
Interestingly, bitcoins can be used as a means to receive money in Nigeria.
At the same time, the exchange of bitcoins to naira can be done by using a peer-to-peer marketplace with the help of an app called Send cash and Paxful.
Bitcoin Is simply a type of digital currency that can be used to pay for goods and services, or it can also be used to send money to anyone of your choice. 
You'll definitely need a wallet to complete any Bitcoin transaction. The term "Bitcoin wallet" should not scare you. A Bitcoin wallet is just similar to checking your account.
You simply receive the Bitcoin equivalent amount of the amount you want from someone in USA.
See Also: 15 Best Lead Generation Software to Consider
5. Receive money from USA to Nigeria with WorldRemit
I'll like you to know that as of December 2020, the Central Bank of Nigeria actually announced a few changes to the ways people can receive money.
The amazing feature of WorldRemit is simply the fact that it offers you the option of sending money for either cash pickup in US dollars or to a legal US dollar bank account in Nigeria.
Below are a few tips to make sure your transaction goes very well.
Let's get started!
You really can't send transfers in Naira, so if you're trying to do this the transaction will definitely not work out
When sending money for Cash pickup, it's so necessary that you check the primary phone number of the recipient, to make sure it's correct. A code will be sent to the number you provided. 
Note: 9mobile network numbers are not valid for this, because they're unable to receive the code.
Round up transactions for cash pickup, to the nearest 10USD, this will help minimize the chances that notes will be available to get.
However, transactions that are sent through bank transfer have to be sent to a domiciled US dollar bank account in Nigeria.
At the same time, not all banks partner with WorldRemit. The banks that partner with WorldRemit are; First Bank, AccessBank, Diamond Bank, FCMB, Fidelity and Ecobank.
There's a maximum amount of money that can be sent to Nigeria, and that's a maximum of N7,000,000 per transfer and per day for bank transfers.
See Also: How To Target Wealthy Individuals With Facebook Ads
6. TransferGo
This is quite an affordable international money transfer company that can be used to send money to Nigeria. At the moment, the company serves 22  currencies across over 47 countries.
With TransferGo, you really do not need to have any worries because it is not only a licensed but authorized payment institution regulated by the FCA (Financial Conduct Authority) and then supervised by HMRC (Her Majesty's Revenue and Customs) in England.
Therefore, they have the same security standards as any commercial Bank will.
TransferGo actually delivers high-quality money transfers with speed, ease and extremely excellent value.
Also, another thing about TransferGo is that their pricing is based on very competitive currency rates, and how fast you want the money being sent to arrive at its destination. It's that simple.
See Also: How to Fix Disabled Facebook Ad Account Really Fast
7. Paystack
This is a payment company that operates in Nigeria and in other parts of the world.
Although Paystack might not be a money transfer service, it goes a long way to making a way for people outside Nigeria to receive money from those in the USA with a Paystack account.
If your recipient in Nigeria has a Paystack account, he or she can send you a payment link that they can create in their Paystack dashboard.
Also, the payment will have to be made with a debit or credit card.
In Nigeria, Paystack is issued by Business owners, creatives, and  Freelancers as well to get payments around the globe.
This is an outstanding alternative for money transfer services. All the same, for the transaction to be successful the money recipient in Nigeria, needs to have a Paystack account.
See Also:  Paystack vs Flutterwave – Which is Best? (REVIEWED)
8. Flutterwave
This is really similar to Paystack, and it's a money transfer service that allows users with Flutterwave accounts to receive funds from any part of the world. 
You might be wondering what Flutterwave is all about.
Flutterwave is a fintech company based in Nigeria that offers a payment system for global merchants and payment options across the continent.
Founded: 2016
CEO: Olugbenga Ayboola
Founders: Olugbenga Ayboola, Iyinoluwa Aboyeji
Type of business: Privately Held Company
See Also: How to Fix Disabled Facebook Ad Account Really Fast
9. MoneyGram
Just in case this is your first time to learn about MoneyGram, I'll tell you all about it.
MoneyGram is unarguably one of the oldest and most reliable ways to send money to Nigeria from abroad.
Currently, MoneyGram has over 350,000 agent locations around the globe and partners with more than 350 banks around the globe.
This should already tell you how legit it is. MoneyGram is simply referred to as the second largest global money transfer service, so with MoneyGram, you can send money to Nigeria really fast.
You can be 100 per cent sure that your money will get to the intended recipient.
10. Remitly
This is another very good international money transfer service on the list you can think of when it comes to sending and receiving money to Nigeria.
Remitly is such an outstanding digital alternative to traditional money transfer services such as MoneyGram and Western Union.
This is because Remitly makes money transfers to Nigeria very fast, secure and also not so expensive.
You can also easily access the Remitly app on your smartphone, tablet or computer.
Remitly can only Transfer money to the recipient in Nigeria through cash Pickup or bank deposit in USD.
However, for the receiver to receive money in bank deposits from Remitly, it's necessary for the recipient to own a domiciliary account.
With Remitly, you can send money to Nigeria from the following countries:
Australia, Austria, Germany, Italy, Spain, Sweden, Canada, Belgium, Finland, Netherlands, Singapore, USA, the United Kingdom, France, and Germany.
See Also: 15 Effective LinkedIn Marketing Strategies to Grow Your Business
11. Sendcash Africa
This is a very easy and simple way for people to send money to Nigerian bank accounts from anywhere around the globe.
Just within a few minutes with the use of crypto through your bank card, Apple Pay, Cash App or even a Crypto Wallet.
It is such an amazing platform that can be used to send money to family and friends based in Nigeria or from those receiving money from clients abroad like a Freelancer in Nigeria.
It might also interest you to know that SendCash is fast, affordable and requires no sign-up. That just made the whole process thousand times easier.
You just need to input the account number you intend to send money to, and you're just good to go.  Money transfers on Sendcash can take between a few minutes to about four hours.
It all depends on liquidity and the current rates at the time.
There are two transfer methods associated with SendCash, and they include;
Via Bitcoin wallet

USDC with Wyre.
Interestingly, the transfer limit when using a Bitcoin wallet is $2500 and that of Wyre transfer is $1000. 
When using a Bitcoin wallet for any Transfer, SendCash does not charge a fee. Your external Crypto wallet might charge a fee though.
See Also: Instagram Shadowban: How to Fix it Really Fast
12. Eversend
This is an exceptional multi-currency e-wallet that easily allows anyone to exchange, save and also instantly receive money at the best possible rates. 
Instant bank transfers can be done to bank accounts in Nigeria with the EverSend App.
The good thing about this app is that it saves up to 70% on fees and foreign exchange, yeah.
It also gives you the liberty to create a virtual debit card and instantly shop online.
The virtual debit card can be loaded in any currency and then you can still shop in USD.
Asides from all I've made mentioned above, the app allows you to hold and exchange currencies like EUR, NGN, KES, UGX, RWF, and USD.
You can send money to Nigeria with Eversend from any of the countries listed below;
Europe: Belgium, France, Germany, Switzerland, United Kingdom, Netherlands.
Africa: Ghana, Kenya, Nigeria, South Africa, Tanzania, Rwanda, Uganda, Swaziland.
Rest of the World: Australia, Canada, India, United Arab Emirates, Turkey, United States, South Korea, Kuwait.
See Also: 21 Best Webinar Software to Consider (Top Ranked)
13. RIA Money Transfer
This has been one of the best money transfer apps since the late 1980s and is worth about 377,000 locations worldwide.
Ria also has an advantage for pickups in countries like India. 
Signing up on RIA is totally free and your recipient on the other hand does not need to either receive money or even pick up the cash.
RIA might not actually charge for transaction fees but will definitely take a cut by marking up the exchange rate.
RIA currently partners with Nigerian Banks like Diamond Bank, First Bank, Skye Bank and Ecobank making the process of sending money from countries like Nigeria actually easier.
There are no hidden charges with the RIA money transfers. To successfully send money with RIA, you'll have to register for a RIA account by visiting RIA online.
After your RIA account has been authorized, you can then freely send money to Nigeria.
The receiver's identity will however be proven with a Nigerian National Identity Card, international passport or driver's license.
RIA money transfer limit for Nigeria is $500. The money will be received by the recipient in dollars and not in the naira equivalent.
App to Send Money to Nigeria FAQs
Below are some of the frequently asked questions on how to transfer money to Nigeria.
How to receive money to Nigeria from USA?
If you're looking to receive money to Nigeria from USA, you can use any of the following apps:
Wise
Payoneer
Deel
Bitcoin
WorldRemit
TransferGo
Paystack
Flutterwave
Sendcash Africa
The following apps allow you to send money from USA to friends and family, business partners etc.
Can I receive money from USA to Nigeria from USA?
With online apps and payment platforms, you can easily send money to Nigeria without any challenges. Some of the apps to use include Wise, Payoneer, Deel, Paystack etc.
Conclusion
Inasmuch as you have the above-mentioned apps to choose from, when considering a money transfer to a recipient in Nigeria, you also need to consider factors like total cost of a transfer, transfer speed and geographic location.
Because not all money transfer apps will be available everywhere, some of them are limited to other countries.
You should go for the app and service that is most convenient for you.
Yeah, as we all know that the whole essence of doing an online transfer is for it to be easy, isn't that it? Then go for the app you can use, with fewer bugs.
Life should be easy.
Also Read: