Paystack and Flutterwave began as online payment gateways in Nigeria, but they have since evolved into much more. Stripe recently purchased Paystack for $200 million, and Flutterwave is present in over 17 countries.
These two payment platforms are empowering organisations, companies, entrepreneurs, creatives, and freelance contractors on the African continent.
In this Paystack vs Flutterwave comparison, we'll look at the functionalities of both platforms, see how they differ, and decide which one to use according to your specific needs.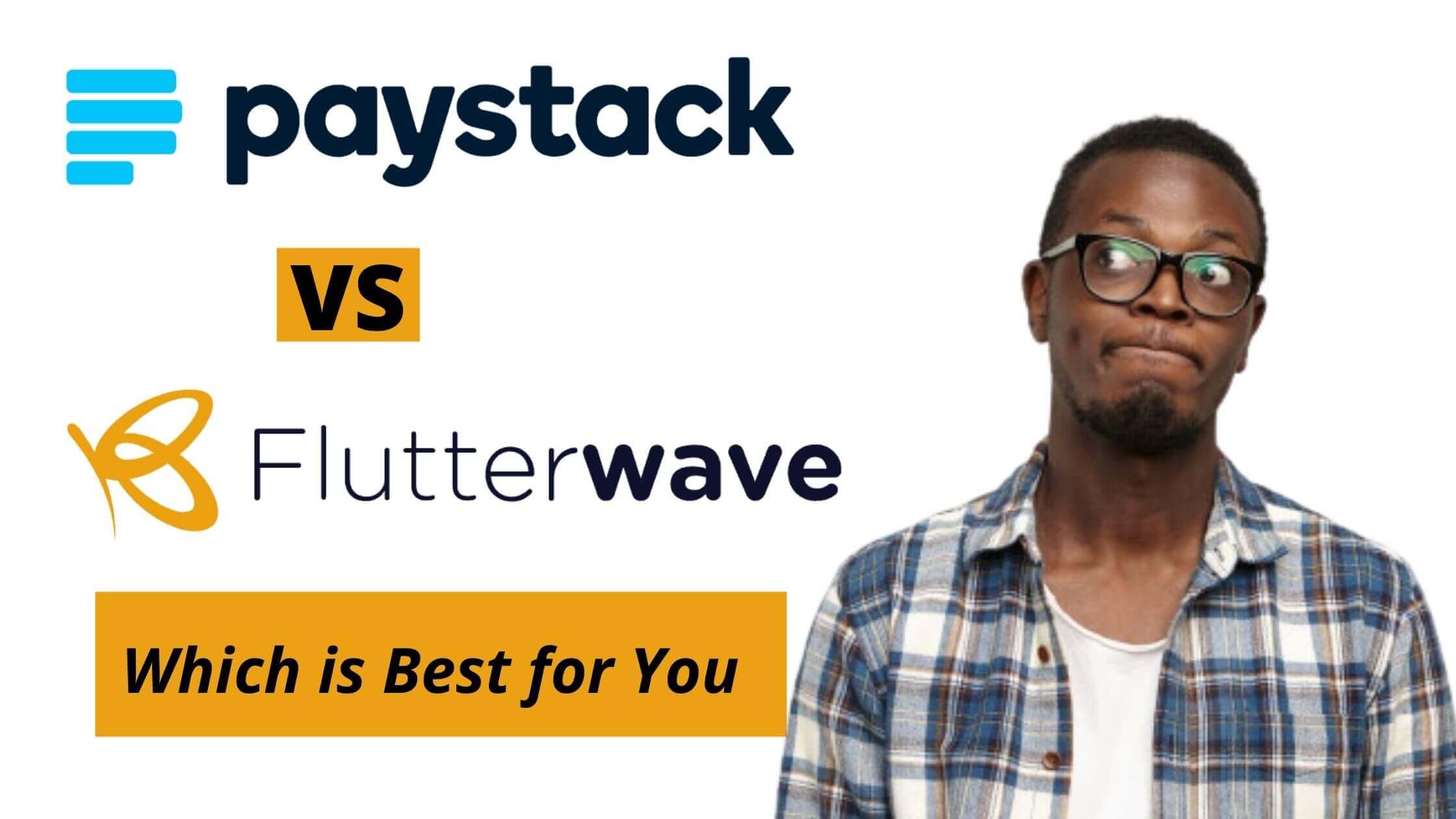 See Also: 9+ Best Apps to Send Money to Nigeria (From US, UK, AU & More)
Paystack vs Flutterwave in a Nutshell
Paystack is an African digital firm that allows organisations and individuals to accept internet payments conveniently and effectively from any location in the world.
It was founded in 2015. More than 55,000 businesses utilise Paystack, which processes over $1 billion in monthly transactions.
They also provide payment choices tailored to the local market, such as mobile wallets. With Paystack, you can receive payments from international-issued cards, create invoices that list prices in USD, and get paid in USD.
Flutterwave on the other hand is an African payment startup that offers offline and online payment services for organisations, enterprises, retailers, and customers.
Flutterwave makes it possible for anyone to accept payments or money via credit or debit cards, bank transfers, USSD, and POS.
You may also use Flutterwave to conduct online payments by creating virtual dollar cards.
See Also: Paystack Login | How to Create Paystack Free Account
Paystack vs Flutterwave: Features and Functionality
Paystack and Flutterwave both make it simple for businesses and individuals to get paid locally and globally. Both of these businesses operate and run similarly.
It's difficult to tell them apart because they do similar things. Let's have a look at the different features and how they compare.
Features List
It's free to sign up for a Paystack and Flutterwave account. If you make a financial transaction on your account, you'll be charged a small percentage.
You can create a Paystack or Flutterwave account in just a few minutes and begin accepting payments.
Here's a full list of everything you can do using Paystack and Flutterwave:
Use payment links and invoices in your account to receive one-time payments from customers.

Use your app or website to receive recurring payments (Subscriptions and memberships)

Perform real-time transactions

Get access to all of your transactions and client information.

Customer verification features

Detailed reporting, notifications, and exports help you and your team stay on top of your business.

Detailed reports of transactions that were completed, cancelled or abandoned.

Automated chargeback notifications

Analyse customer purchase trends with Customer Insights.

Customers can make payments via their credit card, bank account, bank transfer, USSD, Visa QR, and Mobile Money.

Paystack Commerce makes it simple to set up a free online store for your company. With the Flutterwave store, you can still get an online store for free.

Well-documented APIs from Paystack and Flutterwave can also be used to create unique payment experiences.
When it comes to processing payments, Flutterwave and Paystack are almost identical in feature sets.
The difference between the two platforms is that Flutterwave allows you to generate virtual Mastercard and VISA cards for yourself and others.
See Also: How To Start a Side Business While Working Full-Time
Detailed Analysis of Paystack vs Flutterwave features
Paystack Pricing
Paystack charges 1.5 percent + NGN100 for local payments. For transactions under NGN2500, NGN100 is waived. The cost for local transactions is set at NGN2500.
Paystack charges 3.9 per cent plus NGN100 for international transactions. International cards are processed and paid in Naira by default, but you can opt to get paid in USD.
Flutterwave Pricing
Flutterwave charges 2.9 per cent of every transaction for domestic transactions. NGN2000 is the maximum fee that can be charged for each transaction.
Also, Flutterwave imposes a fee of 3.8 per cent for international transactions. Flutterwave is cheaper than Paystack for international transactions, but Paystack is cheaper for domestic transactions.
Paystack Features
Features that set Paystack apart as a payment processor include the following:
Payment Processing
Paystack enables users to receive payments from both local and international clients.
Paystack supports Bank Account, Card, Bank transfers, USSD, Mobile Money and Visa QR. 
As of right now, the platform does not have any POS terminals!
Payment Pages
Payment collection is made smoother with Paystack thanks to payment pages that can be tailored to different products.
These pages can contain full product descriptions and act as landing pages in order to improve the user experience for clients.
Invoices
Paystack makes it easy to send customer invoices, which adds a professional touch to the payment acceptance process.
Recurring Billing
You can bill users for a subscription on a recurring basis with recurring billings. This feature eliminates the inconvenience of repeatedly processing the same batch of payments.
Custom Payments
Paystack's APIs are well-documented, allowing developers to create everything from basic projects to sophisticated financial systems that support thousands of clients.
See Also: How To Create a Verified Clickbank Account in Nigeria
Flutterwave Features
As a payment processor, Flutterwave offers the following advantages:
Payment processing
Flutterwave checkout is the most convenient way to accept payments from customers all over the world. On the web and smartphones.
Flutterwave accepts payments via credit card, bank account, direct deposit, USSD, and Mpesa.
Users can receive payments in more than 150 different currencies around the world.
On the Flutterwave platform, your consumers can pay you in Naira, Dollars, Pounds, Euros or yuan, among other currencies.
VISA and Mastercard virtual cards
Flutterwave's Barter is a new technology that makes it possible to create virtual cards for online payments.
Users can create cards for a team, set spending limitations, and make them site-specific with Flutterwave.
You can quickly generate and modify virtual cards with the Flutterwave API. You can use those cards right away via digital wallets and international websites.
FinTech Business Integration
A few lines of API code can open the door to a wealth of offerings for your new FinTech business.
Invoices
Flutterwave enables users to quickly send invoices to consumers in several currencies, which adds a professional touch to the payment acceptance process.
Platform Integration
There are a lot of platforms that work nicely with Flutterwave, like Shopify, Sage, Xero, Quickbooks, Zoho, Squarespace, among others.
See Also: 10 Best Money Saving Apps in Nigeria (Reviewed)
Customer Service
In addition to the product's features, technology, and pricing, potential customers need to look at how customer services differ.
Every business needs to provide excellent customer service. In any scenario, users benefit from a product that has a solid support team.
According to our study, Flutterwave and Paystack have great customer support services. While response times may be slow during peak hours, this is typically due to a high number or surge of consumers being served at the same time.
Paystack vs FlutterWave – Which is Better?
Paystack and Flutterwave have both demonstrated that their payment processing systems have been highly consistent over the years. Their competitive price makes it difficult to choose between them.
Paystack is the best option for recurring small domestic transactions under NGN2500, and for transactions considerably more than that, Paystack is still the best choice. In short, Paystack is the most cost-effective option for local processing payments.
Flutterwave offers the most competitive rates for international transactions.
Overall, picking between Paystack and Flutterwave comes down to personal preference, as both platforms are capable of accepting payments both internationally and domestically.
See Also: How to Contact Facebook Support to Fix Account Issues
Are there Alternatives to Paystack and Flutterwave?
Yes, quite a handful of payment gateway systems can efficiently handle international and local transactions aside from Flutterwave and Paystack.
The top three are:
Voguepay
Remita
CashEnvoy
VoguePay
Tunbosun Ayinla founded VoguePay in 2012.
The goal of this one-of-a-kind payment processor is to provide buyers and sellers with a convenient and secure integration as well as a reliable method of conducting online financial transactions.
VoguePay users can sign up for a free account and add the plugin to their eCommerce site.
Users of Vogue can accept one-time payments, set up subscriptions, and even solicit donations to help their online business flourish.
VoguePay has also simplified the transaction process for customers by allowing them to receive payments for goods and services through various channels, including online banking, wallet transfers, bitcoin payments, and more.
Merchants will be able to accept payments in many currencies and will be paid in the currency of their choice.
VoguePay charges 2.5 per cent and 4.5 per cent fees for local and international transactions, respectively.
Remita
Remita is a multi-channel payment processing platform developed by Oshadami Mike.
It can be used by businesses of all sizes.
Remita takes pride in its infrastructure, which allows merchants to receive international payments and receive funds from clients at any time, including on holidays, weekends, and after office hours, thanks to its many online and offline channels.
The Remita payment gateway is a valuable tool for several big businesses, including insurance providers, energy suppliers, academic institutions, etc.
Remita is primarily used by the government to accept payments online.
It charges 2% for domestic transactions, while for international transactions, it charges 4%.
See Also: How To Increase Sales Volume With Digital Marketing
CashEnvoy
CashEnvoy is another excellent payment service in Nigeria.
It is managed by E-Settlement Ltd, an entrepreneurial company focused on creative, reliable, efficient and safe payment solutions.
Shopify users have flocked to this payment gateway since its inception in 2009.
Merchants can now accept payments from major Nigerian debit cards, CashEnvoy wallets, internet banking, and cash deposits using CashEnvoy.
CashEnvoy charges 1.5% plus N25 for local transactions and 3.9% + N12 for international transactions. However, there are no integration or maintenance costs.
The next thing you should do is read my post here which is best payment gateways that you can also consider for your business.
Conclusion
Using a safe and secure payment platform can improve your business process and customer experience. We hope that this review on Paystack vs Flutterwave helps you get started.