How do I make a clickable link in TikTok bio?  This is one of the questions asked by most TikTok users who want to drive traffic to their websites.
TikTok bio is an amazing feature for all business brands and individuals. Influencers can use it to drive high-quality traffic to their client's websites through their TikTok videos.
If your goal is to drive traffic outside of TikTok, this feature will be the best fit for you. Just like Instagram allows users to add a link to their bio, you can also add a link to your TikTok bio.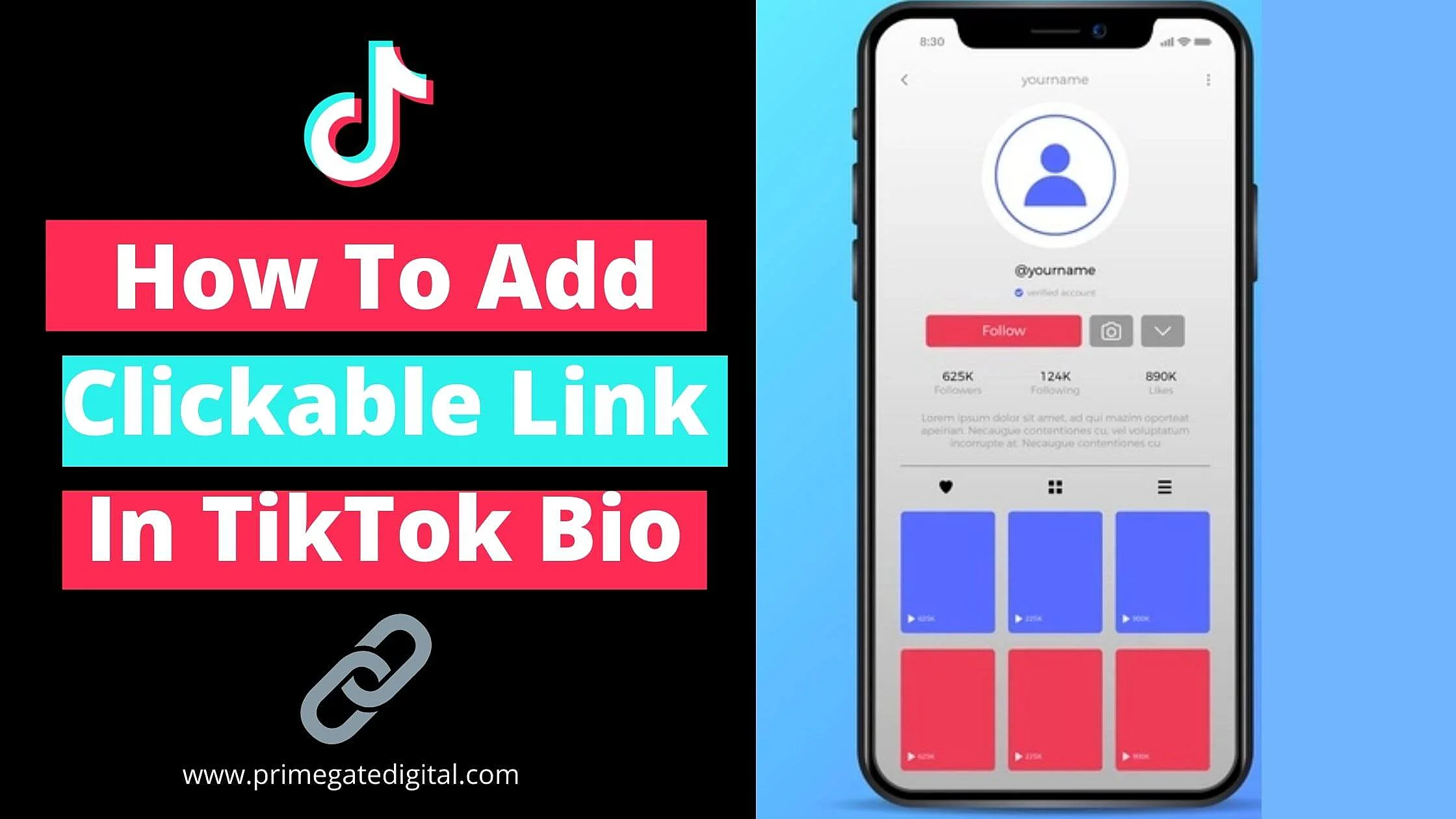 How do you add a clickable link to your TikTok bio?
In this article, we will guide you on how to make a clickable link on TikTok.
Sounds good? Let's get started.
See Also: How to Save TikTok Videos Without Posting
Why Do You Need To Add Clickable Links to TikTok Bio?
One of the major reasons why you make clickable links in your bio is to be able to drive traffic outside of your TikTok account to your website or landing page.
Like Instagram, you might not add a link to your TikTok video caption. You can add the link to your bio and direct your TikTok followers to click the link in the bio to visit your website to gain access to your freebie.
Here are some other reasons adding a clickable link to your TikTok bio is important
It makes it easy for customers to know about your brand, products or services. "Clicking the bio" allows TikTok users to check out your website or eCommerce store.
It lets them buy your products. Over 60% of US shoppers claim to have purchased an Item they discovered in a social media post. Businesses seeking to sell their products on TikTok usually add links to webpages that have the items they advertise, making it easy for prospective customers to buy the items. Most of the time, these brands may add a strong call to action, implying that customers should click the "link in bio" to buy the items or check them out.
It improves product awareness. Millions of customers now use social media to research shopping ideas — and TikTok is popular. This is why product awareness on the platform is growing so fast, with millennials hopping on TikTok for shopping inspiration. Adding a link to your eCommerce store to your TikTok bio helps shoppers become aware of your business offerings.
The term is popular. It is not unusual to see brands adding the "link in bio" phrase to their TikTok captions as it assists users who are in need of more details about their services and products.
It is the only place to add a link to your website. Although it is possible to direct your TikTok audience to a particular URL by adding it to your video caption, it isn't clickable. Thus, the "link in bio" is the only place for you to link your TikTok to your website.
How to Add Clickable Link in TikTok Bio 
Method 1: Switch to a Business Account
The easiest way to access the "link in bio" feature on TikTok is to set up a business account. So for TikTok creators that can't add a link to their bio, they have to switch to a business account.
After switching to a business account, adding a link to your bio on TikTok will be very easy.
Tap Edit profile
Select Add Your Website
Input the website you wish to add to your profile
Select Save
That's all! You have added a link to your TikTok bio.
Method 2: Join the TikTok Tester Program
Visit Your TikTok Profile
At the moment, only a few TikTok users have gained access to the clickable link feature by default on their accounts. Perhaps, if you are lucky, you will find the "Website" option just below the bio section.
In this section, you can add the link to your website, YouTube channel, social media etc.
If you are among those that can't find this feature, don't panic. There's a TikTok Testers program that you can join to be able to access this feature.
How do you join the TikTok Tester Program? Follow through to the next step.
See also: How to Check Who Reported You on Instagram
Join the Testers Program
To join the TikTok tester program, follow the steps below:
Open your TikTok app
Navigate to your TikTok profile
Click on the three-dot at the top right of your profile
Scroll down until you find the "Join TikTok Testers" below the copyright policy
Tap on "Testflight" and proceed to install it on your mobile phone from the App Store
Congratulations!!! That is how you can join the TikTok Tester program to access the add-website option with the new TikTok version.
Go ahead, open your TikTok profile again, and put your link in the "Website" section.
Disadvantages of adding a clickable link in bio
Although the link in the bio feature can draw traffic to your website and boost your product sales, there are some disadvantages to using it:
It can be stressful. Many people find adding a call to action to every caption to direct their TikTok audience to their bio and website cumbersome and stressful.
Adding a new link to your bio every time can be tiring. Regularly adding new links to your bio can be strenuous, and some people make mistakes while doing it.
It might be hard to monitor or assess the traffic emanating from a link in your TikTok bio.
3 Best Link in Bio Tools
LinkTree
Linktree is a popular tool that lets users set up a basic landing page via simple templates. It is user-friendly and is available at no cost.
You can access simple templates with basic personalization options and an analytics dashboard to track your page performance with a free account.
Users can upgrade to a pro account that costs $6 monthly. This lets them enjoy powerful personalization tools. For instance, they access a much better metrics tool and personalization options.
Hootsuite
With Hootsuite, you can improve your social media management. There is a feature that enables you to set up a link tree from your dashboard via oneclick.bio.
It also allows you to set up a "link in bio" landing page with rich options. You can even integrate an image gallery and recreate uploads from your TikTok page.
This makes it easy for your users to check out your landing page via your bio and see a clickable form of the post that appeals to them.
Unbounce
For those who need a more hands-on approach and want a customizable link in their TikTok bio landing page, Unbounce is the perfect tool for setting up a landing page.
Using Unbounce, you can set up a landing page tailored to your brand and suited for your TikTok profile. It has a user-friendly drag-and-drop builder and sophisticated AI for the speedy and efficient completion of tasks.
3 Tips to Boost Traffic to Your Website Using Link in Bio
Add your most important links
You want to avoid diverting your audience's attention from what's important. So don't be tempted to add every link on your website to your landing page.
Ensure your links align with your goals
The links you wish to add to your link in the bio landing page should align with the goals of your page.
If your goal is to get more email subscribers, adding other social media account links may not be necessary. However, adding a lead magnet and a signup may be a good idea.
If your goal is to boost sales, your strategy will emphasize your online store and recent discount offers or promotions.
Be value-driven, not salesy
Anyone that clicks on a link in your TikTok bio seeks a specific item or content. Ensure your landing page satisfies their needs instead of aggressively putting up a sale.
This means you have to deliver value. For instance, you can:
Offer a special price slash or discount for anyone who makes purchases directly from your landing page.
Add a simple overview of your services or business.
Link to your most popular or helpful bit of content.
Conclusion
Adding a link to your TikTok bio is very important, especially if you're a brand with an active website. It is a great way to drive traffic from TikTok to your website.
Following this guide, you should be able to make the TikTok bio link clickable.
Recommended Tools to Start Out as a TikTok Influencer with a Bang!
=> Get UBeesize 10'' LED Ring Light with Stand and Phone Holder, Selfie Halo Light for Photography/Makeup/Vlogging/Live Streaming, Compatible with Phones and Cameras
=>Get PoP voice Professional Lavalier Lapel Microphone Omnidirectional Condenser Mic for iPhone Android Smartphone, Recording Mic for Youtube,Interview, Video
=> Get 3-Axis Gimbal Stabilizer for iPhone 12 11 PRO MAX X XR XS Smartphone Vlog Youtuber Live Video Record with Sport Inception Mode Face Object Tracking Motion Time-Lapse – Hohem iSteady Mobile Plus
Also Read: