TikTok is among the most widely used viral content platforms in the world. It allows anyone to develop, modify and upload their videos. You can also watch short-form videos shared by hundreds of millions of other TikTok users. 
But at times, you may want to store or save TikTok videos to your phone's library or camera roll. 
In this guide, we will reveal to you the best techniques you can use to achieve this.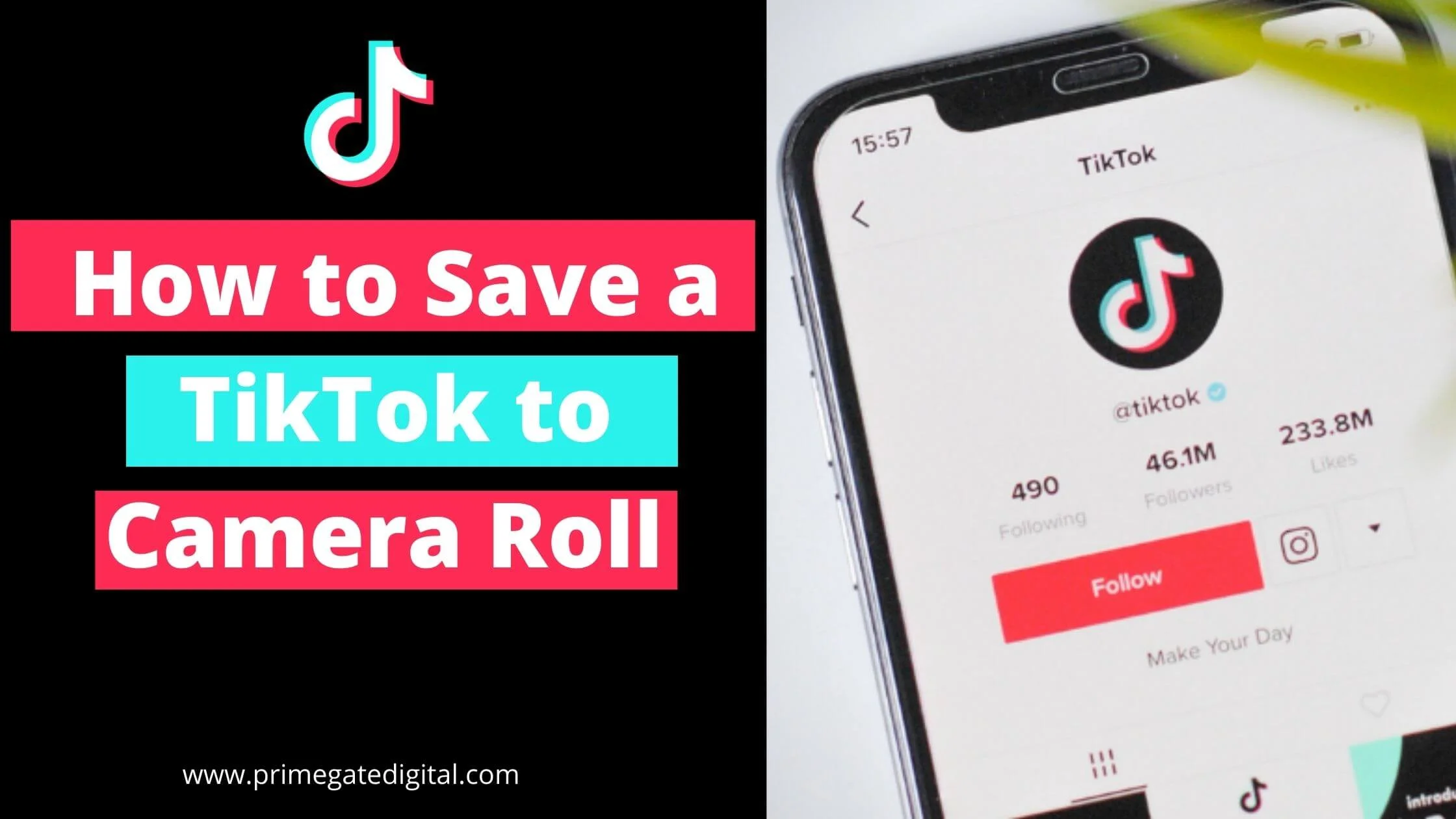 Let's get started. 
Is it Recommended to Save a TikTok to Camera Roll?
Another important consideration is whether saving a TikTok video will breach any copyright laws. 
TikTok's User Agreement states that users cannot distribute, transfer or share any media content that violates another TikToker's proprietary rights, trademarks or copyrights, 
Most people breach TikTok's copyright policy by sharing another user's video as though it belongs to them.
To curb this issue, TikTok inserts a watermark comprising its brand image and content's owner username. 
Thus, we advise that if you plan to share TikTok content on a different social media channel, always ensure that the watermark is branded on the video or acknowledge the video owner by another means.
See Also: How to Save TikTok Video Without Posting
How to Use the TikTok App's Save Functionality
Update or Install TikTok
It is important to install the most recent release of the TikTok app on your mobile device.
The only way to access the official TikTok app is via the Apple App Store or Google Play Store, depending on your mobile device. 
Select the Video You Have to Save to Camera Roll
If your plan is to download any of your videos, head to your profile page and explore the video tab until you locate the one you like. 
For you to save TikTok videos from other users, utilise the search box, input the key name and tap search. 
If your video has been flagged, you can locate it by navigating to your profile page and tapping the flag option. 
If you want to locate a liked video for download, navigate to your screen centre and tap the heart symbol at the centre of the page. 
Save the Video
After you have accessed the video, long-press the screen until the menu option pops up. 
You will find the "save video" in the drop-down menu items. 
Alternatively, tap the download icon at the lower right end of the screen. It is next to the share button. 
What You Should Know About Saving TikTok Videos
There are important information you should note before saving TikTok videos to your mobile device.
Let's analyse them:
Declutter Your Device Storage 
If your phone lacks adequate space, you might experience difficulties in downloading TikTok videos. This is why it is important to declutter your phone's storage.
Delete unwanted pictures and videos from your phone's gallery. This will make it easier to free up space for the new TikTok videos. 
As you explore your phone's camera roll, ensure you clear up old and bulky pictures and video clips. You can use third-party tools to simplify the entire process.
They are better at locating duplicate pictures, corrupt files and unwanted screenshots. 
Here's the method of using third-party tools to declutter your mobile device:
Install any third-party tools from your device's Play Store. 

Launch the app.

Give the app access to your device's internal memory.

The app will start scanning your device's gallery for a few minutes. 

Tap on the kind of file you want to remove from your device. 

Explore individual categories and choose the one you want to save or clear from your device. 
Save a TikTok to Camera Roll with Third-Party Tools
There are excellent third-party tools that let you download videos from TikTok via your smartphone, iPad, laptop or desktop computer.
These tools come with unique functionality that enables you to save videos without intrusive watermarks. 
You can even save videos in HD format and enjoy pleasant viewing with their high quality. Other tools can preview videos before downloading so you are sure of their content. 
We encourage you to install these third-party TikTok downloaders if you are looking for a hitch-free and seamless way to save videos from TikTok.
They are easy to use and efficient. You won't have any worries or concerns because the download process is fully automated. 
Also, these tools are highly beneficial because they make it easy to share the downloaded video on other social media channels with friends and relatives.
Pick one of the apps on our list and install it on your smartphone. All you have to do is copy the TikTok URL, and through automation, your video will be downloaded.
Also, some tools are web-based, meaning no need to install them.
Video Downloader for Social Media
Video Downloader for Social Media is a popular application anyone can utilise to save TikTok videos to their mobile device. It comes with plenty of features.
You don't have to worry about watermarks with this tool.
Downloading with this tool is simple and hitch-free. The algorithm makes for a user-friendly download process. The app has a powerful built-in video player for video previews.
This way, you can find out if the content is right for you before downloading. 
To use the tool, simply copy and paste the TikTok URL. The video will be saved instantly. You will be glad you did because all saved videos are of superior quality. 
Video Downloader for TikTok
Video Downloader for TikTok is another fantastic tool for saving TikTok videos in high definition format. With a few clicks, you can download your videos seamlessly.
Here's how to use the tool for video download: launch the app, copy the video link and paste it into the URL field, and the video will be automatically saved.
The video can be viewed from your camera roll.
The tool also enables you to sample a video before downloading. Another fantastic feature of the app is its ability to pause the video due to poor network or connection. 
SaveTok
SaveTok is a widely used TikTok video saver. It enables users to download videos in HD format from TikTok.
The video you download via this tool is lightweight and won't consume any space on your device. All you need is the TikTok URL link, and your video will be saved instantly. 
The reason why this tool is highly popular is that it downloads TikTok content without the vexing watermarks.
You can also share downloaded videos on other social media channels via the app. 
Clipbox 
Clipbox is a TikTok download tool for Apple smartphones. It lets users save TikTok videos without worrying about watermarks.
A fantastic benefit of this tool is that it comes with data storage that is accessible to everyone. This can eliminate the hassle of consuming space on your phone. 
The tool also comes with an organiser that lets you categorise videos you have saved in a unique way. This will help when you want to access them on your camera roll. 
Clipbox downloads all TikTok videos in HD format. You can also cut to any interesting part and save the trimmed part without downloading the full video.
How to Save a TikTok to Camera Roll FAQs
When You Download a Video on TikTok, Does it Notify aAnyone?
False. Users will not get notifications from users when they save videos via third-party tools or using the native save option.
Once you save a video via TikTok app, it will be recorded as "share" on user analytics. 
How to Get all of Your TikTok Data
Although, TikTok does not permit users to store each video instantly. However, there is a highly functional feature on the app that lets you download your TikTok data. 
Here's how to store your TikTok Data: 
Launch the TikTok app and select the 'Me' option on the lower right edge of the display.

Tap the "three-dot" option on the lower area.
Navigate to the Privacy section and tap on "personalisation and data".
On this page, you can access activity and account data, which comprises your videos and personal settings.
Tap on the Request Data option.
Patiently wait for some time for your data download to be finalised. You will be notified once this happens.
How Can I Stop People From Downloading My TikTok Videos?
If you don't want other users to save your videos on TikTok, you can restrict them via the app's settings:
Launch TikTok on your smartphone and select the "me" button.

Tap on the hamburger button at the lower part of the display.
On the account panel, select Privacy.
Locate the safety tab, Select the "Allow your videos to be downloaded" option.
Toggle off the download button.
After this is set up, users won't find a button to download your videos even if they choose to share them. 
Even though this setting will restrict users from downloading your videos via the official TikTok channel, it won't limit them from saving your videos through third-party tools.
 How to Download TikTok Videos to Camera Roll
You can download a TikTok video without posting by simply following some simple steps.
Below are the apps to download TikTok videos to camera roll:
Video Downloader for Social Media
Video Downloader for TikTok
Clipbox
SaveTok
You can download this iOS or Android app and download all your favorite TikTok videos without any difficulties.
Conclusion
TikTok is the biggest viral content sharing platform in the world. It is a great site to see plenty of interesting dance styles, soundtracks and memes.
Users can also freely save TikTok videos to camara roll as well as share videos with one another. However, you might want to save some unique content for offline viewing.
This article has revealed the best techniques you can use to save TikTok videos. I hope that you are able to save TikTok videos to camera roll.
Also Read